Games
Published March 21, 2018
New Set of X-Men Join 'Marvel Future Fight'
Welcome the latest Children of the Atom to the mobile gaming adventure!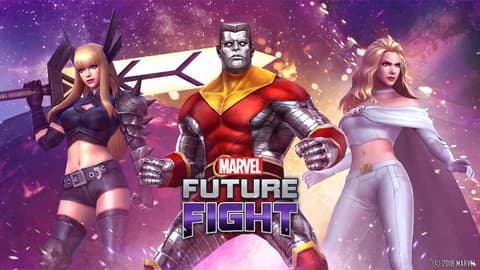 Brother and sister smash and slash their way through the latest update to "Marvel Future Fight" as the interdimensional battle wages on. This month, recruit some extra help from X-Men members. Channel the steel powerhouse Colossus and his sword-wielding sorceress younger sister Magik. Bring on hope – or destruction – with Angel or the diamond telepath, Emma Frost. Be sure to grab some MARVEL NOW! looks for Cyclops and Wolverine!
To get the full rundown all things mutant-related, we grabbed a few minutes with the team over at Netmarble Monster: lead game designer/director Minkyun Kim, lead system designer Youjung Kim, lead skill designer Jongho Park, and lead level designer JungTae Pyo.
Marvel.com: Could you give us a quick introduction for the latest "Marvel Future Fight" update?
Minkyun Kim: In this update, X-Men members Magik, Colossus, Angel, and Emma Frost will be available as new playable Heroes. In addition, Cyclops and Wolverine, who are already in the game, will be getting new Uniforms. As for new content, a new Dimensional Rift has been added with the newly an alternate-universe version of Angel as the Rift boss, as well as a few in-game improvements that I think our users will appreciate.
Marvel.com: Will our heroes sport new looks?
Youjung Kim: Cyclops and Wolverine will be getting new Character Uniforms. Cyclops will be getting the 'Marvel NOW!' uniform that he wore while leading the Mutant Resistance, which many of our Cyclops fans were hoping for. For Wolverine, we have prepared the 'All New Marvel NOW!' uniform that was created for Wolverine by the Superior Spider-Man.
Marvel.com: What can players expect to see in-game with the inclusion of these newly-added characters?
Jongho Park: We did our best to implement X-Men abilities that appeared in the comics. Users will see that Magik has her iconic Dimensional Warp skill along with other magical abilities. Colossus, the 'guardian' of the X-Men, will have immense tanking ability arising from his extra solid body, and Angel will have great supportive capabilities through his healing skills to help his fellow X-Men. Emma Frost will have various telepathic skills that will be sure to confuse and debilitate her enemies!
Marvel.com: Colossus is known to have the ability to transform his body into a solid weapon of pure steel. How strongly is this expressed in the game?
Jongho Park: We took extra care to express Colossus' Herculean strength and body in the game. We made sure to focus on his innate concrete strength, rather than speed, for his abilities. We also put effort into implementing his steel body to reflect immense defensive capability and exclusive skills that make him extremely formidable to characters that use Physical Attacks.
Marvel.com: What improvements have been made to enhance the player experience? 
JungTae Pyo: The enormous Frost Beast that appears in the Alliance Battles seemed to have some counter-intuitive aspects regarding his attacks. Users were only able to evade them by roughly estimating the range of his attacks previously, so we made efforts to improve on this by adding an indicator that shows the range of his attacks.
Marvel.com: Lastly, can you share anything fun or surprising that's exclusive to this mutant special?
Minkyun Kim: After the very first X-Men update of last year, we've been wanting to expand and add more X-Men to the game. This was easier said than done, as there are so many incredible X-Men characters to choose from. Picking which ones to add to the game required considerable forethought. Our hope is that our users will see that we put a lot of thought into the X-Men characters selected for this update. Our mission was to quench their thirst for X-Men characters through the unique and engaging skillsets of the new characters. We plan to continue adding characters from the X-Men universe in the future, so we hope our users will continue to play and love our game!
For all the latest on "Marvel Future Fight," stay tuned to Marvel.com and @MarvelGames on Twitter!
The Hype Box
Can't-miss news and updates from across the Marvel Universe!