Games
Published January 11, 2018
Proxima Midnight Descends on 'Marvel Avengers Academy'
Thanos makes his big move in the mobile game!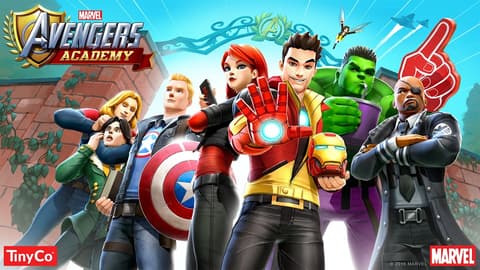 When Captain Marvel and A-Force discover a new interstellar threat bearing down on Earth, they need all hands on deck to defend the planet in "Marvel Avengers Academy"!
Thanos has sent his warrior Proxima Midnight to deal with Earth's heroes, and the good guys don't realize that her arrival signals just the beginning of a much larger attack. The alien threat looms large, so suit up, enroll your favorite heroes, and get ready to fight the coming storm.
We grabbed a few minutes with Allen Warner, Lead Narrative Designer at TinyCo, to uncover more about Proxima and Thanos' schemes.
Marvel.com: How does Proxima Midnight—a member of Thanos' evil Black Order—find herself at Avengers Academy? Until now, we've heard very little of Thanos around campus.
Allen Warner: Thanos has been teased going all the way back to our original Guardians of the Galaxy event—our first major event in the game—but we've yet to see his face. We know that his presence looms large in outer space, that he went to school with the Guardians, Captain Marvel, and the other cosmic heroes, and that he took that school over, and turned it into his personal headquarters. More importantly, we know that he played a pivotal role in how the world of "Avengers Academy" came to be. He and the faculty have met before, and they've been preparing for years for his inevitable return. The time has finally arrived, and both he and Nick Fury have their Infinity Gauntlets ready.
Proxima Midnight is Thanos's most powerful warrior, so he sends her to scout the campus, and gauge the heroes while he tends to the last couple steps of his soon to be revealed master plan.
Marvel.com: Captain Marvel and A-Force are the first ones to pick up on Proxima's presence. With them featuring here, will players have the opportunity to recruit everyone again?
Allen Warner: Yes, players will have another opportunity to recruit Captain Marvel, Singularity, America Chavez, and more. As with our first A-Force event, we really want to showcase all of the amazing female heroes in the Marvel Universe. You can expect to see the return of Angela, Pepper Potts, and many, many more awesome heroes, including the debut of Red She-Hulk. We've been wanting to get her into the game for a really long time, and I think players will really love her visuals, animations, and stories. She turned out really cool.
Marvel.com: Proxima poses a powerful threat to our heroes and the entire planet. How do they hope to stop her?
Allen Warner: Our heroes will battle Proxima Midnight and some special bosses, while they also train new recruits to battle Thanos's army of Chitauri invaders.
Marvel.com: There are some interesting facing joining the Academy this time around. Can you give us the run down?
Allen Warner: In addition to Red She-Hulk, players will have the opportunity to recruit our popular original newscaster character, who, ever since the Doctor Strange event, has been fondly known as the Newscaster Supreme. She's been beloved by our players since the game began and it's awesome to see her finally become a fully playable character. She has a really cool backstory that I don't think anyone will see coming, which plays into the history and future of Avengers Academy. Her visual levels will be a big surprise; they turned out awesome.
We're also adding some of our favorite henchmen as playable characters. Anyone who plays the game knows that there's a running storyline about the various henchmen from invading forces abandoning their villainous leaders when things go bad to live in the bushes of Avengers Academy. They've created their own sort of utopian henchmen society where no one tells them what to do or turns them into cannon fodder. It's a storyline I've had a lot of fun with over the course of the game because it showcases them as very relatable, everyman-type people who are really just trying to enjoy their lives and get by, but keep getting pulled into superhuman fisticuffs and shenanigans. This time around, players will be able to recruit an A.I.M. Scientist, a Chitauri Soldier, and an Iron Legion Robot, and make them official members of Avengers Academy.
This event and all of these characters will be fun and understandable for brand-new players, but this is also a thank you to our longtime players as we add some fan-favorite original characters, and pay off some long-running storylines.
Marvel.com: With each new event, some of our favorite students start sporting new threads. Who will gear up to battle Proxima and her minions?
Allen Warner: There will be new outfits for Captain Marvel, Angela, and Pepper Potts. One is a classic look from the comics, one is a more modern look from the comics, and one takes inspiration from a look from the comics, but has never been seen before. All of them turned out amazing thanks to our awesome art team!
Marvel.com: Knowing Thanos sent Proxima to Earth, should we expect to see the Mad Titan himself sooner rather than later?
Allen Warner: You should expect to see him very soon, and once he arrives, things will never be the same.
Marvel.com: We're coming up on two years since the launch of "Marvel Avengers Academy." Do you have anything planned for the second anniversary?
Allen Warner: We're going to be introducing some really cool new features and mechanics along with more characters and outfits—characters from upcoming films and TV shows, characters who are brand-new to comics and the Marvel Universe, and a collection of icons who have been around for decades. It's an exciting time for "Avengers Academy," and we want to say thank you to all of our passionate, creative, dedicated fans for their support, whether they just started playing or have been with us from the very beginning.
For all the latest news and updates on "Marvel Avengers Academy," visit Marvel.com and follow us on Twitter @MarvelGames!
The Hype Box
Can't-miss news and updates from across the Marvel Universe!