Games
Published June 26, 2017
'Spider-Man: Homecoming' Arrives on Marvel Games
Web up as the wondrous wall-crawler across Marvel mobile gaming!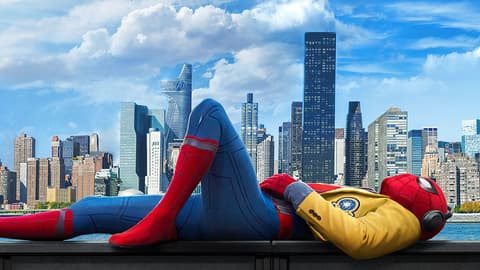 "Spider-Man Homecoming" swings into theaters next Friday, July 7, but we're starting the party this week with a slew of new updates to your favorite Marvel Games! You'll see a ton of fresh Spidey content over the course of this week and next as we celebrate the film's release.
To make things easy for all you fans of the web-head, we've gathered all the info on these updates in one place.
Spidey dons a new Stark Tech suit and leaps back into the fight! Meanwhile, a new Event Quest and a set of new Assignments from Tony Stark himself round out the new content for the fabulous mobile fighting game from Kabam!
Newly released into the Battlerealm, a Stark-enhanced Peter Parker gets swept up in the nefarious machinations of the Black ISO Mafia. As the villains begin to amass a mysterious power source with the help of The Vulture, this new Spider-Man sets off to foil their plans, against the urging of his mentor, Iron Man. With the help of the Summoner, Parker fights to prove his worth to the Avengers and make the Battlerealm safer for everyone.
Tony Stark takes a breather from saving the world to help mentor the next generation of Super Heroes. He's got his sights set on Peter Parker and has given him the gift of a Stark-Tech modified suit. Tony's got some rapid-fire scenarios set up to test Peter's Spidey-Sense and the new features of his suit, but he needs your help to test them out first! Participate in Stark Assignments: quick, challenging Quests that appear at irregular intervals throughout the day. Complete as many as you can throughout the month, and collect valuable rewards, including rare Spider-Verse characters! Follow @MarvelChampions on Twitter to get notified when each Stark Assignment starts!
Download "Marvel Contest of Champions"
Our friends at Netmarble have put together a bunch of original content starring the web-slinger and his most fearsome foes! Spider-Man goes back to basics with his new uniform—modeled after Peter's homemade suit first seen in "Captain America: Civil War"—and The Vulture joins the party, donning a new suit based on his "Spider-Man: Homecoming" gear. Alongside these new looks, players can recruit six familiar Spidey villains for their team, but not before battling them in the game's latest sinister event quest. Take on the likes of Sandman, Lizard, Kraven the Hunter, Rhino, Mysterio, and Vulture himself to bring them to your side in the interdimensional battle!
"With the 'Spider-Man: Homecoming' film coming up, we thought it was fitting to introduce six new characters that are closely related to Spider-Man," said Seungwon Lee, Chief Global officer at Netmarble Games. "Now players will be able to play as or against Spider-Man, and take part in a quest where the hero battles it out with his while earning a new quest pack."
Download "Marvel Future Fight"
The wall-crawler hits the ground running in the latest update for "Spider-Man Unlimited"! Players have two new suits in which to deck out Peter Parker—both his homemade one and the new, advanced Stark Tech look. And he'll need every advancement that gift from Tony Stark will bring as The Vulture threatens New York in the game's latest boss battle!
Download "Spider-Man Unlimited"
The Sinister Six storm "Marvel Puzzle Quest" in hopes of finally stopping Spider-Man. There will be two Boss missions, featuring three members of the Six, and each comes with its own set of Supporting Character missions. Gather your alliance and work together to progress through each round and earn new rewards! These missions will run on July 6 and again on July 24.
Of course, who better to lead the charge against the Sinister Six than Spider-Man himself? Recruit Spidey to your team starting on July 6! If you prefer more villainous teammates, Vulture will be more than happy to join up starting on July 13.
Grab both new heroes and jump into the latest PVP Tournament: Junkyard Wars! Vulture will headline this tournament starting on July 20.
Download "Marvel Puzzle Quest"
It's a veritable Spider-Party at the Academy this month! Spider-Man swings back to campus just in time for the Midtown School of Science and Technology's Homecoming dance, but the villainous Vulture has other ideas. The almost-hero found himself spurned by both Midtown Sci-Tech and Avengers Academy amidst accusations that he stole tech and ideas from other students to further his own goals. Believing the schools and the world at large to be conspiring against him, Vulture attacks both the Academy and Spidey's Midtown stomping grounds. To aid in the battle, Peter calls on other spider-heroes from across the multiverse! Recruit a batch of new heroes alongside some familiar faces from Spidey's first appearance at Avengers Academy.
Download "Marvel Avengers Academy"
For all the latest on Marvel gaming, stay tuned to Marvel.com and follow us on Twitter @MarvelGames!
The Hype Box
Can't-miss news and updates from across the Marvel Universe!