Games
Published June 28, 2017
Spider-Man Returns as Vulture Attacks 'Marvel Avengers Academy'
Spidey swings back into the Marvel mobile game just in time!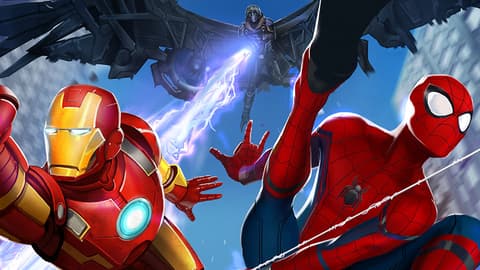 Spider-Man and some of his spectacular friends swing back to "Marvel Avengers Academy" as Peter's other school—the Midtown School of Science and Technology—prepares for their homecoming celebration. But the villainous Vulture has other ideas! He launches an attack on both learning institutions and it'll take everyone at the Academy—plus some new pals Peter's made over the last year—to thwart his plan and save the dance.
We sat down with Allen Warner, Lead Narrative Designer at TinyCo, to learn everything Spidey brings with him in this latest event.
Marvel.com: What's bringing the web-head and his spider-powered crew back to "Avengers Academy"?
Allen Warner: At the end of our previous Multiverse event, we learned that someone had been scavenging Maestro's collection of "trophies" for tech and weapons, along with various labs and superhuman battle sites across New York. Nick Fury tasked Spider-Man with finding the perpetrator, and he's coming back to report what he's found. It also coincides with the homecoming dance at the Midtown School of Science and Technology, so Spidey will be bringing the party to Avengers Academy, and bugging everyone for dating advice.
Marvel.com: Why is Vulture so set on laying waste to Midtown Sci-Tech and the Academy?
Allen Warner: Vulture is a brilliant scientist and inventor, but was turned down by both Avengers Academy and Midtown Sci-Tech after being accused of stealing other students' tech and ideas to further his own goals. He feels like his fellow super-scientists don't respect him, and the entire world is conspiring against him, so he starts using tech and weapons found in various superhuman battle sites to rebuild and repurpose mechanical monstrosities into things like an army of Vulture-ized Octobots. He wants power and respect, and he'll destroy everyone and everything at both Avengers Academy and Midtown Sci-Tech to get it.
Marvel.com: The event district gives us a peek at Peter's life outside the Academy; what new things will players discover?
Allen Warner: The event district is Midtown Sci-Tech itself, decked out for homecoming. It's completely different than anything we've done before, and really cool because it brings a lot of fun, school flavor the campus. Unfortunately, Vulture shows up to ruin the party, so he's perched atop the school with his prisoners and minions, plotting his attack on Avengers Academy.
Marvel.com: And the event building carves out a space for one particular Spider-heroine…
Allen Warner: Yes, we're big Spider-Gwen fans over here too, so we wanted her to share the spotlight. The event building is a multi-tiered punk rock venue where Gwen and some surprise guests are going to perform, and throw their own brand of homecoming bash. The building represents Gwen really well with its gleaming white exteriors, colorful neon blue and pink graffiti, a unique stage and dance floor, and some other really cool surprises.
Marvel.com: How will players battle Vulture and his refurbished Octobot army?
Allen Warner: Players will battle Vulture's tech on the campus as a team, while battling Vulture himself, and a couple of foes he's tricked into fighting by his side. Part of his plan is to create chaos and keep the heroes busy by setting Symbiotes loose in New York, so your heroes will also battle in the streets of New York to protect the city.
Marvel.com: What new faces will join the Academy—and the fight against Vulture—as Peter calls on more of his friends from across the multiverse?
Allen Warner: A really cool collection of various Spider-Heroes, amazing friends, and one grumpy newspaper publisher. Players will be able to recruit Silver Sable, Spider-Girl, Agent Venom, J. Jonah Jameson, and Silk. J. Jonah Jameson was really popular as a cameo character during our first Spider-Man event, and I'd forgotten how fun he is to write until this event came around. His personality is great to bounce off of the students, and I can't wait for everyone to see his visual upgrades. Silver Sable is one of my favorite Spidey characters. She looks amazing, and is a cool fit alongside some of the spies and mercenaries running around the school. Agent Venom is one of the most awesome Symbiotes, and he brings something completely unique to the table, and of course [his alter ego] Flash [Thompson] and Peter Parker have a classic rivalry. Spider-Girl and Silk are two of the coolest spider-powered characters in my opinion. They both were very close to making the cut in our first Spider-Man event, so I'm really excited to see them finally make it into "Avengers Academy." As always, our art and animation teams have knocked it out of the park with everyone's designs and actions, and I think players are going to love having all of these characters at their school.
Marvel.com: And there must be some cool new outfits on the way as well…
Allen Warner: Definitely. There are new outfits for Spider-Man, Spider-Gwen, Mary Jane, Venom, and Doctor Octopus. It's a cool mix of some iconic looks, some seldom-seen but awesome outfits from the comics, and a couple of classics given fun Avengers Academy-style re-imaginings. It's a really cool group that I think people will love.
Marvel.com: With the second Guardians of the Galaxy event, players were able to recruit the heroes from the previous event; will we see something similar here?
Allen Warner: Yes, we got a really positive response from players during the Guardians 2 event who enjoyed that opening week featuring characters from the original event because it gave them a first or second chance at characters they'd missed out on before, so we decided to do a similar thing here. The opening week will give new and longtime players the chance to get one of the outfits and a few of the characters from the original event, as well as a new character and outfit. Over the course of the event, players will have a chance to get every single character and outfit from the original Spider-Man event, including Miles Morales, Mysterio, Black Cat, Electro, Green Goblin, and many more.
Marvel.com: Once the Vulture is thwarted, what new adventures will players be able to look forward to?
Allen Warner: We're going to find that Vulture isn't the only person who's secretly holding a grudge against Avengers Academy. He's been sharing his scavenged tech and weapons with some faraway enemies, and they're ready to go to war.
For all the latest on "Marvel Avengers Academy," stay tuned to Marvel.com and @MarvelGames on Twitter!
The Hype Box
Can't-miss news and updates from across the Marvel Universe!