Games
Published May 5, 2020
Taskmaster joins 'MARVEL Strike Force' and Transforms the Mercenary Team
Recruit him now for your roster!
Hey Marvel Insiders – did you know reading this article could earn you 250 points?  All you need to do is sign in or join now before you keep reading!
Tony Masters was born with the ability to perfectly mimic the movements of others after simply observing them. Using this for his own means and taking on the name Taskmaster, he has copied the fighting styles of numerous heroes and used his fighting skills to wreak havoc and train the henchmen of premiere villainous organizations. 
This means Taskmaster has copied the styles of some of S.T.R.I.K.E.'s greatest fighters and you can now use them yourself in MARVEL Strike Force. 
Taskmaster joins the Mercenary team as a Controller who steals enemy positive effects, applies Bleed and Stun, and overwhelms foes with Mercenary assists.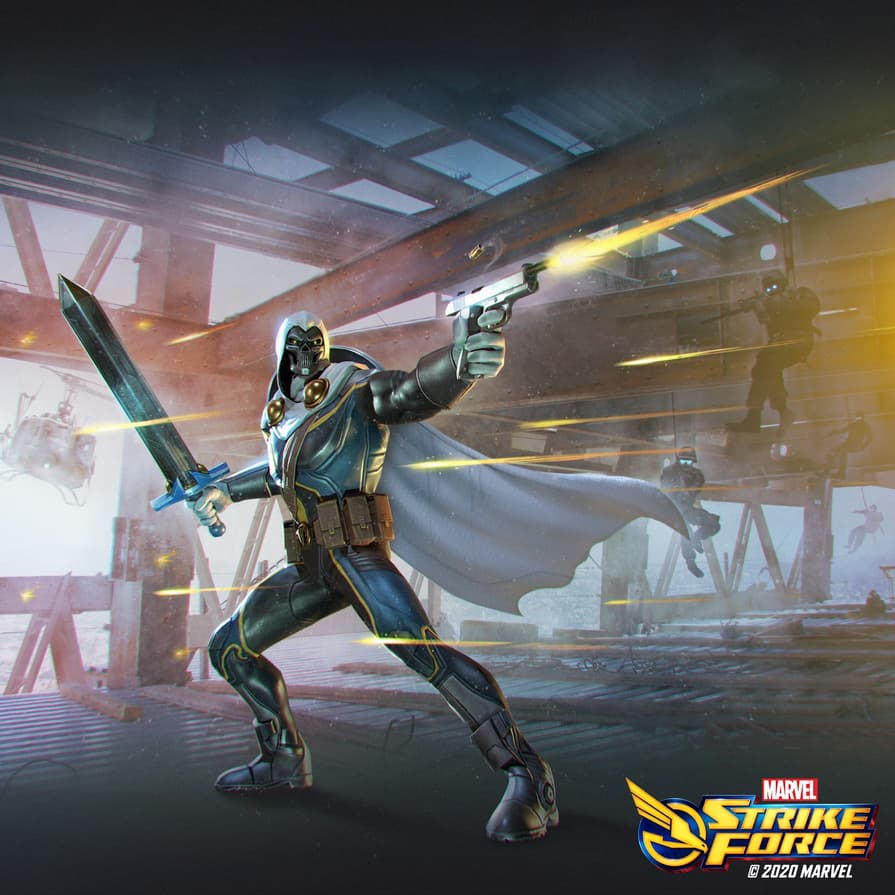 Taskmaster's traits include Villain, Global, Skill, Controller, Mercenary. 
Taskmaster has a took kit includes Imitating Strike (Basic), Adaptive Assault (Special), Incendiary Arrow (Ultimate), and Copycat Criminal (Passive). 
In addition to Taskmaster's arrival, there will be updates to his fellow Mercenaries. Taskmaster transforms the Mercenary team into Alliance War defensive specialists with additional synergies and a relentless Passive ability that applies Taunt to the enemy with the highest Damage each turn.
These characters join the ever-growing roster already available in MARVEL Strike Force, including Inhumans Black Bolt and Yo-Yo! Recruit Captain America, Spider-Man, and Jean Grey for battle and pick up MARVEL Strike Force on iOS and Android NOW!
Stay tuned to Marvel.com and follow @MarvelGames on Twitter for the latest news and info on "MARVEL Strike Force." Plus follow @MarvelStrikeF on Twitter and "MARVEL Strike Force" on Facebook.
The Hype Box
Can't-miss news and updates from across the Marvel Universe!