Games
Published April 25, 2017
The Guardians of the Galaxy Rock Marvel Games
Prepare yourself for the big screen sequel with cosmic adventure across five Marvel games!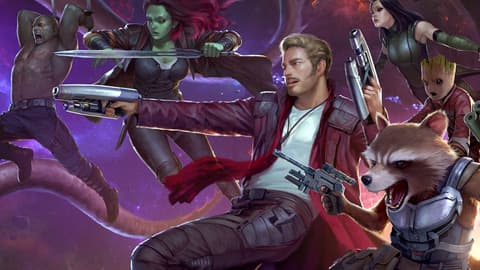 Before the Guardians of the Galaxy blast into theaters next week, the rag-tag band of cosmic rebels will bring their unique blend of action, laughs, and wild visuals to Marvel games in an out of this world event of galactic proportions!
Starting April 25, content inspired by "Marvel's Guardians of the Galaxy Vol. 2" will be appearing throughout five Marvel games: "Marvel Avengers Academy," "Marvel Contest of Champions," "Marvel Future Fight," "Marvel Heroes Omega," and "Marvel Puzzle Quest." Players should strap in their jet packs and prepare for a celestial storm of new characters, costumes, battles, and story content influenced by the blockbuster film.
"Just as the Guardians themselves are a family, the Marvel Games team and each of our partners have forged a tightly knit family of True Believers who are obsessed with delivering all the excitement, humor and action of our greatest characters to the gamers that love them," says Bill Rosemann, Marvel Games Executive Creative Director. "No matter which Guardian, ally or enemy is your favorite – and no matter what type of gameplay experience you crave – our friends at Netmarble, Kabam, Tiny Co, D3Go, and Gazillion are bringing all of their collective firepower to the universe's coolest crew of galactic misfits."
"With each new movie inspired Marvel Games event we always aim to top the last one, yet somehow we're still each blown away each time by the incredible ideas our partners come up with," adds Tim Hernandez, Director of Game Production. "We know our players are going to dig the unique spin each game has put on their own Guardians event, along with awesome new characters, features and other fun surprises!"
Marvel Studios' "Guardians of the Galaxy Vol. 2" arrives in theaters May 5, 2017.
The Hype Box
Can't-miss news and updates from across the Marvel Universe!