Games
Published September 5, 2017
The Inhumans Reveal Themselves in 'Marvel Avengers Academy'
Get ready for the Royal Family in a new event beginning September 7!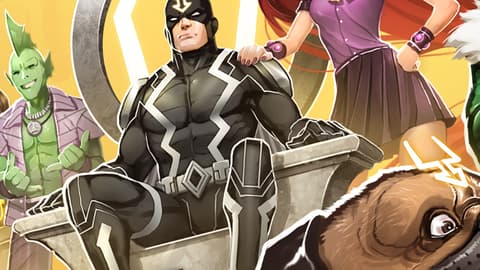 One of the most secretive schools in the world of Marvel Avengers Academy finally reveal themselves amid a hostile takeover. Maximus the Mad has forced his brother Black Bolt out of his position at the head of Attilan Academy. Now, he schemes to use the school's resources to launch an attack on the Avengers' beloved school! The once-reclusive Inhumans must band together with their superhuman brethren here on Earth to defeat Maximus and restore the balance of power in Attilan.
Allen Warner, Lead Narrative Designer at TinyCo, joins us to detail the new enemies, allies, costumes, and more that we'll see in this inhuman-ly packed event!
Marvel.com: Attilan Academy has so far been shrouded in mystery, hinted in a scant few lines of dialogue. Why has the school been so cautious, and why are they revealing themselves now?
Allen Warner: The Inhumans are notoriously mysterious and reclusive, keeping themselves isolated from the outside world.  They have their own customs and traditions and beliefs, and they see the human and superhuman populace as strange and dangerous, and don't see any reason to put themselves at risk by leaving the comforts of Attilan.  Unfortunately, they find that their greatest threat has been living amongst them the entire time as Maximus uses his mind control powers to make them do his bidding, and usurp his brother Black Bolt's throne.
Marvel.com: What does Maximus hope to accomplish from his spot at the head of Attilan's hero school?
Allen Warner: Maximus thinks Black Bolt has been holding the Inhumans back.  He thinks they're too powerful to be hidden away, and should be ruling the world instead of hiding from it.  He uses his powers to force the Inhumans to fight by his side, takes control of the kingdom, and launches an attack on the most powerful collection of superhumans in the world, Avengers Academy.
Marvel.com: Though they've been wary of Avengers Academy and other super-powered individuals up to this point, will the Inhumans' desire to stop the Mad King lead them to join the heroes of Avengers Academy in battle?
Allen Warner: Yes, we're actually introducing more recruitable characters in this four week event than we ever have before.  Players will be able to recruit eight amazing Inhuman heroes: Black Bolt, Medusa, Lockjaw, Gorgon, Auran, Triton, Crystal, and Karnak.  We couldn't resist including all of these amazing characters, and I love how they each have completely different looks and power sets from one another.  Our awesome art team did their usual incredible job with each of their visual levels, taking cues from both the comics and the upcoming show, and I think people are really going to enjoy adding these characters to their campus.  Lockjaw in particular looks as cute and amazing as you would expect, and his visual upgrades take it to another level.  I can't wait to see this giant teleporting dog trotting around everyone's Avengers Academy.
Marvel.com: Can we expect this arrival of new allies to mean new threads for any of our heroes, too?
Allen Warner: Definitely.  There will be new outfits for Ms. Marvel, Quake, Wasp, Iron Man, and Loki.  We wanted to do something special for a couple of the Inhumans already attending the Academy in Ms. Marvel and Quake, and we embraced the royal theme in a really fun way with Wasp and Iron Man.  Loki gets a look right out of the comics that I've been wanting to get into the game for a really long time that is unlike any outfit our heroes have ever worn before.
Marvel.com: Where will the Avengers take the fight to Maximus and his cronies?
Allen Warner: The event space will be the Attilan Academy itself with Maximus perched on his brother's throne, flanked by his mind-controlled minions.  I've always loved the various looks of Attilan and the unique Inhuman tech, and one of our awesome concept artists, Celeste Schulte, created a really beautiful representation of their kingdom.
Marvel.com: This event will take us past the end of summer and into early fall. Last year, we celebrated Halloween with the students and faculty of Avengers Academy. Should we expect the school to celebrate the spooky holiday again this year?
Allen Warner: Yes, we're really excited for our second Halloween event.  The first one was one of our most varied, fun, and quirky events, and players can expect even more craziness this time around along with a bunch of amazing Halloween-themed characters and outfits.  The character line up might be the weirdest and most fun one yet, and we're going all out to try and top our outfits from last year.
The four-week Inhumans event launches September 7 in Marvel Avengers Academy.
The Hype Box
Can't-miss news and updates from across the Marvel Universe!