Podcasts
Published October 4, 2019
This Week in Marvel at New York Comic Con 2019: Daily Recaps
Watch this page for daily recaps from every day at NYCC 2019!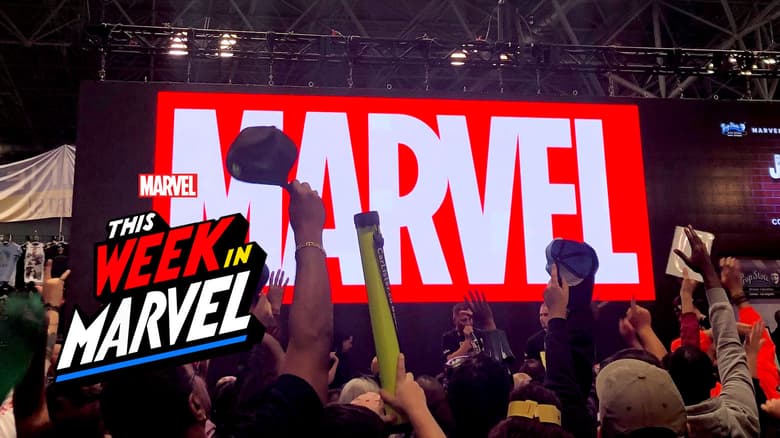 This Week in Marvel is all over New York Comic Con 2019! Co-hosts Ryan "Agent M" Penagos and Lorraine Cink will have all the highlights from every day at the con -- and now you can find all their updates in one place!
Follow this space every day to get daily recaps from Ryan and Lorraine covering the mightiest Marvel moments from NYCC 2019!
Day 4
This is it! The final 2019 New York Comic Con recap! Ryan and Lorraine recap Sunday's events, including the world premiere of Marvel Rising: Operation Shuri, and end this year's con with a lightning round of This Week in Marvel History.
Day 3
Three-quarters of the way through New York Comic Con, Ryan and Lorraine round off the day with another recap episode! They debrief on Wolverine news, Marvel's Hero Project, and more.
DAY 2
Day 2 of New York Comic Con ended not with a whimper but a bang! Ryan and Lorraine talk new Marvel Comics creative teams, Marvel's Runaways Season 3, and Ms. Marvel joining Marvel's Avengers. But that's not all, we also have artists Matt Ferguson and Doaly on to discuss creating epic posters for Marvel Studios, and their 2019 Comic-Con exclusives.
Day 1
The first day of New York Comic Con comes to a close as Ryan and Lorraine debrief on what seems like a month's worth of Marvel announcements. Marvel's Realm of Champions, CAPTAIN MARVEL breakout hero Star gets her own limited series, Marvel Studios' Avengers: Damage Control and so. much. more! Download the audio below!
For all the news coming out of New York Comic Con 2019, stay tuned to Marvel.com/nycc2019!
The Hype Box
Can't-miss news and updates from across the Marvel Universe!