Podcasts
Published December 4, 2020
This Week in Marvel Prepares for Knull's Arrival with the Creators of 'King in Black'
Donny Cates, Ryan Stegman, and Devin Lewis join TWIM as 'King in Black' makes its debut!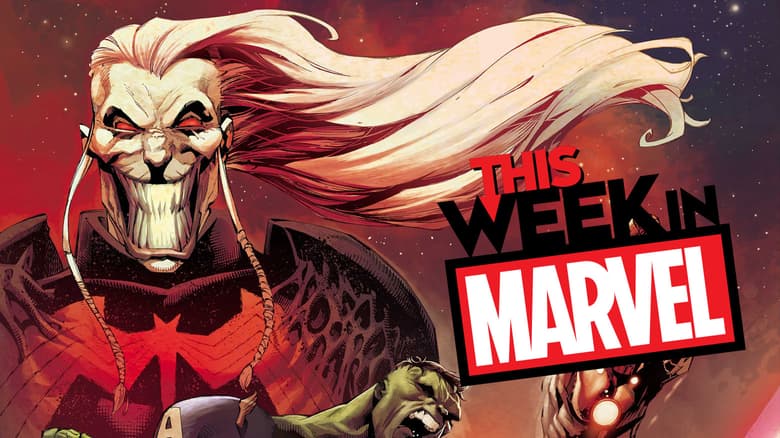 The King in Black is here! Marvel's symbiote event kicked off this week as KING IN BLACK #1 went on sale, and This Week in Marvel is getting the inside story! Ryan "Agent M" Penagos and Lorraine Cink welcomed writer Donny Cates, artist Ryan Stegman, and editor Devin Lewis to the show to find out what kind of bug is in Knull's bonnet and why he's going after the Avengers -- and Earth!
Here's a quick snippet of their conversation:
Cates: "All of us now on this episode have heard how KING IN BLACK ends, and it is a quite literal redefining moment for quite a lot of characters."
Lewis: "Things go pretty badly for a number of characters. A couple of folks have some really rough days in KING IN BLACK #1, and that's because it is, in a lot of ways, the culmination of everything Donny and Ryan have been doing now for two years."
Stegman: "I hope that some 14-year-old has their mind blown by this, and does their event when they grow up and that, you know, it just continues on down the line."
But that's not all that happened on this episode! Ryan and Lorraine also shared their holiday picks from this year's Marvel Holiday Gift Guide! Check out what they're planning to give (and maybe hoping to receive):
Ryan's Picks:
Marvel Classic Sticker Book, Tiger Electronics X-Men Game, Infinity Gauntlet Pin Mates, Transformers Generations X-Men/Transformers mashup – Ultimate X-Panse jet, M.O.D.O.K. tiki mug from Mondo, Marvel Legends talking Deadpool and Stormbreaker, books for kids 
Lorraine's picks:
Holiday at home: Her Universe Loungewear, Boxlunch cookwear, gingerbread apron and PSL cup 
Toys: Marvel Studios' WandaVision Halloween Funko pops, retro Marvel toys from Hasbro Marvel legends, Koto Women of Marvel line 
Kid's Books: Mighty Marvel First Books, Avengers Assembly Orientation (and my book, Marvel Powers of a Girl)  
Subscriptions: Marvel Unlimited, Disney+ Subscription, Sirius XM Subscription
You can listen to the full episode below:
With new episodes every Friday, This Week in Marvel delivers all the latest Marvel discussion and news about comics, TV, movies, games, toys, and beyond! Tweet your questions and comments about the show to @AgentM, @lorrainecink, or @Marvel with the hashtag #ThisWeekinMarvel!
The Hype Box
Can't-miss news and updates from across the Marvel Universe!