Podcasts
Published January 21, 2021
Women of Marvel Announces 'Women of Marvel' #1 and a New Q&A Feature
Plus: An encore for actor, fighter, and martial artist Phoenix Carnevale!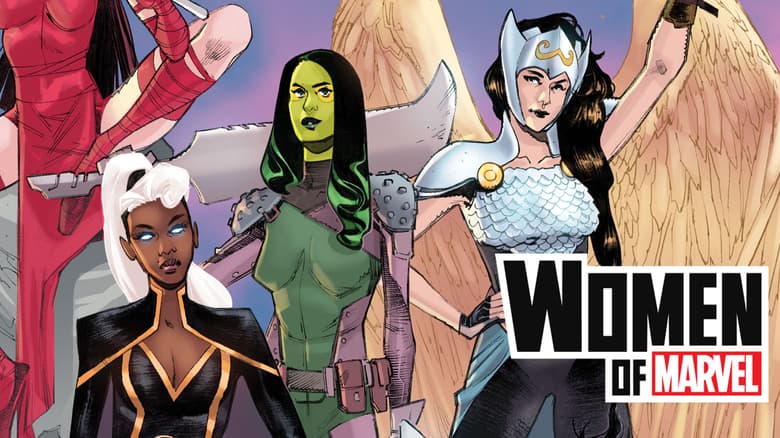 There's always great news happening at Marvel, but this week, there's some news about Women of Marvel! On this week's episode, Women of Marvel had two big announcements: The first was about a brand-new biweekly feature on Marvel.com, "Asked and Answered with the Women of Marvel." Every other Friday, stay tuned to www.marvel.com/womenofmarvel for a star-studded Q&A session with some of the women who have played a part in telling Marvel's stories. Hear from MacKenzie Cadenhead, the woman asking the questions, and read the first feature with Jac Schaeffer, head writer of Marvel Studios' WandaVision!
The second announcement is an all-star lineup of women who have teamed up for a comic special coming this April, WOMEN OF MARVEL #1! Comics legend Louise Simonson kicks things off with a must-read introduction!
That's what's new, now time for a look back! Last fall, guest co-host Jamie Frevele [Ed. note: That's me! Hello!] interviewed actor, fitness instructor, and martial artist Phoenix Carnevale, who talked about the huge impact her Marvel fandom had on her growing up and the role it plays in her career today. If you've ever been inspired to bring out your inner warrior, this interview is for you!
You can listen to the full audio episode below:
The Women of Marvel podcast assembles to chat all things Marvel and more! New episodes are released every other Thursday, co-hosted by Judy Stephens, Angélique Roché, and Ellie Pyle. You can find Women of Marvel on Marvel.com/podcasts and Apple Podcasts. 
The Hype Box
Can't-miss news and updates from across the Marvel Universe!