TV Shows
Published May 21, 2019
Inside Look at Quake and Sarge's 'Marvel's Agents of S.H.I.E.L.D.' Season 6 Costumes
Earth's Mightiest Show goes behind-the-scenes with costume designer Whitney Galitz. Plus, bonus Marvel.com interview on Mack and Fitz's looks!
Last fall, Chloe Bennet, who stars as Daisy Johnson AKA Quake on "Marvel's Agents of S.H.I.E.L.D." and "Marvel Rising," teased her badass new look for Season 6.
Recently, Earth's Mightiest Show had the opportunity to visit the set of "Marvel's Agents of S.H.I.E.L.D." and sit down with Whitney Galitz, the series' costume designer, about how the looks for Quake and Sarge came to be, the inspiration behind it, how Bennet and Clark Gregg, who plays Sarge, brought the designs to life, and more. Watch the discussion above!
Top 5 Things We Learned During the Set Visit:
1. The Season 6 Quake is a departure from the comic book source, and is a nod to the iteration of Quake, played by Bennet, in "Marvel Rising."
2. Redesigning Quake's gauntlets required slimming them down, getting a new paint job, and reworking the Quake symbol.
3. Sarge's jacket required a balance of feeling tactical, military, sci-fi, and unfamiliarity.
4. Sarge's look is a clear delineation of how far this character is from Gregg's other role as Phil Coulson.
5. When Gregg first tried on Sarge's jacket, his response was, "This feels right."
Marvel.com also had the opportunity to have an in-depth discussion with Galitz about Season 6 looks for Quake, Sarge, as well as Mack and FItz. Read about it below:
Marvel.com: Tell us about the evolution of Quake for Season Six and what you really wanted to capture.
Whitney Galitz: For Quake, this season, we really wanted to update the look and the silhouette a little bit, but also tie her designs from "Marvel Rising" and the new Quake for that series. I got together with Joshua Shaw [Creative Director, Marvel Television] to discuss that because he worked on that series as well. We went over elements of the costume that might be good to tie in. It started with me doing what I wanted to do with the Quake costume; updating it, but not taking away any of the iconic elements really, just streamlining it. We always knew we wanted to do the purple, gray and silver palette. That was always something that was going to happen. And then, through our collaboration, we came up with a few other things. Like the lines on the bodice of the suit, that kind of coincides with the "Marvel Rising" Quake and bringing in the harness aspect.
I wanted to add some more depth for Chloe to look better on camera with, and add some dimension. That's when I started working with different sizing on the printed panels and doing different shading so blacks with the grays and the silvers and adding the purple. We wanted to go with an ultraviolet, really powerful, strong purple that works on camera as well as "Marvel Rising." "Marvel Rising" is not quite so ultraviolet; it's more of a true purple. We decided to go a little bit more in line with "Marvel's Agents of S.H.I.E.L.D." and doing something a little bit more sci-fi.
Marvel.com: Now on the flip side, Clark Gregg's back but he's not Coulson; he's Sarge. How did you come up with a look that's pretty much the opposite of Coulson. There's a point where Sarge looks at a pair of Aviators and was like "Nope, not for me."
Whitney Galitz: That was a lot of discussions with Mo [Tancharoen] and Jed [Whedon], discussing the character and who Sage was, where these people came from, how they were conjured up, and what universe they're from. Because they obviously aren't' from Earth or any planet that we know. The idea was that these people were battle-scarred, battle-weary. They've been traveling through space and time for a very long time. I wanted to bring in that kind of dystopian look but also sci-fi, kind of the exact opposite of our S.H.I.E.L.D. team, which is more futuristic and more edgy.
Marvel.com: It's really cool because when we look at Clark, we've always seen him in a suit and tie, but this rugged soldier also really fits him.
Whitney Galitz: It does, and in early discussions with Clark, we wanted him to be pretty rugged-looking, have the five day old scruff and more of a militant hair style. That's why we did the more shaved head look. I wanted to play with texture and different layers basically. I wanted it to be, these guys travel from planet to planet over years and years of chasing after something. They collect things over time. I wanted to make sure that it looked like they had been on the road for a long time. I also conjured a lot of inspiration from "Mad Max." I felt like it was kind of symbiotic in the sense that he was a battle-weary soldier, taken out of his element and forced into this role. I wanted it to look like he has seen so many things, like he has been around the block. I wanted to make it feel like he's someone who is a force to be reckoned with, as well so something threatening, but also weary at the same time.
Marvel.com: Pivoting to the rest of the team -- Mack's now director and S.H.I.E.L.D. is rebuilding itself once more. What's the evolution of S.H.I.E.L.D. like in their uniform this season?
Whitney Galitz: The biggest transition in terms of the costumes for the main cast would be Mack since he's in this new role as director. Mack has always been someone that's like the big sensitive type but also a force on the team. This time, he's definitely hardened a little bit. He's taken this role very seriously and he wants to do it justice here. He wants to make his old boss proud. I wanted him to take on a much more serious light. So what does that mean? I wanted to make him a little bit more militant. We looked into different kinds of jacket shapes and different kinds of pants and tops that work with that. We changed out his boots. We made them a little bit stiffer, and that also plays a role in how he wears himself. How he walks about and carries himself. We did the utility pant instead of the jeans. Less casual, more militant. We tried on the  turtlenecks, and Henry [Simmons] actually really gravitated toward those right away. He felt very empowered. And they work on him; it gives him an air of authority.
The main thing for me, and also for Jed and Mo, they wanted him to have a new sense of authority. In terms of through the costumes, that meant a really cool serious jacket. I felt like it was something I had to design. I actually designed that jacket. It's custom for him. I went through a series of different kinds of leathers and different kinds of shapes, and I wanted to create something that kind of feels like a military issue but isn't. It's something else. It feels familiar but it's completely unique to our show, and to our hero this season. So that's where the jacket came from.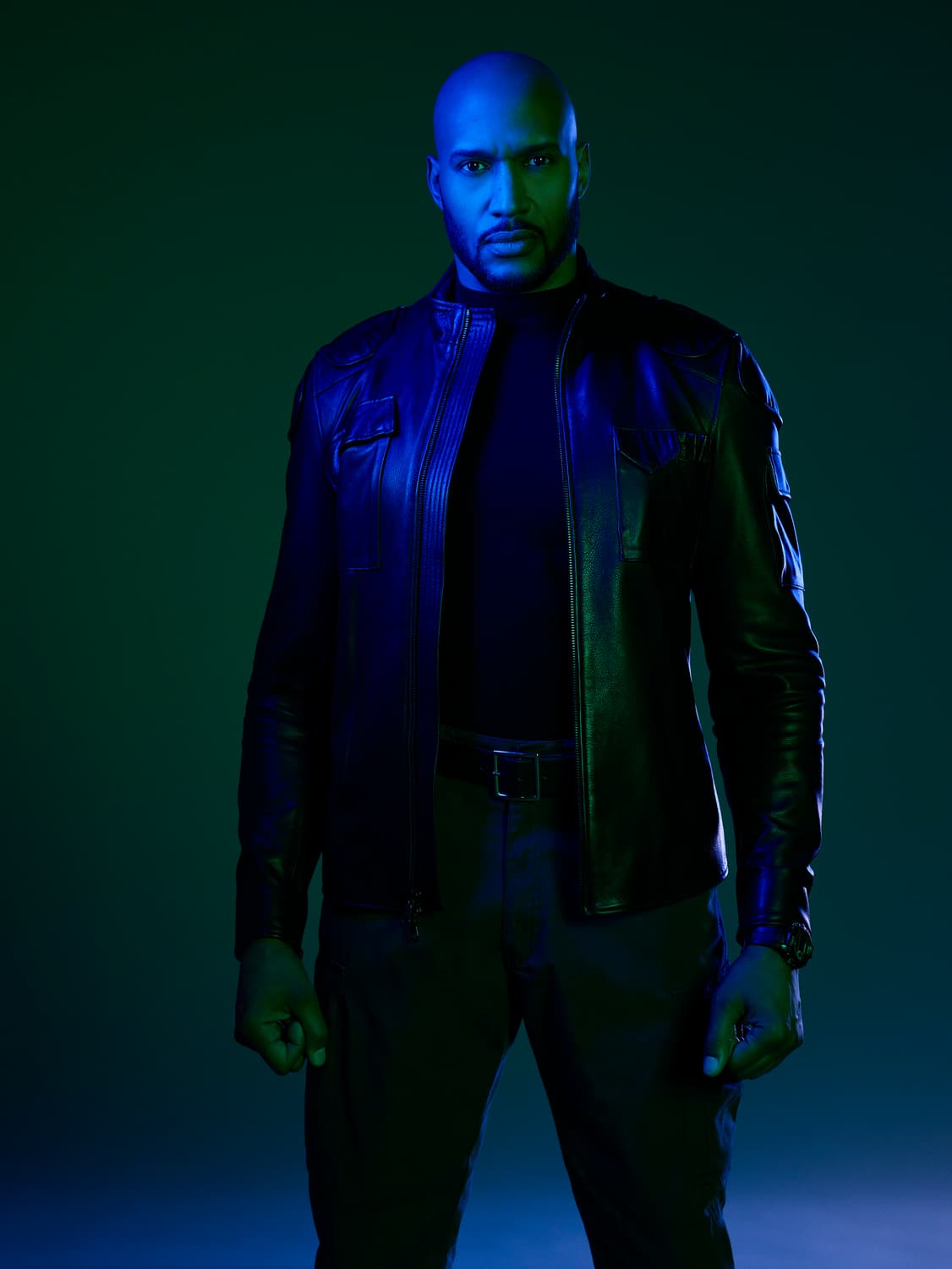 Marvel.com: Now going into space, how did you make it so that Fitz blends in with these alien environments?
Whitney Galitz: For Fitz, he's always been very adaptable, and obviously he's so smart he can learn a language in a few months. We pick up a year after we last saw them [in Season 5]. He's had some time to assimilate to this new culture that he is stowing away in. With the Sivians. We had to kind of create this culture around him, regarding the costume. They're laborers there. It's this grease monkey feel of mechanics and people working in the underbelly of a ship.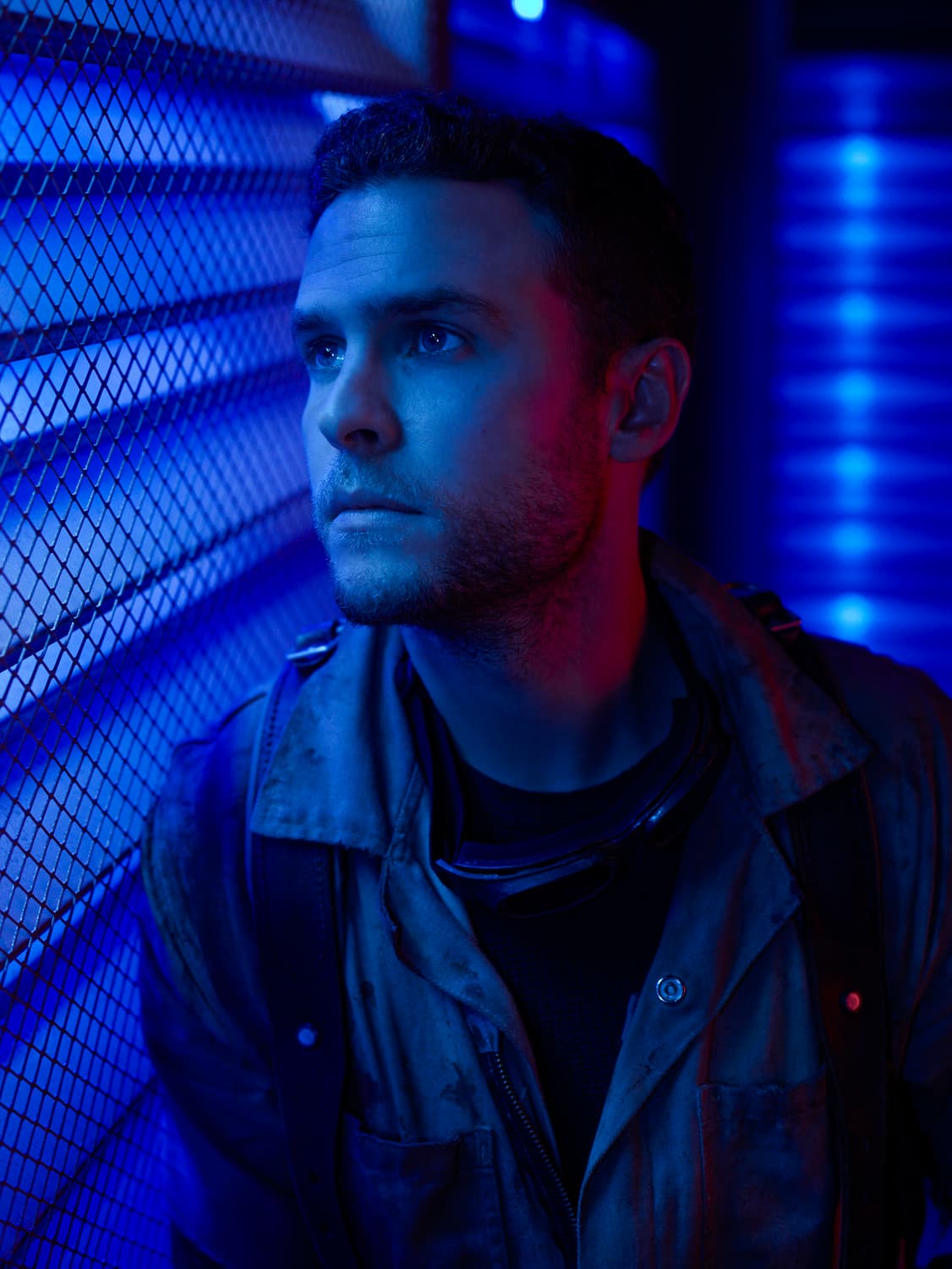 Marvel.com: He had a cool jumpsuit. During the gallery shoot, it was a really cool jumpsuit that looks very much like "Star Wars" but also not quite.
Whitney Galitz: Well that's funny you say that because we took a lot of inspiration -- Season 6, there is a lot of inspiration from "Star Wars" as well as "Blade Runner." Obviously, you can tell some of my favorite sci-fi films are "Mad Max," "Star Wars" and "Blade Runner." "Blade Runner" is one of my all time favorites. The look is like iconic. And it's one of the reasons I became a costume designer. So we wanted to bring all those elements into this season with all the different sets and worlds that we're visiting.
When we developed Fitz's look, Mo and Jed were like, "Oh he's been stowing away on this ship under the guise of being a Sivian this whole time." So he had to change his eyes. He had to learn the language. What do these Sivians do? Well they're laborers. They're mostly people that work in the underbelly of the ship. My first thought was he's a worker. He is someone that is going to be very dirty, someone that is probably in kind of a uniform. Fitz would want to be in something that he can just blend in to the crowd with. We came up with the color palette first, and the look, which was very earth tones, browns, coppers things that you would see in this ship and like in this world with grease and rust and oil stains and all kinds of things like that. Plus some things were made up like snail residuals! Snail poop. He would be covered in it.
What does that mean he's wearing? Well, he's wearing a jumpsuit, coveralls. He's probably wearing some things to protect himself like sleeves under the jumpsuit, arm protectors. He's probably wearing knee pads for when he's leaning down working under pipes. He's wearing some kind of protective boot and then some kind of utility belt. That's kind of where I came up with all that stuff, and then we just wanted to make it look as alien as possible. Then I had an age-dyer this season basically, just age the heck out of all of it and make it look really dirty and greasy.
Not fully up to speed on "Marvel's Agents of S.H.I.E.L.D." yet, we've got a comprehensive guide to everything you need to know about Season 6 here.
Watch the "Marvel's Agents of S.H.I.E.L.D." Season 6 on Fridays at 8|7c on ABC! Stream new episodes the next day on Hulu, On Demand or ABC.com.
For more information on "Marvel's Agents of S.H.I.E.L.D.," visit ABC.com, follow @AgentsofSHIELD on Twitter, and like "Marvel's Agents Of S.H.I.E.L.D."on Facebook for all the latest news and updates.
The Hype Box
Can't-miss news and updates from across the Marvel Universe!