TV Shows
Published June 21, 2019
'Legion' Season 3 Primer — Where We Left Off
Do you remember? Let us help you.
On June 24, Marvel and FX close the book on one of its most surreal series to date. The third and final season of Legion premieres, and if the insanity of the first two seasons were any indication, then fans are in for an even crazier ride this time.
Legion tells the story of David Haller, who has schizophrenia and powerful mutant psychic abilities. After being taken to Summerland to help control his skills, the truth behind his mental state reveals itself.
It's been a while since we last saw our cast of characters. Before Season Three's premiere, let's catch up with Legion's leading players and make sure we have everything straight (well, this is Legion, so we'll do the best we can).
David Haller (Dan Stevens)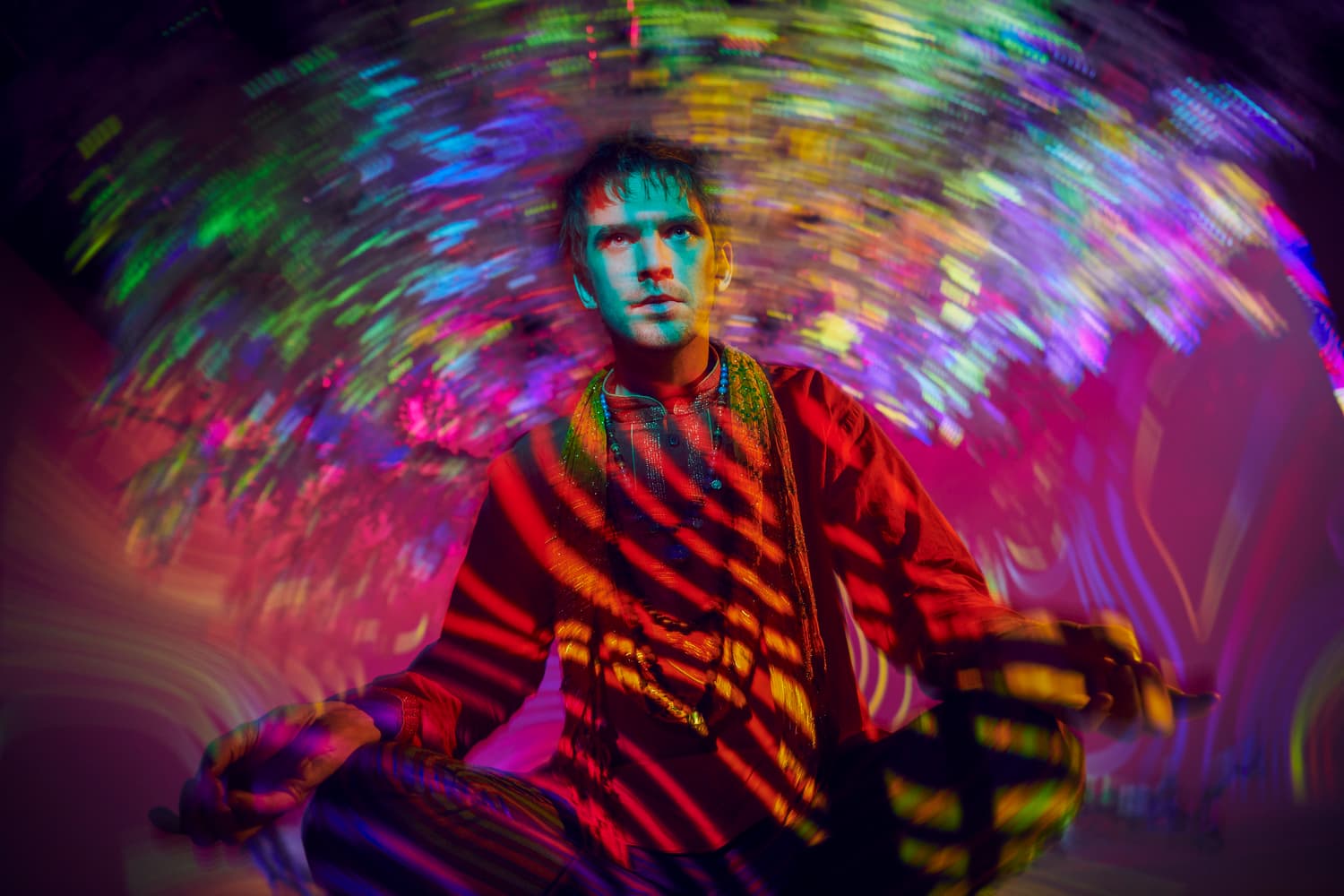 The protagonist of our story (we hope), David is a mutant with powerful psychic abilities. After finally ridding his mind of the parasite known as the Shadow King (Amahl Farouk), David was celebrating with Syd when he is transported into a small orb and kidnapped.
Upon his return to his friends, David realized he has been missing for an entire year, and in the interim, Summerland and Division 3 had formed a truce and combined forces to locate the Farouk who now resides in the body of Oliver Bird. With the help of Cary Loudermilk, David can augment his abilities and can move forward in time to speak with a future version of Syd, the one who kidnapped him.
It turned out David is the cause of an apocalypse in the future, and the Shadow King is the only one who can stop it, so Syd convinces David to help Farouk locate his original body. David agrees and leads Division 3 off of Farouk's trail. Until, of course, Farouk kills David's sister by transforming it into the body and consciousness of Lenny Busker.
David's mission changed to one of revenge, and he stopped at nothing to defeat Farouk. By using all of Division 3, including an almost unspeakable act by manipulating Syd's memories, David defeated the Shadow King.
However, Division 3 realized David was the real threat and released Farouk while capturing David. They said they wanted to help him, but David, still struggling to be a righteous person, had enough. He broke free of his prison and disappeared with Lenny. In a flash forward, the Birds revealed David caused the apocalypse they were trying to avoid.
Syd Barrett (Rachel Keller)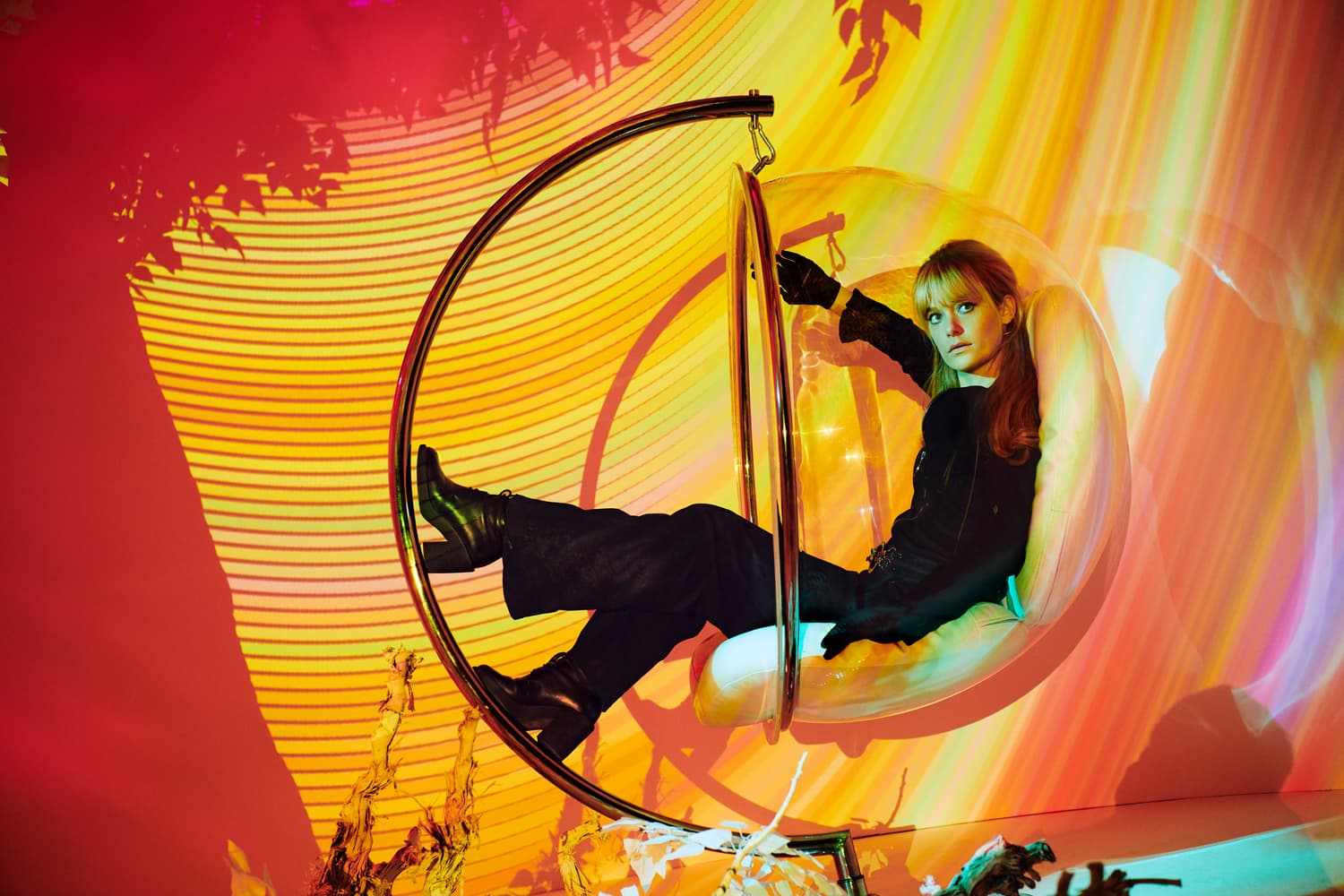 Syd Barrett was the girlfriend of David Haller and his teammate at Summerland/Division 3. During the year David was missing, Syd pined for him, playing a game with herself. If she could hold her breath until her teapot started whistling, David was alive. She also helped Division 3 try to locate the Shadow King.
Soon, David reveals the future version of Syd was the one who kidnapped him and she said that Farouk needed to live to stop an apocalypse in the future. Pretty sure she could trust, well, herself, Syd agreed to help David. She even played a mental game with him so he could learn the mental state he needed to be in when fighting someone as powerful as the Shadow King.
Eventually, Farouk was returned to his original body and had a final encounter with David, who with the help of Division 3 and a mutant power dampening machine called the Choke, was able to defeat him. It was here Syd learned the truth about David. He was the cause of the apocalyptic future. Before she had a chance to stop him, David was able to manipulate her memories to forget his misdeeds and still love him, which led to them having sex. Regaining her memories, she wants to help David, but won't forgive him for what he did to her. Left in the wake of David's escape from Division 3, it's unknown what her next step will be.
Amahl Farouk/Shadow King (Navid Negahban)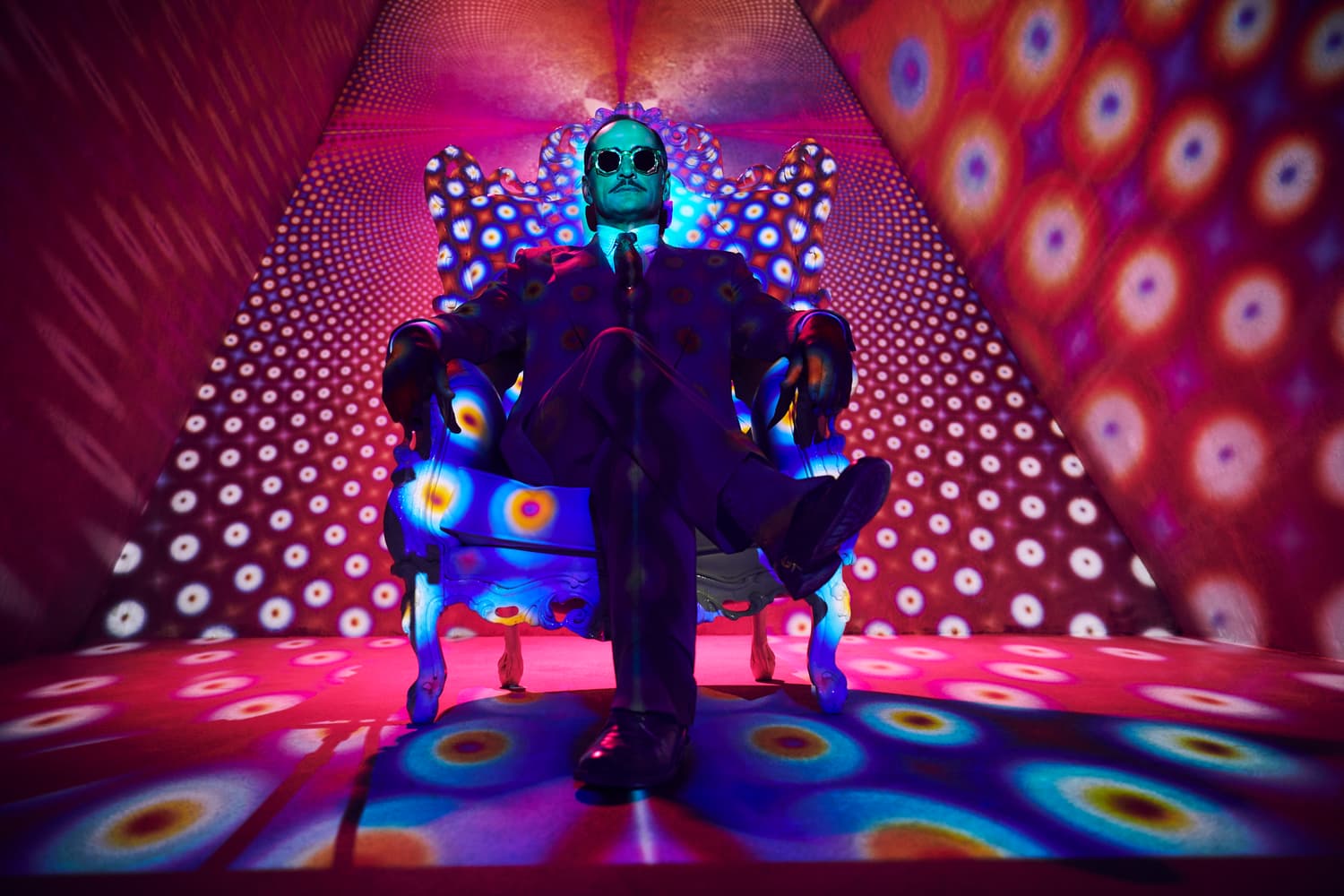 Amahl Farouk, also known as the Shadow King, has been the antagonist since the beginning of the series. Living as a parasite in David Haller's mind for years, Farouk spent his time feeding off David's mutant abilities, leading David and his family to believe he had schizophrenia. After the group at Summerland help David rid Farouk from his mind, Farouk then takes possession of the recently returned Oliver Bird and escapes.
Summerland and Division 3 form a truce to hunt down Farouk, but it turns out it was not a hunt for a villain, but an ally. When Farouk can reach the future version of Syd, she informs him David will cause an apocalypse in the future, and Farouk is the only one able to stop him. To do this, he must get his body back, and Farouk will do anything to get it, including killing David's sister. It was this act which caused David's turn. After Farouk regained his body, he met defeat at the hands of David.
Taken into custody, he is eventually released to help Division 3 deal with their new problem: David. He eventually caused the apocalypse. It is unknown whose side Farouk, the Shadow King, will be on now the world has changed.
Lenny Busker (Aubrey Plaza)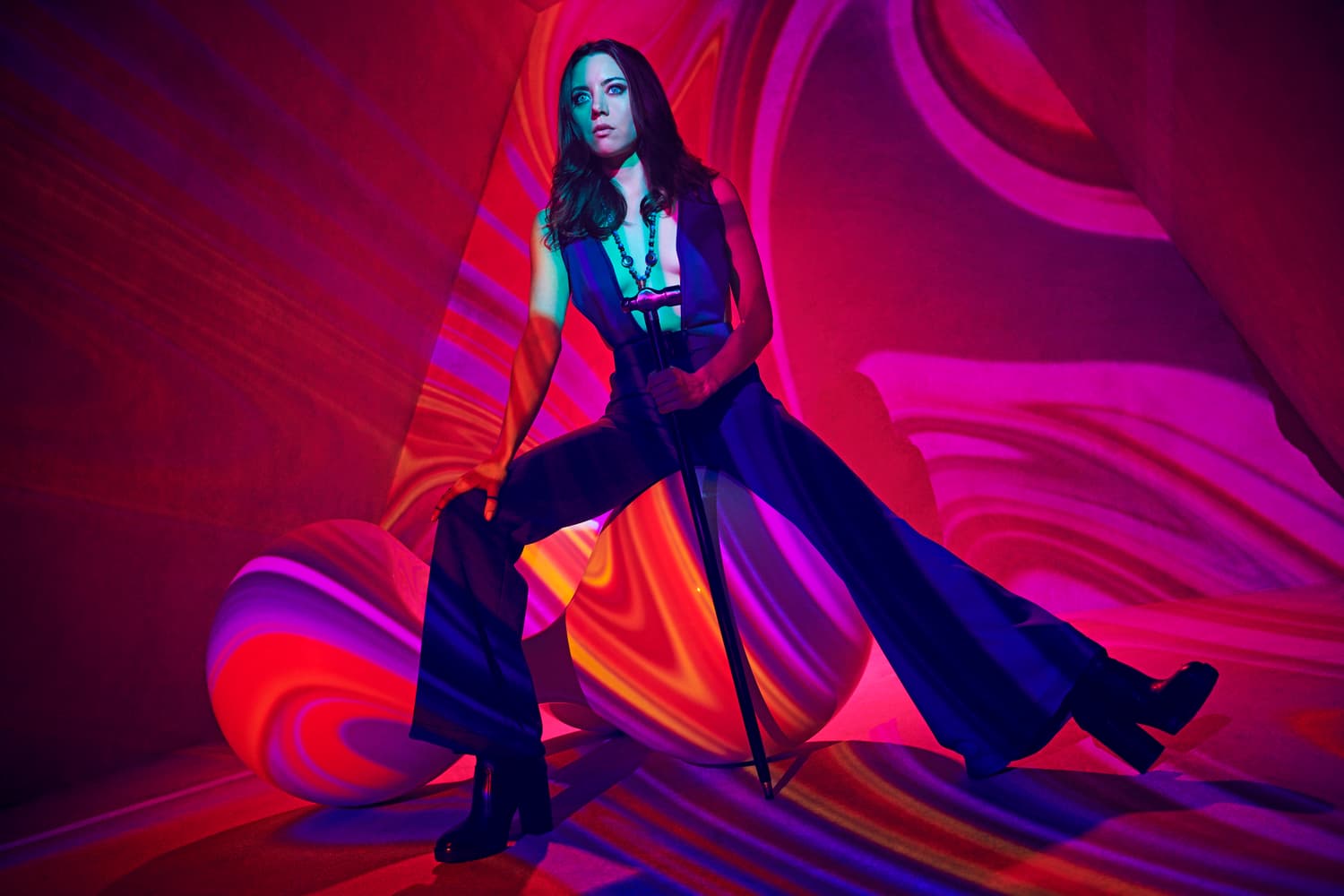 Lenny Busker could teach a college course on the phrase "short end of the stick." She died when Syd, in David's body, unleashed a telekinetic blast leaving her trapped inside a wall. If a painful death wasn't bad enough, her consciousness is now trapped by the Shadow King, who uses her form as an avatar during his manipulation of David.
For some time, Lenny was a prisoner in the Shadow King's mind, consistently asking to either be killed or given a new body. The Shadow King granted her wish, but nothing ever comes easy. Using a unique device and a sample of Lenny's DNA, the Shadow King transforms the body of David's sister Amy into Lenny. The process essentially kills Amy, but not ultimately. She appears to Lenny in her thoughts, much like Lenny did to David in Season 1.
The Shadow King then uses Lenny to infiltrate Division 3, but David eventually learns the truth, causing David to betray everyone in his quest for revenge. Ironically, the woman who inadvertently caused the betrayal is now the only person standing at David's side when he escaped Division 3.
Cary Loudermilk (Bill Irwin)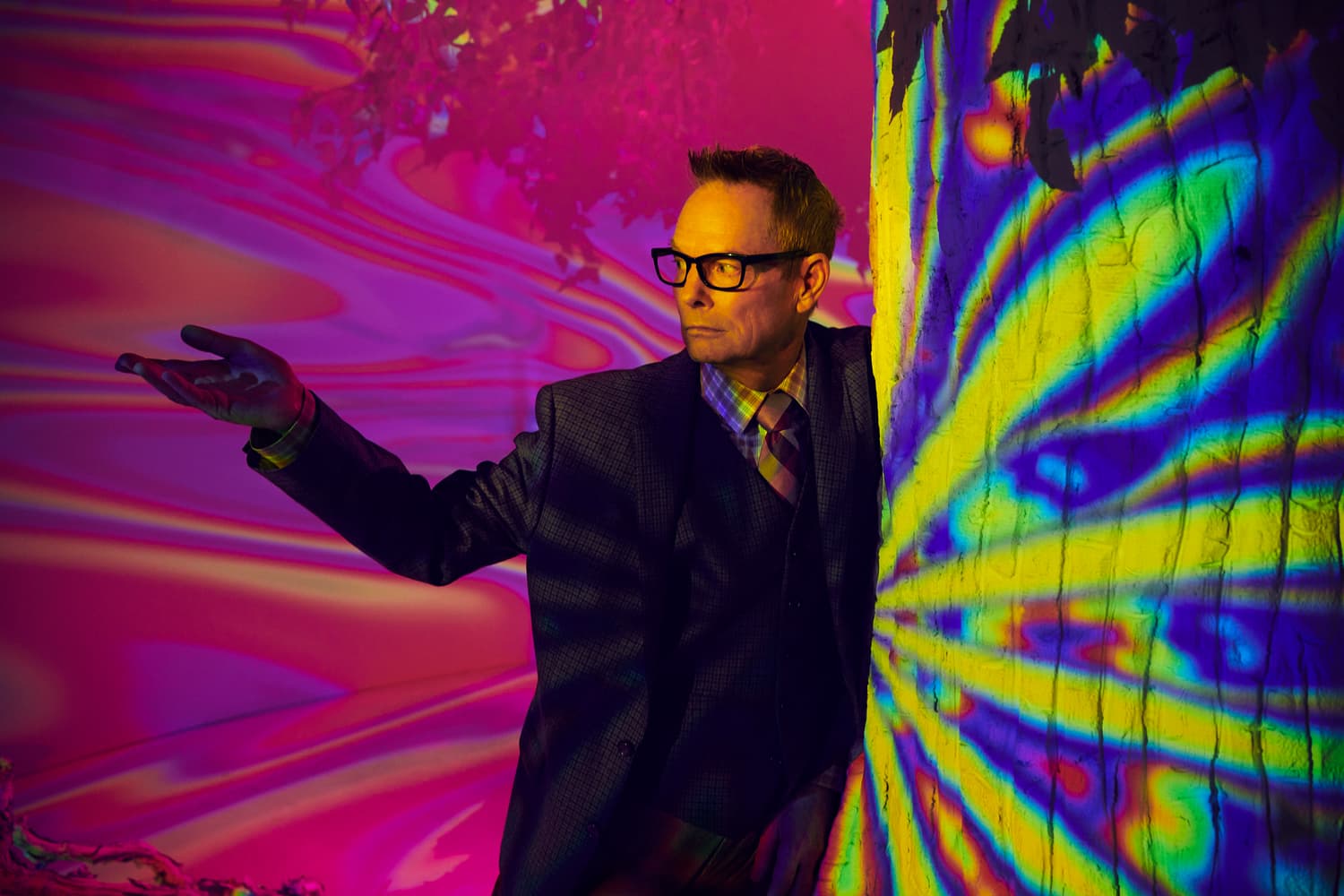 Not much changed for Cary from an occupation standpoint. Instead of being a scientist for Summerland, he was a scientist for Division 3. An attack from the Shadow King on Division 3 turned his life upside down. And no, the result was not him moving to Bel-Air.
His mutation forces him to share a body with Kerry Loudermilk. She resides inside him, coming and going as she pleases. Somehow, the Shadow King was able to reverse the dynamic, so Cary is the one who lives within Kerry. They two are now coming to grips with their current situation, with Cary teaching his counterpart the basics like eating and what happens after eating.
Still a member of Division 3, he helps to capture the Shadow King, as well as capture David following the revelation of his true nature. When Season 2 ended, Cary and Kerry hadn't reverted to their original state. It's unclear if this will have adverse effects on their future.
Kerry Loudermilk (Amber Midthunder)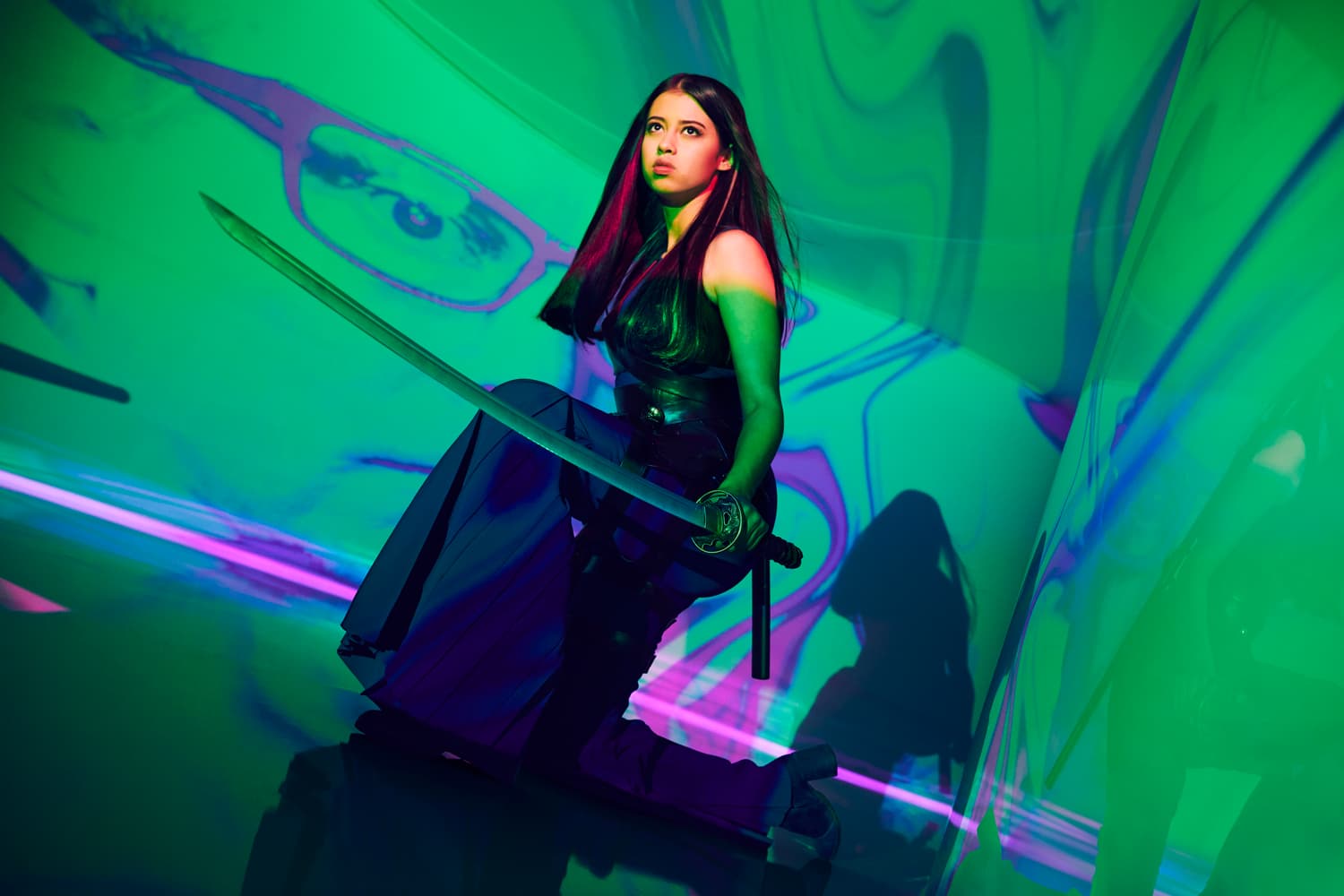 The more aggressive part of the body-sharing duo, Kerry is in charge of the tactical unit of Division 3. When the Shadow King attacks the facility, he causes the dynamic of Kerry and Cary to reverse where Kerry is the main body. The switch causes some physical changes. When Kerry merges with Cary, she does not age, hence the gap in appearance between her and Cary. With this new situation, Kerry starts growing gray hairs. No one knows, least of all the two of them, how fast the aging process is going to continue while the two are in their current state.
New living arrangements won't stop Kerry from kicking some butt. She helps lead the tactical team of Division 3 to the location of Farouk's body, and not only defeats a group of his henchman but a minotaur as well. You'd think seeing and fighting a minotaur would freak someone out, but Kerry has seen, and will probably see crazier things.
She is last seen saving Syd and Cary from the blast caused by David during his escape. If the past has shown us anything, it's Kerry will not be in a "talking" mood.
Ptonomy Wallace (Jeremie Harris)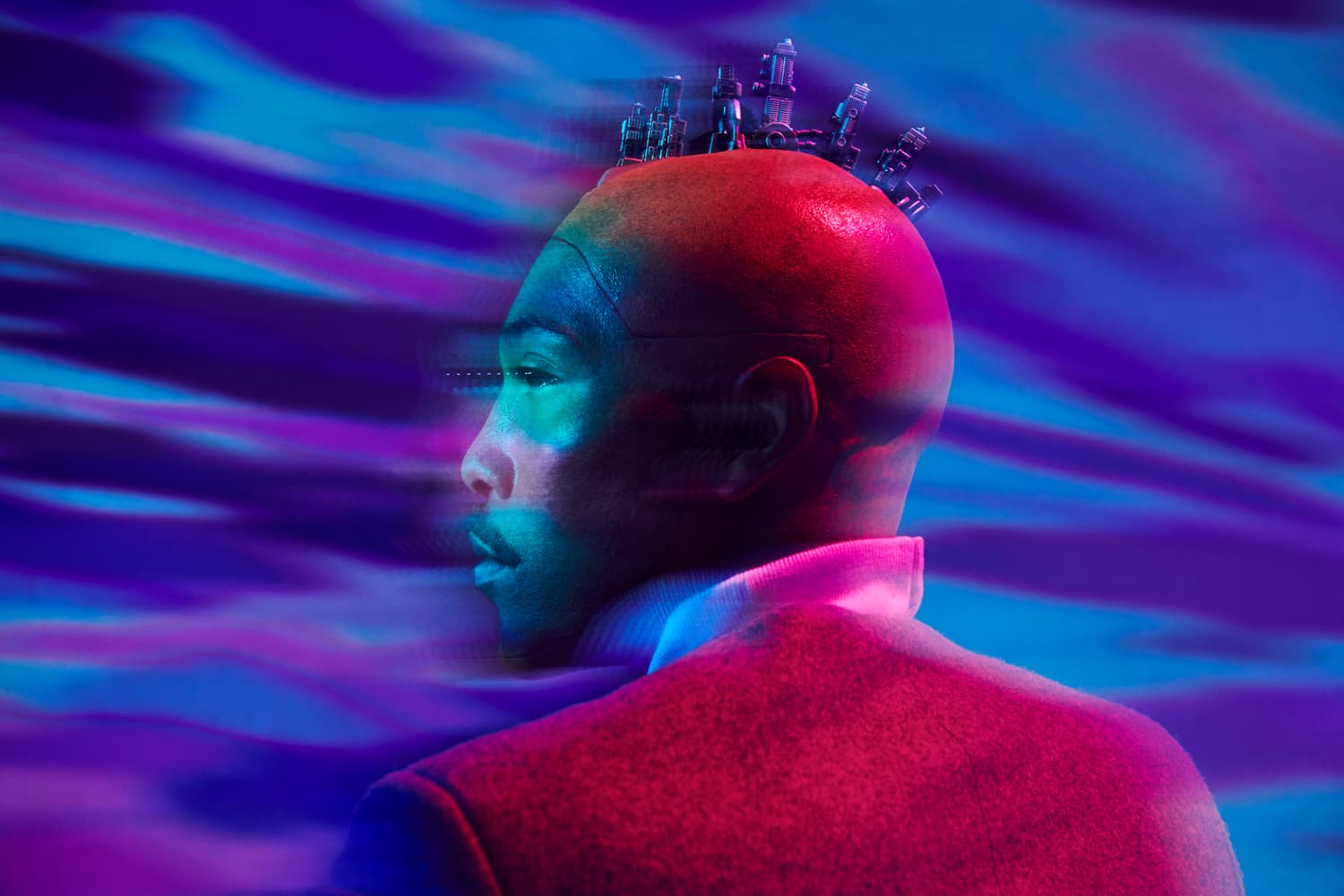 Ptonomy was part of Melanie's team at Summerland, who also joined Division 3 after the merger. His mutant ability is a perfect memory and can take himself and others into the minds of different people. This power is a blessing and a curse. When struck by the Catalyst (a mental virus which shuts the body down and puts the mind in a "maze" of the infected's innermost desires), he wished he could forget one moment to the next.
His life came to an end after being infected by a parasite from the Shadow King. It gave him and others a delusion Admiral Fukuyama (leader of Division 3) was trying to kill them all. When David saved the group from the parasite, the trauma killed Ptonomy. The Vermillion, the android aides to Fukuyama, were able to save Ptonomy's life by uploading his consciousness into their Mainframe, becoming part of Fukuyama's system.
Clark Debussy (Hamish Linklater)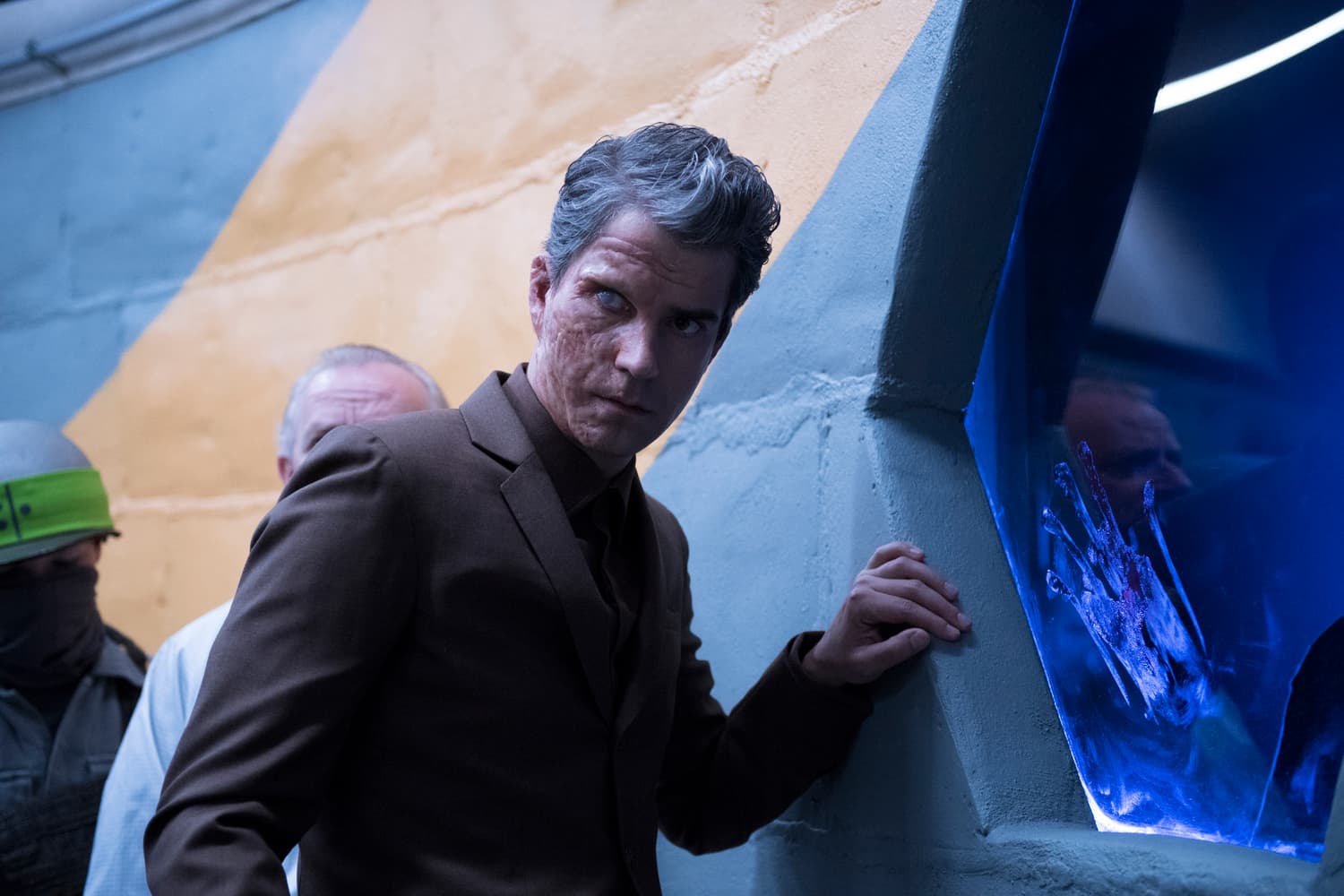 Clark is the agent from Division 3, who initially interrogates David. Scarred and injured during David's escape, Clark is reluctant but still goes along with the merger of Summerland and the Division.
Clark doesn't trust David upon his return, knowing right off he is in league with the Shadow King. Eventually trusting David, Clark helps him set up the Choke is Le Désolé as a chance to defeat Farouk finally.
Clark is there when David escapes Division 3 with Lenny, and must be wondering if he had followed through with his earlier instincts, would things have turned out differently?
Dr. Melanie Bird (Jean Smart)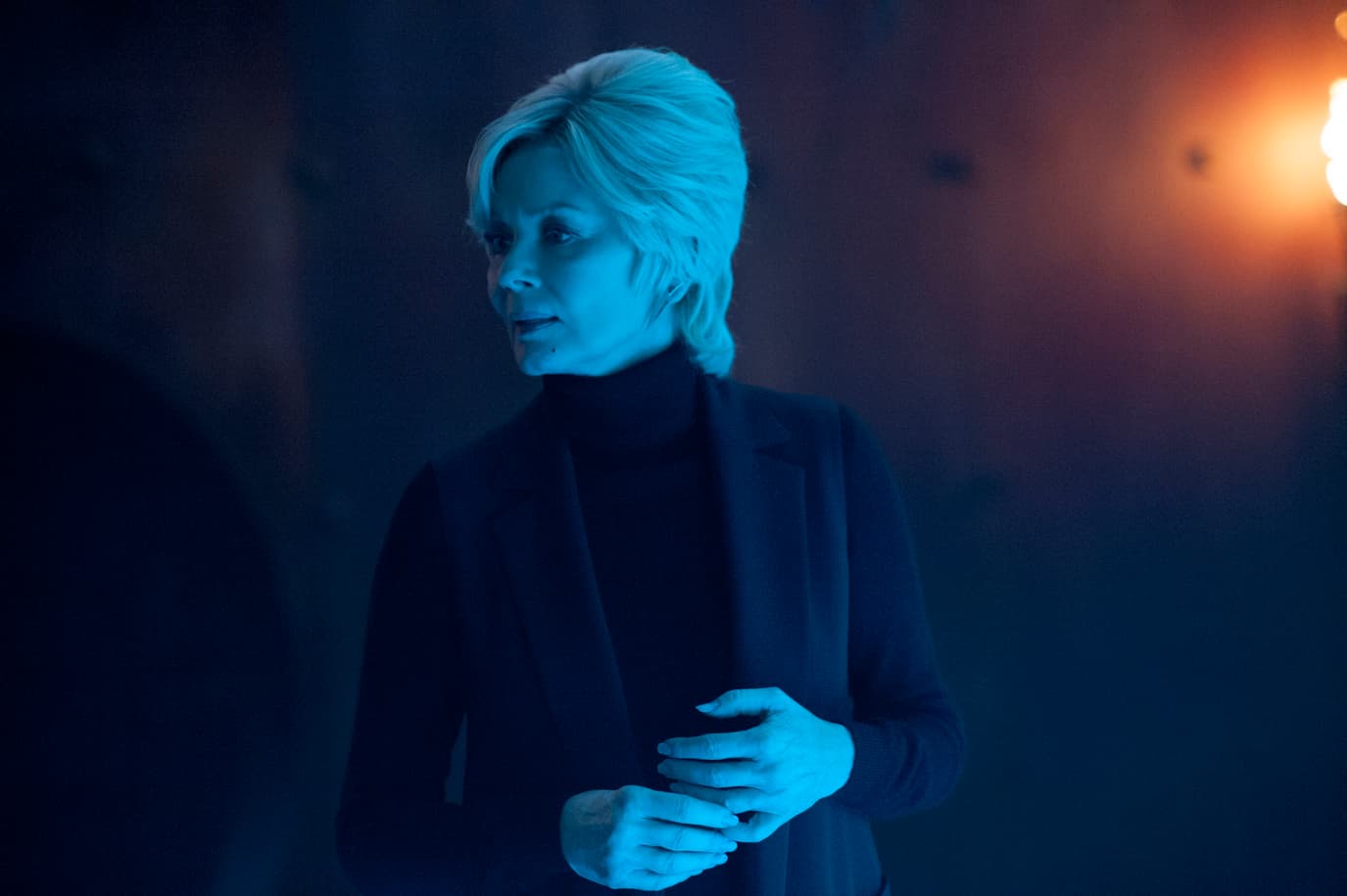 Melanie is in a state of depression following the escape of the Shadow King in Oliver's body at the end of Season 1. It's not the fact her husband has lost control over his body to a psychopath, but her husband has yet again left her. The Shadow King sees this weakness and exploits it, visiting Melanie in her mind in the form of Oliver in an attempt to control her.
It's fitting that it was her idea to combine Summerland with Division 3 to help stop Farouk, only for her to be part of the reason they lose and the Shadow King regains his body. After manipulating her long enough, Farouk is eventually able to transfer into Melanie's body, who acts as a "transfer vessel" upon finding his real body in Le Désolé. Following David's betrayal and escape, Melanie is now living in the Astral Plane with her husband, slowly forgetting everything from the outside world.
Oliver Bird (Jemaine Clement)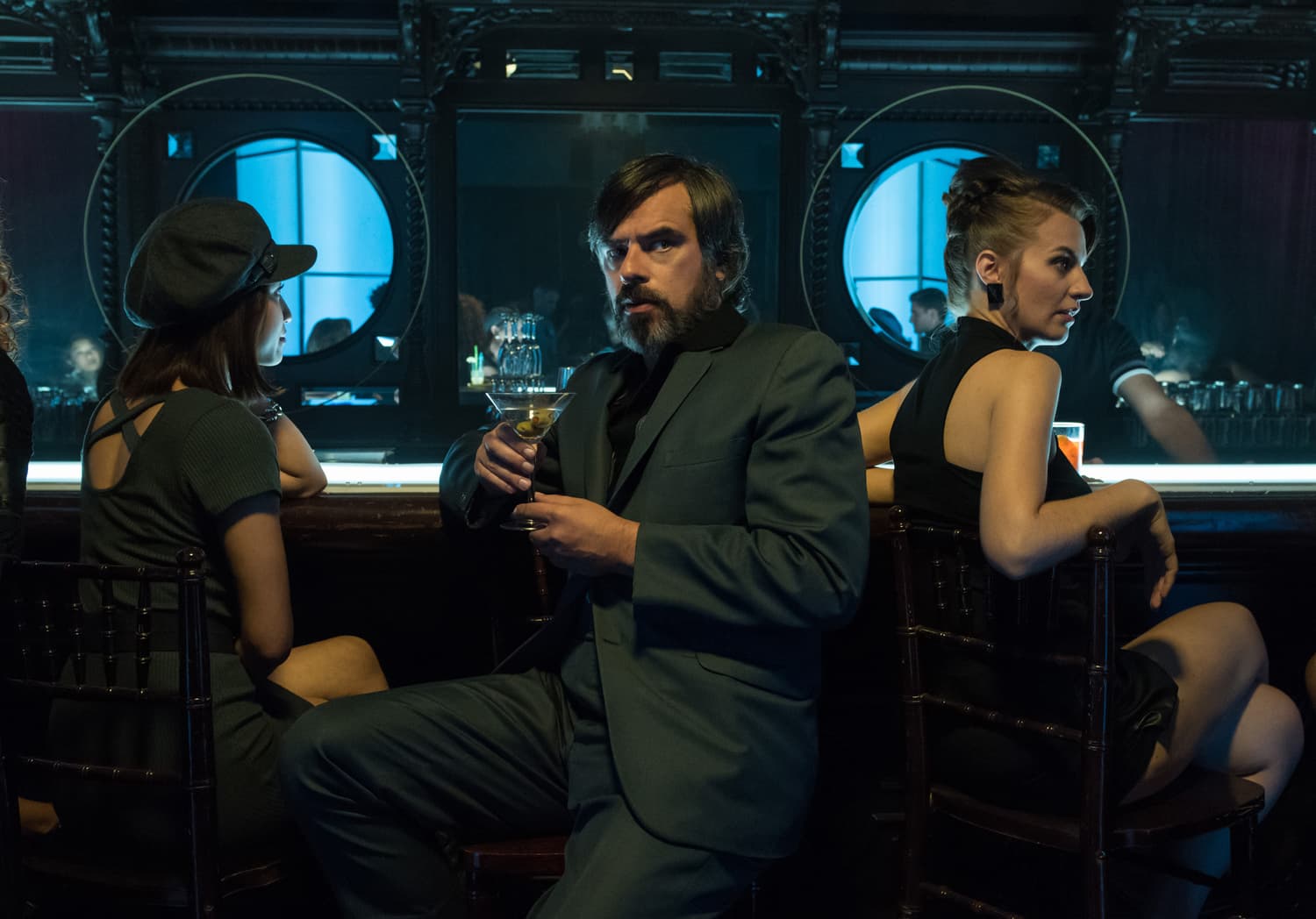 Oliver Bird is Melanie's husband. He has psychic mutant abilities similar to David's but on a smaller scale. His powers allow him to traverse the Astral Plane at his leisure. After visit after visit, Oliver remained in the plane while his body was cryogenically frozen. He had been in this state for 21 years until he returned to the land of the living to help Summerland remove the Shadow King from David's mind.
They were successful but at a cost. The Shadow King now possessed Oliver, and together escaped Summerland. With Division 3 on his trail, Oliver "helped" the Shadow King manipulate person after person to get the location of his original body.
Following the death of Amy Haller, David captures who he thinks is Shadow King in Oliver's body, and tortures him. Unfortunately, the Shadow King had left Oliver, leaving him alone at David's mercy. It was this act which led Oliver to return to the Astral Plane, this time with Melanie, where they can live without having to deal with the outside world.
Amy Haller (Katie Aselton)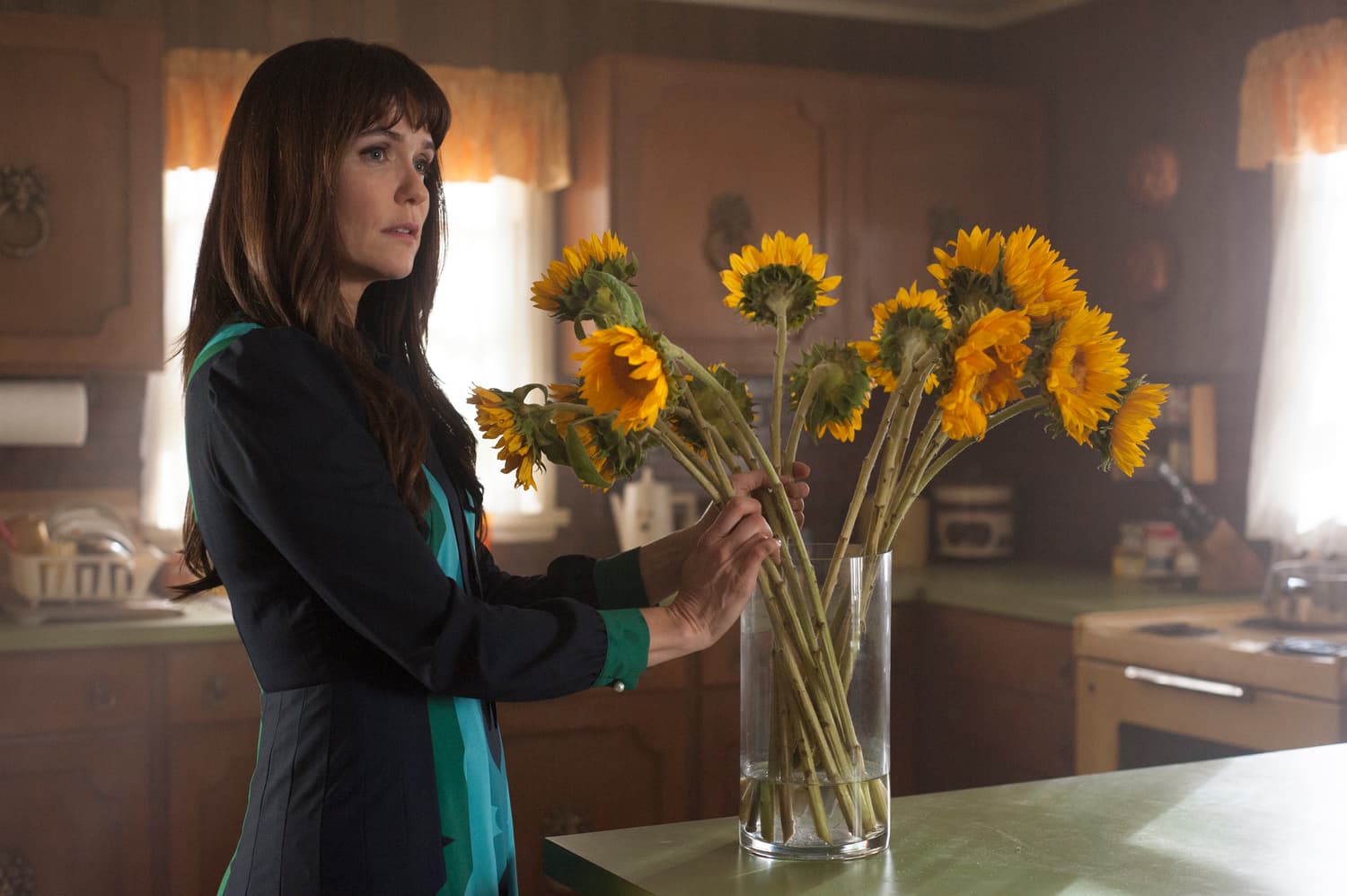 Amy has always been there for her brother. Even when it meant doing things he may not understand. After promising David he would only have to spend a few weeks at Clockworks, she would visit him during the next six years. When David escaped and went to Summerland, Division 3 kidnapped Amy as bait to draw David out. It worked a little too well, as a Shadow King-possessed David raided their headquarters and rescued Amy, killing multiple people.
Following those events, Amy and her husband now live in a small house, protected by the new Division 3. It worked for a while until the Shadow King found them. Killing both Division 3 soldiers and Amy's husband, the Shadow King used a stolen device on Amy, re-writing her DNA to take the form of Lenny Busker, then transferring Lenny's consciousness into this new body.
Amy is dead in a physical sense, but Lenny could argue the point. Amy now appears to Lenny much like Lenny (used as the Shadow King's avatar) did to David. Amy is in there somewhere. It's just a question of if she is ready to come out.
Legion has a LOT of moving parts. Some of them follow the path they are supposed to, while others go off in their own directions. Regardless of where the parts are, they come together to create something magical.
Legion returns for its third season on FX on Monday, June 24 at 10:00 PM ET/PT — here's a couple articles to get you ready!
You can follow "Legion" on Twitter, Facebook, and Instagram.
The Hype Box
Can't-miss news and updates from across the Marvel Universe!