TV Shows
Published February 2, 2018
'Marvel's Agents of S.H.I.E.L.D.' Throwback Thursday: Inhumans
See how the Inhumans have been a part 'Marvel's Agents of S.H.I.E.L.D.' from the beginning!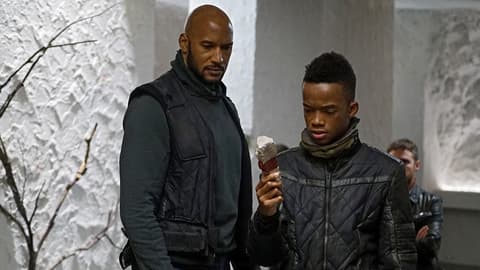 "Marvel's Agents of S.H.I.E.L.D." Throwback Thursday looks back at how the last five years of "Marvel's Agents of S.H.I.E.L.D." influenced this recent episodes. 
"Marvel's Agents of S.H.I.E.L.D." has always incorporated deep references to the Marvel Universe, and the Inhumans have been prevalent throughout the series. During the Kree-Skrull War, the Kree began experimenting on humans by splicing human DNA with their own, which resulted in a powerful race of mutants who came to be known as the Inhumans. After being exposed to Terrigen Mist, the Inhumans go through Terrigenesis which gives them strange and unimaginable powers.
Season 2 introduces the Inhumans to the S.H.I.E.L.D. agents. After an encounter with the Inhuman Lincoln, Skye learns more about her true ancestry and that her birth name is Daisy. After being exposed to the Terrigen Mist, her powers are revealed and she becomes Quake. Season 3 is when Daisy assembles a team of Inhumans, known as Secret Warriors—Lincoln Campbell who had the ability to manipulate the electrical charge in molecules, Joey Gutierrez who could manipulate metal, and Elena "Yo-Yo" Rodriguez—to fight against HYDRA.
Inhumans are a key part in Season 5, with the Kree playing a major role in the storyline. It revealed the return of Robin Hinton, an Inhuman we first meet as a young girl back in Season 3 finale "Accession." It was then that Daisy handed Robin a wooden bird, carved by her father Charles Hinton—also an Inhuman—as she promised Charles she would protect his family.
Flash forward to this season (Episode 5 "Rewind"), Fitz is surprised to see the young girl once again, this time having recently undergone Terrigenesis. Now known as The Seer, Robin prophesied the Earth's destruction. In Episode 8 "The Last Day," Robin resurfaces once again, this time 74 years in the future as an elderly woman. Upon her deathbed, Robin reveals to May that Flint, the Inhuman, will be their savior.
Just what did Robin's vision mean? After being exposed to Terrigen crystals in Episode 6 "Fun & Games," Flint takes the advice of Mack, and in the end decides to use his powers to protect people. Which leads us to this week's episode, "Past Life," Flint is our agents last hope to return home. Can Flint's Inhuman powers reconstruct the monolith? Tune in to "Marvel's Agents of S.H.I.E.L.D." on Fridays at 9:00 PM ET on ABC!
Don't forget to follow @AgentsofSHIELD on Twitter and like "Marvel's Agents Of S.H.I.E.L.D." on Facebook!
The Hype Box
Can't-miss news and updates from across the Marvel Universe!