TV Shows
Published June 22, 2020
'Marvel's Agents of S.H.I.E.L.D.': Enver Gjokaj Talks Agent Sousa's Brush with Death
New episodes of 'S.H.I.E.L.D.' air Wednesdays at 10/9c!
If you haven't watched the latest episode of Marvel's Agents of S.H.I.E.L.D., there are SPOILERS ahead!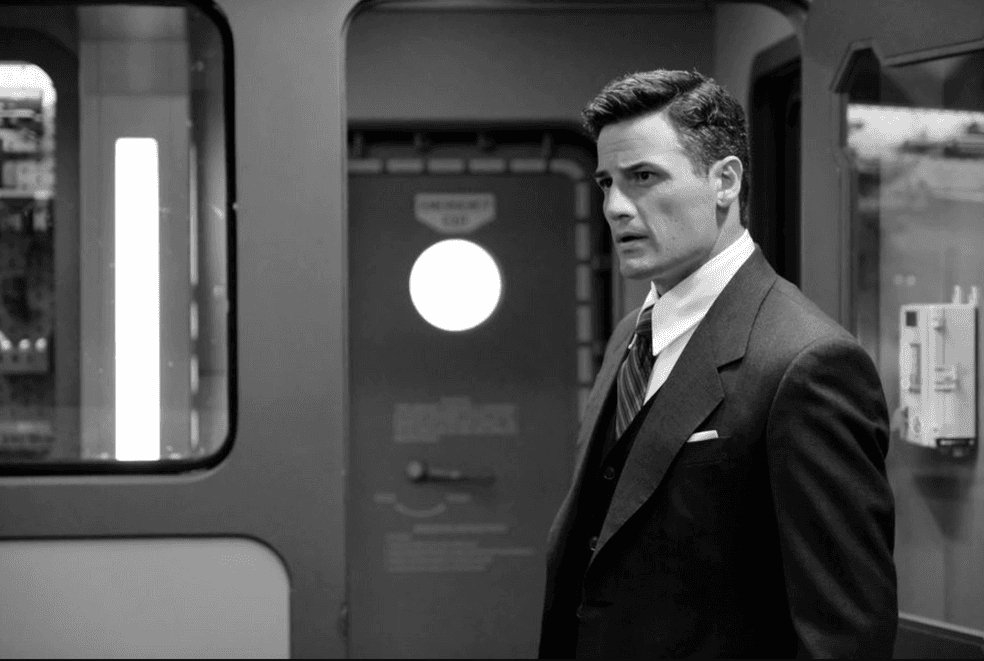 As Agent Phil Coulson tells Agent Daniel Sousa at the end of the latest episode of Marvel's Agents of S.H.I.E.L.D., "welcome to life after death."
In "Out of the Past" — which is told through Coulson's point-of-view in the style of film noir, complete with a black and white backdrop — viewers learn that they're about to witness Agent Sousa's death. In 1955, he becomes the first fallen agent of S.H.I.E.L.D cementing his place in the agency's history. But, not if the agents from the future can stop it. 
Hoping to save Sousa and thwart the Chronicoms who are still jumping through time, the team devises a plan to fake Sousa's death. Essentially, he does still technically "dies" in 1955, leaving the Chronicoms to believe that nothing about their timeline has been altered. But in reality, Sousa is still alive and well, and now on board the Zephyr One. And just like Coulson, Daisy, Mack, Deke and everyone else, Sousa is about to find himself in a brand new decade — one he's never even imagined before. 
Following the episode, Marvel.com hopped on the phone with Enver Gjokaj, who's once again reprising the role he's carried over from Marvel's Agent Carter, to discuss Sousa's brush with death and what it's going to be like traveling into the future. 
Marvel.com: How did you react when you learned Sousa was going to die — and did you immediately know he would actually live?
Enver Gjokaj: I didn't know! I did not know at the time what the commitment was going to be. They were picking me up pretty much on an episode-by-episode basis, so I think at that time [of Episode 4] it was unclear what the commitment was going to be. Just like any actor, generally, people think actors know what's going to happen the whole season. We find out when we get the script for that episode what's going to happen to your character of that episode. 
Marvel.com: The episode literally opens revealing Sousa's going to die! Did you furiously read through the script to learn how it happens? 
Enver Gjokaj: I wasn't too concerned. I think I was more thinking — I was more impressed that they were going to do a black and white episode, to be honest. I thought that was the coolest thing I'd ever heard, that I would be able to be in a black and white noir film episode. So I was thrilled. If that was the way that I had to go out, then I would have been absolutely ecstatic. 
Marvel.com: Do you remember your reaction when you learned just how he supposedly dies? That's a huge piece of S.H.I.E.L.D. history, considering Sousa becomes the agency's first fallen agent. 
Enver Gjokaj: It's super cool, honestly. I grew up reading Marvel comics and it still blows me away that I'm somehow now-- I am portraying the character, to be clear, when I say I, that I've been a part of Marvel history now, and that I'm somehow in the Marvel universe as a character with some significance. It's so fun and it's such a trip. To this day, it's still a real treat. 
Marvel.com: Considering we haven't seen Sousa since the end of Marvel's Agent Carter, did you create your own kind of ending for what happened to Sousa, and does it line up with what we're seeing on S.H.I.E.L.D.?
Enver Gjokaj: Well, I talk to the showrunners on Agents of S.H.I.E.L.D. about this specifically. And they made clear that — and I totally agree, that they wanted Sousa to be much further along in his progression as an awesome super agent. They wanted to see that Sousa that had in the intervening years become a bit of a 007 of S.H.I.E.L.D., maybe not that smooth, but he's seen things, he's done things, he's been through the wringer. He's seen intrigue and espionage, and he's not too surprised by much. So that when he's taken into a time travel machine, that it really means something that he's kind of blown away, that it really is — that it's a lot of firsts for a guy who's seen a lot of stuff. 
Marvel.com: Sousa meets the whole S.H.I.E.L.D. team in this episode when he arrives on Zephyr One. How is he going to react to them, and vice versa?
Enver Gjokaj: Sousa spends a lot of this next episode in shock, literally in shock, I think, of what is happening. His surroundings are so new, and trying to process his feelings about never being able to see his loved ones again, while he's on the run, while they're running through and doing all this stuff. And [the team has] no time for them to stop for him to process his emotions about it. So you're going to see Sousa kind of mourning on the run, if that makes sense. 
Marvel.com: How do you think the new team dynamic will change since he is now part of the team? 
Enver Gjokaj: I don't know if he's a part of the team quite yet. This next episode is him kind of struggling with that question exactly, whether or not he wants to be a part of this team, or even be traveling through time. So it's not quite a certain —  at this point, it's not a done deal. 
Marvel.com: With the next episode, the agents are moving into a brand new time. What can you tease about the next decade and destination? 
Enver Gjokaj: I can tease that you're going to see Daniel having a really difficult time trying to go undercover and wear '70s clothes. That's what you're going to see. That I think is a fair tease. Absolutely, it's not his era, the '70s. You probably couldn't pick an era that was less Sousa. So he's a man out of time, but he's probably a man in the worst time for Sousa. 
Season 7 of Marvel's Agents of S.H.I.E.L.D. airs Wednesdays at 10 p.m. ET/PT on ABC.
For more information on "Marvel's Agents of S.H.I.E.L.D.," visit ABC.com, follow @AgentsofSHIELD on Twitter, and like "Marvel's Agents Of S.H.I.E.L.D." on Facebook for all the latest news and updates.
The Hype Box
Can't-miss news and updates from across the Marvel Universe!