TV Shows
Published March 9, 2021
'WandaVision': Director Matt Shakman on Paul Bettany's Jokes, Wanda's Perfect World, and Making Kathryn Hahn Fly
The Marvel Studios series is now streaming on Disney+!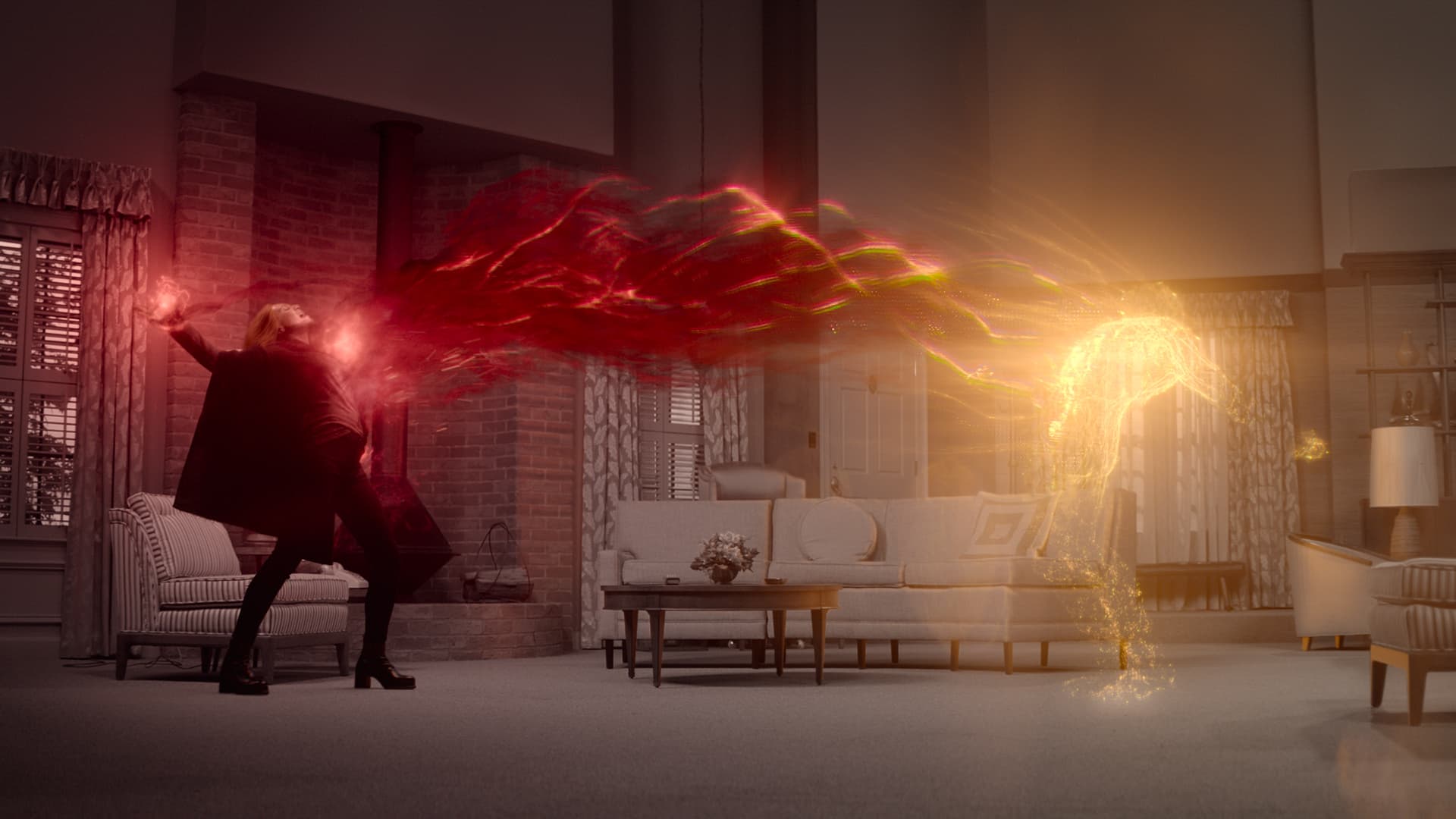 How do you create a perfect television world? Well, if you're Wanda Maximoff you just do it. However, for the cast and crew of Marvel Studios' WandaVision, making it a reality was a little bit more difficult. As for one of the most powerful figures in the Marvel Cinematic Universe, they had to pull out all the stops. "It had to be perfect because Wanda created it," director Matt Shakman explained.
With the finale of WandaVision now streaming on Disney+, our journey to and from Westview, New Jersey is now complete. Wanda has taken on the mantle of The Scarlet Witch, even though doing so meant she needed to say goodbye to Vision for now the third time — while also along the way learning how to raise two twin boys, and eventually fight off nosey next-door neighbor Agatha Harkness. Easier said than done, even in her perfect sitcom world.
So how did it all come together, oftentimes as a show-within-a-show? Marvel.com spoke to Shakman, who helmed all nine episodes of the series about what it was like to actually perfect Wanda's world.
Marvel.com: First off, real quick question, are you aware that Paul Bettany was winding everyone up and teasing a surprise cameo, and it was just him? Are you aware of this?
Matt Shakman: Very aware. I have talked to Paul about it many times. He is one of the funniest people I know and it tickles me that he did this. [laughs] I think once you know what the answer is and you go back and look at the other interviews, he lays it on thick. He really does. 'There's going to be fireworks' and all this kind of stuff. [laughs] He's very funny. He's been joking since the beginning about the fact that he's always wanted to work with someone as good as he is. Whenever we were doing those scenes, he was making that joke the whole time. So clearly yes, I have talked to Paul Bettany about this.
Marvel.com: Earlier in the season, I talked to Teyonah Parris, Randall Park, and Kat Dennings about the series and they described coming in for their first meeting and that there were early WandaVision images all over the walls.
Matt Shakman: It was covered in pictures from sitcoms, from comic books — all of the comic books you would imagine about Vision and Scarlet Witch that are out there, that we were using as inspiration.
Eventually, as we started to build out... Marvel is a place where you are constantly surrounded by images, as you probably know. The walls of my office, the walls of every conference room we have were just filled with gorgeous, beautiful concept art, and storyboards, and imagery of the actors and the sequences that we were building towards.
We told everybody who was in multiple episodes how it all worked. It was one of my favorite tasks, which was to sit down and explain some of our recurring players who were coming in, and maybe couldn't read everything, I would need to give them the lowdown about what was happening. [I needed to] explain the Hex, to explain the world that they were in, because it was a lot to process.
But Randall, Kat, Teyonah, Paul, Lizzie, Kathryn, they knew everything and had been reading every script as it came out, as we developed it, so they were aware of everything. Actors do need that context. And without it, they will be a little lost in knowing how far to go.
The style was really important, especially within the sitcom world. So if you're coming in even as the mailman, our delivery man, Amos [Glick], he had a lot to do in the show and not a lot of context. So it took a while to sort of explain everything to him, and then he fit in beautifully.
Marvel.com: What was it like making Kathryn Hahn fly? Because I feel like that's been one of her life goals for a very long time, to fly. It's certainly something I've thought about before.
Matt Shakman: Kathryn Hahn is a legend. She is awesome. She is game for anything.
She hadn't been up there flying, [before] and Teyonah hadn't done a lot of that wire either. Lizzie and Paul are pros, and they were great at sort of taking everyone else under their wing and sort of giving them the lowdown about how those harnesses work, and the little tricks and hacks to make them more comfortable. And I think they enjoyed sort of passing down the Marvel knowledge that probably had been passed down to them too, through all these films.
Marvel.com: Were Wanda and Agatha's scenes filmed together, like when they're floating mid-air? Or was it like one green screen here, one green screen there, and then meshed together? The back-and-forth between them is electric.
Matt Shakman: A lot of it is filmed with them in proximity to each other, some of it is filmed separately. But whenever you film an actor, you always have the other one off-camera. So if we were shooting Lizzie on wires and we didn't need to see Kathryn, we would still put her on a ladder, or something high up, so she could be where she needed to be.
That was a very tricky thing to shoot though, because they're moving through space so they're constantly changing their position with regards to each other. So a lot of that just had to be done sort of static, and then through the trickery of visual effects we kind of made them move around each other more.
Marvel.com: Paul Bettany went into great lengths about how the two Visions scene was shot.
Matt Shakman: It was super complicated. But I have to say hats-off to Paul, and also hats-off to Adam [Lytle], who was his stunt double. Because we knew that it would be a real acting challenge. And he's a performer, but it's a very dialogue-heavy sequence. And for Paul to have what he needed off-camera, we needed to have Adam be just as fluent in the scene.
We rehearsed it as Adam was actually going to be on camera, filmed. Well, he was, but you know, that he would be the one as the scene partner, even though we replaced it with Paul. And he was great at going above and beyond what you would expect from a stunt performer, in that he was-- he really wanted to provide Paul everything that he needed on the other side. So he learned both sets of dialogue, like Paul, and delivered a great performance.
Marvel.com: Can you talk about that goodbye? Vision has now died for the third time, and it's such a powerful moment between him and Wanda.
Matt Shakman: I know there will be a lot of people who will be heartbroken to see him go yet again. I think they probably are hoping that he will have a new life. [Shaeffer] wrote so many different beautiful speeches and finally just nailed it with that.
And I think if there's any solace to be taken, it's just that idea that they've said good-bye before, and they'll say hello again, you know. And that he's been so many different things that who knows what the future will bring?
All episodes of Marvel Studios' WandaVision are now streaming on Disney+.
Want more exciting information about Phase 4? Find the latest Marvel Cinematic Universe news right here — and stay tuned for more!
This is just the beginning of the Phase 4 news. Stay tuned to Marvel.com for more details! And be sure to follow Marvel on Facebook, Twitter, and Instagram.
Looking for more Marvel movies and shows to stream? Check out everything on Disney+, Hulu, and ESPN+ right here, and where to find all your favorite Super Heroes right here. Sign up for Disney+ and start streaming now!
The Hype Box
Can't-miss news and updates from across the Marvel Universe!