TV Shows
Published February 23, 2021
'WandaVision': Kat Dennings Talks About Being the Smartest Person in the Room and the Funnel of Love
New trio alert — Darcy, Vision, and a funnel truck.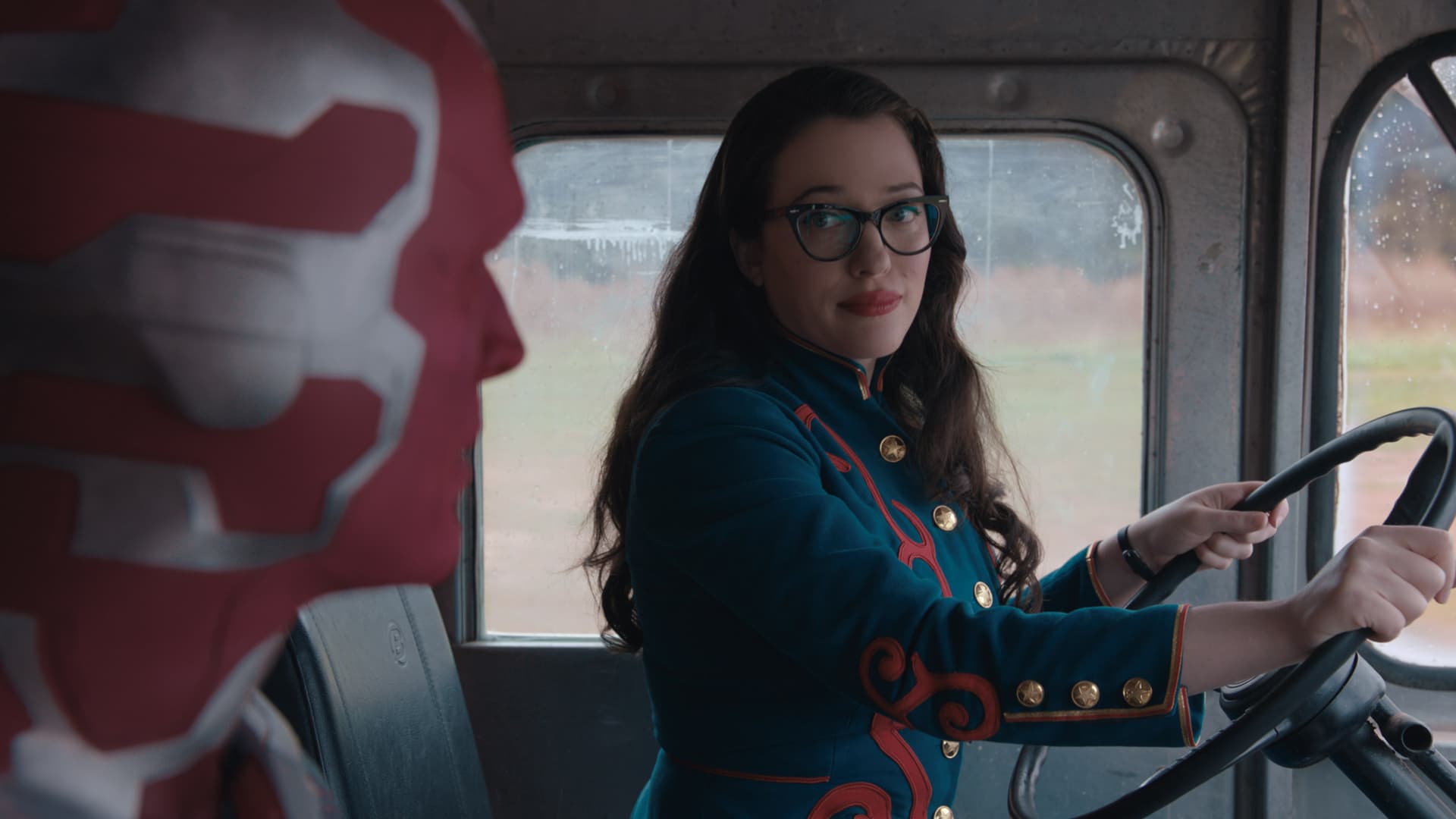 Get ready for the most unlikely trio to arrive in the Marvel Cinematic Universe: Vision, Dr. Darcy Lewis, and a stolen funnel cake truck. The latest episode of Marvel Studios' WandaVision, "Breaking the Fourth Wall," sees the synthezoid and the doctor hijack the vehicle to escape the circus and try to make it back to Westview, no matter what speed bumps might appear along the way.
Kat Dennings returns to the MCU for the first time since her role in Marvel Studios' Thor: The Dark World, and it's clear since then, Darcy has become a respected member in the field of astrophysicists...and also an avid watcher of 'WandaVision.' Talking to Marvel.com, Dennings explained what it's like to be back, what it was like to drive around in that funnel cake truck, and how there's a hidden meaning behind her costumes this season.
Marvel.com: Welcome back to the MCU, we've been waiting for you! How exciting is this?
Kat Dennings: It's so exciting. It's so unexpected. I mean, I did not expect to get that call. And I said yes immediately not knowing what I was saying yes to, and I didn't care. But I was certainly so excited to be part of WandaVision. It's definitely the most unique and surprising premise of anything, I think, Marvel's ever done or anyone's ever done, if I'm being honest.
Marvel.com: And Darcy now has her own Twitter emoji!
Kat Dennings: Wow, that was like the big — I mean, I was already happy. But the emoji really sealed the deal. The Dark World had Minimates, so I have a Darcy Minimate. And with that I was like, "Well, I can die now. That's it, that'll do." [That Minimate was] the best thing that's ever happened to me.
But now, with an emoji, I had a freak out, I really did it. Now there's Instagram GIFs, there's a little Darcy one with a little light bulb. It's amazing. This is the kind of thing that gets me excited.
Marvel.com: What did you know about WandaVision when it was first pitched to you? Was it very basic like, "It's a sitcom thing!" How was it explained to you?
Kat Dennings: I had my first in-person meeting with Jac Schaeffer and Matt Shakman, the writer and director, and it was in the Marvel offices. And the room — it's covered like serial killer style. The walls are just papered with comic book pages and references to all the sitcoms. And all the different eras had their own space on the wall.
And I was just like, "What are you doing?" and, "How are you going to do this?" They laid it all out for me. But I will confess that I was like, I don't understand how this is going to go. This is insane. It's a massive undertaking that they — I mean, the writers are unbelievable — they pulled it off amazingly.
Marvel.com: How does it feel for Darcy to now be one of the smartest people in the room?
Kat Dennings: Well, it's a feeling I'm [personally] not familiar with [laughs]. So I absolutely loved it. That was one of the more fun parts was, for me, I didn't know what Darcy could be doing there because Darcy's had no interaction with [any of the characters in] WandaVision at all, right? Her interaction has been limited to Thor and Jane Foster and Erik Selvig, and that's it.
She's now an expert. She's a doctor, she's a PhD, she's an astrophysicist. So she is one of the smartest people there, without question, maybe the smartest. It feels good.
Marvel.com: You team up with Randall Park and Teyonah Parris, and you three form your own little trio — Darcy, Jimmy, and Monica.  What was it like working with the two of them?
Kat Dennings: Oh, my god, amazing. I love Randall so much. He's a wonderful person. And Teyonah is somebody that I hit it off with right away. I liked her right away. You know how you can just tell with people? I loved her right away.
And we have a really fun relationship in the show because Darcy's a Monica fangirl. We see, in Episode 5, when she meets Monica. She's like, "I know who you are!" She's so excited she gets to be near Monica Rambeau. And she's a big fan, so there's that fun thing of Darcy idolizes her and also gets to help. And then they become friends. And it's great, it's fun. It's like a fun little team.
Marvel.com: You leave the two of them for a bit, after you're accidentally sucked into the Westview anomaly at the end of Episode 6, and we meet the "escape artist" in Episode 7.
Kat Dennings: Yeah, that was unbelievable. I also didn't know that was going to happen.
There's a theme in Darcy's costumes that the very astute will notice, which is this teal color. Mayes is such an artist that she was like, "Everything is teal to match your eyes." I was like, what? That's the most romantic thing anyone has ever said to me.
So a lot of Darcy's main costumes are my eye color. So she based that whole look off of that, which is just an incredible— she's amazing. Who else would think of that?
And the character I play is the escape artist because Wanda has expanded the hex. And now the S.W.O.R.D. base is a circus. So I'm the escape artist with chains and whatever. And it obviously didn't change her personality too much.
Marvel.com: Following that, you actually teamed up with Vision. Can you talk about working with Paul Bettany and the mad chase you two go on?
Kat Dennings: I will say, that was probably one of the highlights of my entire career because I'm a massive fan of him, as an actor, not just from the Marvel films, but as an actor. I think he's one of the best. He's also a lovely, wonderful, funny, great guy. And I was like, my god, I cannot believe I have scenes with this dude. I can't believe it.
And it's the most unexpected team. People think Jimmy and Darcy are unexpected, wait for Darcy and Vision together! So I will say, those scenes with him were the scenes I was probably the most excited about. The look of it is so amazing.
Being able to act with Paul Bettany, what an unforgettable experience. It was a great time. That truck is very funny. There were efforts to get that Funnel of Love logo as many places as they could.
Wondering what happens next? Catch a brand-new episode of Marvel Studios' WandaVision this Friday, streaming exclusively on Disney+!
Want more exciting information about Phase 4? Find the latest Marvel Cinematic Universe news right here — and stay tuned for more!
This is just the beginning of the Phase 4 news. Stay tuned to Marvel.com for more details! And be sure to follow Marvel on Facebook, Twitter, and Instagram.
Looking for more Marvel movies and shows to stream? Check out everything on Disney+, Hulu, and ESPN+ right here, and where to find all your favorite Super Heroes right here. Sign up for Disney+ and start streaming now!
The Hype Box
Can't-miss news and updates from across the Marvel Universe!