Comics
Published November 2, 2021
The Love Life of Aunt May
Recap May Parker's many romances on Marvel Unlimited!
Have you tried Marvel Unlimited yet? It's your all-access pass to over 29,000 Marvel comics, available at your fingertips. Download our all-new, supercharged app on the App Store or Google Play today and save 50% off your first month!
If life is fleeting, then love and happiness can be even more evanescent—especially in a comics universe home to the likes of reality-bending characters like Wanda Maximoff and planet-eating gods like Galactus. And this doesn't even cover regular day-to-day happenings, which are even smaller in scale and can be just as life altering to those intimately affected. You could fall in love, and in a blink, it's gone, but you somehow manage to keep living, learning to manage the love persevering in grief. May Parker, AKA Spider-Man's Aunt May, knows all about it.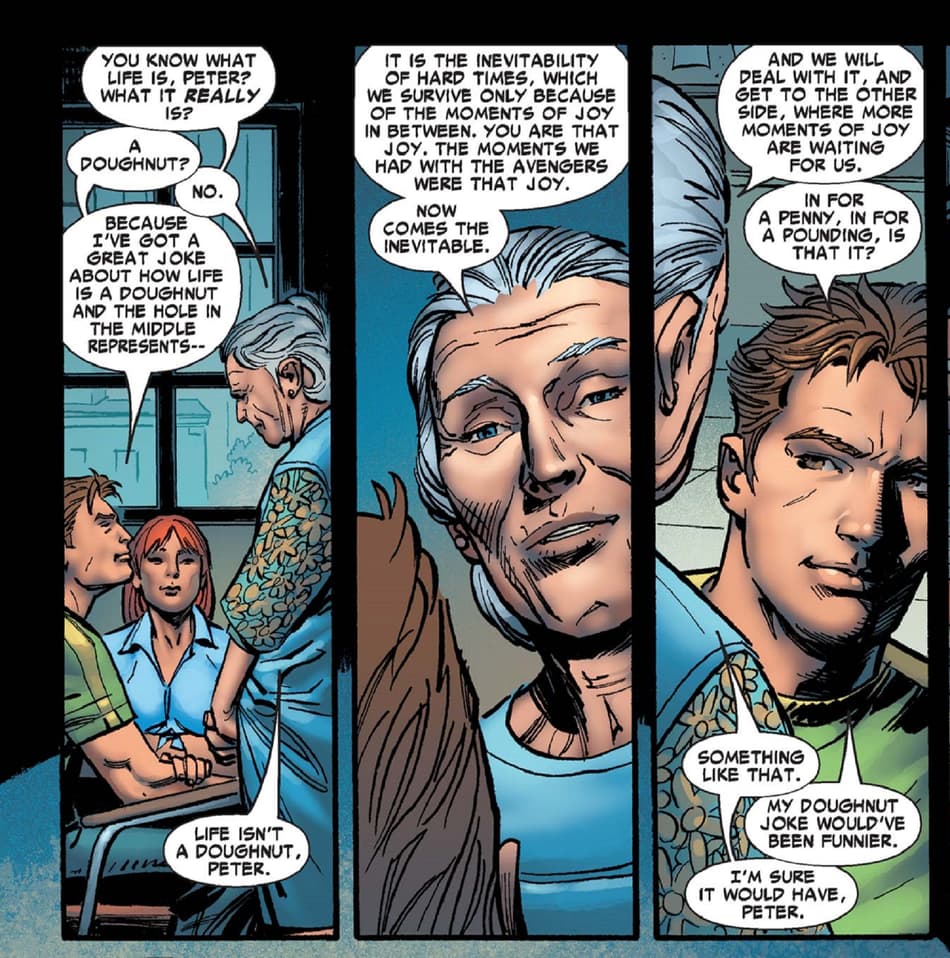 Aunt May has loved, lost, loved again, and then lost a few more times, but she keeps on. Aunties deserve a love life too. And May Parker is just your Friendly Neighborhood Knockout.
BEN PARKER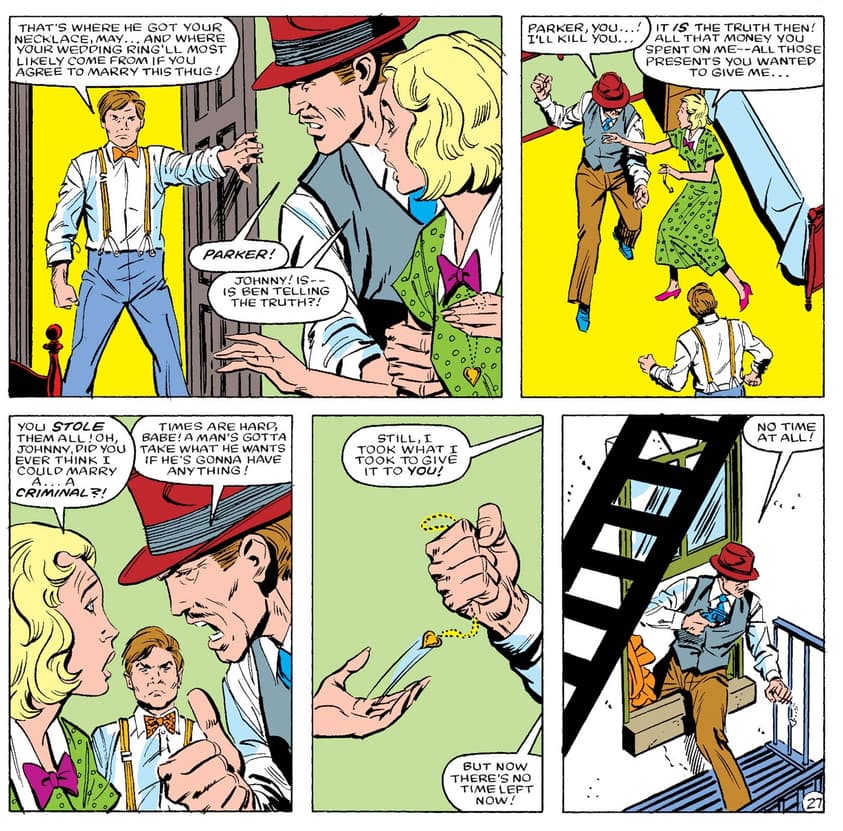 The greatest love and the tremendous loss of May's life will always and forever be Ben Parker. From the beginning of their relationship, he has always had her best interest at heart. Before May and Ben became an item, she was in love with a smooth criminal named Johnny Jerome. Now, May had no idea that Mr. Jerome was a thief, and when Ben came to her about it, she dismissed it as slander. May had her mind set on marrying someone who was financially well-off. However, not all money is good money. Thankfully Ben stepped in before May was swept into a "Bonnie and Clyde" lifestyle with Johnny.
After things ended with Johnny, May's desires for a rich husband morphed into wanting a husband who was rich in love and devotion. Ben was an honest and hardworking man. She came to appreciate him, and the two fell in love. It was a little rocky for a moment. The two of them broke up after a big fight but then married three weeks later. Their life together after saying "I Do" was as loving as it could be. They went on to raise their nephew Peter until the day Ben was tragically attacked and killed. He died as the hero that May came to love.
DOCTOR OCTOPUS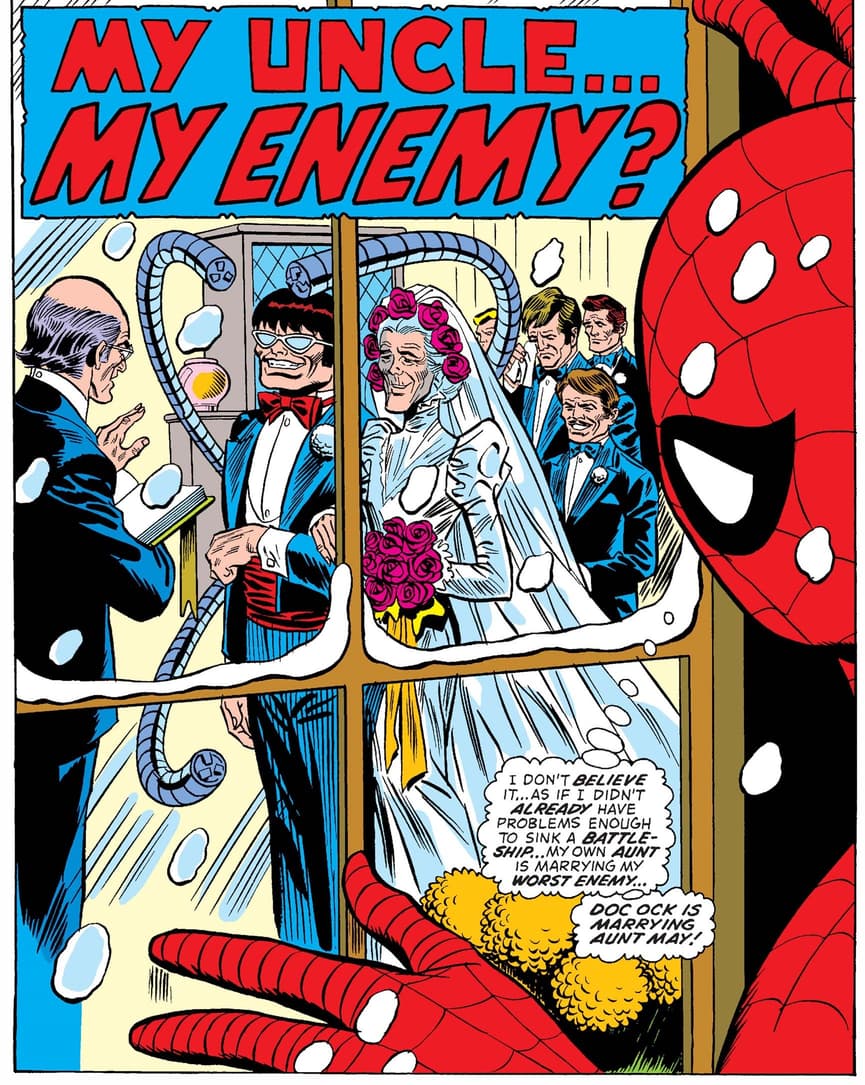 No one could ever replace Ben Parker, and surely not a villainous someone like Doctor Octopus. May having a short fling with one of her nephew's greatest foes does check out once you remember that she almost married bad boy Johnny Jerome. At least Doc Ock is the more established criminal out of the two!
May winds up in the multiple mechanical-armed embrace of Dr. Otto Octavius after Gwen Stacy drags her for treating Peter like a little boy and smothering him instead of giving him space. May took Gwen's outburst to heart, prompting her to move out. May wound up at Otto's doorstep instead, and started working as a lady of the manor.
The two of them had some prior history as Otto had once taken up residence in May's home when she rented out rooms after Peter went to live with Harry Osborn. As odd as this pairing may seem, it was genuine. Otto didn't hold back in his care of May. He kept her out of harm's way when trouble found him and almost married her before Spider-Man crashed their wedding.
WILLIE LUMPKIN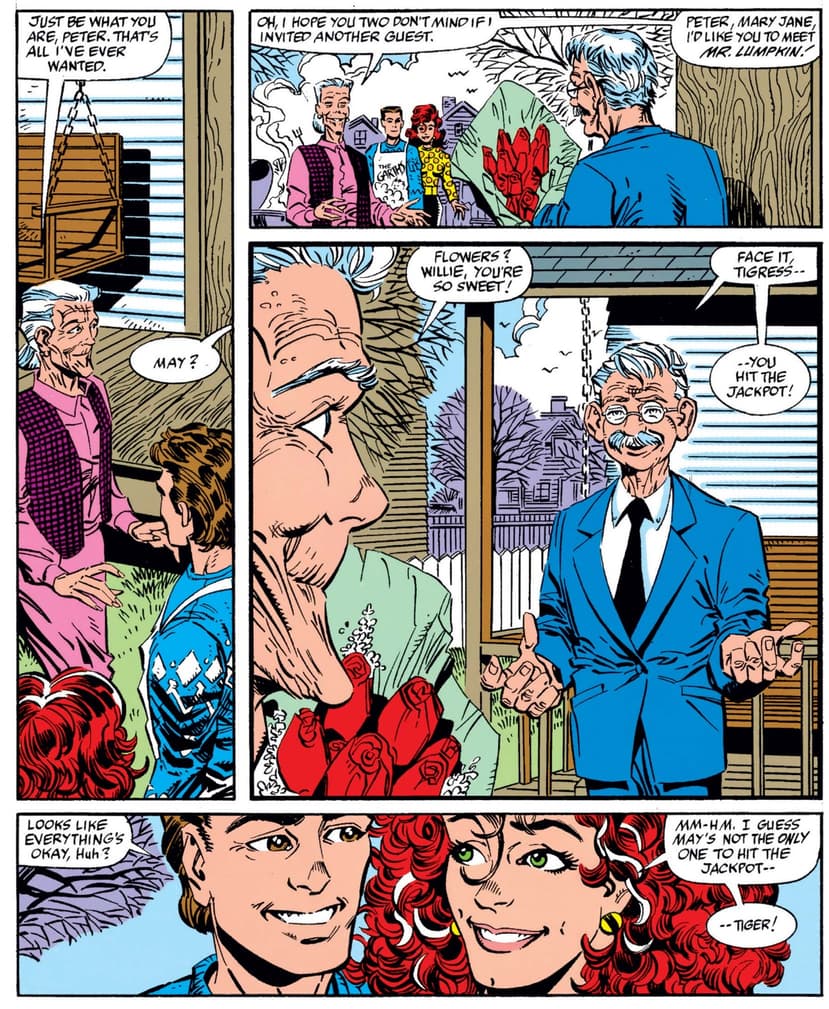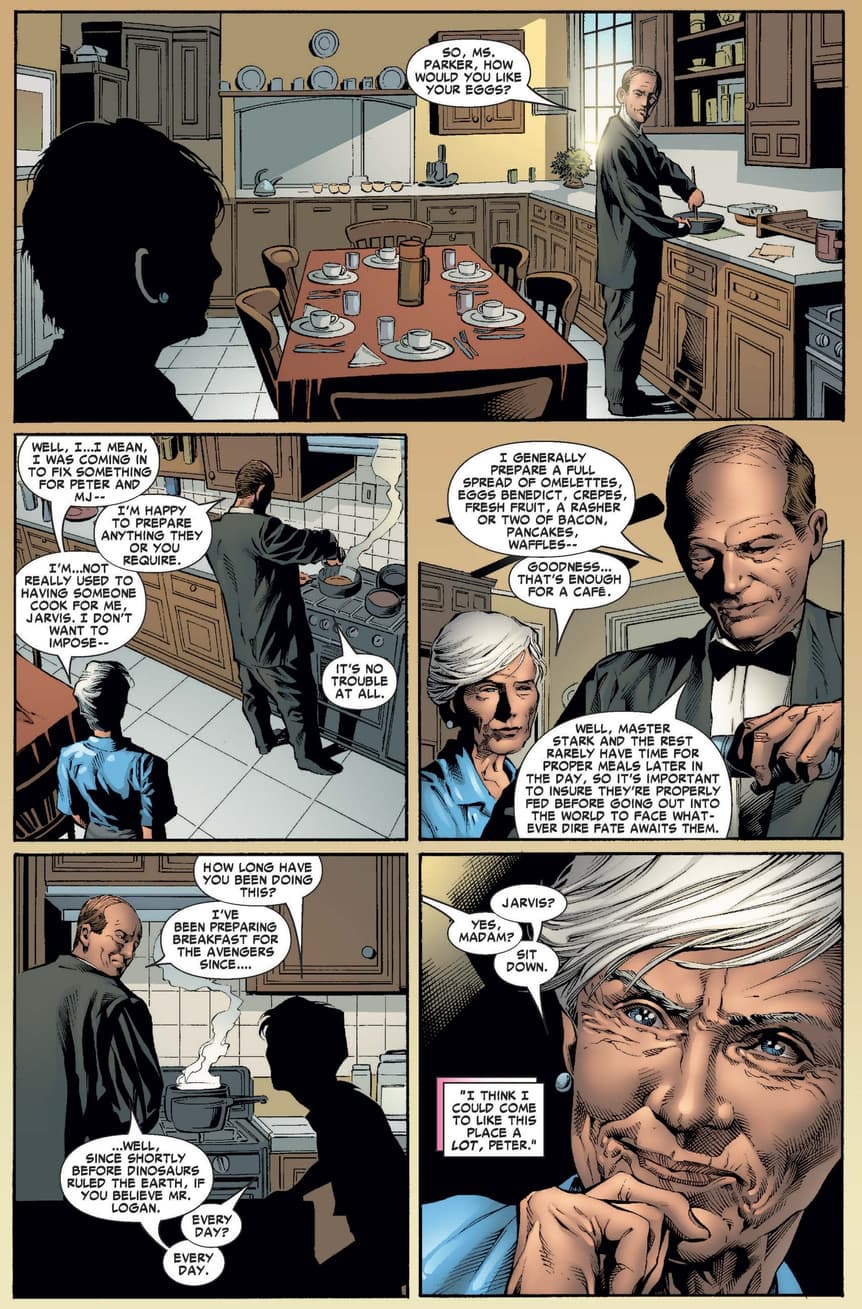 When you have a nephew like Peter Parker, it's easy to find yourself entwined in the intricate web that is his life as Spider-Man. One day you find out your nephew has been moonlighting as Spider-Man for years, then you're moving into Stark Tower. So, whatever is a widow to do to pass the time? Strike up a budding friendship and romance with the personal assistant to Tony Stark and long-time butler to the Avengers! Yes, that's right. At one point, May Parker and Jarvis were an item. The two quickly found out that they had a lot in common, including being caregivers to members of Earth's mightiest heroes. May has a soft spot for kind men, so quite naturally, Jarvis' kindness and resolve made a great impression. Jarvis was equally smitten with May's ability to stand up for herself or, in this case, sit down so she could be eye to eye with Wolverine when she told him off.
May and Jarvis' relationship lasted much longer than the Willie Lumpkin affair. The pair dated quietly. They dined and bonded over some of their shared experiences. Jarvis even fought an alternate reality Ben Parker after he tried to interrupt their date.
Sadly all good things must come to an end. It's kind of challenging to keep a relationship going during a war between Super Heroes. Once Peter turned against Iron Man during the events of CIVIL WAR, May went on the run with her nephew and Mary Jane Watson. An assassin's bullet meant for Peter struck May instead, which forced Peter and MJ to make a deal with Mephisto to save her life. Since Mephisto's favors work like a Monkey's Paw, this significant change resulted in everyone forgetting Spider-Man's identity but also May and Jarvis ever being an item.
JOHN JONAH JAMESON, SR.
Aunt May's relationship with J. Jonah Jameson, Sr. is probably the steamiest out of all her affairs. It's the romance she deserves. It's perhaps the closest to her relationship with the late Ben Parker too, since May and Jonah could bond over their shared experiences with losing their spouses tragically.
Their love story begins shortly after Peter's then-girlfriend, Betty Brant, introduced May to Jonah, believing they would be a great match. It only takes four weeks for the two of them to fall madly in love, both having an understanding of how precious their time together was because of the fragile nature of life.
The chemistry between May and Jonah is off the charts, as Peter quickly learned one fateful night. She eventually becomes Mrs. J. Jonah Jameson, Sr, finally securing another happily ever after.
May Parker will always be Peter's beloved aunt, but he can't be the only Parker experiencing life and love in the Marvel Universe!
Start your comics reading with the all-new, all-different Marvel Unlimited. Download the app for iOS or Android devices today.
Follow Marvel Unlimited on Twitter and Facebook to stay tuned in to weekly announcements, articles, and more, all at @MarvelUnlimited. Follow us today to join the conversation with thousands of fellow fans, and let us know what you're reading!
The Hype Box
Can't-miss news and updates from across the Marvel Universe!