Comics
Published November 23, 2022
Celebrate Thanksgiving on Marvel Unlimited
We're thankful for these comics. Read our picks!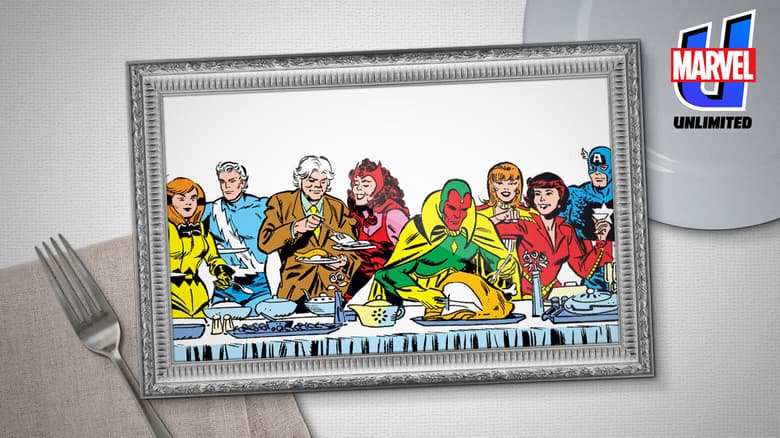 Have you tried Marvel Unlimited yet? It's your all-access pass to over 30,000 Marvel comics at your fingertips. Start your 7-day free trial, or sign up with plans as low as $9.99 a month.
READ ALL OUR THANKSGIVING PICKS HERE!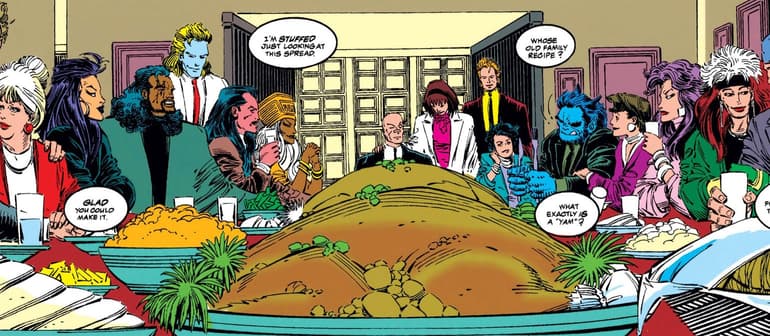 Marvel Unlimited: your stop for Thanksgiving! Celebrate a day of gratitude with some of our favorite Turkey Day stories, all issues from our award-winning digital comics archive ranging Marvel's 80 years of history. Now, chew on some of these reads available on Marvel Unlimited!
How do the Guardians celebrate "Harvest Season" on the faraway planet of Halfworld? With a full turkey spread of course!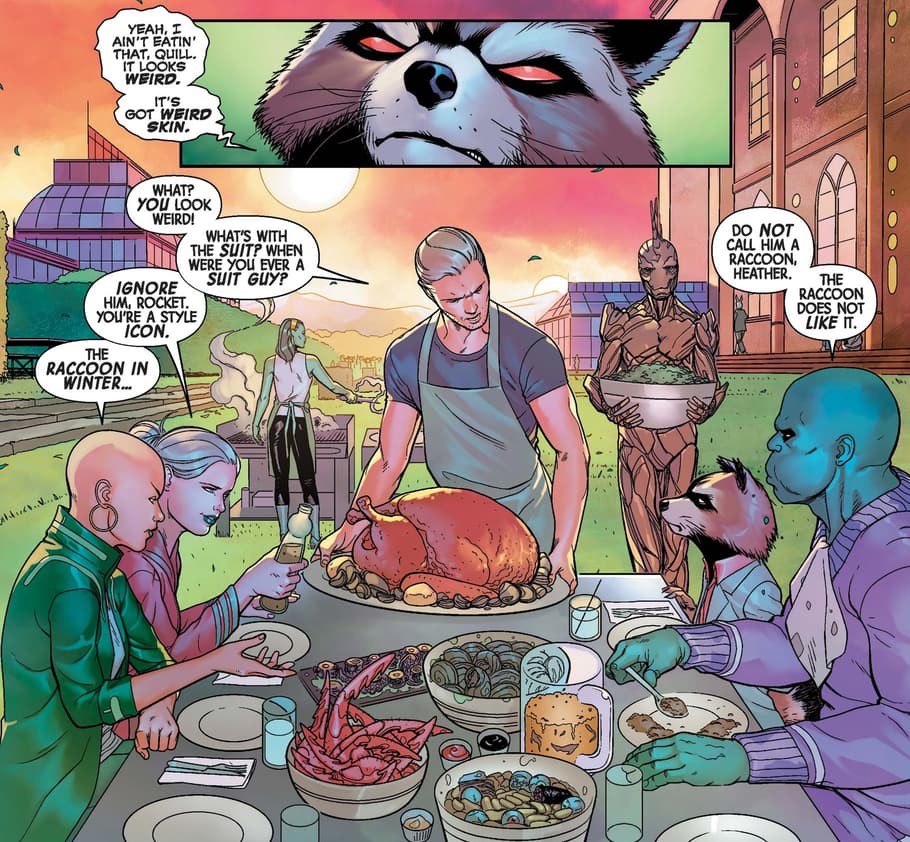 This series is perfect for young readers! Guess who's coming to dinner? Venom! When is a vicious symbiote ever a bad thing? When the Lethal Protector threatened to spoil the city's fun on Thanksgiving Day, Spider-Man and Captain Marvel had to set him straight and save the celebration.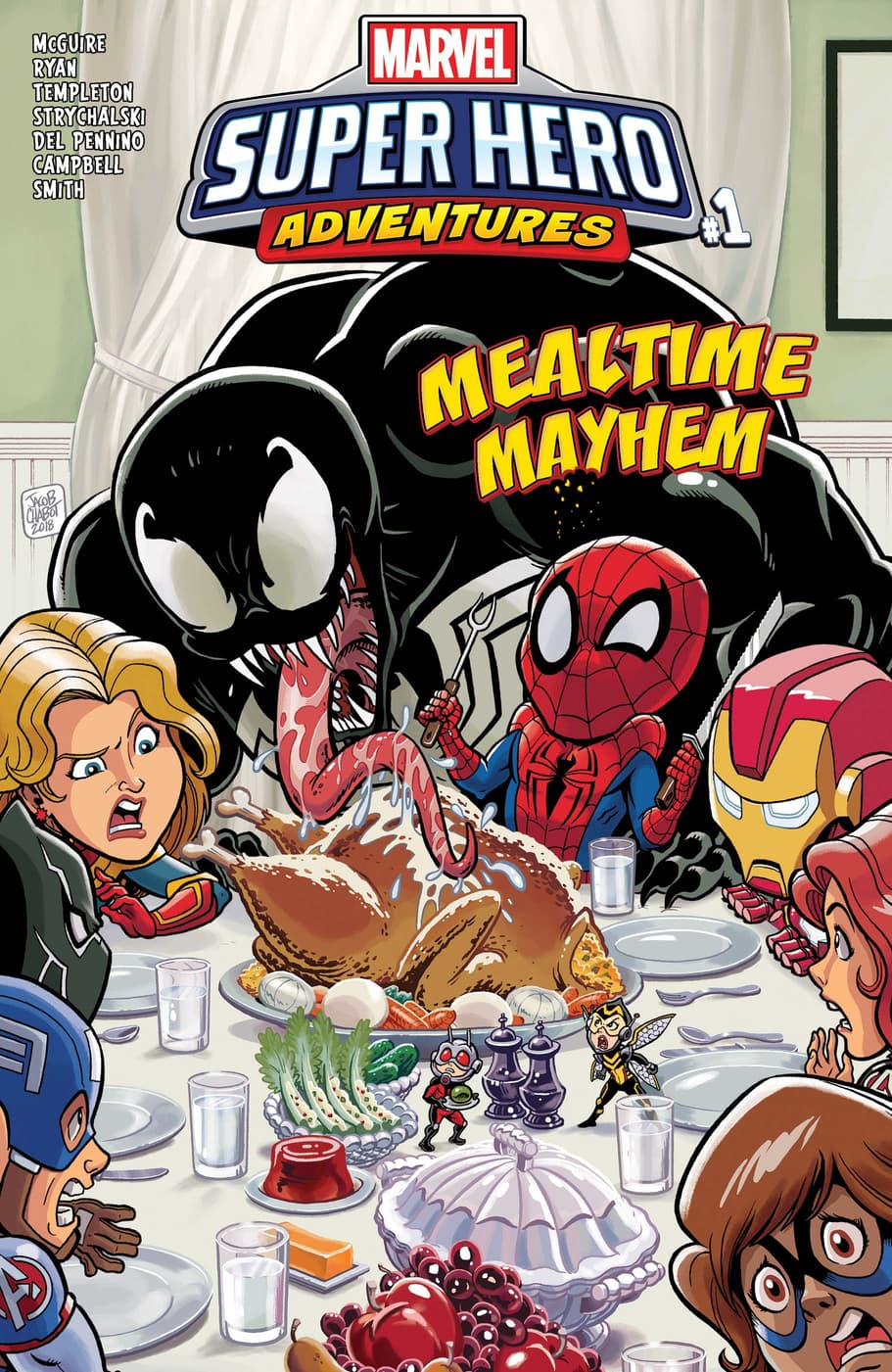 Earth-65's Gwen Stacy is carrying a lot of guilt this Thanksgiving—her father is in jail, crime lord Matt Murdock is still a looming threat, she feels terrible around Aunt May and Uncle Ben, and on top of that, she's still hiding a secret identity. But at least Jessica Drew: Spider-Woman has made a parallel dimension pitstop to take Gwen's mind off her troubles!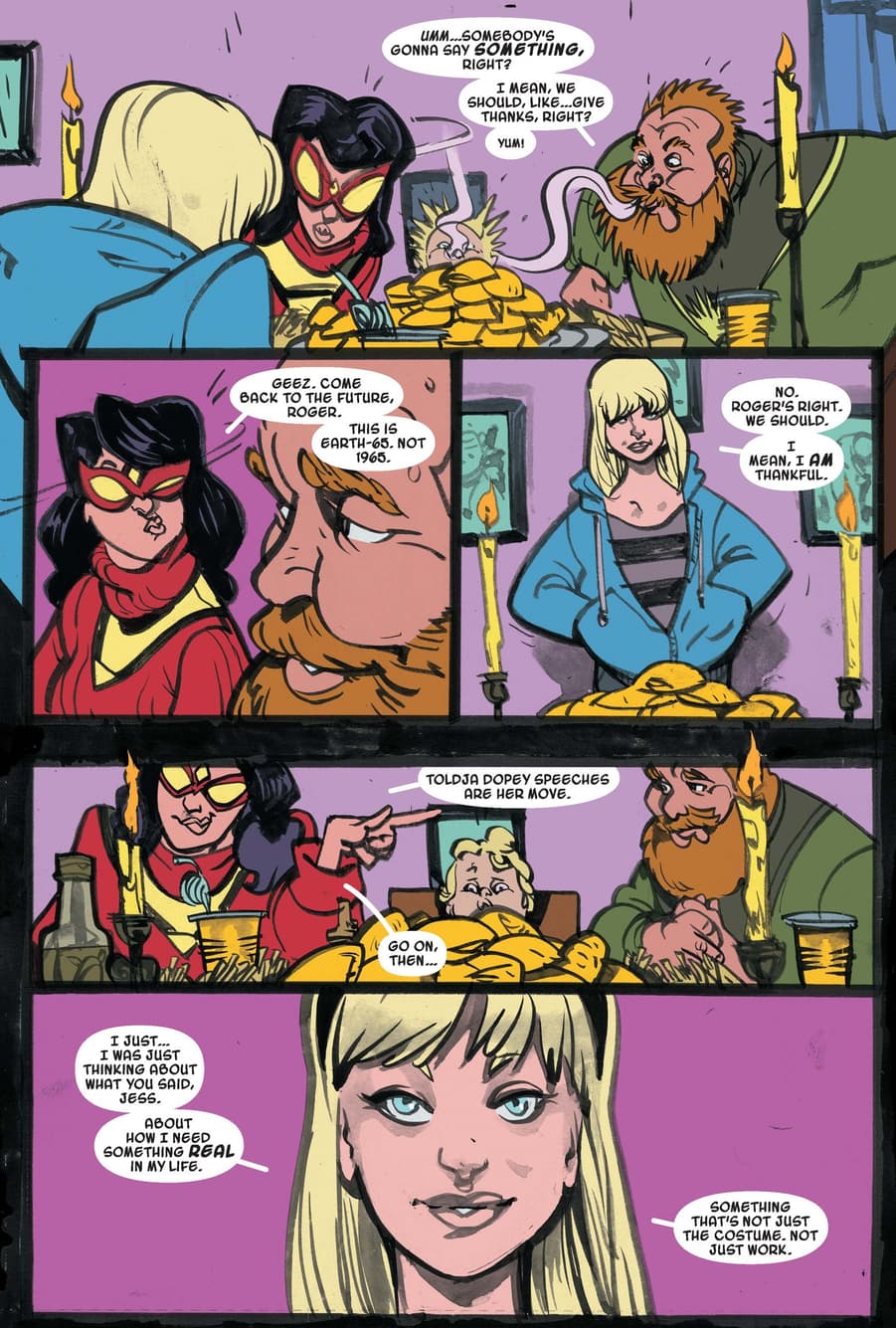 Zenpool's Thanksgiving Guide (DEADPOOL #37)
During the AXIS event, Zenpool, the Mercenary Formerly Known as Deadpool, renounced all forms of violent weaponry in favor of frozen poultry. Unable to be smacked or talked out of his Zen, Wade Wilson had a startling realization over Thanksgiving dinner—his own family just doesn't get him.
Read Deadpool's inversion to the side of balance and harmony, and see him take down a pack of deranged, evil X-Men with "wisdom" alone.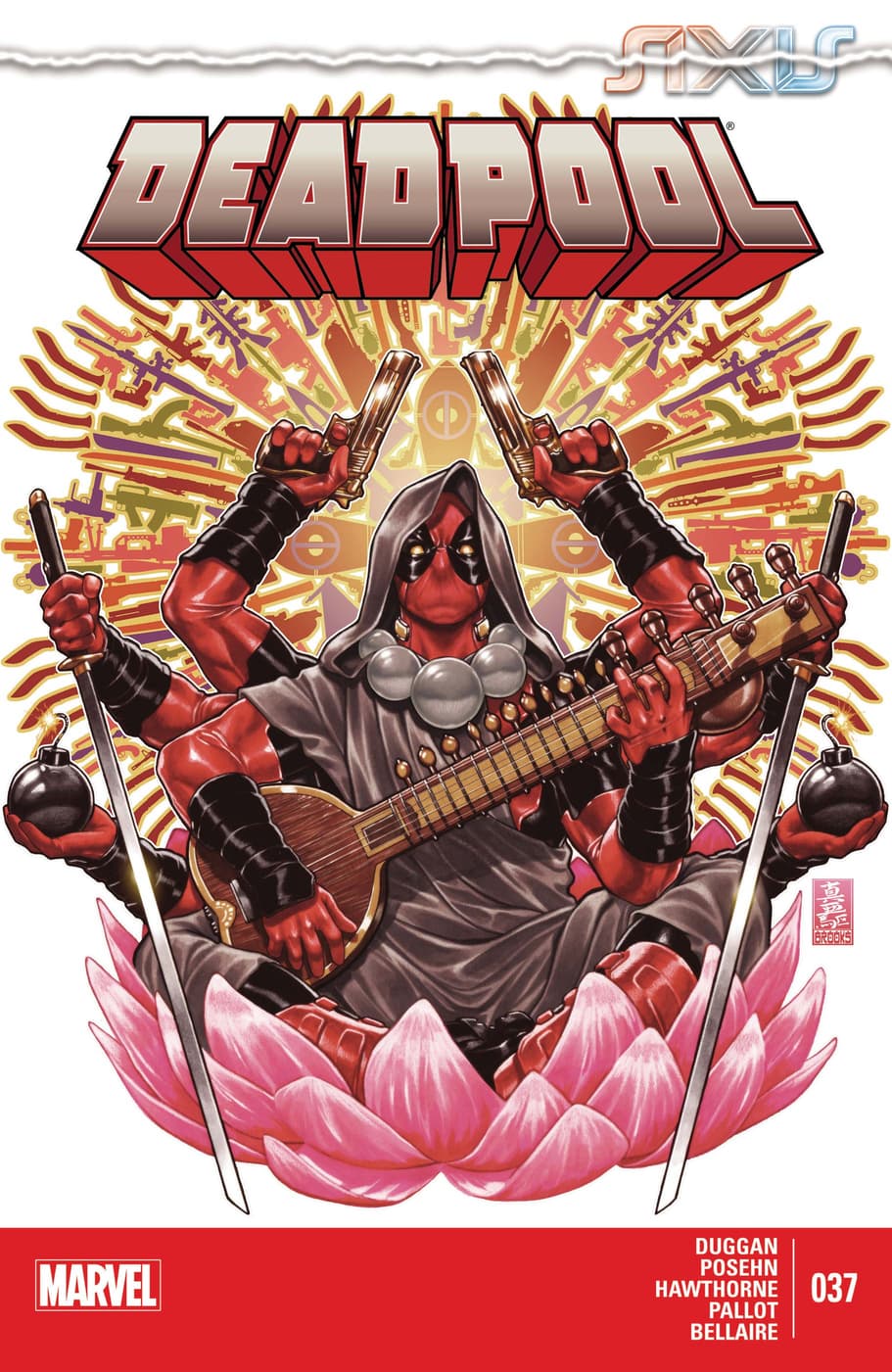 Speaking of the X-Men, our next pick is a familial slice-of-life read brought to you by the residents of Xavier's Institute. An X-favorite by Scott Lobdell and artist John Romita Jr., this emotional ish saw the X-Men catch their breath and examine their inner lives after a period of chaos. In other words, an interlude for everyone to play contact mutant football, frolic through the leaves, and break out their puffy '90s jackets.
[RELATED: The Decade Every Super Hero Got a Jacket (For Some Reason)]
It's a particularly poignant issue for Cyclops and Jean Grey, since a heartfelt conversation leads to "that question." Don't miss the wedding in X-MEN (1991) #30.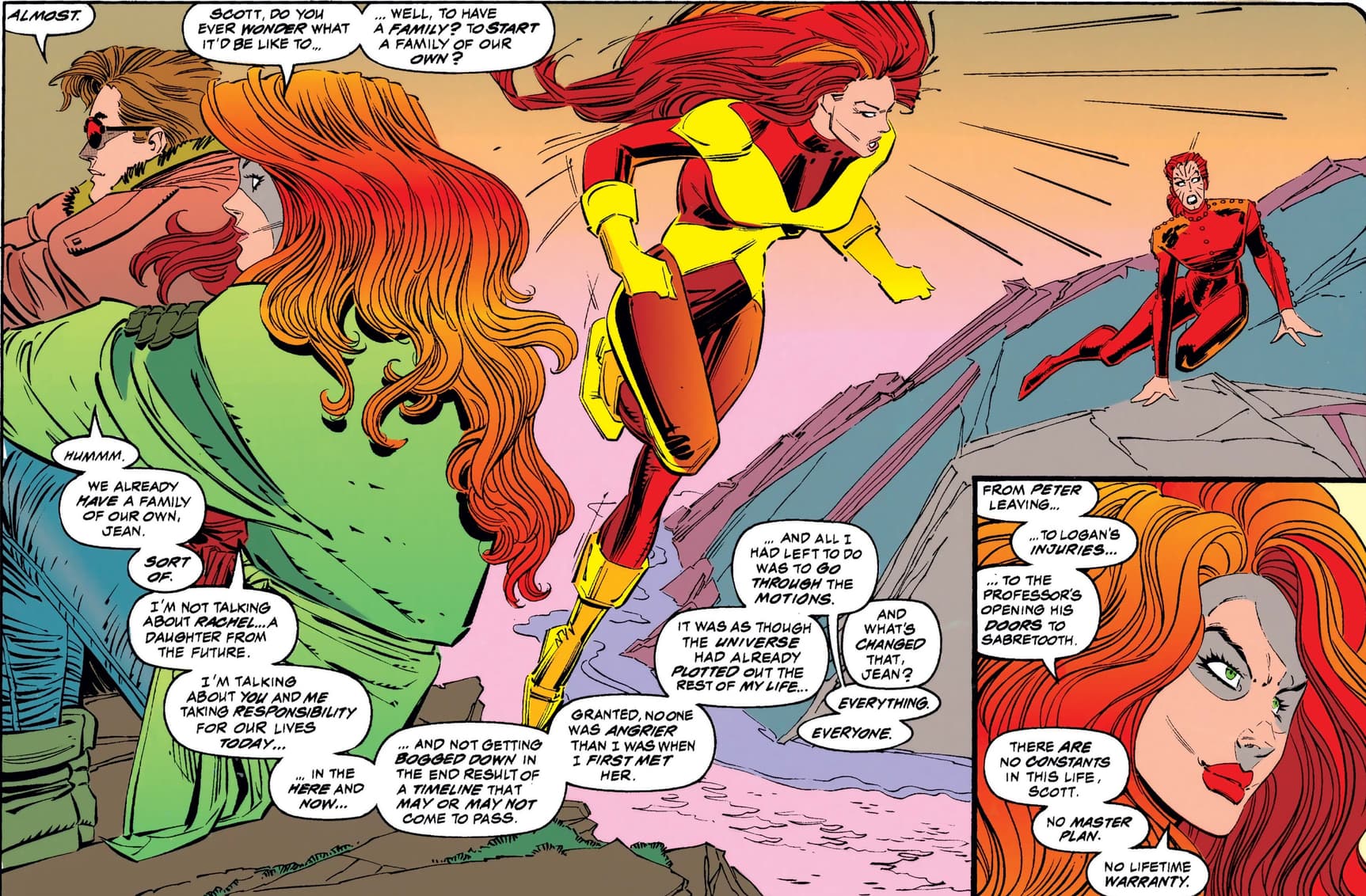 Read through issue #19. The Power Pack kids face a potential family tragedy right before Thanksgiving—and then have to contend with the evil Kurse!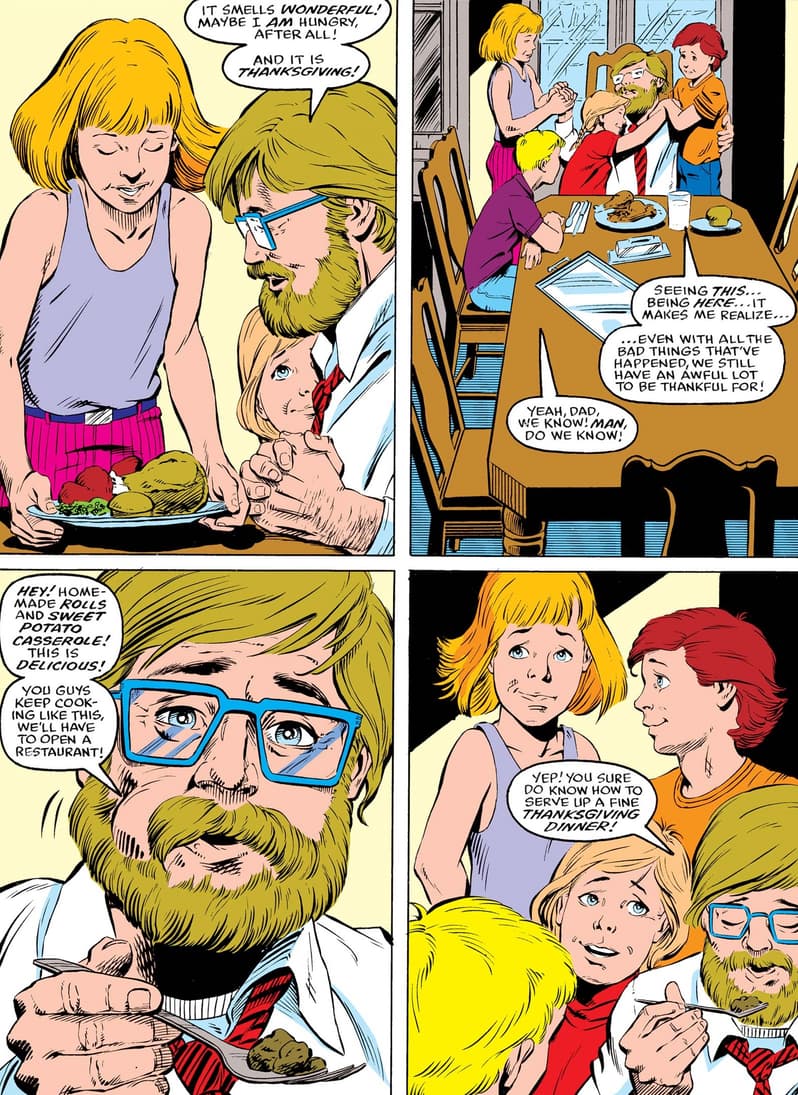 Frank Miller brings Daredevil, Luke Cage, and Iron Fist together for a story that features a fight at New York's Thanksgiving parade, some heroic do-gooding, and some not-so-great Kingpin hijinks.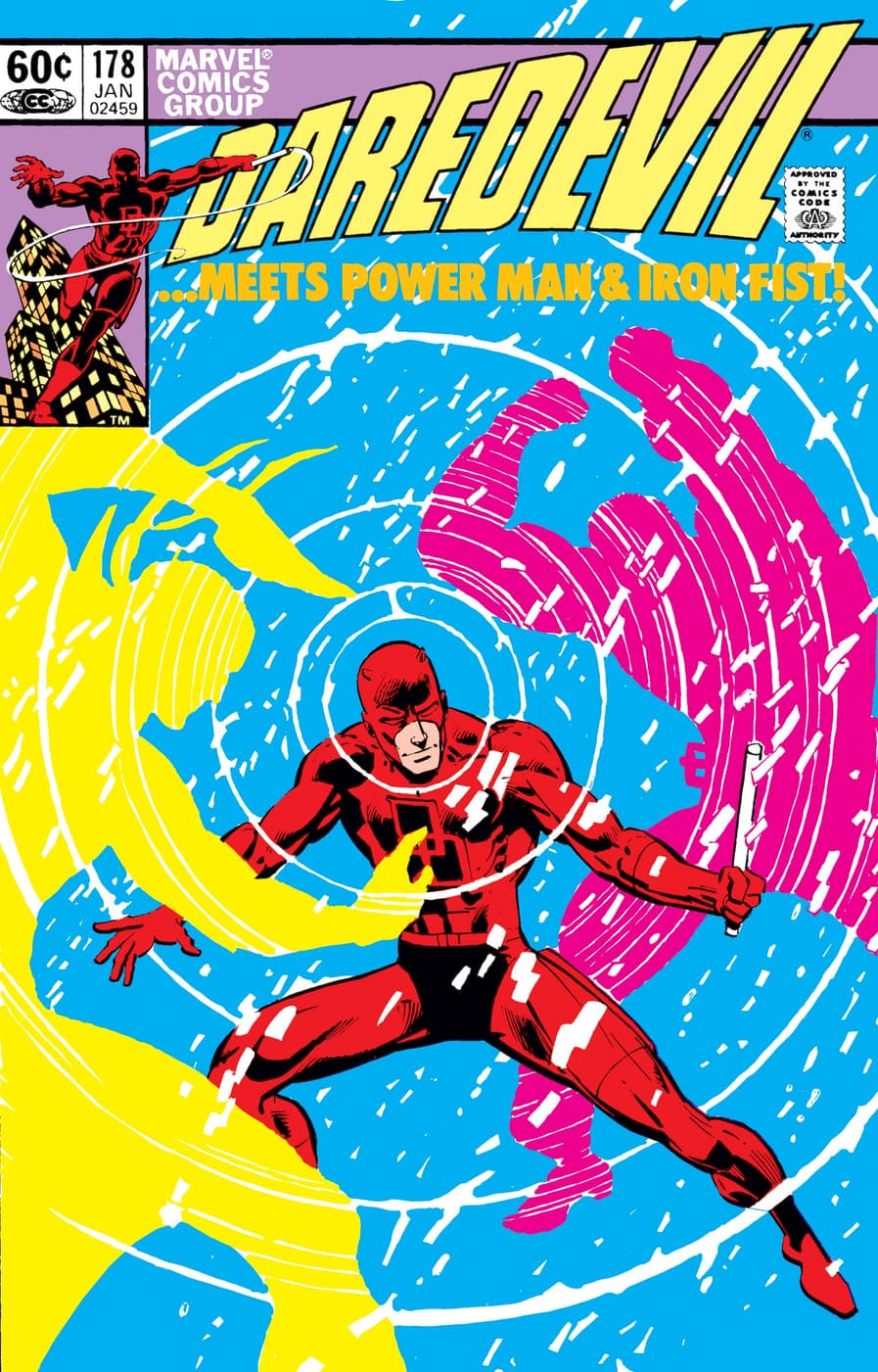 See our complete list of themed reading here, and enjoy a season of reading on Marvel Unlimited!
Follow Marvel Unlimited on Twitter and Facebook to stay tuned in to weekly announcements, articles, and more, all at @MarvelUnlimited. Follow us today to join the conversation with thousands of fellow fans, and let us know what you're reading!
The Hype Box
Can't-miss news and updates from across the Marvel Universe!