Comics
Published September 2, 2021
The Dark Side of Doctor Strange
Even Earth's Sorcerer Supreme has felt the lure of evil!
Before Doctor Strange shuffles off from this mortal coil, it's worth noting that Stephen Strange wasn't always a good man. Keep in mind, the main reason that Strange sought out the Ancient One was to fix his damaged hands so he could resume his lucrative career as a surgeon. It was also readily apparent that Strange cared more about the money he could make than the patients in his care.
Strange largely put his baser instincts behind him and embraced his better nature when he became a disciple of the Ancient One. Regardless, there have been times in both the Multiverse and in the Prime Universe where readers have gotten a glimpse of Doctor Strange's dark side. He's an invaluable ally to the forces of good, but Doctor Strange also has qualities that could make him one of the deadliest villains in this, or in any, other world.
THE DISCIPLE OF DORMAMMU (WHAT IF? #18)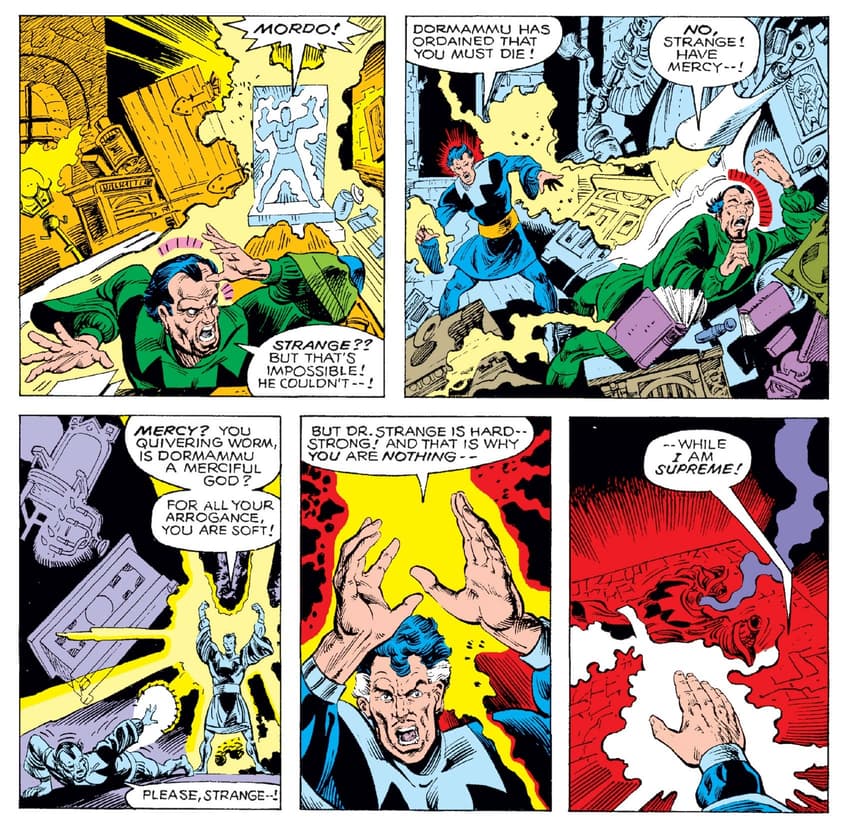 In this alternate reality, Dormammu recognized Strange's potential for evil before the Ancient One could act. At his master's suggestion, Baron Mordo took Strange under his wing and restored his hands before teaching him dark magic. Strange proved to be so adept that he eliminated Mordo and served Dormammu directly. The Ancient One was ultimately able to make Strange reconsider his decisions, but this was an unsettling look at what Strange could have become.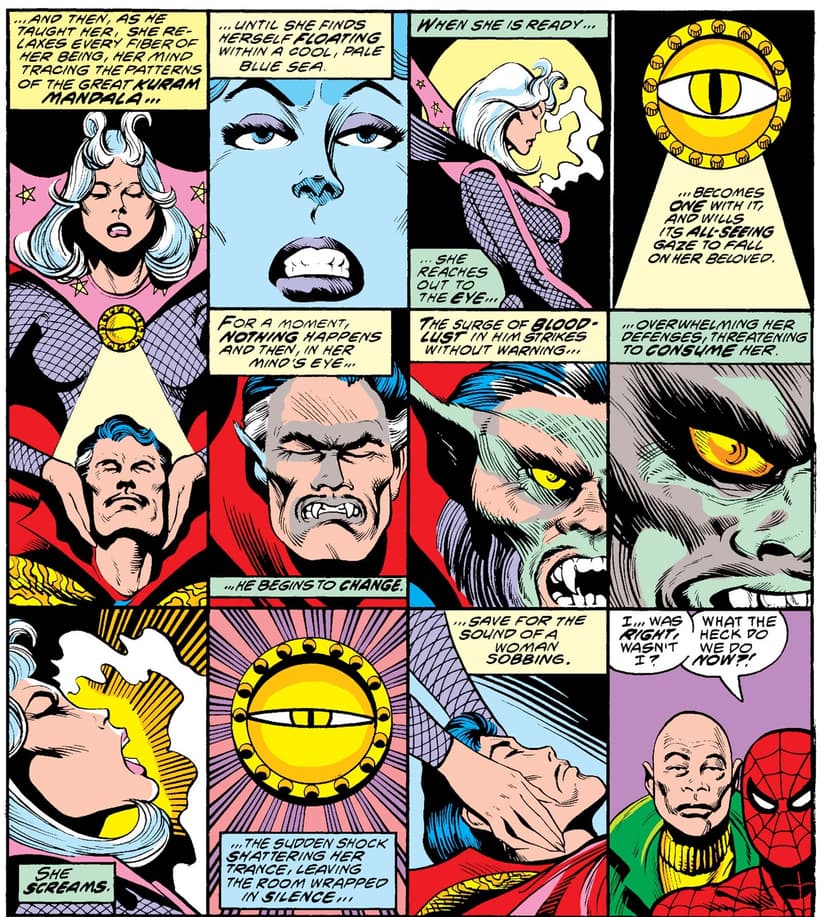 Doctor Strange joined forces with Spider-Man in MARVEL TEAM-UP (1972) #76-77 to save the life of Doc's lover, Clea. However, Strange was forced to go to Marie Laveau, the Voodoo Queen of New Orleans, for further assistance... at a price. That price came due in issue #80, when Strange was transformed into a werewolf! Even in his human form, Strange's newfound dark side disturbed both Spider-Man and Clea. They were also overmatched by the werewolf's strength. If not for the sacrifice of Satana's life, Strange would still be trapped by the curse of the werewolf.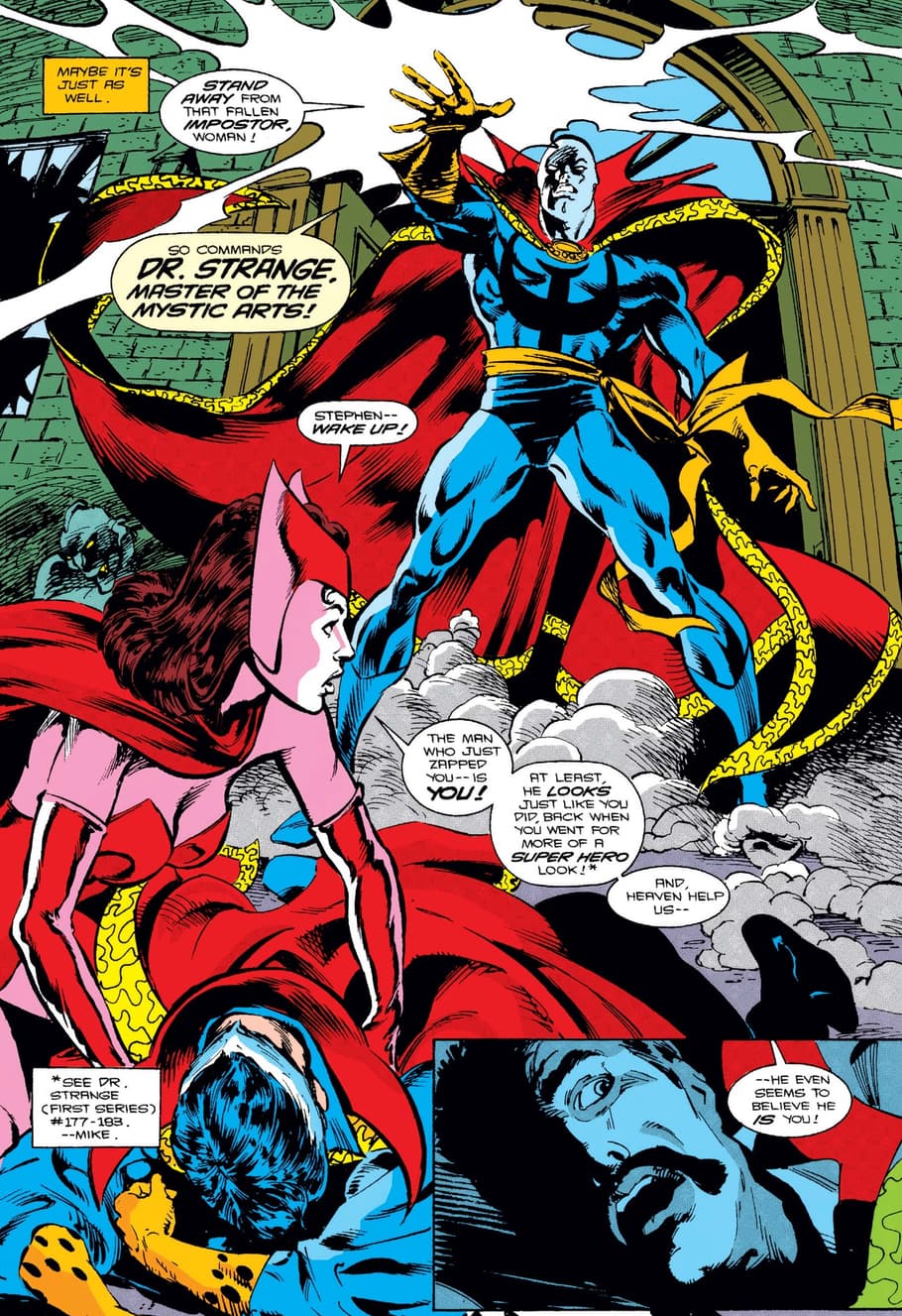 During the events of 1992's INFINITY WAR, Stephen Strange came face-to-face with his own double. But unlike the Magus' demonic doppelgängers, Strange's opposite number was really his alternate from Counter-Earth. The two versions of Strange had nearly identical histories, up to a point. The key difference is that Counter-Earth's Stephen Strange fell to darkness when he murdered Baron Mordo to avenge the Ancient One's death. This ultimately fueled Strange's desire for power, and he attempted to take over the Earth before he was trapped in Eternity. Now calling himself Necromancer, this alternate Strange was freed from Eternity's body and he nearly usurped the real Strange's place in his native universe.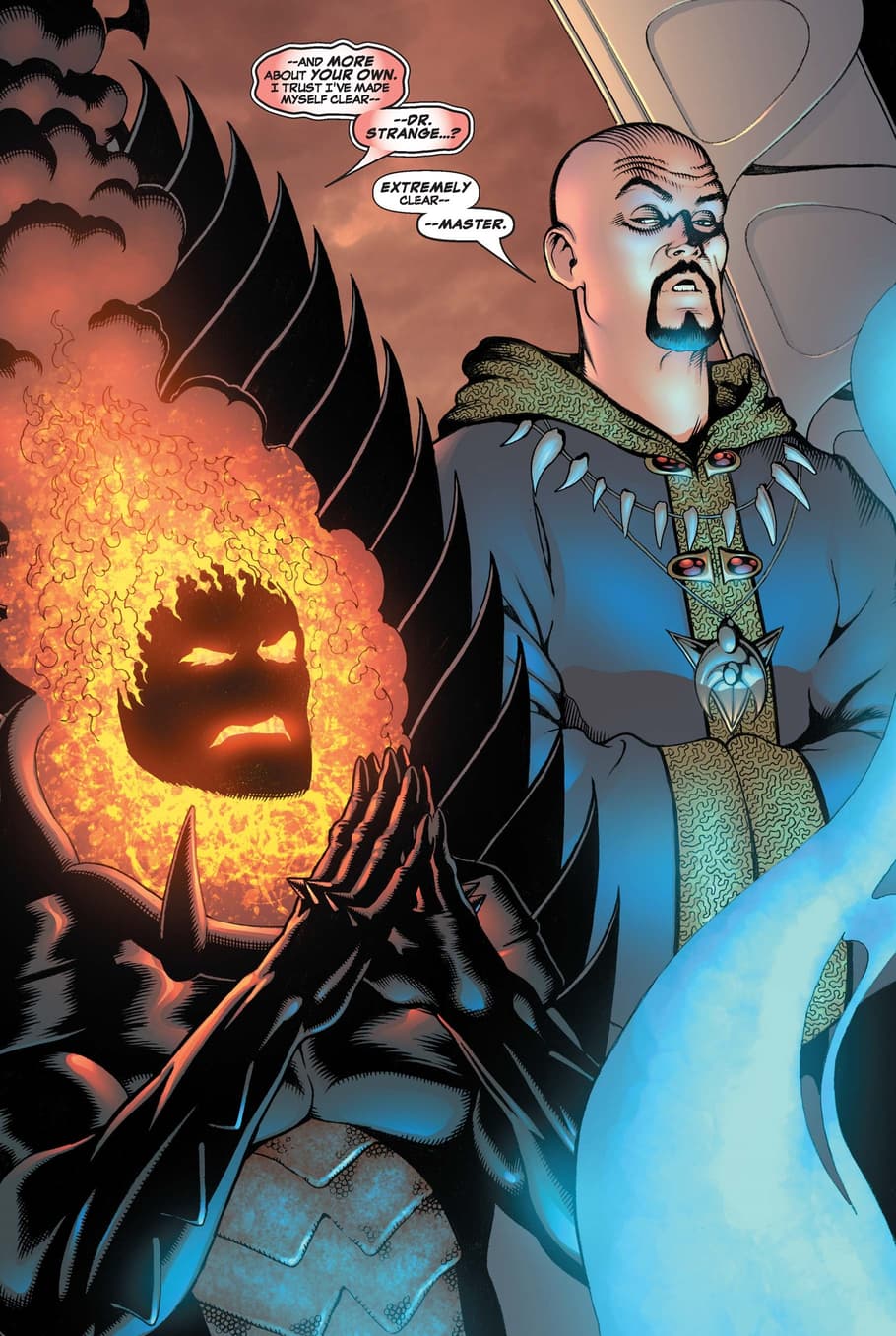 Dormammu was near the peak of his power in DEFENDERS (2005), and he finally defeated Eternity in battle. That left Dormammu with the ability to rewrite creation in his image. Within this dark new world, Stephen Strange was one of the most fanatical followers of Dormammu. But the real Strange survived Dormammu's attempt on his life and he was unaltered by the remade universe. This led to a battle between the good doctor and his evil counterpart.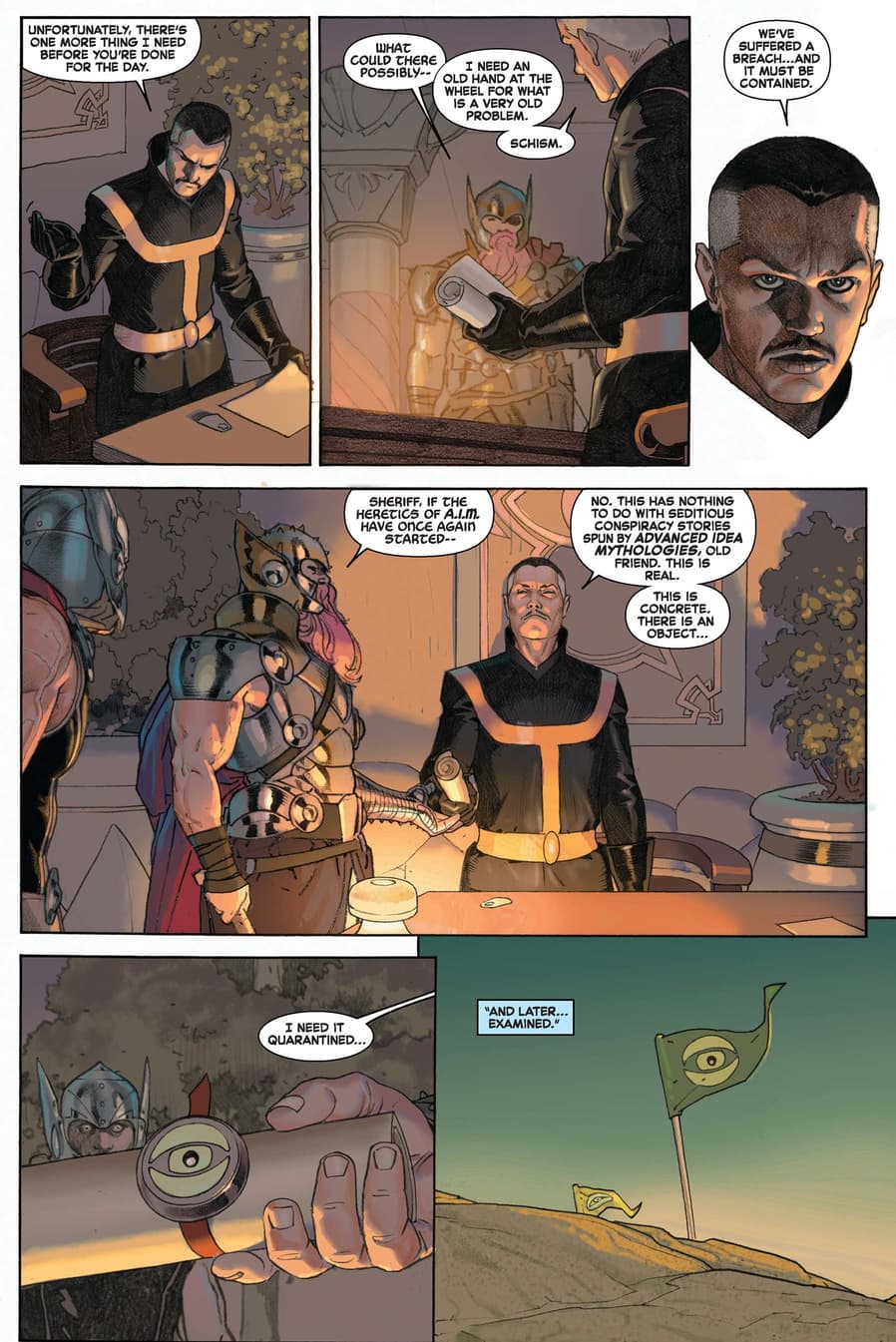 To save all of creation, Doctor Strange made a devil's bargain with Doctor Doom in 2015's SECRET WARS. However, when it came time to save the remains of the Multiverse with the Beyonders' powers, Strange deferred to Doom. On Doom's new patchwork planet called Battleworld, Stephen became "Sheriff Strange," the key enforcer of God-Emperor Doom. However, Sheriff Strange wasn't a puppet for his master. When the survivors of the Prime Universe arrived on Battleworld, the Sheriff defied Doom's rule, and paid for it with his life.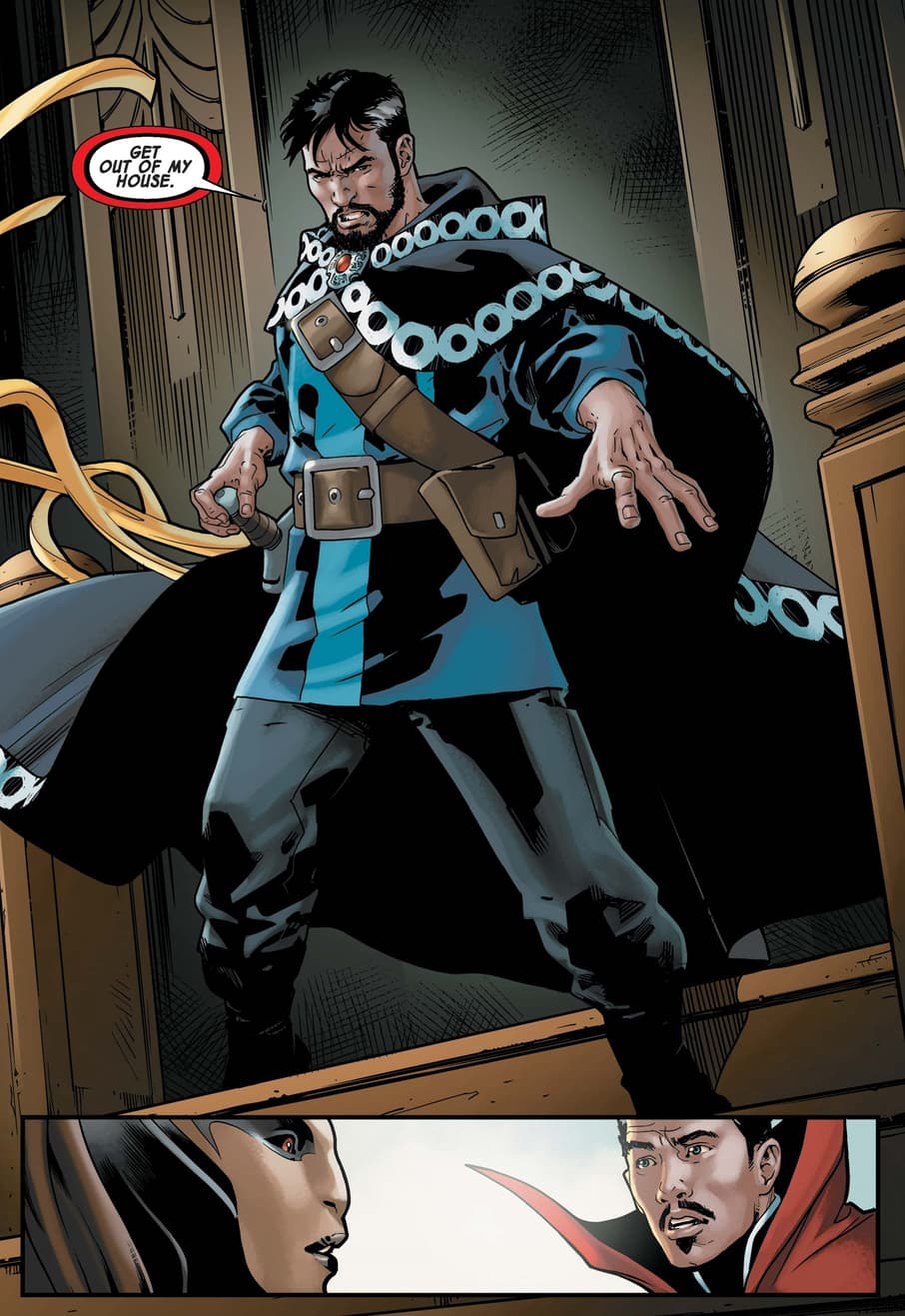 After an adventure in space, Doctor Strange returned to his Sanctum Sanctorum and discovered a dark double waiting for him! This alternate Strange was so convincing that even the ghost dog, Bats, couldn't tell them apart. Strange eventually discovered that his doppelgänger was actually an imposter whose true identity was Casey Kinmont. Casey was briefly the disciple of Strange years earlier, before she was lost to a distant dimension. Baron Mordo was pulling Casey's strings, but Strange was able to free her from his influence.
Read these Doctor Strange issues and more on Marvel Unlimited today! And don't forget to tune into Marvel Studios' What If…?, streaming exclusively on Disney+!
Follow Marvel Unlimited on Twitter and Facebook to stay tuned in to weekly announcements, articles, and more, all at @MarvelUnlimited. Follow us today to join the conversation with thousands of fellow fans, and let us know what you're reading!
The Hype Box
Can't-miss news and updates from across the Marvel Universe!