Comics
Published April 20, 2023
Every Time Ms. Marvel and Spider-Man Have Worked Together
Revisit Kamala Khan and Peter Parker's team ups throughout Marvel Comics history.
Ms. Marvel and Spider-Man are among the most charismatic and relatable characters in the Marvel Universe. Peter Parker and Kamala Khan might belong to two different generations of heroes, but they find common ground in their distinct senses of humor and the responsibility they shoulder for the world around them.  
As a fan of other Super Heroes, Ms. Marvel is always thrilled for a team up. She has worked alongside some of Marvel's most longstanding heroes—Wolverine, Captain Marvel, and Iron Man, to name a few! But have Ms. Marvel and Spider-Man ever worked together? You better believe it!  
While their on-page history may be brief, their admiration of one another is anything but. Here are five times that Ms. Marvel and Spider-Man teamed up to save the day. 
AMAZING SPIDER-MAN (2014)
Ms. Marvel met Spider-Man for the first time in the pages of Dan Slott, Christos Gage, and Giuseppe Camuncoli's AMAZING SPIDER-MAN (2014) #7. When a rogue Kree super soldier dressed in Carol Danver's original Ms. Marvel suit wreaked havoc in Midtown, Kamala and Peter both took it upon themselves to stop her. What started as two heroes answering individual calls of duty wound up to be a team effort.  
Minerva, the Kree super soldier, kidnapped an Inhuman baby undergoing Terrigenesis. To try and stop her, Ms. Marvel and Spider-Man performed a maneuver that Spidey previously attempted with Carol Danvers against Terminus. Once Minerva was defeated, Ms. Marvel and Spider-Man shared a tender moment where the experienced Wallcrawler reassured Jersey City's newest hero that she was doing a great job.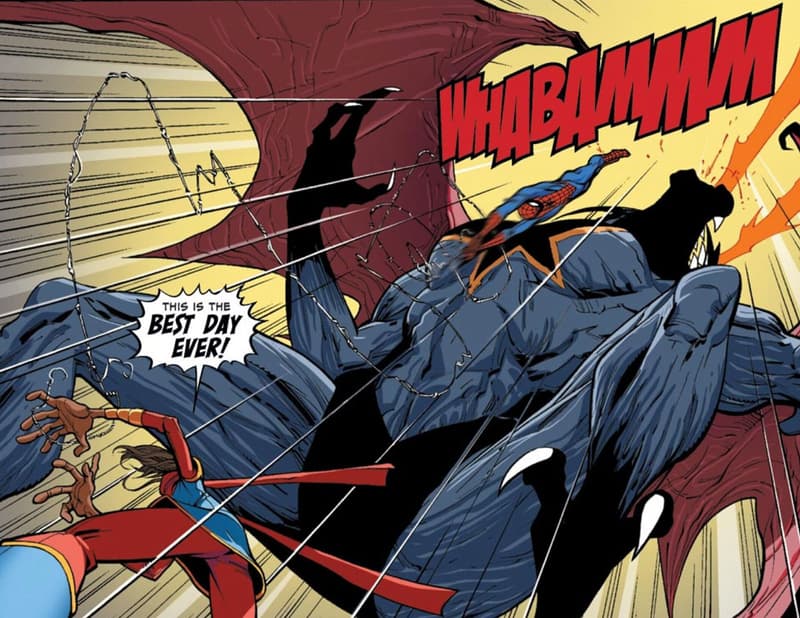 ALL-NEW, ALL-DIFFERENT AVENGERS (2015) 
After the cataclysmic SECRET WARS (2015), Kamala Khan joined Tony Stark's new team of Avengers. The ALL-NEW, ALL DIFFERENT AVENGERS saw the return of some familiar faces and invited many young heroes who had never been Avengers onto the team, including Spider-Man (Miles Morales) and Nova (Sam Alexander).  
Growing disdainful of Super Heroes, a nefarious mastermind called Regent took advantage of this new team and kidnapped its members. Regent absorbed the powers of those he imprisoned, including Ms. Marvel's embiggening abilities.  
In AMAZING SPIDER-MAN (2015) by Dan Slott, Christos Gage, and Giuseppe Camuncoli, Peter Parker tried to rescue the team, only to find himself similarly defeated by Regent. Mary Jane Watson, at the time a Stark Industries employee, fearlessly donned the Iron Spider armor and jetted into action, coming to the rescue of the captive heroes. Upon their liberation, the Amazing Spider-Man and the Avengers worked together to take Regent down. 
WORLDS COLLIDE (2016)
Being an Avenger is not everything it's cracked up to be—at least not for Kamala, Miles, and Sam, who grew disillusioned with the team in the aftermath of CIVIL WAR II (2016). Their response? They quit the Avengers and formed a group of their own: the Champions!  
Accompanied by Amadeus Cho's Hulk, a time-displaced Cyclops, and Vision's daughter, Viv, this new team set out to establish a distinct brand of heroism, one that promised to prioritize non-violent solutions in a world riddled with violence. Consequently, the Avengers were a few members short, and so Parkers Industries CEO Peter Parker stepped up to join the roster full time. Despite their differences, the machinations of the High Evolutionary set these two teams on a collision course.  
In "Worlds Collide," an event penned by Mark Waid across AVENGERS (2016) and CHAMPIONS (2016), Kamala and Peter found themselves working together once more. Alongside Thor, the pair led a rescue mission in Seoul, South Korea in CHAMPIONS (2016) #13 as Earth's tallest buildings experienced mysterious vibrational disturbances originating from Counter-Earth. Kamala put an end to this crisis by suggesting that Thor produce an opposing vibration with Mjolnir.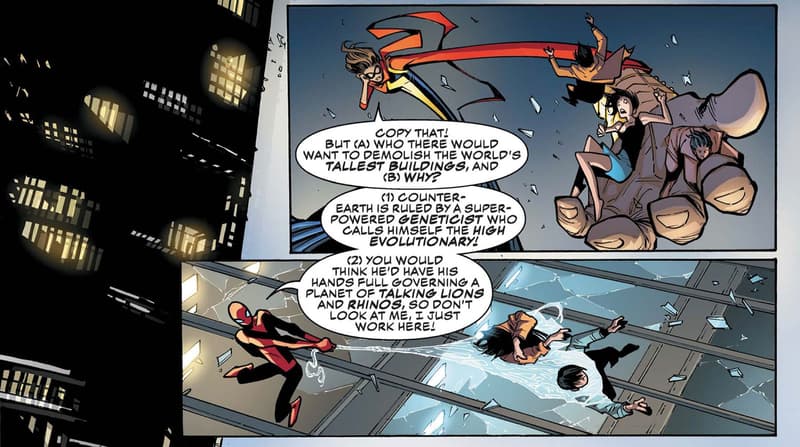 MARVEL TEAM-UP (2019)
In MARVEL TEAM-UP (2019) by Eve Ewing and Joey Vasquez, Ms. Marvel and Spider-Man got to know each other a little too well. When Peter and Kamala attended Dr. Rosario's conference at Empire State University, Jackal ambushed the presentation, causing Dr. Rosario to destroy her latest invention. Caught in the crossfire of this explosion, Peter and Kamala underwent one of fiction's most infamous tropes: the body swap. Enter Peter Parker, AKA Ms. Marvel, and Kamala Khan, AKA Spider-Man! 
In this "Team-Up" arc, Peter was a high schooler once again, living in the Khan household, while Kamala got her first taste of adulthood and the working world. After the novelty of being someone else wore off, Ms. Marvel and Spider-Man had to find a way to get back to their respective lives. They enlisted the help of Dr. Rosario, who helped set things right. Back in their own bodies, Kamala and Peter had no recollection of ever being each other.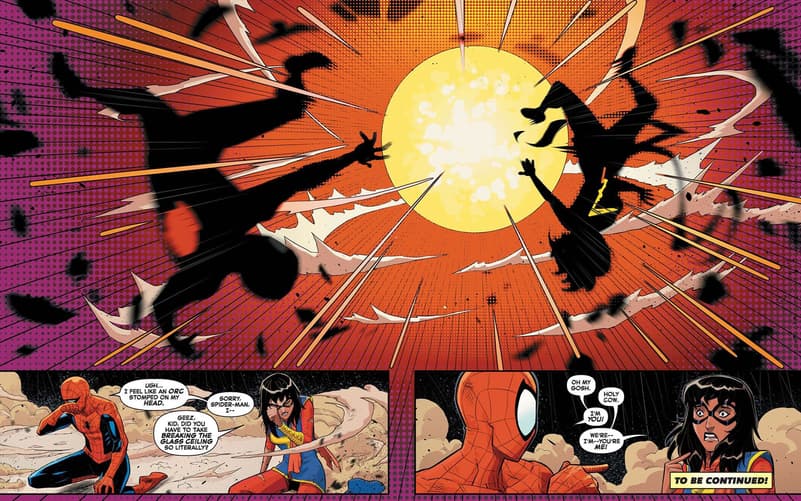 DARK WEB (2022)
Ms. Marvel currently plays a supporting role in Zeb Wells and John Romita Jr.'s AMAZING SPIDER-MAN (2022) run. Kamala interns at Oscorp in concurrence with Peter working for Norman Osborn, making them unknowing co-workers—since neither Peter nor Kamala know the other's secret identity.  
However, both of them abandoned their desks and leapt into action when Madelyne Pryor and Ben Reilly spun their DARK WEB over New York and New Jersey. During DARK WEB, Ms. Marvel and Spider-Man went on separate adventures that lead them to Limbo, where they teamed up once again for a final showdown against the Goblin Queen and Chasm.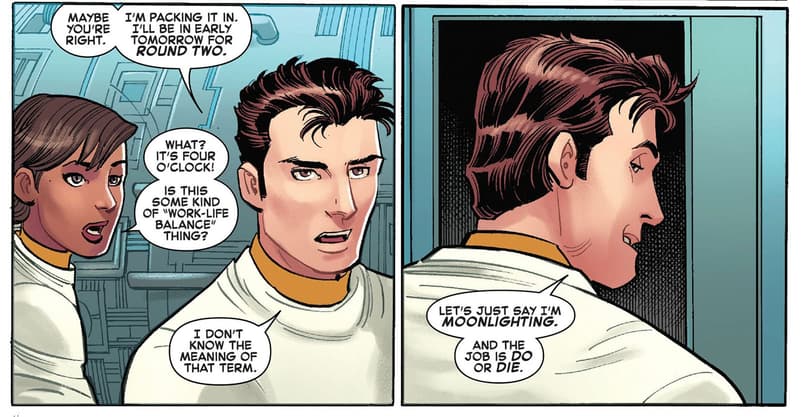 STAY TUNED FOR MORE MS. MARVEL AND SPIDER-MAN NEWS AND CATCH THEM BOTH IN THIS WEEK'S AMAZING SPIDER-MAN #24!
 
Grab these comics and more at your local comic book shop! Or redeem then read your digital copy on the Marvel Unlimited app by using the code found in your print comic. Find and support your local comic book shop at ComicShopLocator.com.
To read your Marvel comics digitally, download the Marvel Unlimited app for iOS and Android devices. Gain an expansive catalog of 30,000+ comics spanning Marvel Comics history, plus access your entire digital library including comics redeemed from print.
The Hype Box
Can't-miss news and updates from across the Marvel Universe!