Comics
Published September 29, 2023
'Fall of X' Declassified: The Wedding of Emma Frost and Tony Stark
Writer Gerry Duggan examines the matrimonial moments from 'Invincible Iron Man' #10 and teases what's next for Marvel's newlyweds.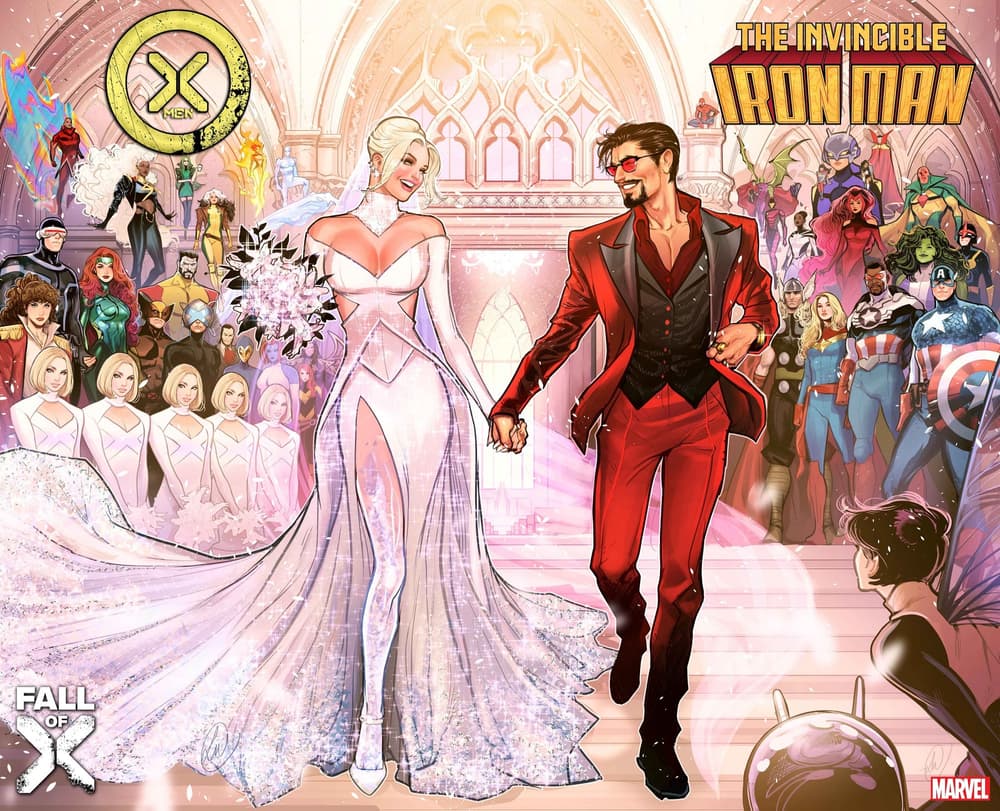 MARVEL.COM: Of all the ways we could end up with Tony Stark and Emma Frost married…! Why was the scenario in INVINCIBLE IRON MAN #10 the most satisfying way to do it?
GERRY DUGGAN: We have always been jealously guarding story and plot points, but I didn't mind giving up the wedding in order to market the book because what you see is what you get, but what you get is not exactly how you think you'll get it, and for real-- it has a long tail. Marriages are partnerships. 
MARVEL.COM: How much of Tony and Emma's trap for Feilong was premeditated and how much did they plan on the fly?
GERRY DUGGAN: Tony was improvising and needed a wingman to land this one. Emma was the perfect wingman.
MARVEL.COM: Was the Deadpool cameo your idea?
GERRY DUGGAN: He was a late addition. I needed a character that I didn't need to go ask about, and that meant someone either on the X-Men, or in the Unity Squad. He was a fun addition for one page. Really nobody should ever write more than a page of Deadpool, in any comic.
MARVEL.COM: While this is a business arrangement on the surface, do these two have genuine feelings toward each other?
GERRY DUGGAN: It's unclear at this time.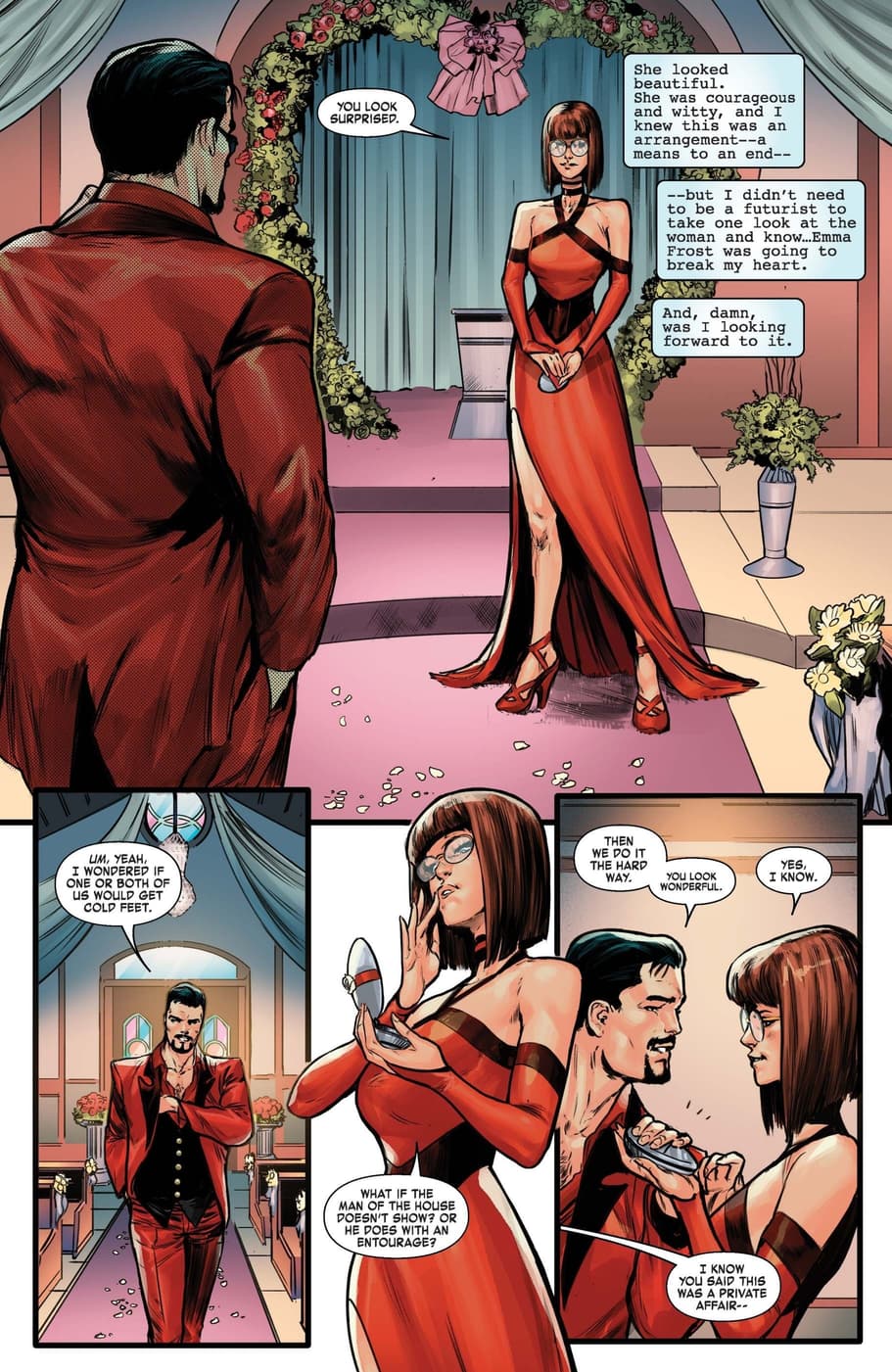 MARVEL.COM: Where did the concept for Feilong's motivations stemming from his parentage come from?
GERRY DUGGAN: That's one that we noodled on. I'm glad that one made it to the page—it could go in so many interesting and fun directions.
MARVEL.COM: Do you think that this issue makes Feilong even more dangerous?
GERRY DUGGAN: I think it would be a mistake to underestimate him. And Tony and Emma are done making mistakes.
MARVEL.COM: How heavily are Tony's questionable tactics (and allies) weighing on his conscience?
GERRY DUGGAN: We've really set the heroes on a war footing. The aggressors have set the tone, and it's a nasty one. The heroes will always try to win without dropping bodies but that may not be possible. I've had Tony working on his memoirs and it's a good way for me to show you what's on his mind during these difficult days.
MARVEL.COM: How was it working with artists like Juan Frigeri, Bryan Valenza, and Joe Caramagna on this issue?
GERRY DUGGAN: All our artists did such a wonderful job, including our guest artist. I hope it's a great Iron Man issue. It sets up some of the most fun action I've cooked up in a while. All the art for this series has been very on point. From Juan's designs to his action to the storytelling and colors. I'm very lucky.
MARVEL.COM: What's next for Marvel's latest newlyweds?!
GERRY DUGGAN: A Hawaiian honeymoon on Oahu and the return of guest artist Andrea Di Vito. You're in for a treat.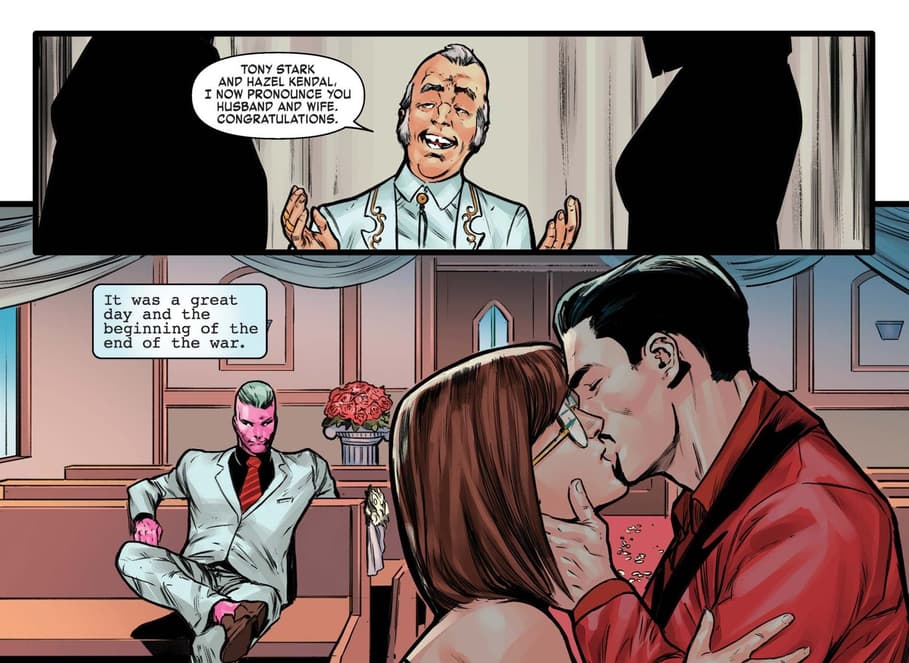 You're also invited to the honeymoon when INVINCIBLE IRON MAN #11 hits comic shops on October 18!
Grab these comics and more at your local comic book shop! Or redeem then read your digital copy on the Marvel Unlimited app by using the code found in your print comic. Find and support your local comic book shop at ComicShopLocator.com.
To read your Marvel comics digitally, download the Marvel Unlimited app for iOS and Android devices. Gain an expansive catalog of 30,000+ comics spanning Marvel Comics history, plus access your entire digital library including comics redeemed from print.
The Hype Box
Can't-miss news and updates from across the Marvel Universe!