Comics
Published May 11, 2020
How the New 'New Mutants' Compares to the Original
See what's new and what's different between 'New Mutants' (1983) and 'New Mutants' (2019). Read both on Marvel Unlimited.
Another week in Krakoan paradise, another new-to-MU series from the Dawn of X. NEW MUTANTS (2019) marks the latest addition to the X-Men's current lineup, a crop of titles that continue to build on the world created in HOUSE OF X/POWERS OF X. You can read our complete guide on the mutants' homeland  here, or take stock of the newest Dawn of X issues with our updated-weekly Reading List.
NEW MUTANTS (2019) chronicles the adventures and pitfalls of some of Krakoa's youngest residents, from the original New Mutants, to former students of the now-defunct Institute. You may recognize Glob Herman, Beak, and Angel from the pages of NEW X-MEN (2001), while Pixie and Armor round out the crew from NEW MUTANTS (2003) and ASTONISHING X-MEN (2004).
In quite a few ways, this new volume of 'Mutants' by Jonathan Hickman, Ed Brisson, Rod Reis, Flaviano Armentaro, and Marco Failla, is a callback to its 1983 predecessor. Both share a bonkers sense of humor and an emphasis on the interpersonal.
Back in 1983, X-Legends Chris Claremont and Louise Simonson teamed with artists like Bob McLeod, Sal Buscema, Bill Sienkiewicz, Rick Leonardi, Arthur Adams and more, to create something truly special—a teen Super Hero series with as much soapiness and drama as comic book pizazz. Claremont and Sienkiewicz steered the series in a particularly experimental direction, starting with their "Demon Bear" arc in NEW MUTANTS (1983) #18-20.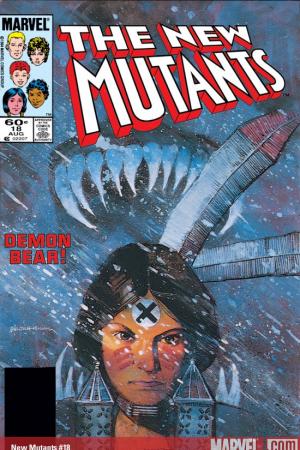 We've run down a comparison between the brand new series and its first ever volume, the latter of which you can read in full on Marvel Unlimited. For any and all X-Fans, it's revolutionary.
THE SAME: THE ROSTER
Wolfsbane. Sunspot. Cypher. Mirage. Magik. Karma. The original gang is back together and living under the same roof, with the exception of force-field-flyin' Cannonball, now stationed in Shi'ar deep space and raising a family of his own. More on that later.
You can read up on each member's unique power set here, plus get a little team origin, but all you need to know is that these now-grown kids have history. Loads of it. They've been by each other's side through tricky teen years, nurturing and growing their adolescent abilities under Professor Xavier's tutelage. Following that, they each graduated to become Cable's commandos in X-FORCE (1991).
DIFFERENT: CHAMBER AND MONDO
The two newbies.
Chamber was in the first class of GENERATION X, a grungier '90s counterpoint to NEW MUTANTS that starred a group of teens studying under Banshee and Emma Frost. Chamber, or Jonothon "Jono" Starsmore, hosts a psionic energy bomb in his chest cavity, a mutation that's also claimed the lower half of his face.
Mondo, also a GENERATION X recruit, can absorb and take on the properties of any organic or inorganic substance. There is still some mystery surrounding the full extent of his powers, but in the first issue, Cypher uncovers a unique land link between Mondo and Krakoa.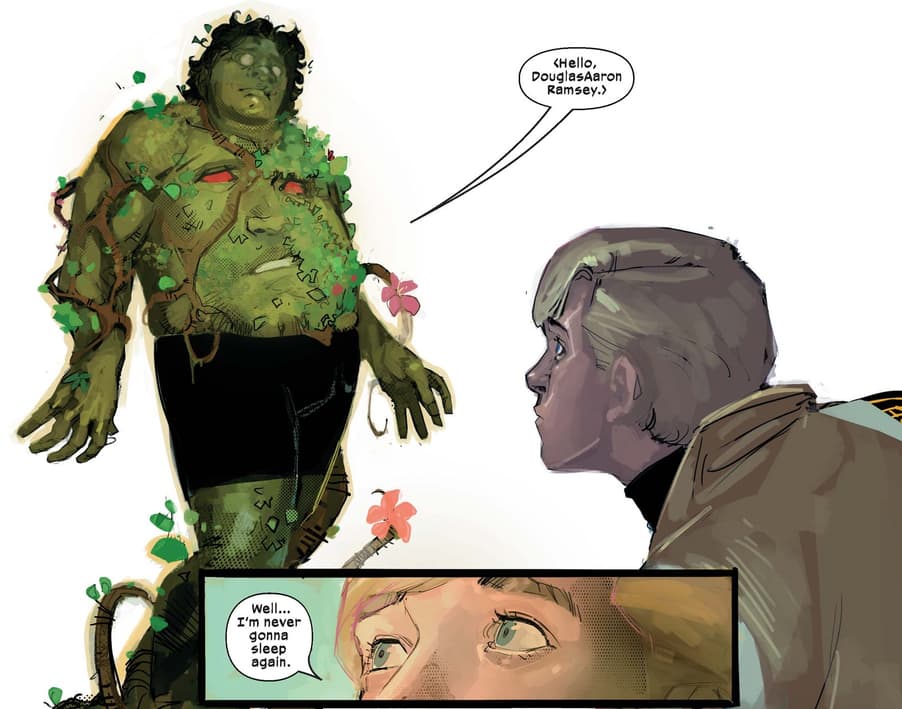 THE SAME: MUTANTS… IN SPACE!
Almost instantly, a cocksure Sunspot convinces the team to head to Shi'ar space to retrieve former member Cannonball. This is a pretty hasty (and ill-guided) choice, but at least it gives the team an excuse to hang with Cyclops' space pirate dad Corsair, and his ragtag pack of ravagers, the Starjammers.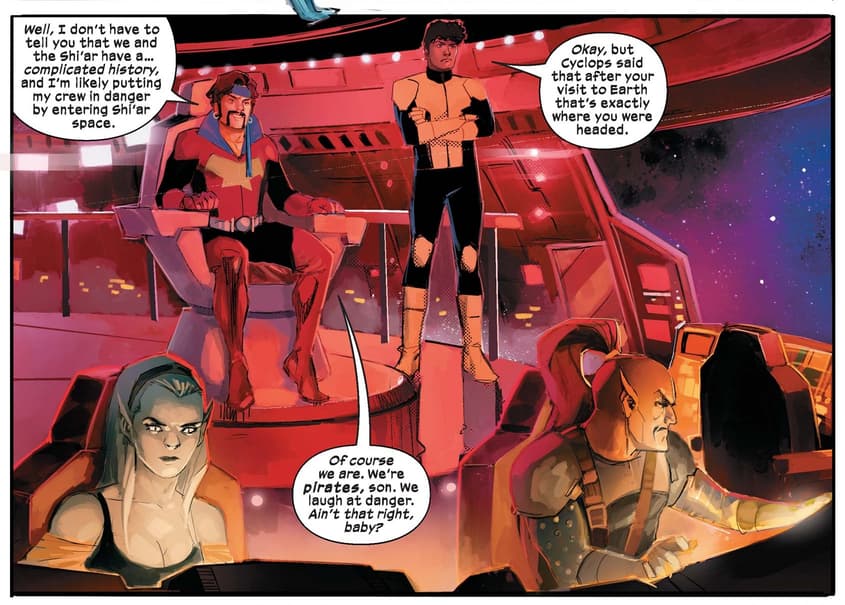 Read one of our favorite space-set arcs from the 1983 original here, an operatic clash in NEW MUTANTS (1983) #66-70 starring mutant rock star and interstellar thief Lila Cheney. Sticky fingers Lila was actually dating Cannonball at this time, and she managed to get the whole team embroiled in an alien showdown with the hormone-disrupting Gosamyr and the criminal Spyder.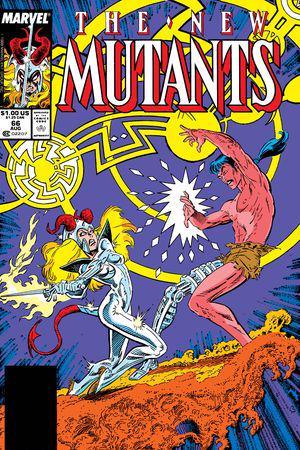 New Mutants (1983) #66
published

added to marvel unlimited

writer

inker (cover)

penciler

penciler (cover)

letterer

colorist

inker
What is Marvel Unlimited?
Issue #66, a battle between Magik and technarch Forge, mirrors her battle with Raza and Ch'od aboard The Starjammer in the new issue #1.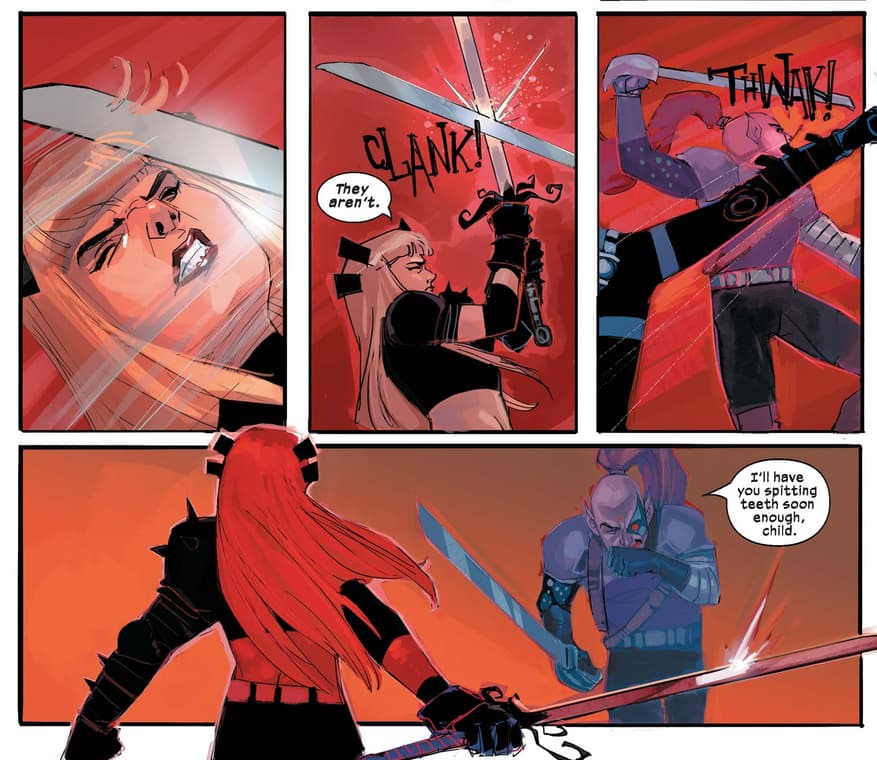 DIFFERENT: THE HABITAT
Thanks to the miraculous byproducts of Krakoa, the New Mutants now live in a self-sustaining biome called the Akademos Habitat. It is comprised of six separate complexes: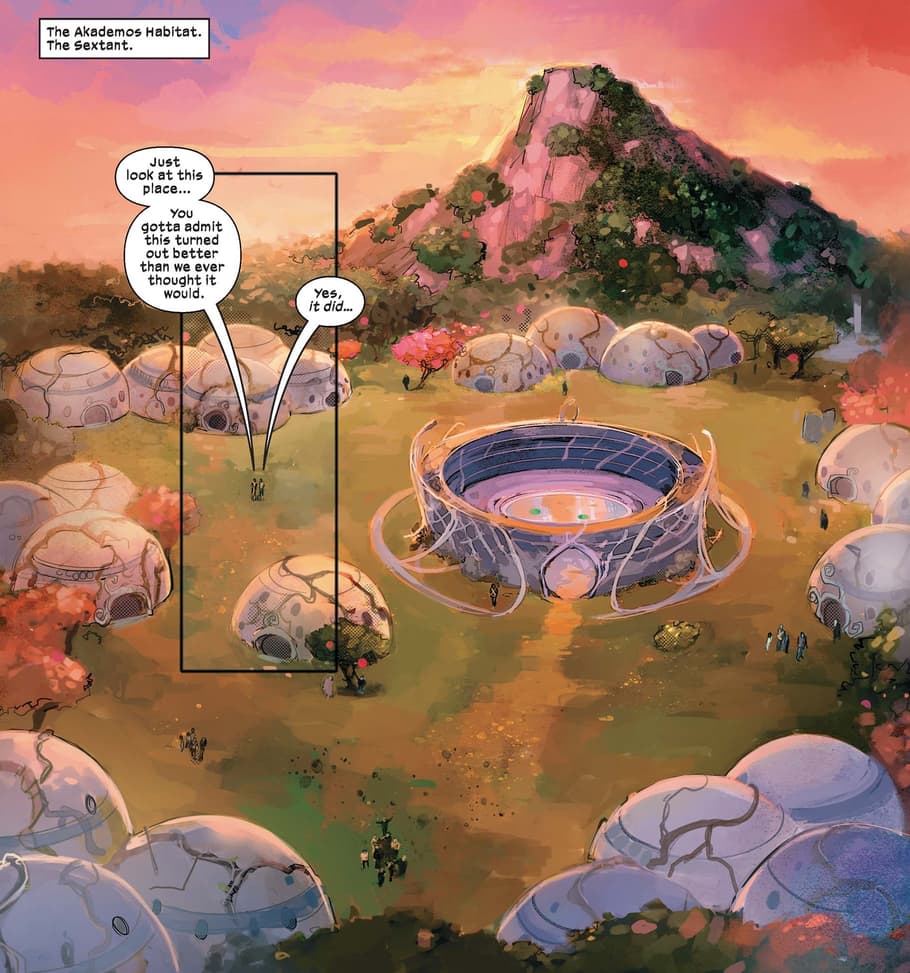 Xavier's Institute has been disbanded, since the very notion of a school is human. Now, each mutant gets an egalitarian education from fellow islanders and the sentient island itself.
THE SAME: THEY'RE BOTH WEIRD
They are! In the best way! If you doubt us, just check out some of Bill Sienkiewicz's art from the '83 run, an astounding creative team-up with Chris Claremont.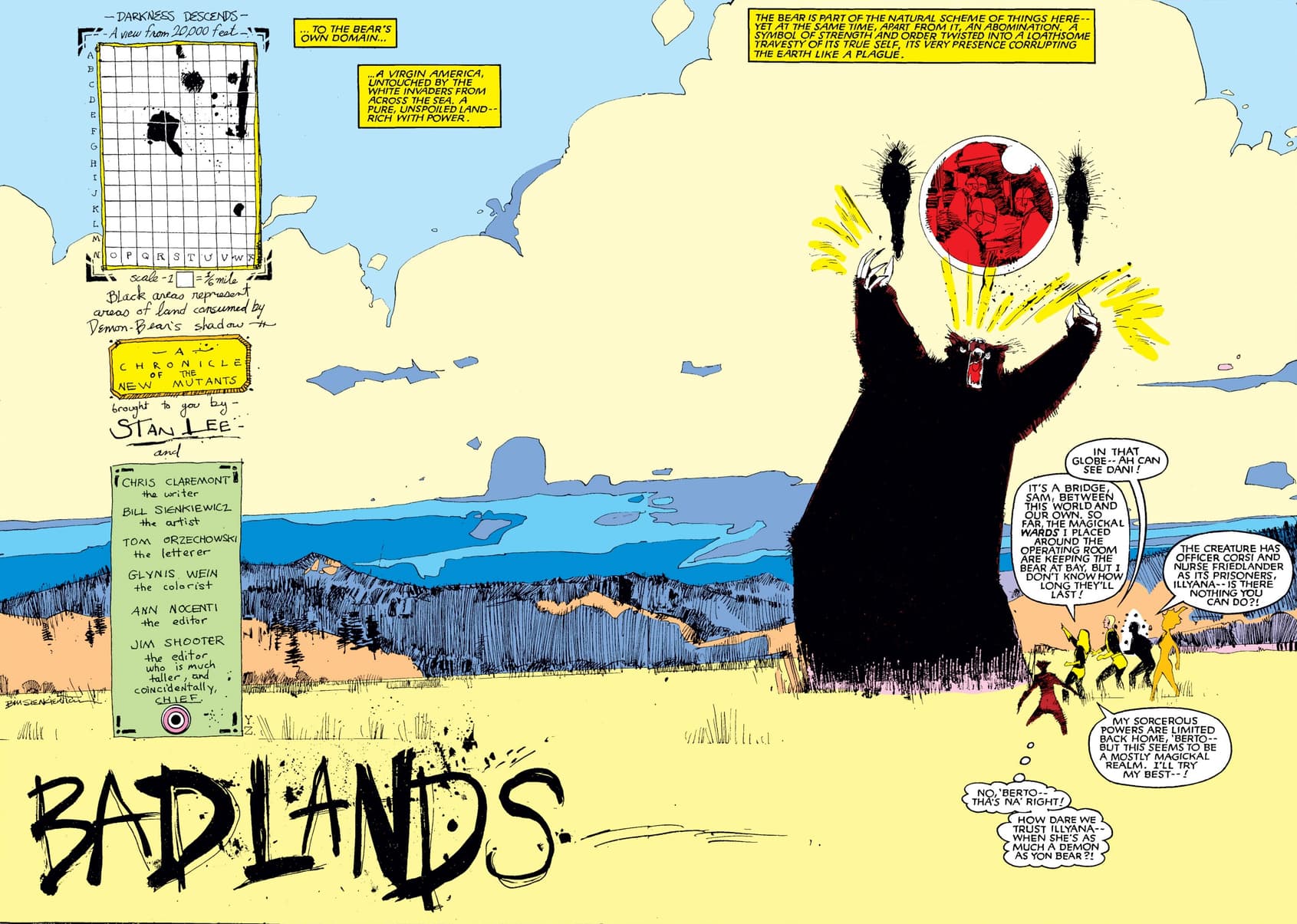 Artist Rod Reis mirrors some of these surreal elements in his interiors, while writers Ed Brisson and Jonathan Hickman capture the giddy, madcap energy of a group of young mutants just cruising the cosmos for fun.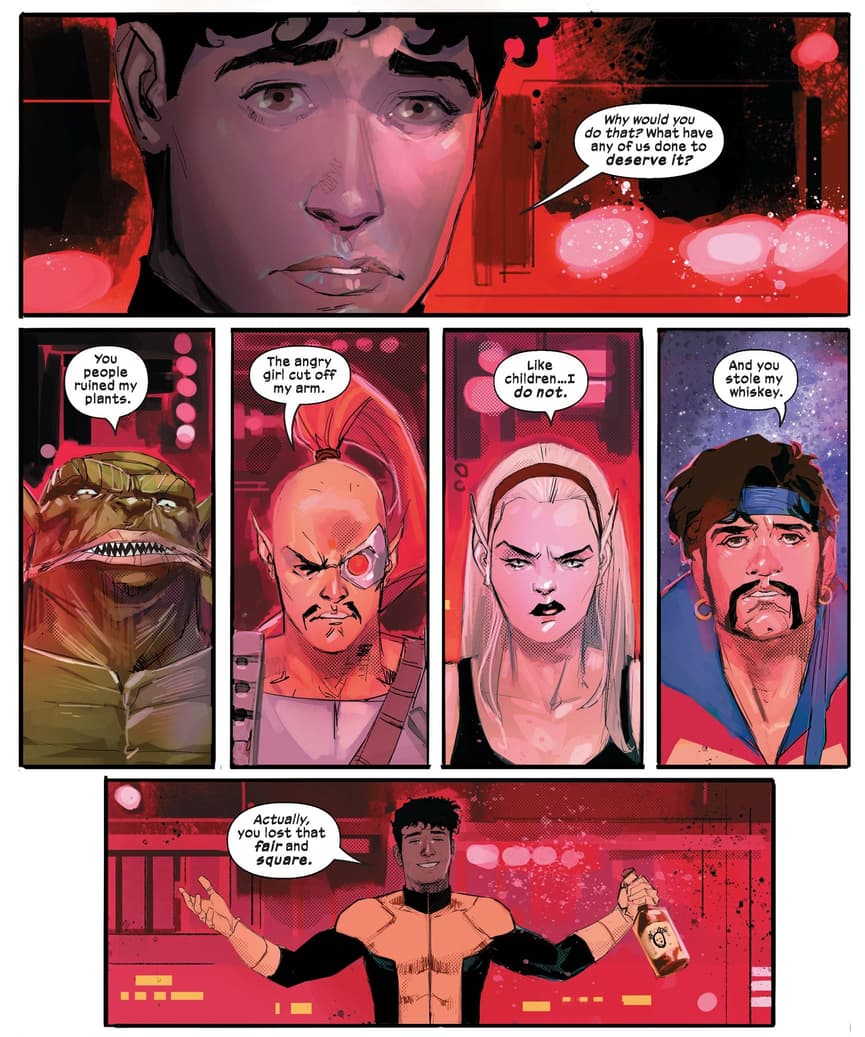 DIFFERENT: RAHNE SINCLAIR
Member Wolfsbane, recently resurrected by The Five, has finally found peace and a new mentality on Krakoa. A welcome change for someone who suffered such a torturous upbringing.
One of Rahne's defining traits in the original series was her shame at being a mutant. A devout Catholic, Wolfsbane was continually reminded of her "monstrous" nature by an abusive pastor father, and this sense of otherness left her ill-equipped and uncomfortable with her lycanthropic powers.
On Krakoa, Rahne has shed any and all fears surrounding her werewolf state, embracing her most complete self. She's been able to leave death behind too, a remarkable side effect of this new, mutant dawn.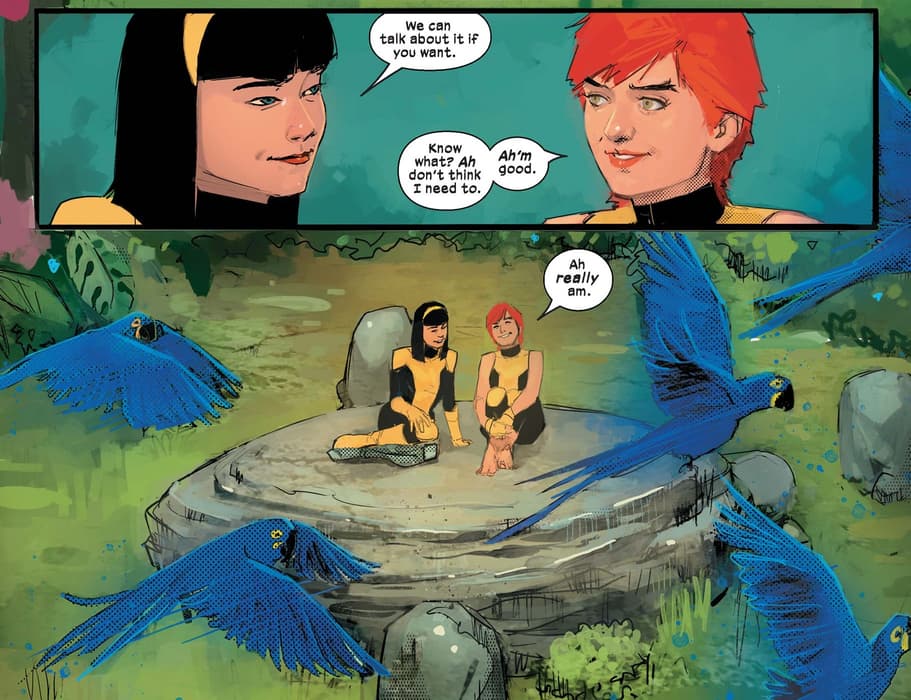 See the rest of this week's Marvel Unlimited titles here, with a fresh slate of Throwback Thursday arrivals hitting May 14.
NEW ON MAY 11
NEW ON MAY 14
ADVENTURE INTO FEAR (1970) #21
ADVENTURE INTO FEAR (1970) #22
ADVENTURE INTO FEAR (1970) #23
ADVENTURE INTO FEAR (1970) #24
ADVENTURE INTO FEAR (1970) #25
Continue Dawn of X weekly with Marvel Unlimited—and choose from over 27,000 more comics—right now! What will you be reading this week? Join the conversation at @MarvelUnlimited, and stay tuned to our Twitter and Facebook channels for more weekly announcements and updates.
For more of Marvel's greatest comic books in print, please reach out to your local comic book shop to ask about services they may offer, including holding or creating pull lists, curbside pick-ups, special deliveries and other options to accommodate. Find and support your local comic book shop at http://comicshoplocator.com.
The Hype Box
Can't-miss news and updates from across the Marvel Universe!