Comics
Published March 29, 2021
Knull's Army Assembles in 'King in Black' #2
Captain America, Storm, Ms. Marvel, and more fall to Knull! Grab our top 3 takeaways from issue #2, now on Marvel Unlimited.
Have you tried Marvel Unlimited yet? It's your all-access pass to over 28,000 Marvel comics, available at your fingertips. Sign up now to get 50% off your first month.
Captain America, Cyclops, Storm, Ms. Marvel, and more say "All Hail to the King" in this week's KING IN BLACK!
The Abyss Made Flesh. The Destroyer of Stars. The God of Symbiotes. Knull is here, and this time he's brought an army. The Avengers and the X-Men were pulled into the fray with KING IN BLACK #1, and, with issue #2, a few key members from both ranks fall to Knull's influence.
Read our top three moments from KING IN BLACK #2 below, and see what other titles are new to MU this week!
NEW ON MARCH 29
1. WHAT HAPPENED TO EDDIE BROCK?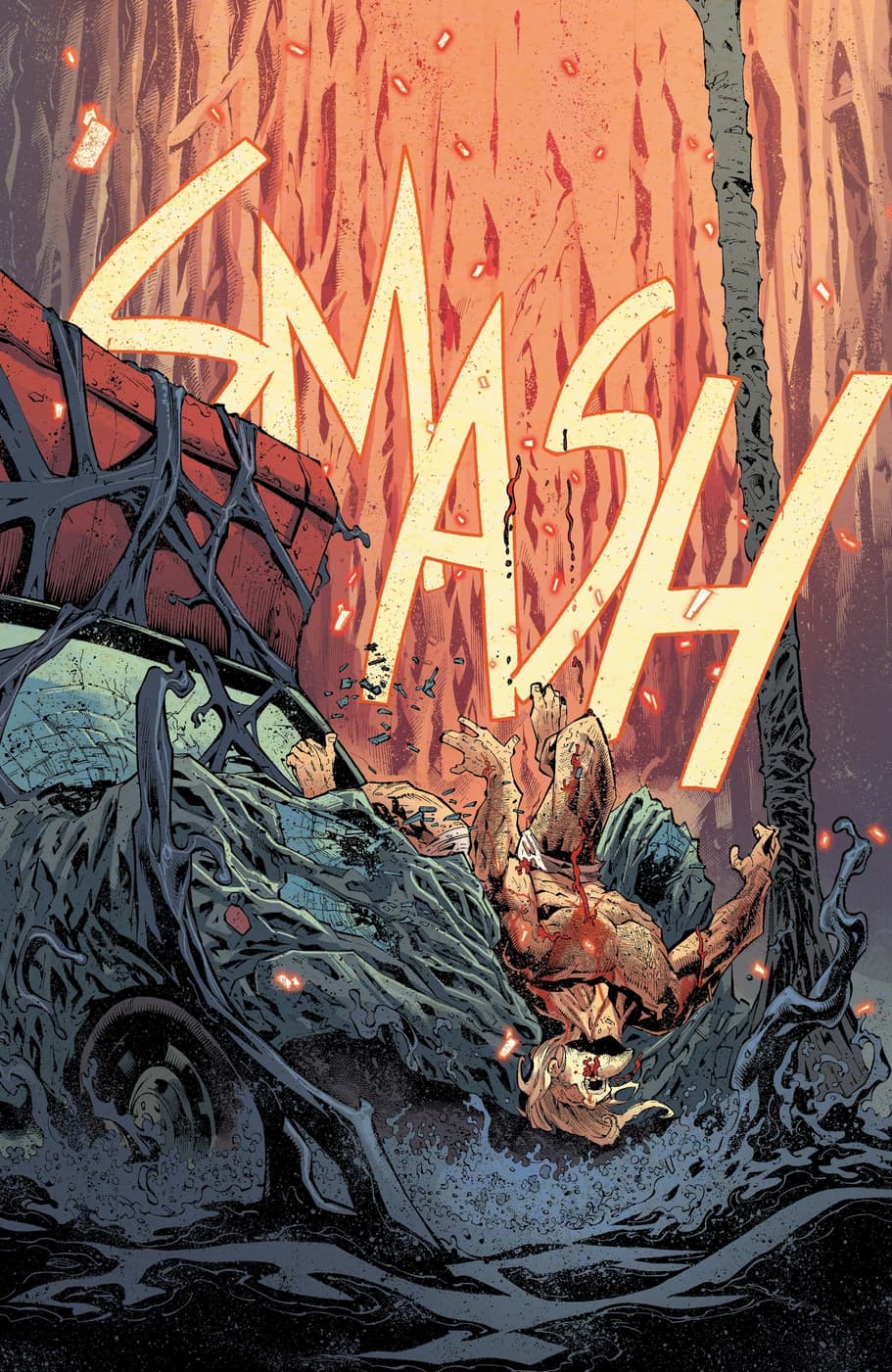 Things look so dire for Knull's latest victim that Spider-Man has to break the hard news to Brock's son, Dylan, that his dad might not pull through. At the tail end of issue #1, Venom was robbed of his symbiote following a psionic possession by Knull. Plummeting to what was seemingly his death, Brock was thankfully recovered by Spider-Man who got Brock (swiftly) to the home base and laboratory of the Fantastic Four. Reed Richards intervenes, but it's Valkyrie: Jane Foster who offers medicine in the form of honesty: if the FF don't work quickly, Eddie Brock is likely to die. Trust a ferrywoman of the dead to tell you how it is!
2. KNULL'S FALLEN ARMY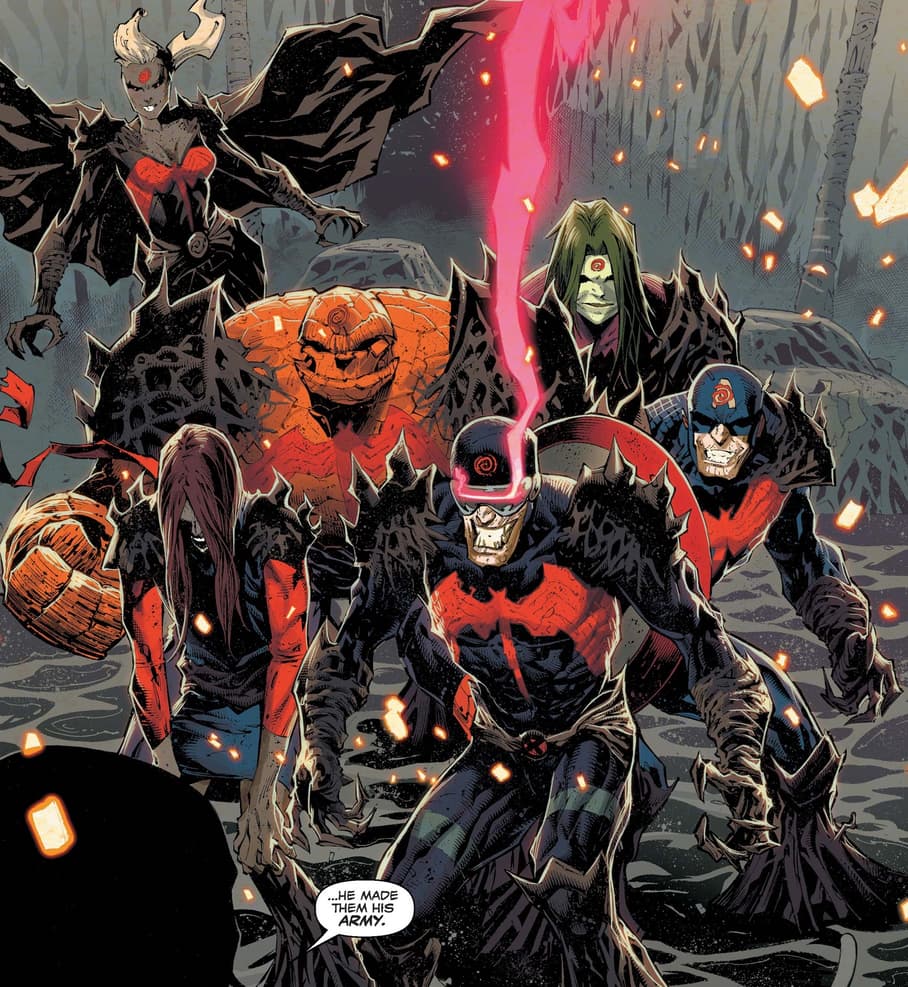 Knull's corruption of New York also claims its heroes! From the Thing, to Captain America, to Ms. Marvel, and Cyclops, Knull's new army is subject to his command... and everyone must obey. For the mutants, their involvement in KING IN BLACK poses a diplomatic challenge. Charles Xavier and Magneto are largely concerned about "their people from Krakoa," not yet realizing the global scale of Knull's invasion. The question remains: How can Knull's possession be undone, assuming it's not permanent? Blade and Jane Foster can offer supernaturally-informed input, while Black Panther, Iron Man, and the FF break down the science. Nearly every super-group has a member in Knull's army, so the rush to find a cure is on.
3. ALL HANDS ON DECK... INCLUDING NAMOR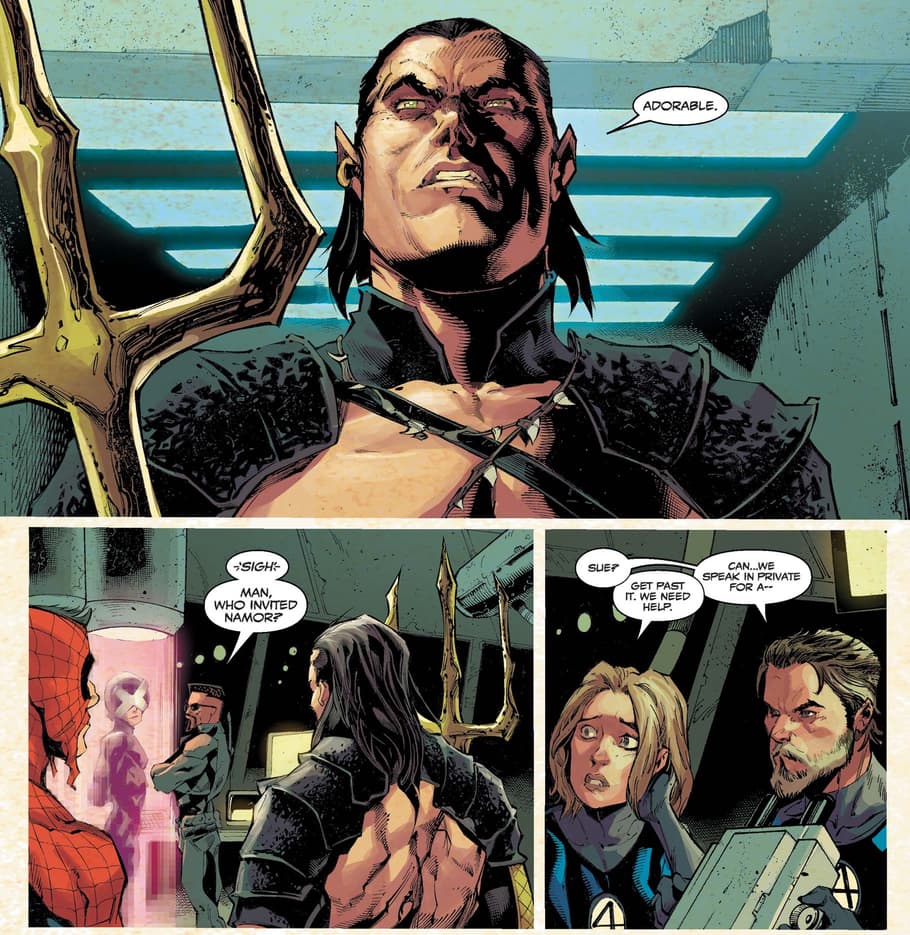 Reed Richards' wasn't thrilled that the King of Atlantis was invited to the party, but given that half of planet Earth is ocean, Namor's inclusion makes a lot of sense. Stating that his people "have been fighting in the freezing dark for millions of years," Namor implores the assembled heroes to let him kick off a plan, hopefully one better than Tony Stark's. Summoning the "Black Tide," an ancient hotbed of Atlantean magic, Namor hopes to meet Knull's army with a hellish counterresponse. The only catch is putting the Black Tide back where he found it once its purpose is served. Issue #2 is where the heroes unite across their differences—but how long can the alliance last?
Read more about Namor's Atlantean reinforcements in KING IN BLACK: NAMOR (2020)!
Start reading KING IN BLACK today, or brush up on the comics history of Knull before diving into issue #2 and this week's tie-in! The fight for Earth continues weekly on Marvel Unlimited.
Follow Marvel Unlimited on Twitter and Facebook to stay tuned in to weekly announcements, articles, and more, all at @MarvelUnlimited. Follow us today to join the conversation with thousands of fellow fans, and let us know what you're reading!
The Hype Box
Can't-miss news and updates from across the Marvel Universe!