Comics
Published June 2, 2022
Luciano Vecchio on Bringing Iceman to Infinity Comics
We talk to the 'Marvel's Voices: Iceman' creator about Bobby Drake's latest solo turn, his love life, and what his Omega-level status means for mutantkind.
As announced this week, MARVEL'S VOICES expands to digital comics super-service Marvel Unlimited! This all-new anthology series from a celebrated and diverse set of creators will give readers a fresh look at the "world outside their window" with new issues each week in the app's exclusive Infinity Comics format. Kicking off the series is MARVEL'S VOICES: ICEMAN INFINITY COMIC by beloved creator Luciano Vecchio. This Bobby Drake-centric story will celebrate life, love, and all the beautiful complications in between as the original X-Man explores a life far away from mutantkind's shores.
We spoke to the writer and artist about all things Iceman, including the hero's life beyond Krakoa, current romantic interests, and what threats we can expect to see in this all-new four-part series.
This is your second time writing and drawing Iceman since his "New Year's Resolution" Infinity special. Where is Bobby—physically and mentally—at the top of this run?
LUCIANO VECCHIO: I wanted to focus on the adventures of Iceman as a solo Super Hero. He's one of Marvel's preeminent LGBTIQ+ characters so we're exploring his world, love life, and adventures as an individual and not as part of a team. He's taking a break from Krakoan life and finally moving to Los Angeles to have adventures on his own while enjoying a newfound popularity and visibility after the terraforming Mars stunt. And then, life happens. In this arc, "Omega" has a few different meanings.
Iceman is an Omega-level power player, especially in the Krakoan age. How will he adapt those abilities as a solo hero?
LUCIANO VECCHIO: We'll see every aspect of Iceman's arsenal of powers and techniques in high action adventures, which, by the way are a perfect fit for the Infinity Comics vertical scroll format. I had a blast drawing him in action! Iceman recently had a big role in reviving Mars, so what else can he do? Or even, what can't he do? The question of what it means to be Omega-level, and what it means for Bobby specifically, how it affects his view of himself and his place in the mutant and super-heroic community, is one of the driving forces in this story. I went for a "compressed storytelling" style with a lot happening in each digital issue, to see him facing all kinds of monsters, villains, and even cosmic level threats!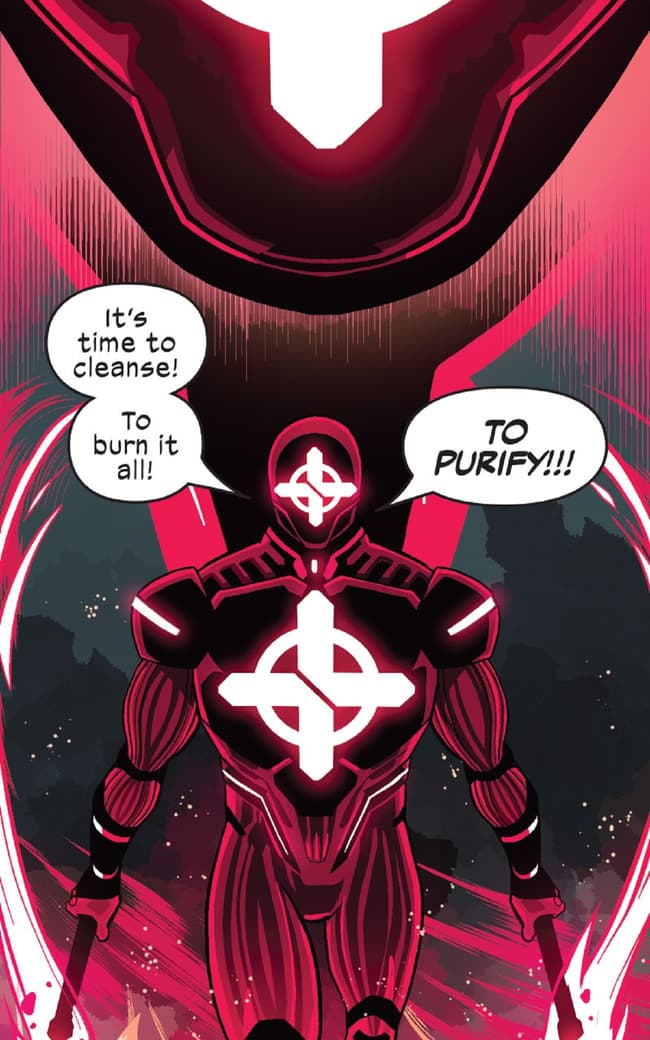 Finally! Seems like Bobby gets a second to focus on his love life. Can you set the stage on where he is romantically and the kind of relationship he's looking for?
LUCIANO VECCHIO: The last time Bobby had a solo series, he was coming to terms with coming out as a gay adult after years and years in the closet, and then integrating the memories of his time-displaced younger self. Now, we find him fully comfortable with living his gay life, looking for love and having fun in the meantime, with the [inevitable] mess that often comes with it. We'll get a closer look at his bond and chemistry with Christian Frost, while someone else from his past might turn his world upside down…
What about Iceman speaks to you as a creator and a fan? Any comics you read in preparation for this run?
LUCIANO VECCHIO: The 2017-2018 Iceman solo series [written by Sina Grace] had a huge impact on me when it first came out—it was the volume that made me say "this is the kind of story I want to draw" (I didn't dream back then I could write it too!), so this volume is in many ways an organic continuation and homage to it while revisiting and remixing elements from Iceman lore across the ages—from classic X-Men stories, X-FACTOR (1986), DEFENDERS (1972), to ALL-NEW X-MEN (2012), AGE OF X-MAN: X-TREMISTS and MARAUDERS (2019). I think we're thankfully reaching a point where a story with an LGBTIQ+ lead doesn't need to encapsulate all representation and we get to focus on telling an Iceman story, where his particular experience with being gay became an integral aspect of the character. And in the process of searching for my voice and tone for Bobby I found him to be a super relatable character with whom I have a lot in common. Like unapologetically enjoying puns and dad jokes for example!
Iceman and Firestar have a moment in issue #1. Does this mean an "Amazing Friends" team-up!?
LUCIANO VECCHIO: It does! The [Spider-Man and His Amazing Friends cartoon] was my first exposure to Iceman when I was a kid, so having Firestar show up connects me with that playfulness and fun of my inner child. Friendship and support systems are also an important theme in this story, so we'll see more of Bobby's friendship with his peers Rictor and Northstar, a dynamic I loved in AGE OF X-MAN: X-TREMISTS and was excited to revisit here.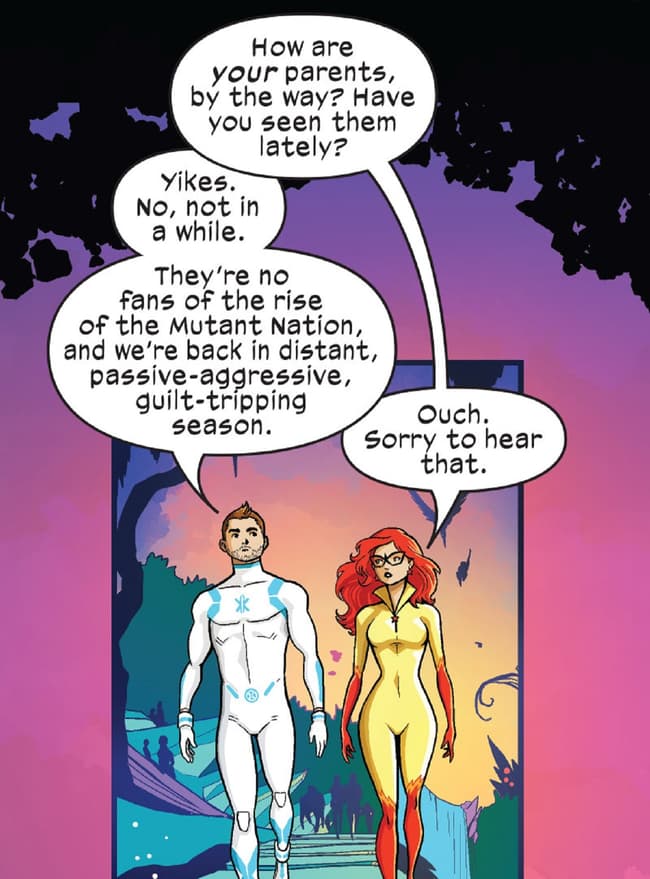 Being the artist on this run means you get to play with Iceman's look. What changes did you make to both his Super Hero and personal style?
LUCIANO VECCHIO: My two main purposes visually were for him to read as a solo Super Hero, and also to let Iceman be hot and sexy. I wanted to give him a personal look, with an "X" inspired "Ice" logo and everything, and a proper full body costume that is still there when he defrosts. It is inspired by some of my favorite uniforms he's worn as a time-displaced kid in the ALL-NEW X-MEN era, combined with his most classic and recognizable sleek white silhouette with boots. And his facial hair turning into an icy scruff is something I wanted to see since forever as it was teased as the path towards becoming his long-bearded future-self Icemaster.

Read the first issue of MARVEL'S VOICES: ICEMAN INFINITY COMIC on the Marvel Unlimited app, and come back each Wednesday for new issues from the four-part series! Plus, stay tuned for the next story coming to MARVEL'S VOICES in the app-exclusive Infinity Comics lineup!
Download the Marvel Unlimited app for iOS or Android devices now for more vertical comics starring favorite Marvel characters. You'll also gain instant access to 29,000+ digital issues spanning 80 years of Marvel Comics.
Follow Marvel Unlimited on Twitter and Facebook to stay tuned in to weekly announcements, articles, and more, all at @MarvelUnlimited. Follow us today to join the conversation with thousands of fellow fans, and let us know what you're reading!
The Hype Box
Can't-miss news and updates from across the Marvel Universe!