Comics
Published January 25, 2017
Psych Ward: Thane
Dig into the mind inside the son of Thanos!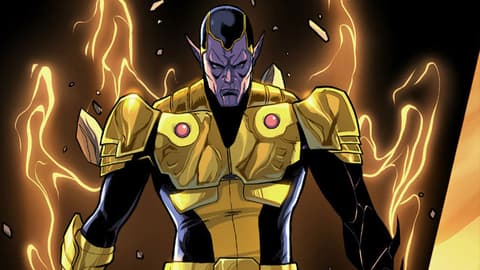 The client, Thane, sometimes known as "Thane the Healer," presents as an adult humanoid in what appears to be above average to excellent physical health. He identifies as the son of Thanos which would make him alien—specifically native to Titan—but his files also note he is an Inhuman which makes him an Earthling as well.
As a child, Thane was raised in relative isolation in an Inhuman kingdom. However, besides his lack of companionship—and thus a deficit in socialization—the client indicates that he felt largely happy and content during his development.
Following his exposure to Terrigen Mist, however, the client concedes his life has gotten considerably more complex and confusing. However, Thane insisted his reason for seeking the writer was not to discuss his past or wrestle with family system issues.
Instead, the client sought to engage this therapist's Existential Therapy skills. He has found himself deeply concerned with issues like good and evil; when we save others do we ultimately just prolong their pain or help them commit further injustices? Does a superior person have the right to seize power regardless of the initial consequences because she or he will be better for the universe overall? And so on.
The client did confess that recent events have at least played into these questions. Having a death worshipping power mad father who immediately sought to destroy you when he learned of your existence is certainly part of it. Additionally, the advisors and mentors Thane has had over the course of his life have taught him often conflicted lessons and even when receiving their multiple insights, real world events seemed to suggest none of them were right.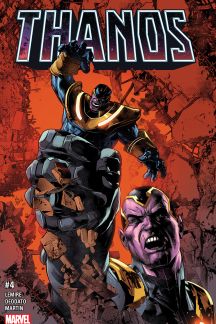 Despite the depth of his questions and the volatility of his life recently, the client seemed almost detached in his exploration of the topics he raised. Although he stated how important these ideas were to him, he presented them with a casual coldness that seemed to suggest otherwise.
Yet, at session's end, the client immediately requested another appointment explaining that he had found the time tremendously helpful. Despite not seeing any signs in his affect suggesting this was true, this writer agreed to see him on an ongoing basis, at least in the short-term.
In the meantime, I will be studying the client's history as presented by Doctors Jeff Lemire and Mike Deodato in the academic volume THANOS #4, available for public review on February 22.
Psy D. Candidate Tim Stevens is a Staff Therapist has quite enough existential horror in his life these days, thank you very much.
The Hype Box
Can't-miss news and updates from across the Marvel Universe!