Comics
Published August 3, 2023
Relationship Recap: Rogue and Gambit
Relive the major firsts and catch up on the romantic status of this favorite X-Couple!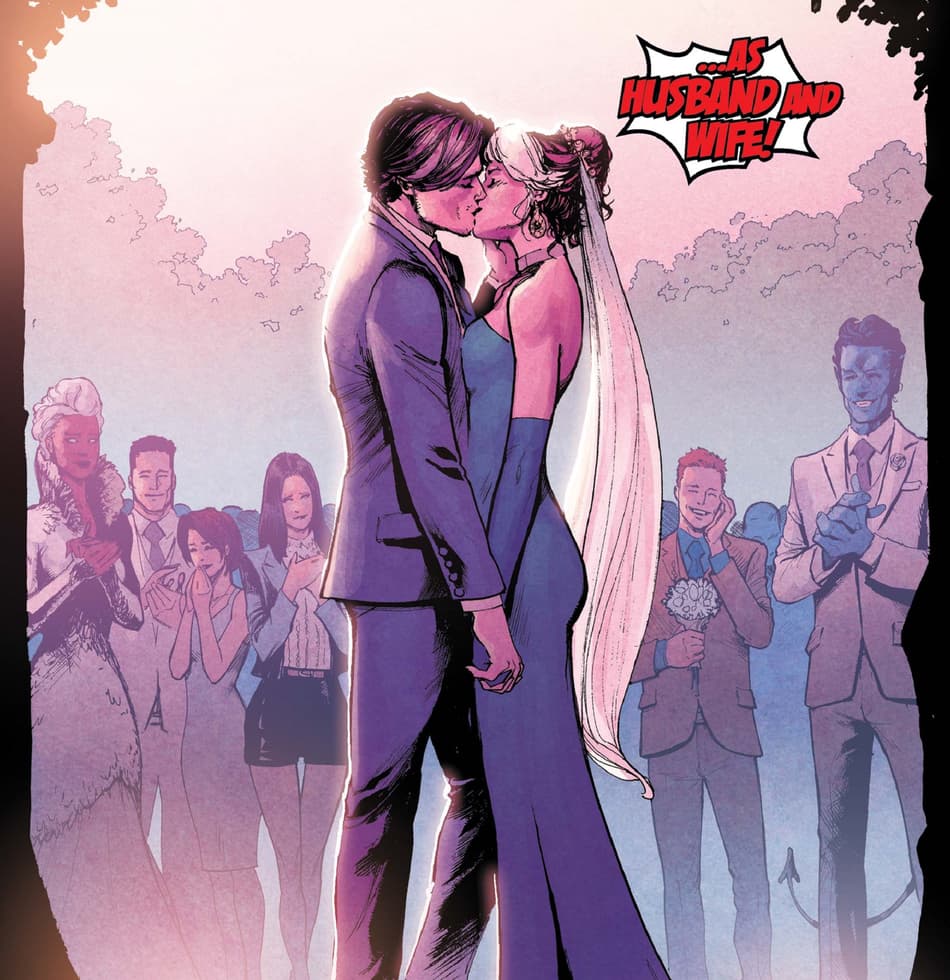 A thief of hearts, and a hero who once broke all the rules. It can only be the love story of Rogue and Gambit.
There are plenty of thriving couples among the mutant population in the Marvel Universe, but none with quite the same kinetically charged passion as Rogue ("Anna Marie") and Gambit's (Remy LeBeau) fan-favorite romance. Their personal lives are marked by 30+ years of an on-again/off-again relationship, until the two finally tied the knot in 2018 in X-MEN: GOLD #30. Their marriage has quelled much of the romantic turbulence the couple previously experienced, and the two's relationship has only continued to blossom through the gates of Krakoa into the Golden DAWN OF X. But with the recent assault on mutantkind and the loss of their island nation-state in FALL OF X, Rogue and Gambit are in uncertain territory once more… especially since Rogue plays a predestined role in preserving what's left of Krakoa.
[RELATED: Stephanie Phillips on the Love Story of Rogue and Gambit]
Gambit and Rogue's all-new six-part LOVE UNLIMITED arc is unfolding now on the Marvel Unlimited app from creators Preeti Chhibber, Carola Borelli, and Carlos Lopez! To set you up for their latest couples' getaway, revisit how Rogue and Gambit first found love together as X-Men, the ups and downs of their star-crossed story, to their lengthy courtship and how they've cemented their place as one of mutantkind's most prominent couples.
LOVE'S MEMORABLE START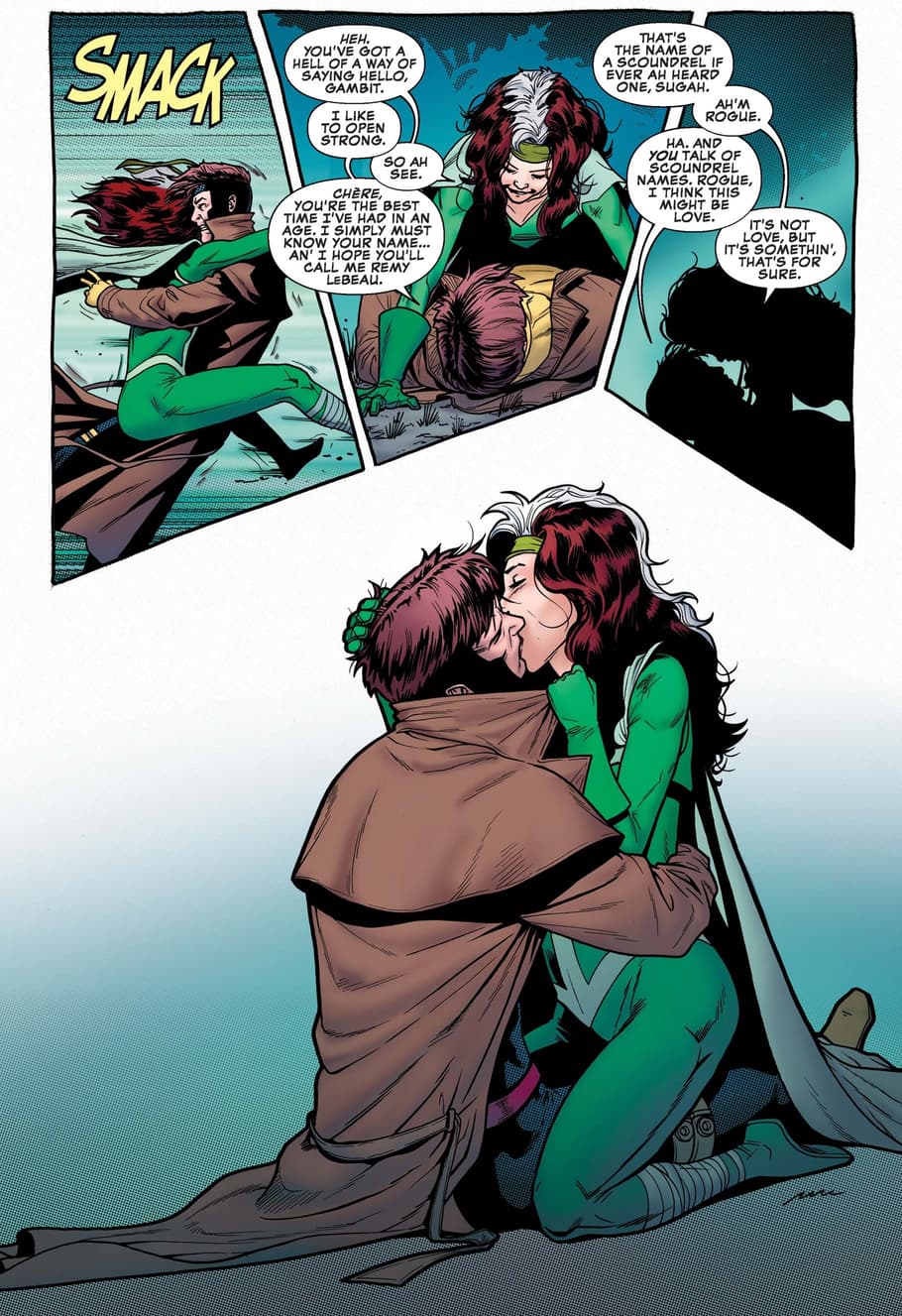 Rogue and Gambit's first meeting took place off-panel for the longest time, unrevealed to readers until ROGUE & GAMBIT (2018) #2. Of course, each partner had a different memory of how exactly it unfolded. Gambit didn't begin openly flirting with Rogue until X-MEN (1991) #4 shortly after his Marvel Comics debut in UNCANNY X-MEN (1963) #266. Although he (literally) swept her off her feet, Rogue was vocally resistant to Remy's charms, fearing her power-draining touch made any serious romance impossible. However, during a battle against Omega Red, Rogue agreed to go out on a date with Gambit, much to the Cajun's visible appreciation.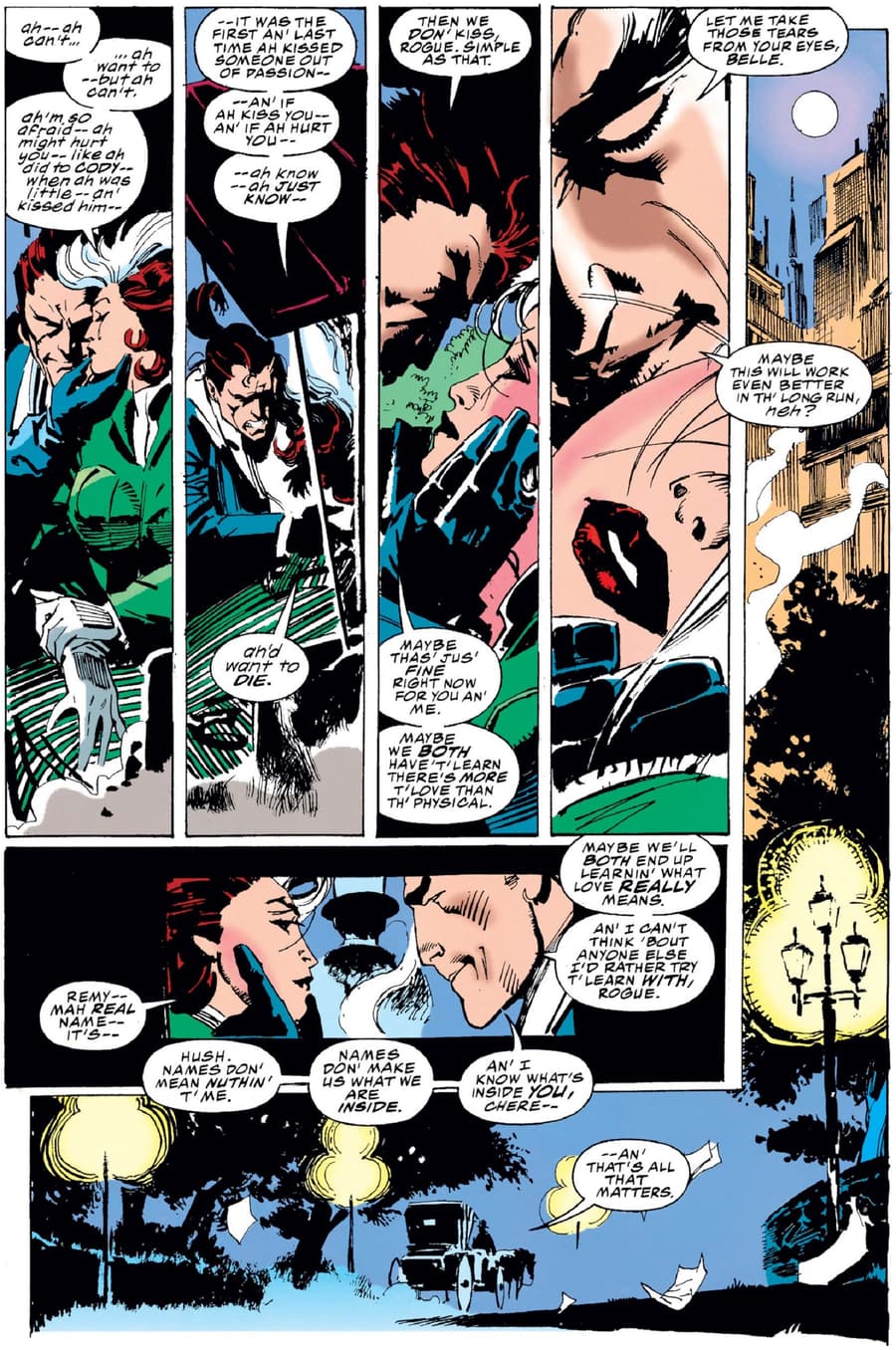 This date finally occurred in X-MEN (1991) #24, with Gambit wining and dining Rogue over authentic Louisiana gumbo. The two bonded quickly over their mysterious pasts while getting into deep conversation. By the end, Rogue was prepared to reveal her birth name to Gambit for the first time, though Remy assured her that it didn't matter as the they enjoyed a nighttime carriage ride together through Central Park. Moving forward, the two would officially become an item, though this was challenged on multiple occasions as they and the X-Men endured all sorts of crises.
A ROCKY ROMANCE
Though Gambit and Rogue quickly became a visibly steady couple, Rogue's faith in Remy was shaken when Sabretooth let slip about Gambit's more illicit activities as a teenager in Paris. Disgusted with Remy's past behavior, Rogue could hardly stand speaking with him but tacitly admitted that she was in love with him in an argument in X-MEN (1991) #33. This rupture was swiftly tabled in the face of the coming changes to reality, heralding the AGE OF APOCALYPSE event.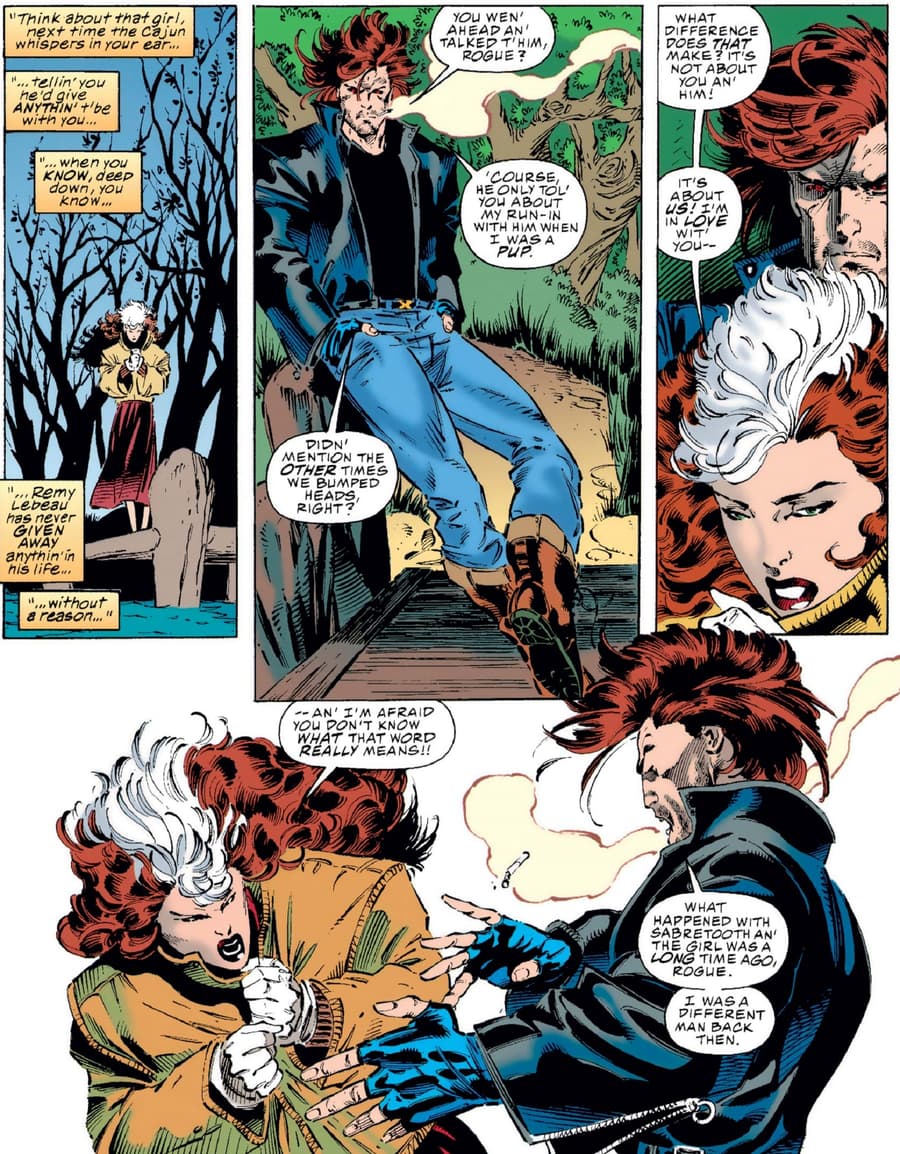 With changes to reality literally sweeping towards them, Gambit and Rogue (finally) shared a passionate kiss in X-MEN (1991) #41, but Rogue's unique powers left Gambit comatose for a time. To complicate matters further, Rogue absorbed Gambit's memories and learned just how shady her boyfriend truly was, including his role in helping facilitate the MUTANT MASSACRE through his past association with longtime super villain Mister Sinister. This led to the two heroes putting a break on their romance, as Rogue contemplated whether she could trust Remy and forgive him for his past.
A BREAK AND RECONCILIATION
Rogue's distrust with Gambit over his association with Mister Sinister proved too much of a strain for their relationship, culminating in a seemingly definitive breakup in UNCANNY X-MEN (1963) #350. Fortunately, this was temporary, with the two reconciling after reforming bad boy Gambit rescued Rogue from the mutant-hunting super villain X-Cutioner in GAMBIT (1999) #5.
Throughout the three-year series X-TREME X-MEN (2001), Rogue and Gambit were prominent parts of a team defending the Marvel Universe from the extra-dimensional conqueror Khan. Though successful in repelling Khan, the experience temporarily left both Rogue and Gambit powerless from the sheer effort expended. Taking advantage of their new status quo and ability to touch without fear, the couple got a beach house together in the coastal town of Valle Soleada, finding community amongst humans and mutants who also shared a dream of peace. For a time, it was bliss.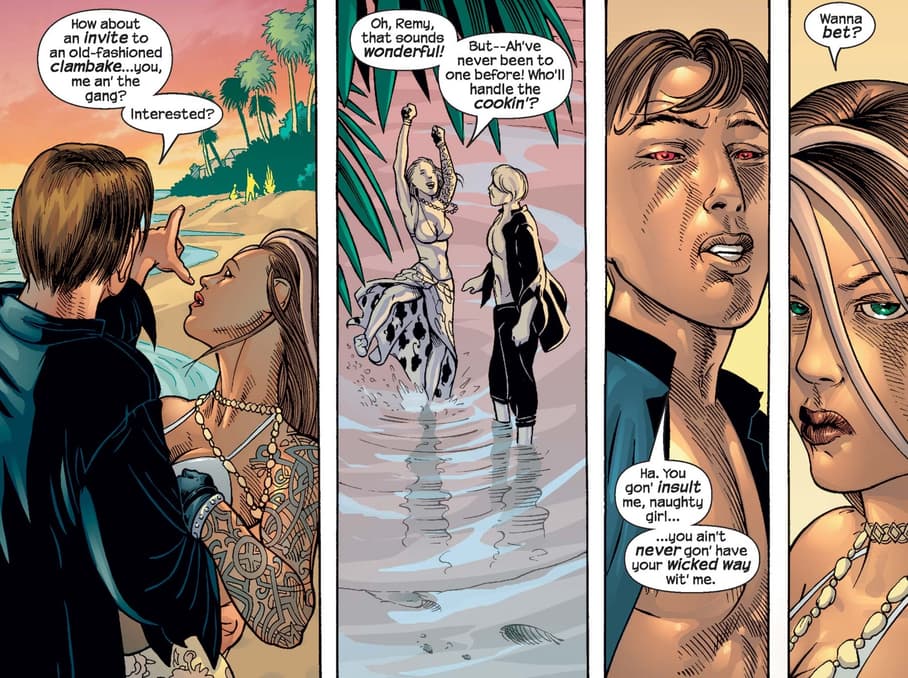 ROGUE'S MASTERY OVER HER POWERS
Both Gambit and Rogue's mutant powers recovered at the end of X-TREME X-MEN, taking their priorities out of paradise and back into the world of being fulltime X-Men. In a bizarre twist, Rogue's adoptive mother Mystique once tried to sabotage the fragile romance between Rogue and Gambit by using her shape-shifting powers to infiltrate the X-Mansion. This eventually led to Rogue taking some (understandable) time away from the X-Men, while Gambit went on his own journey of self-discovery AKA some good ol' thievin. It was in the aftermath to the MESSIAH COMPLEX event that a major change finally came to Rogue's life. A newly resurrected Professor X saved Rogue from a sentient Danger Room in the Australian Outback with Gambit's help, and afterwards, Xavier helped Rogue crack the code to controlling her abilities via touch.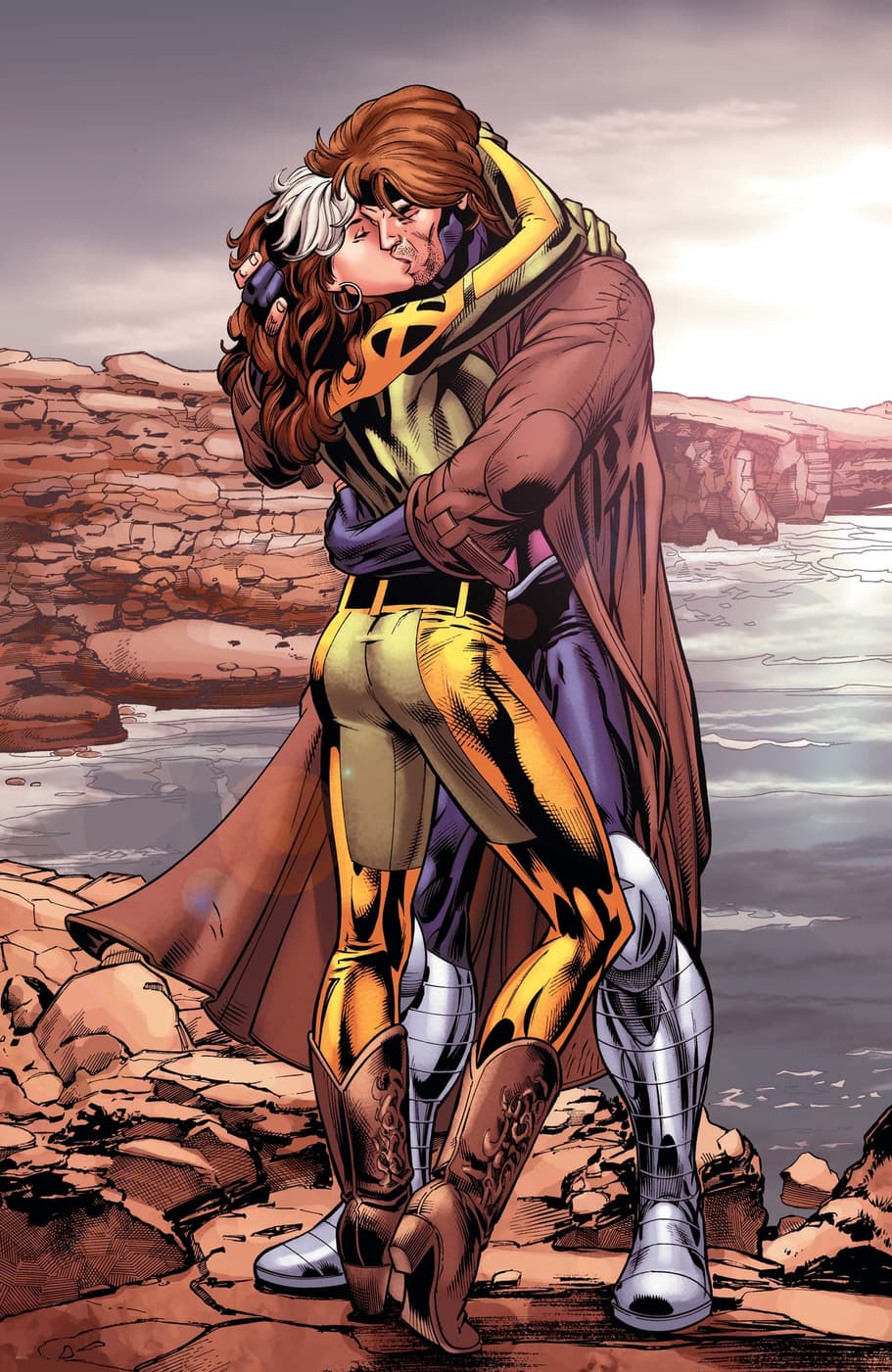 After successfully mastering her powers in X-MEN: LEGACY (2008) #224, Rogue celebrated by kissing Gambit, with the physical contact not harming him at all. This was a watershed moment for their relationship, signaling a new stage in their choice to either move forward or stay friends. Though one of the biggest physical obstacles standing between Rogue and Gambit was now eliminated, Rogue was unsure of how to proceed, torn between her romantic feelings for Remy and Magneto and, later, Johnny Storm, her teammate on the Uncanny Avengers.
[RELATED: Johnny Storm's Romantic Relationships and Beloved Bonds]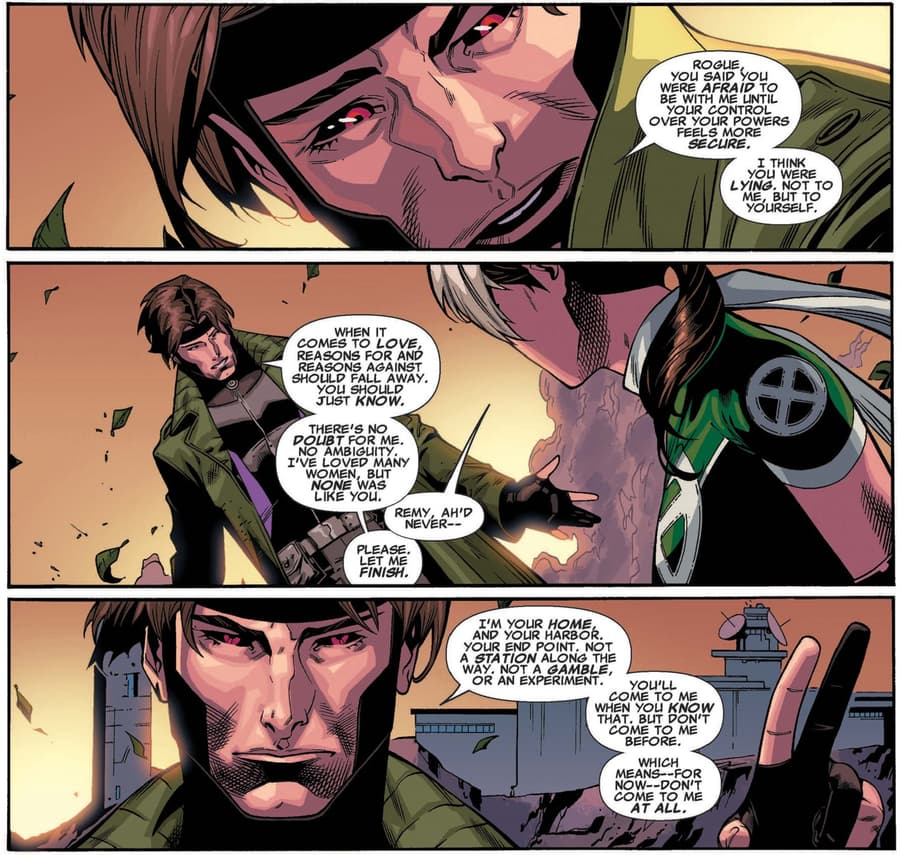 GAMBIT AND ROGUE, MARRIED AT LAST
In the limited series ROGUE & GAMBIT (2018), Kate Pryde dispatched the still-estranged couple on an undercover mission to investigate the disappearance of mutants from a luxury resort. Part of maintaining their cover required Rogue and Gambit to undergo intensive couple's therapy, forcing them to confront their unresolved issues. This openness and unparalleled intimacy gave their romance a much-needed fresh start, with the two thanking Pryde for pairing them up.
After speaking privately with Storm and Nightcrawler, an inspired Gambit proposed to Rogue, who happily accepted the impulsive offer. And seeing as how Kate and Colossus' planned wedding fell apart at the altar, Gambit and Rogue seized the opportunity (and free catering) to get married on the spot in X-MEN: GOLD (2017) #30 in front of their already present friends and family. The wedded couple's honeymoon unfolded in MR. AND MRS. X (2018), but their trip to the stars soon devolved into a mission to save the throne of the Shi'ar Empire, followed by a rude interruption from extra-dimensional villain Mojo. But who said marriage was easy?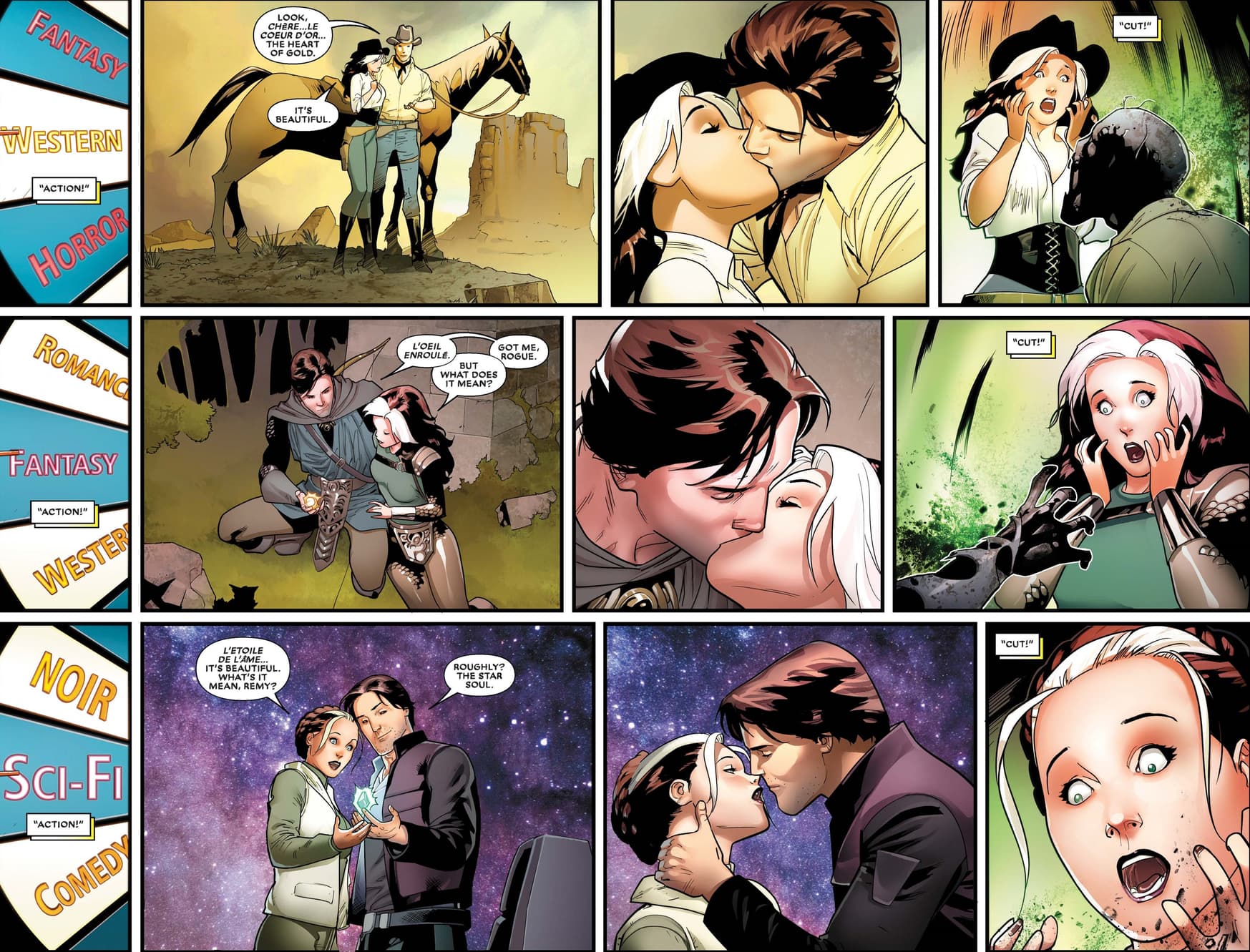 KRAKOA AND THE DAWN OF X
After mutants created the island-nation state of Krakoa in HOUSE OF X/POWERS OF X (2019), Rogue and Gambit were among the couples looking to start a new future together. However, their respective responsibilities on Krakoa made it difficult to find quality time, barely getting any free hours between their activities with the new EXCALIBUR team to defend the realm of Avalon and, later, Rogue's membership on the latest iteration of the X-Men. The couple's time is now further divided.
Recently, their marriage was put through a new test in the limited series—and prelude to FALL OF X—ROGUE & GAMBIT (2023). Rogue's adoptive mother Destiny tasked Rogue with recovering the teleporting mutant Manifold due to their perceived role in mutantkind's future. Rogue and Gambit succeeded in tracking down Manifold, though Rogue was put off by the questionable moral lengths Gambit was willing to go to get the job done. After bringing Manifold back to Destiny, Rogue was sworn to secrecy by her mother as she hid Manifold away in stasis to avoid the future she glimpsed. Though Rogue agreed, the idea of keeping the truth a secret from the X-Men and Gambit provides a new challenge in the stability of her relationships…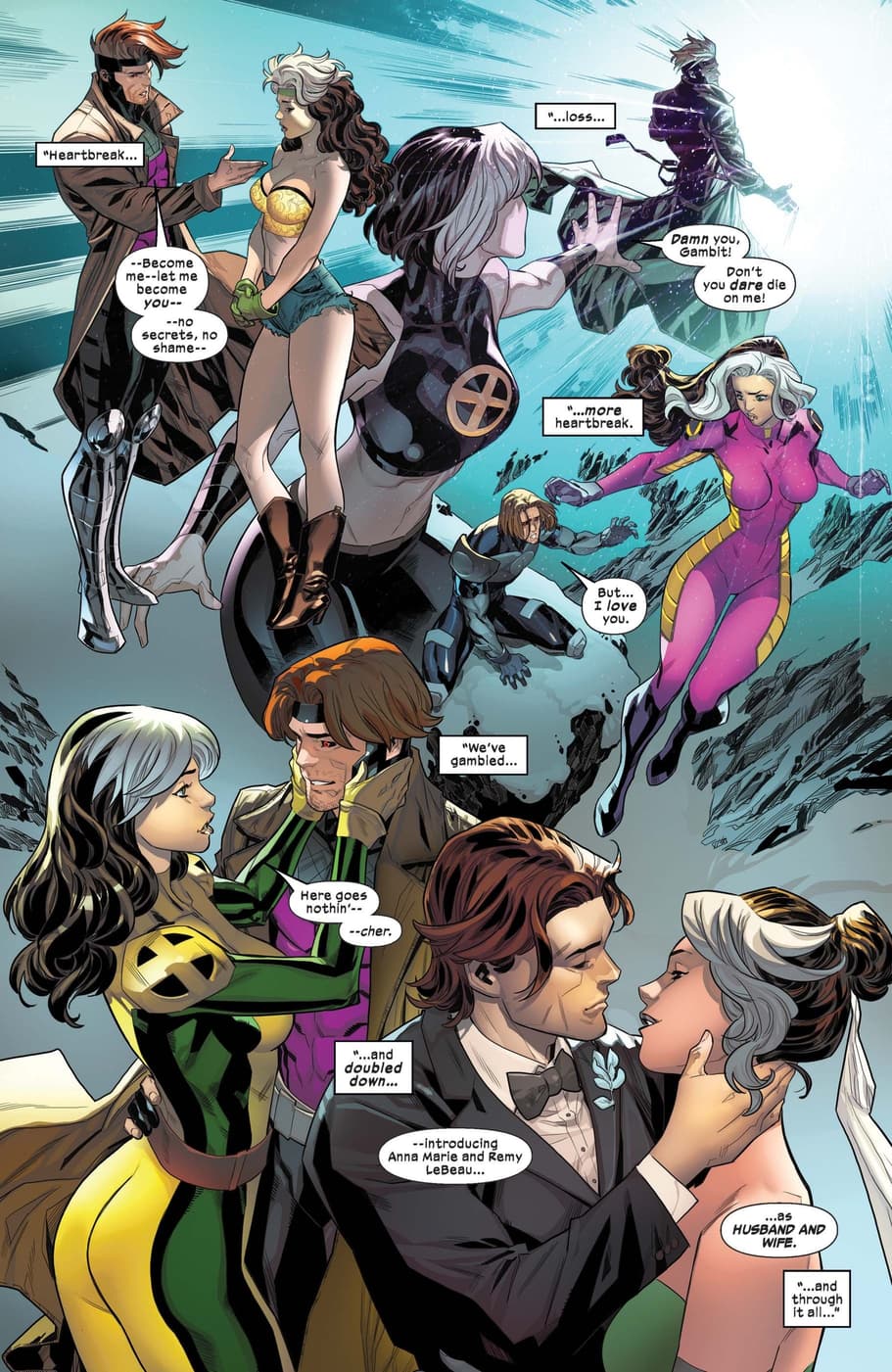 Want to read the latest from the X-Men power couple? Sign up for the Marvel Unlimited app to read new chapters from their six-part story LOVE UNLIMITED: GAMBIT & ROGUE! You'll also gain access to 800+ issues from the app's exclusive lineup of vertical Infinity Comics!
The Hype Box
Can't-miss news and updates from across the Marvel Universe!