Comics
Published August 1, 2020
Spider-Man's Greatest Moments
THWIP! over to Marvel Unlimited to celebrate Spider-Man Day!
Have you tried Marvel Unlimited yet? It's your all-access pass to over 28,000 Marvel comics, available at your fingertips. Sign up now to get 50% off your first month.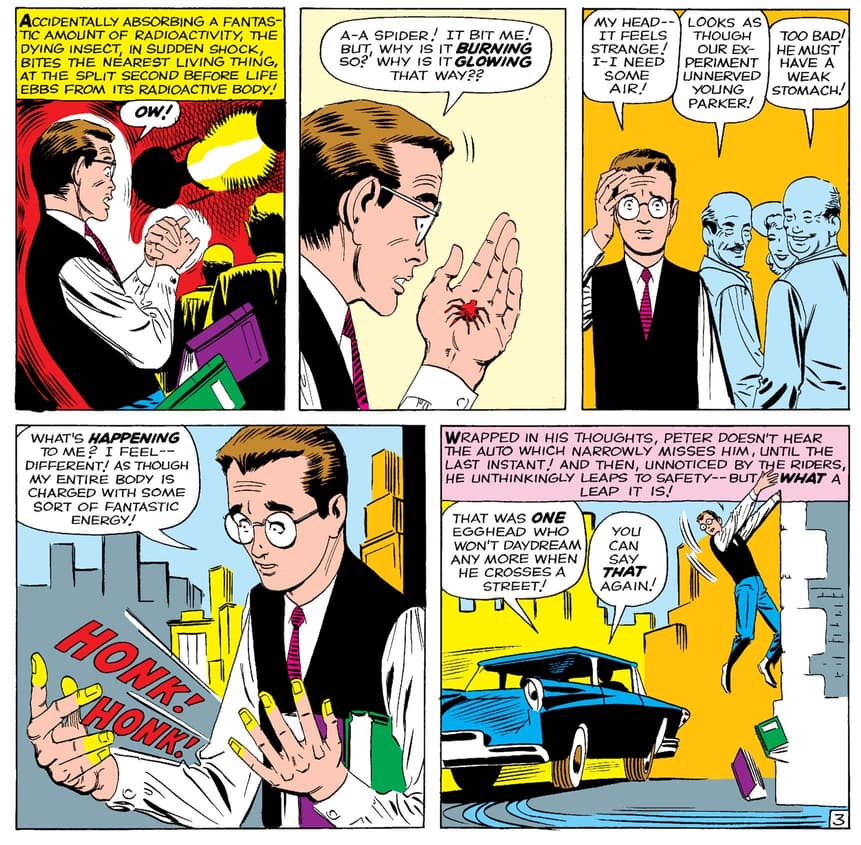 In August of 1962, the world met Peter Parker, "Midtown High's only professional wallflower." Across eleven pages in AMAZING FANTASY (1962) #15, an introverted kid from Queens grew into the Amazing Spider-Man, a teenaged hero who's code of conduct was shaped by loss from his first time in costume.
Nearly sixty years later, Spider-Man's legacy has expanded across thousands of issues, full of team-ups, crossovers, and a unique cast of Spider-Heroes.
With great power there must also come great responsibility. So, we've thoughtfully chosen a handful of sensational stories that comprise the Wall-Crawler's history.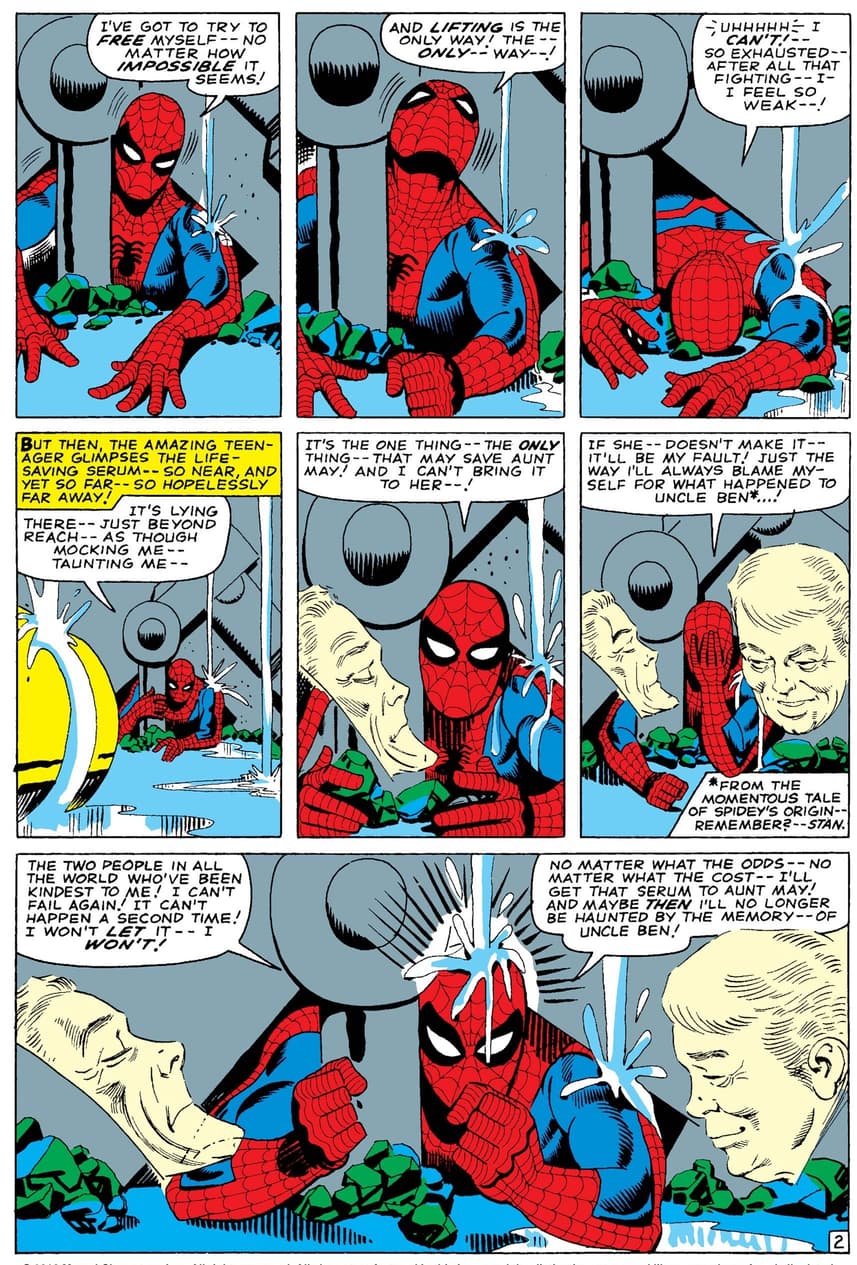 Who are behind the most popular hero in the Modern Marvel age? Steve Ditko and Stan Lee. The contributions of both of these creators forged a character hitherto unseen in the Super Hero genre: a teenage wonder not relegated to the sidekick role.
Following their collaboration on AMAZING FANTASY (1962) #15, Ditko and Lee launched Spider-Man into his own solo series, an incredible four-hundred-plus issue run that you can read in full digitally. With issue #31, Ditko drew what many consider to be his finest work on the title—a three-issue arc that pitted Peter against his most dangerous foe to date… self-doubt.
[RELATED: Steve Ditko 1927-2018]
After a multi-armed melee with Doctor Octopus ends in defeat, Spider-Man was pinned beneath tons of industrial rubble… and his hope quickly waned. Across a series of simple-yet-impactful pages, Spider-Man summoned every ounce of his resolve to keep trying despite crushing odds. With every shred of his super-strength, and the spirits of Aunt May and Uncle Ben by his side, Spidey freed himself from certain death after nearly throwing it in. Not only was this a testament to his character—it was a powerful lesson too.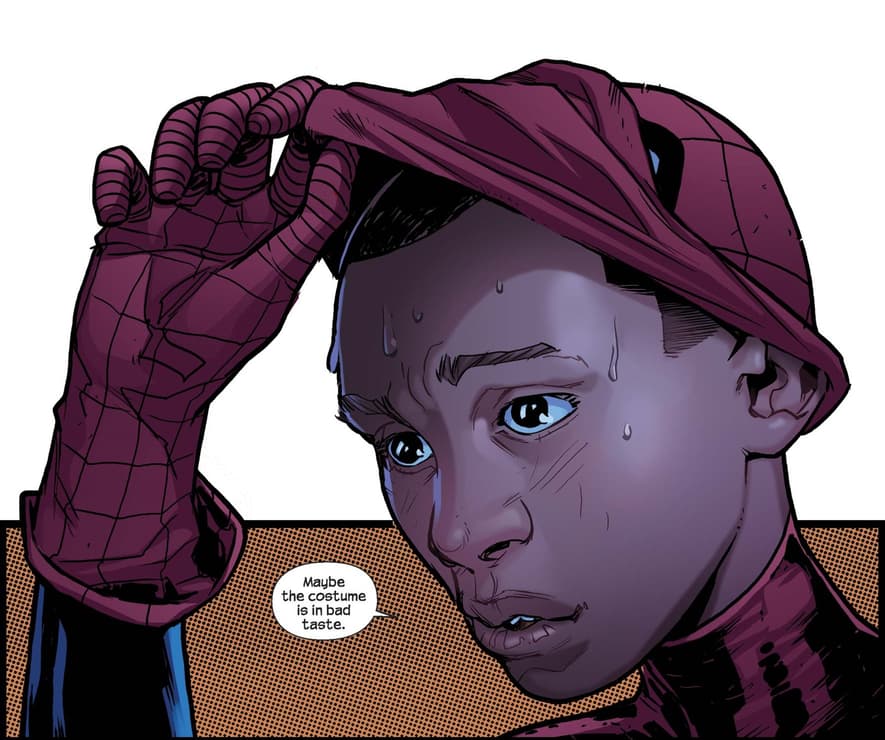 The debut of Brooklyn-based Web-Slinger, Miles Morales!
Following the death of the Ultimate Universe's Peter Parker, Miles assumed the mantle after gaining spider-powers of his own! In addition to sticking to walls and having the proportional strength of an arachnid, Miles had invisibility skills to boot. His complete origin can be found in ULTIMATE COMICS SPIDER-MAN (2011) #1, the first issue in a fan-favorite series that followed his learning curve toward becoming a hero. Although this legacy was heavy, a young and grounded Miles proved more than ready for the challenge.
Today, Miles has joined the prime Marvel Universe, acting as an Avenger, a Champion, and a solo hero in his own ongoing. For his first collision with Earth-616's Peter Parker, read SPIDER-MEN (2012).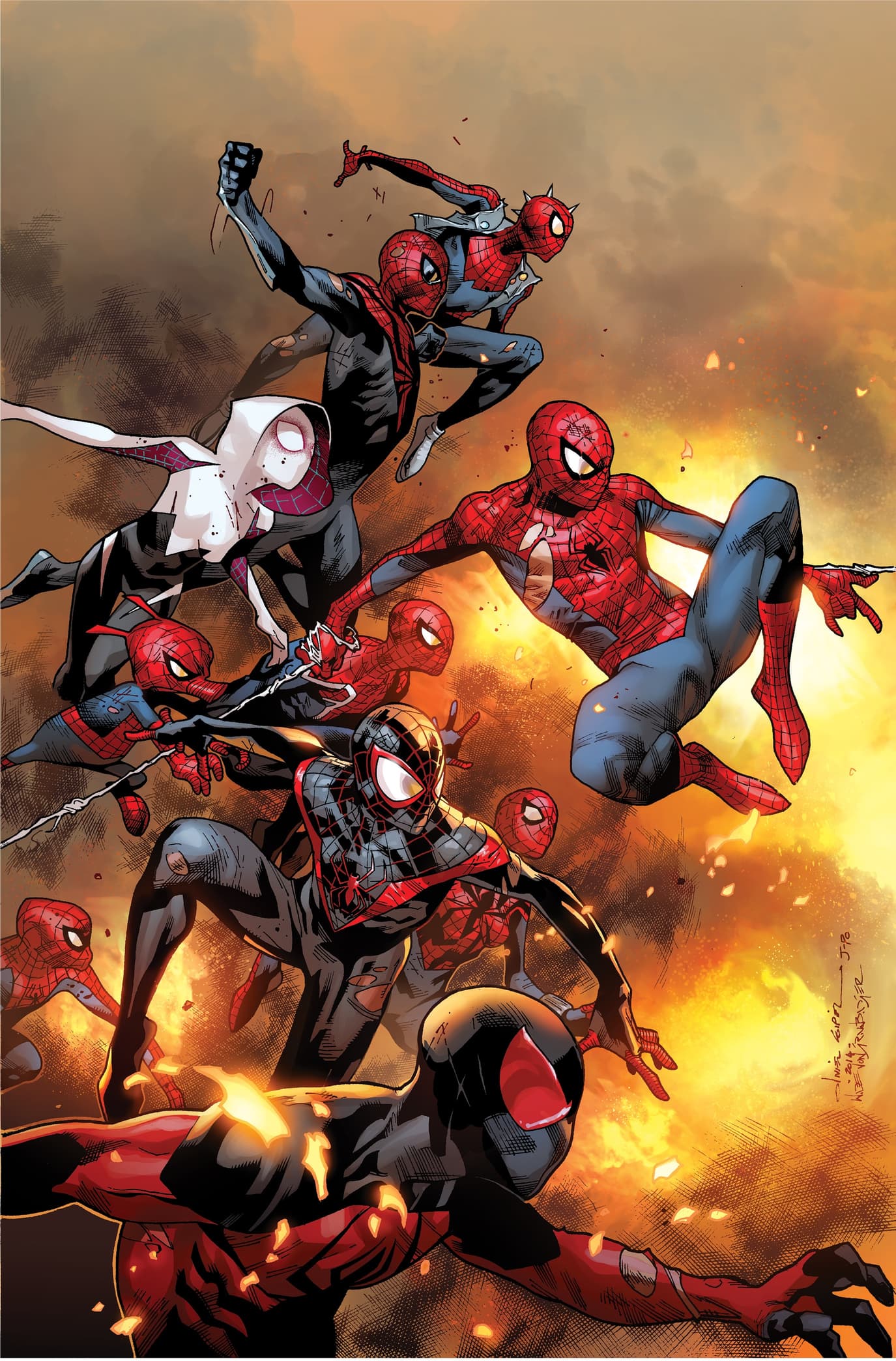 Every Spider-man, woman, teen, child, mech armor, and pig spun their collective stories in the crossover event that drew in every Spider-Hero from Marvel's Multiverse.
When the unstoppable Morlun and his family of Inheritors began targeting all Spider-beings, Peter Parker joined with an army of Web-Slingers to dissemble their ranks.
Notably, SPIDER-VERSE gave us Spider-Gwen, first introduced in EDGE OF SPIDER-VERSE (2014) #2. On Earth-65, it was Gwen Stacy who was bitten by a radioactive spider instead of Peter. Taking the name Spider-Woman, (and later Ghost-Spider), she uses her great powers responsibly to protect New York and the whole Web of Life.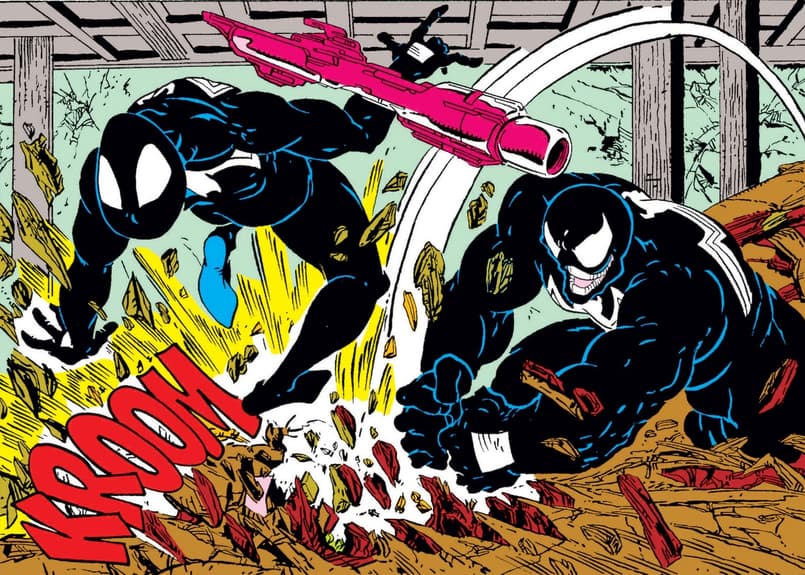 Back in 1985, Spider-Man returned from the Beyonder's Battleworld with a hitchhiker in tow. Unbeknownst to readers, this souped-up black suit was actually a bonded extraterrestrial symbiote, a sentient lifeform resembling inky ooze. While Spidey's black suit had the nifty trick of assuming the appearance of civilian wear, it didn't take long for the Wall-Crawler to realize that it was hard to take off. Over the course of several titles, Spider-Man was astounded and horrified at his costume's limitless potential to transform. It wasn't until THE AMAZING SPIDER-MAN #258 that Reed Richards discovered the suit's alien origins, along with its sensitivity to sound. Sonically blasting the suit off of Spider-Man, Richards placed this specimen in a containment tube… but a symbiote always finds its host.
In THE AMAZING SPIDER-MAN #300, the inheritor of the symbiote was disgraced journalist Eddie Brock, a one-track-minded antihero who blamed Spider-Man for the loss of his career. Venom was unleashed, and the rest is history.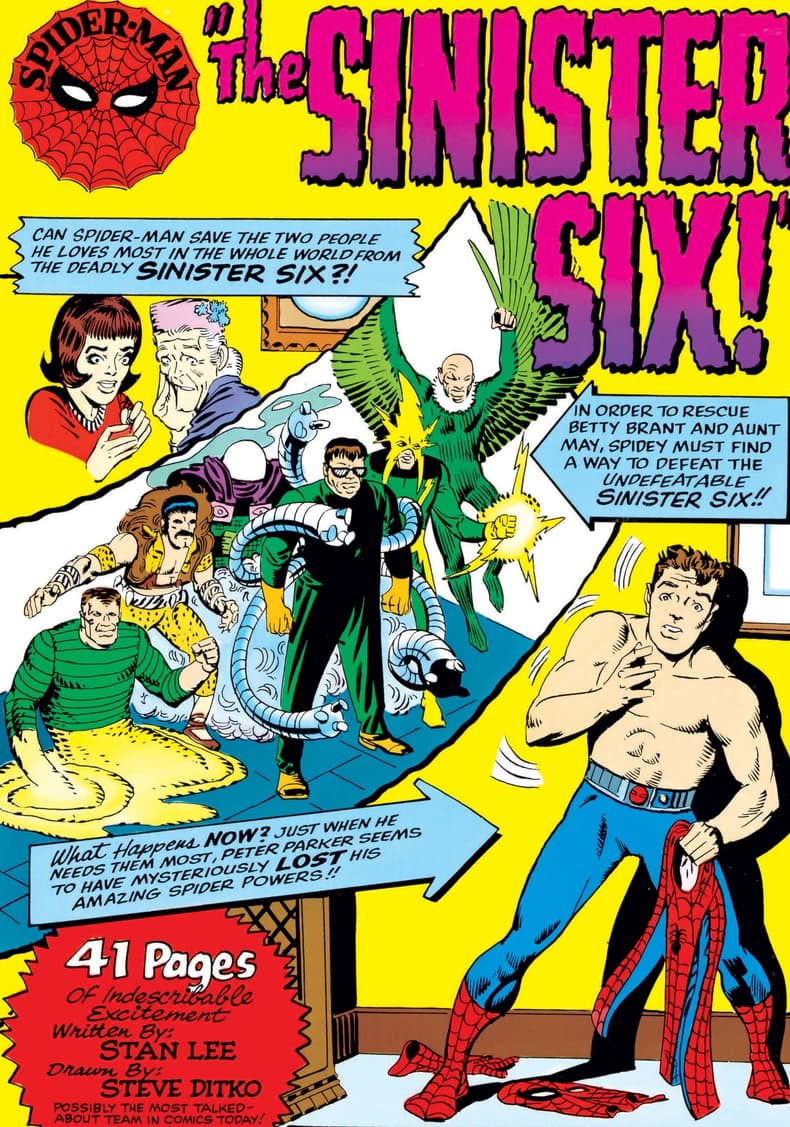 Ditko and Lee's imaginative partnership also introduced Spider-Man's rogues' gallery, a dozen or so Super Villains that have consistently menaced the Web-Slinger for five decades and running.
In Spidey's first Annual, Ditko brought his signature oddness to a gaggle of super-powered foes, Doctor Octopus, Electro, Kraven the Hunter, Mysterio, Sandman, and the Vulture, all aligned to take down Spider-Man as the "Sinister Six." With Doc Ock at the helm, the Daily Bugle's Betty Brant and Aunt May were taken hostage to invoke the hero. And the plan worked—too well. In a series of splashy, cityscape battles, Spider-Man made short work of each contender, a disappointing blow to Doc Ock's ego, and further fuel to the foul fire that assembled the Sinister Six.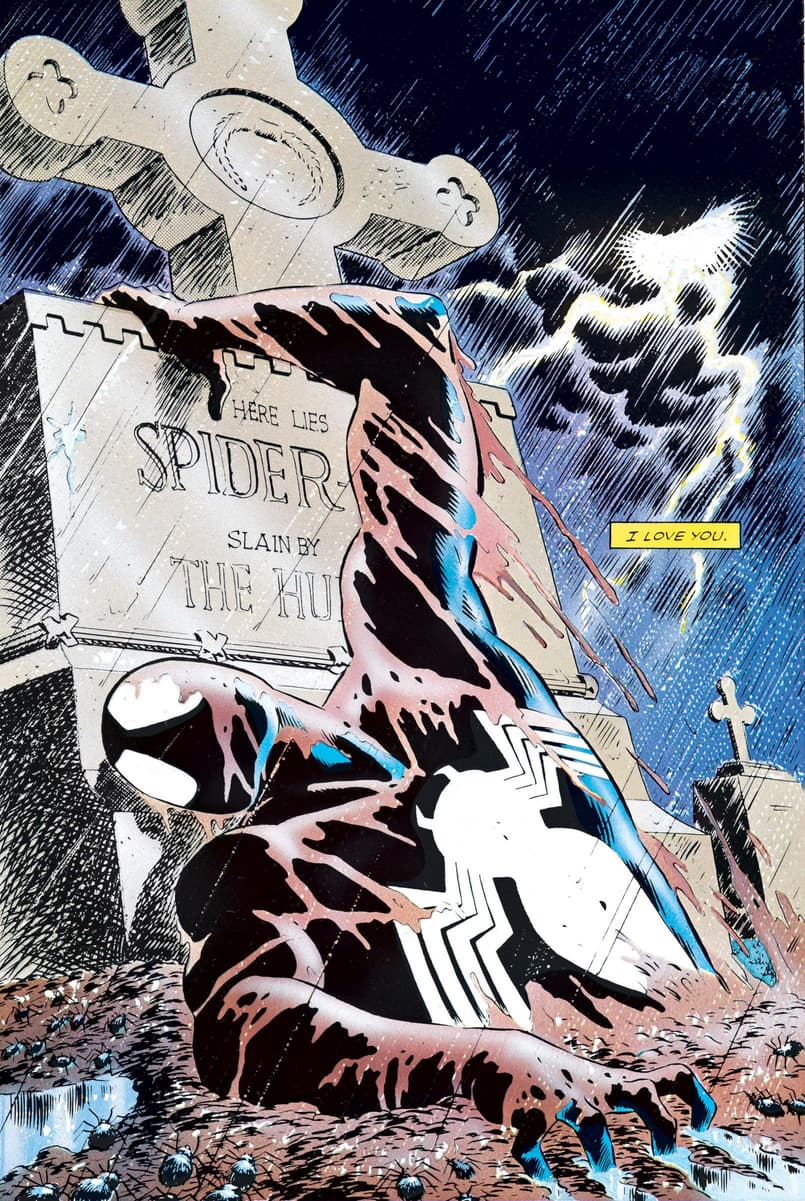 A wild chapter in Spider-history by J. M. DeMatteis and Mike Zeck!
Original Sinister Six member Kraven the Hunter turned his obsessive hatred of Spider-Man on its head—by becoming that which he loathed the most. In a six-part epic that reads like a Gothic horror, Spider-Man took the full brunt of Kraven's rage when he was buried alive, his identity and suit stolen for two whole weeks. Spidey's "resurrection" in Part Four, WEB OF SPIDER-MAN (1985) #32, is a standout.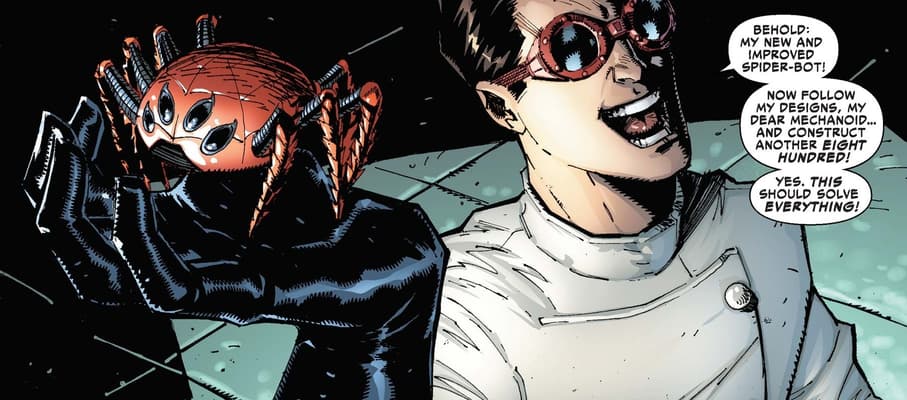 The body of Peter Parker. The mind of Doctor Octopus. This is precisely the scenario in the "Superior Spider-Man" saga, the 2013 storyline that swapped Spider-Man's psyche into Doc Ock's decrepit and dying form. During this terrifying switcheroo, Peter's memories flooded Doc Ock's consciousness, so that the former foe had a full sense of the responsibility, and trauma, that weighed so heavily on Spider-Man. Aspiring to Spidey's heroism while maintaining his unhinged scientist self, Doc Ock's "Superior" Spider-Man was a hybrid of engineering genius paired with the values of a Friendly Neighborhood Wall-Crawler.
The seeds to the "Superior" arc were planted way back in AMAZING SPIDER-MAN (1999) #600, but it was in issues #698-700 where this weird science project became complete. From there, Spider-Man: Doc Ock did whatever a spider could, and then some, in SUPERIOR SPIDER-MAN (2013).
Peter was restored to his proper self in AMAZING SPIDER-MAN (2014), a continuation of Dan Slott's epic, decade-long run.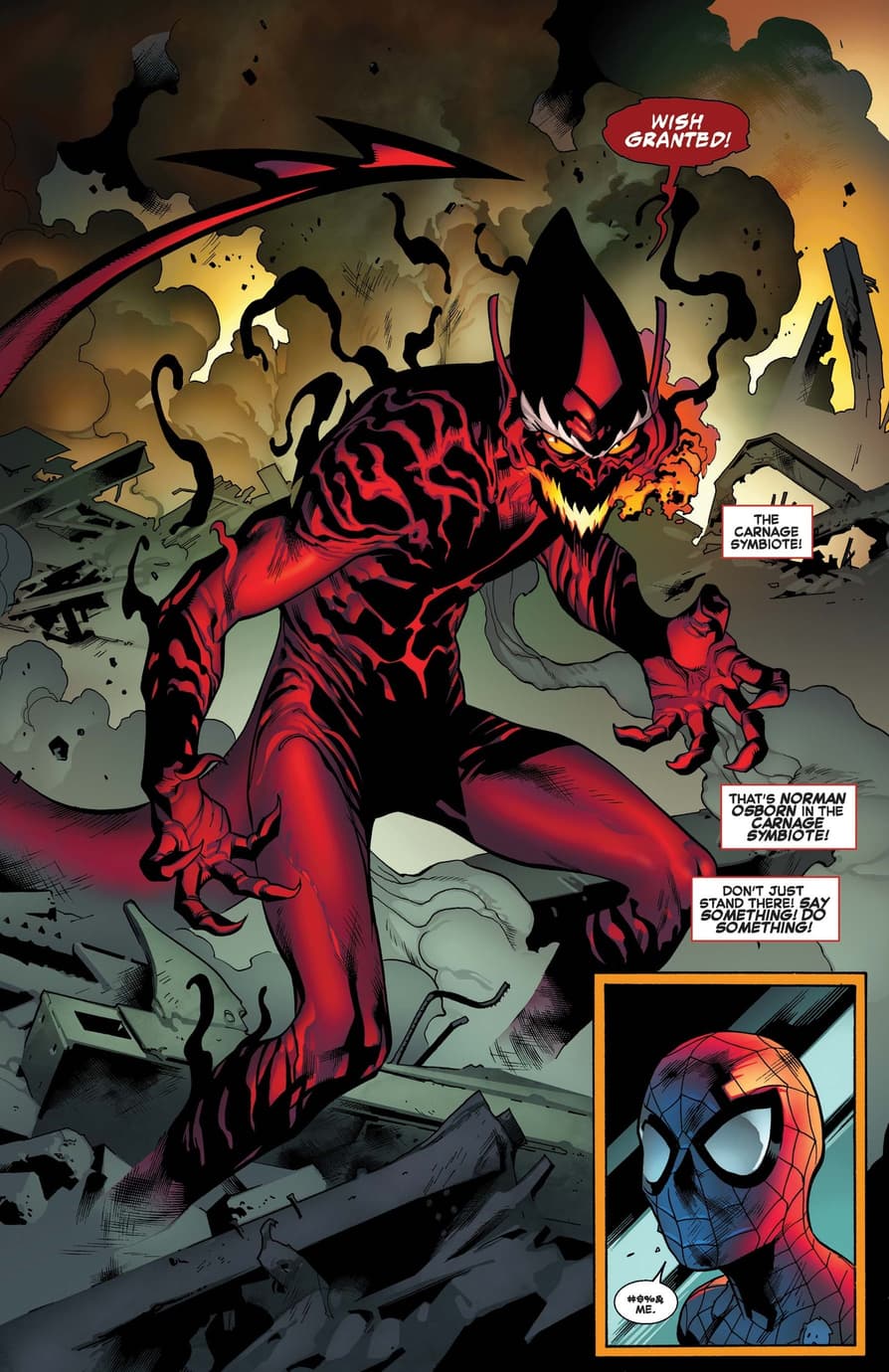 Dan Slott signed off with an emotional tale in the conclusion to his record-breaking run.
Norman Osborn scoured the globe for a cure to the genetic tampering that once prevented him from becoming the Green Goblin—and, at the tail end of AMAZING SPIDER-MAN (2015), he finds it! His new weapon? The Carnage symbiote.
Green Goblin + Carnage = the Red Goblin in one of the most exciting stories in all of Spidey lore. Spider-Man would bear new scars following this battle, culminating in a cataclysmic finale that robbed the Wall-Crawler of one of his closest friends. Although his staunchest allies united against this monstrous mash-up, it was Spidey alone who doled out final justice to a villain who had claimed so much.
[RELATED: The Full Reading Order of Dan Slott's 'Amazing Spider-Man']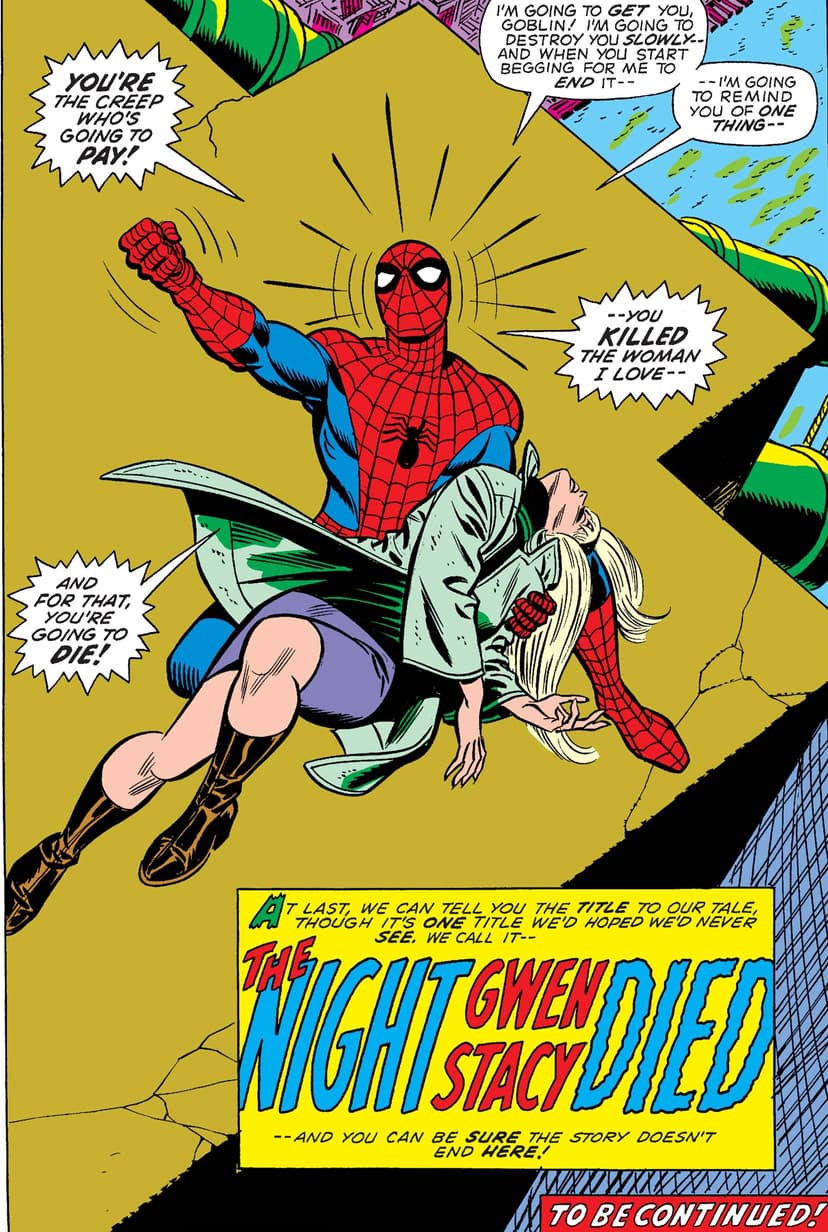 We know that Spider-Man's beginnings came on the heels of tragedy, more specifically the death of his Uncle Ben by an armed robber. But perhaps an even more brutal blow was the death of Gwen Stacy, Peter's first love, and the woman who inspired his courage.
Marvel legends Gerry Conway and Gil Kane are behind this now-famous storyline, a turning point for Spider-Man that reinforced the real consequences of a Super Hero's struggle. In a fateful flash, the Green Goblin, AKA Norman Osborn, threw an unconscious Gwen off the George Washington Bridge… and Spider-Man's quick reflexes proved just as fatal as her fall.
While Green Goblin first appeared in THE AMAZING SPIDER-MAN #14, this arc cemented his status as Spider-Man's unmatched nemesis.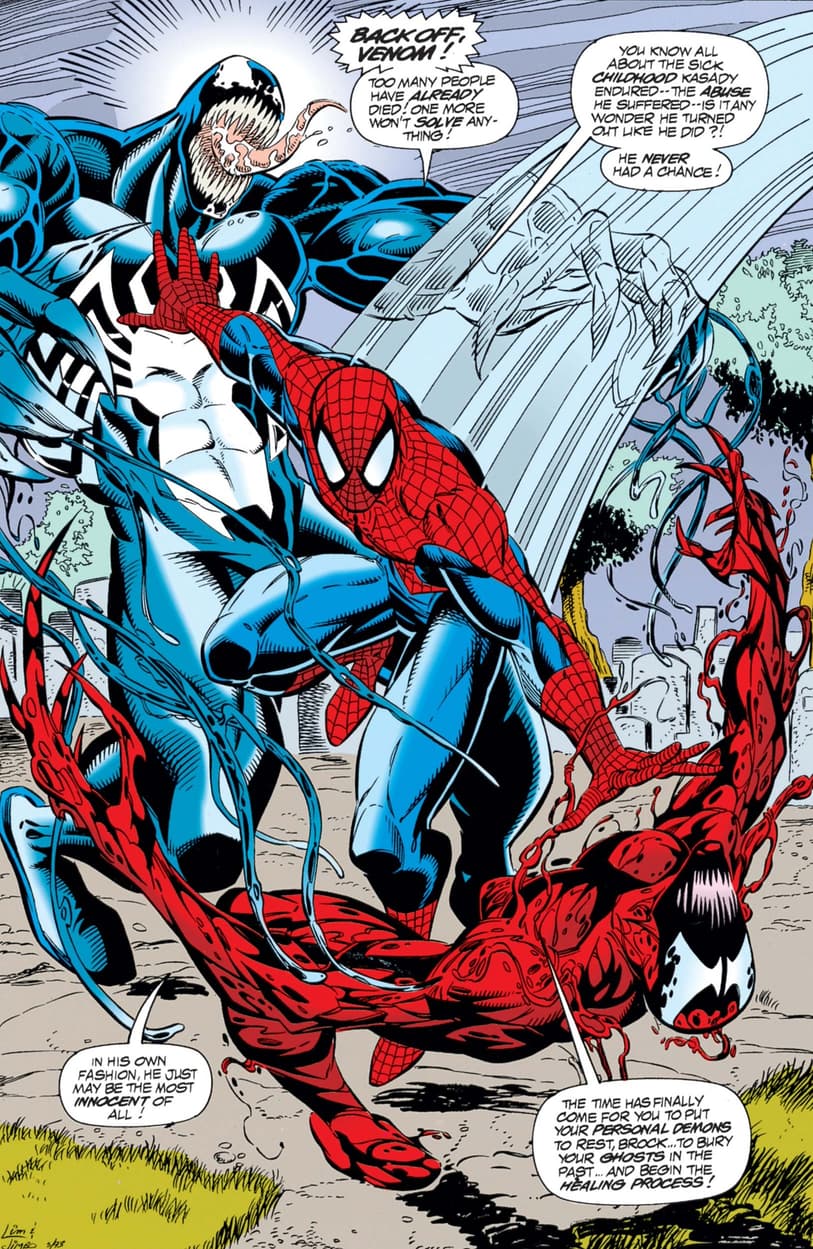 We've all heard that misery loves company, right? Well, that also holds true for super-powered killers. After springing himself from the Ravencroft Institute (read its full history here), symbiote host Cletus Kasady wrangled up a crew of like-minded murderers to unleash their own brand of mayhem on the streets of Manhattan.
This event also marked one of the first Spider-Man/Venom team-ups. Realizing that he was dangerously outmatched, Eddie Brock: Venom enlisted Spider-Man's help. Plus, we got some backup from the likes of Captain America, Iron Fist, Cloak, Dagger, Firestar… and quite a few surprise guests.
There's not a whole lot of story you'll need to catch up on pre-event. Although, if you're not familiar with Carnage, we recommend two issues—Cletus Kasady's first appearance as Brock's cellmate in THE AMAZING SPIDER-MAN #344, and his first time bonding with the Carnage symbiote in THE AMAZING SPIDER-MAN #361-363.
[RELATED: 14 Reasons to Read 'Maximum Carnage']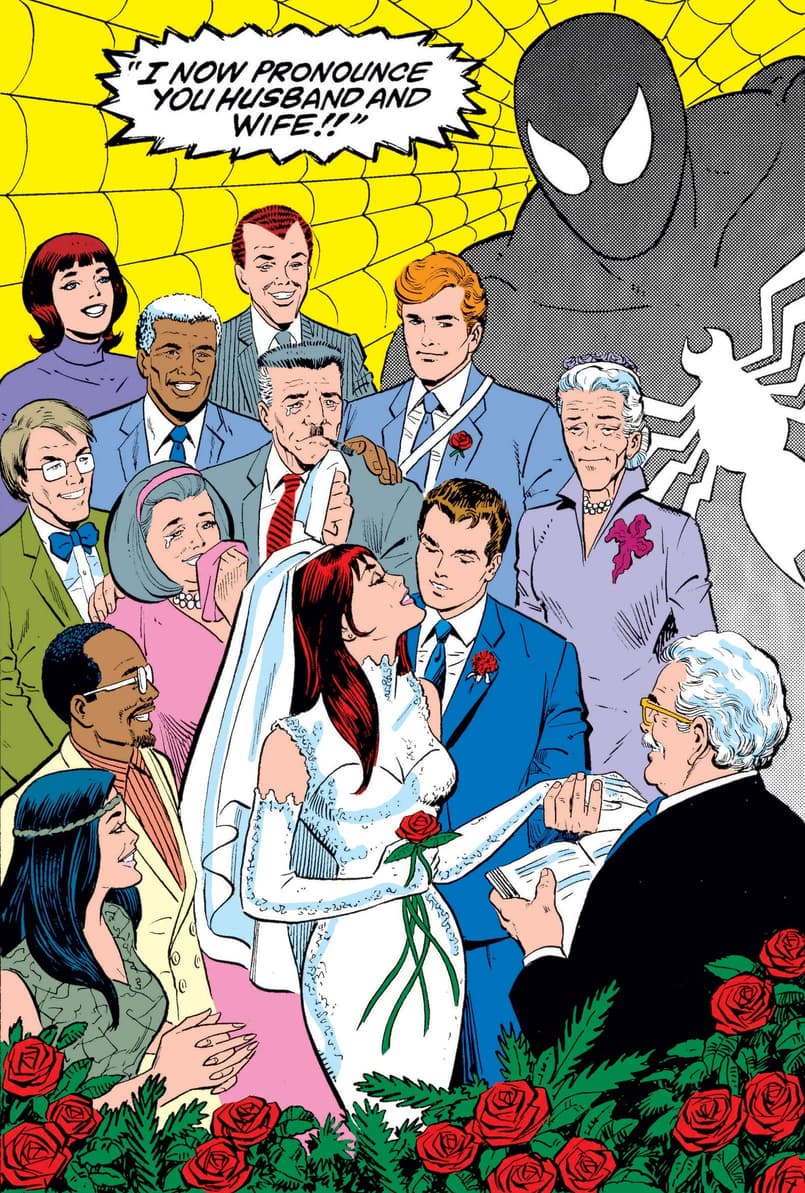 "Face it, Tiger. You just hit the jackpot!"
While it's true that much of Spider-Man's journey has been laden with hardship, we felt it important to include one of the most joyous moments in Spider-canon: the wedding between Peter Parker and longtime love, Mary Jane Watson!
Assembled before family and friends, Peter and MJ exchanged their vows in a Super Hero wedding that, surprisingly, wasn't marred by some superhuman or cosmic disaster. 'Bout time too—MJ turned down Peter's proposals twice after a long courtship, first in THE AMAZING SPIDER-MAN #183 and again in issue #291!
Since meeting on the pages of THE AMAZING SPIDER-MAN #42, actor/model MJ has been a vivacious counterpoint to Peter's reserved ways. Currently back on as boyfriend/girlfriend following the (complicated) dissolution of their marriage, MJ has remained a constant source of support for Peter, especially noteworthy given his occupational hazards. Whether or not they're "official," she is a confidant, a friend, and for many fans, the love of Spidey's life.
[RELATED: A Handy Guide to Surviving a Marvel Wedding]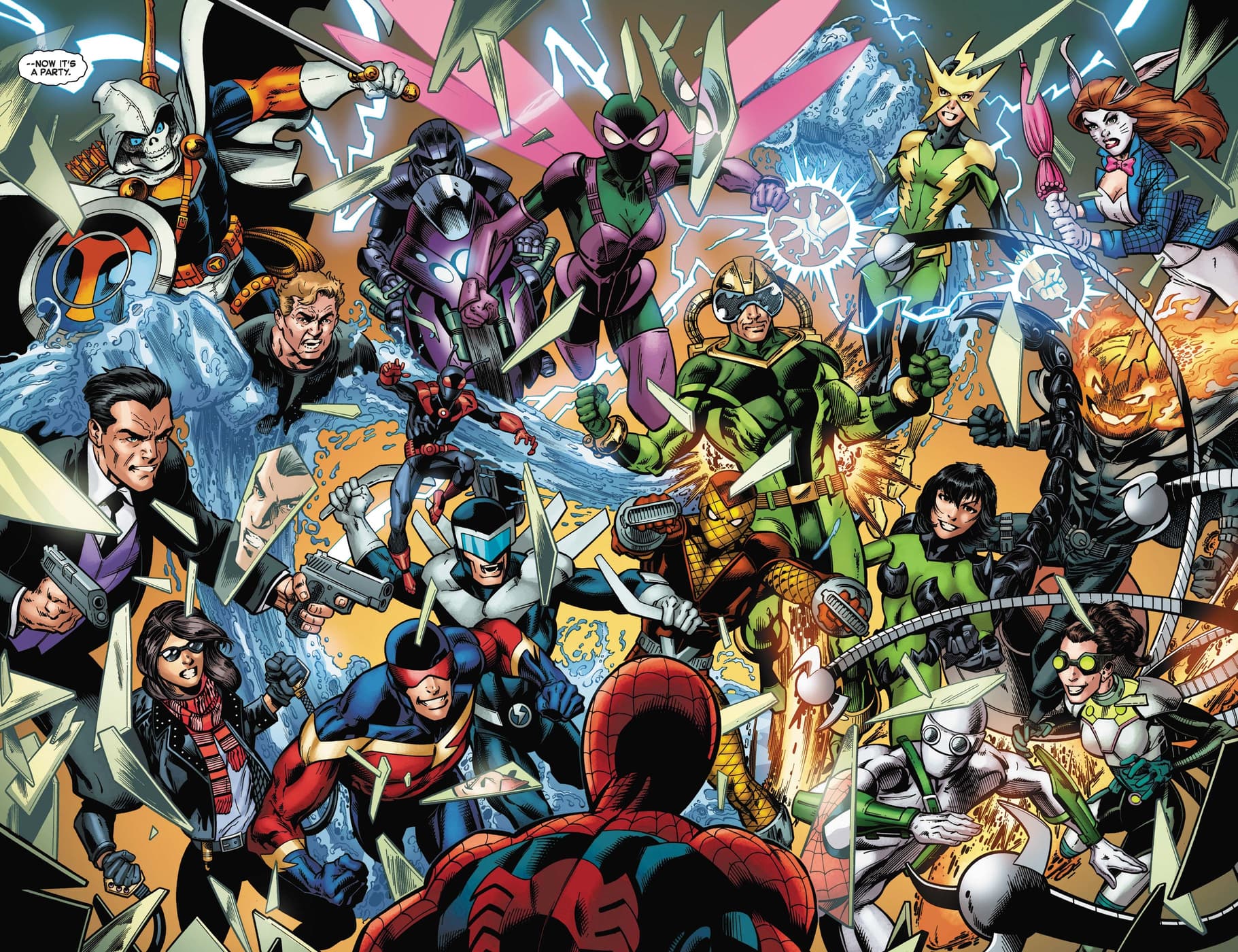 Pick up SINISTER WAR in print and digital comic stores now!
Doctor Octopus is back—and the SINISTER WAR has begun. Ock's got a new Sinister Six and if you think he's thought big in the past, think again. What Ock doesn't know is that the Vulture has a sextet of his own: The Savage Six! It's an all-out war between two of the greatest villains in the Marvel Universe, and the only person they hate more than each other is Spider-Man. Begin this epic Spidey story by powerhouse creators Nick Spencer and Mark Bagley today, guaranteed to shock readers everywhere.
Looking for more Web-Slinging tales? Head over to Marvel Unlimited for thousands of Spider-Man stories.
Showcase your love for Spidey by telling us which one of these moments stand out, or by sharing picks of your own on Marvel's Instagram, Twitter, or Facebook.
Follow Marvel Unlimited on Twitter and Facebook to stay tuned in to weekly announcements, articles, and more, all at @MarvelUnlimited. Follow us today to join the conversation with thousands of fellow fans, and let us know what you're reading!
The Hype Box
Can't-miss news and updates from across the Marvel Universe!