Comics
Published October 31, 2019
The Haunting History of Marvel Zombies
Celebrate Halloween with this retrospective as you read this week's 'Marvel Zombies: Resurrection' #1!
Some say the only good zombie is a dead zombie. We humbly offer a different take: the best zombie is a Marvel Zombie!
Taking its title from a term of endearment for fans of the House of Ideas, MARVEL ZOMBIES debuted in 2005, kicking off a franchise in and of itself thanks to creators Robert Kirkman and Sean Phillips. A number of spinoff series and one-shots have emerged since then, including this week's brand-new MARVEL ZOMBIES: RESURRECTION #1!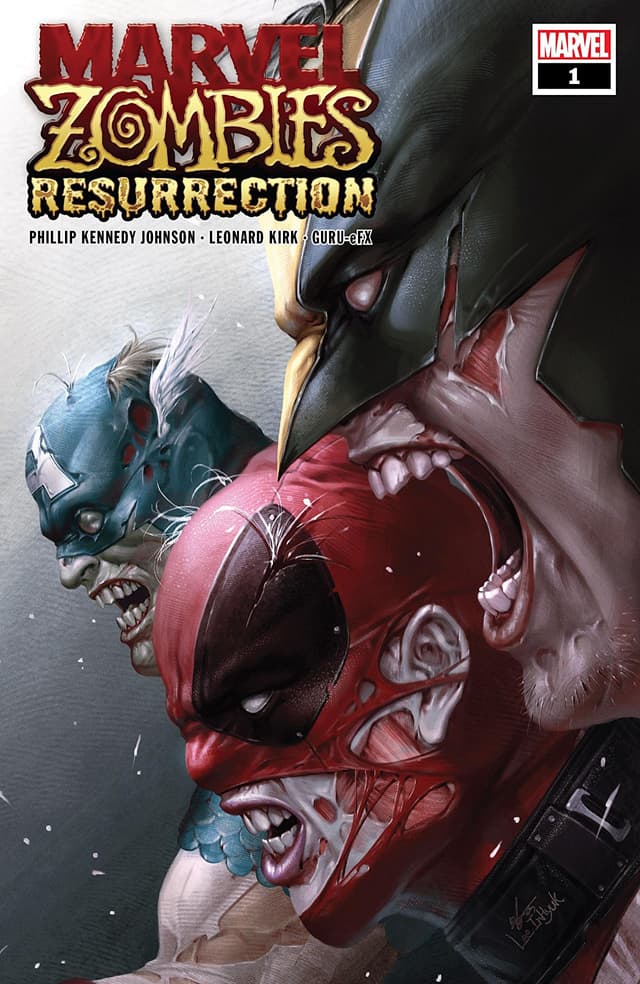 But the roots of the whole idea actually go back to the Ultimate Universe! A few years into the alternate reality's existence, fans wondered when and if these new versions would meet the classic characters they were based on. So, when Mark Millar and Greg Land launched the "Crossover" story that ran in ULTIMATE FANTASTIC FOUR (2003) #21-23, people got excited about the possibilities, especially when it seemed like the original Reed was communicating with the younger version.
Instead of a trip to Earth-616, though, the Ultimate FF opened a gateway to Earth-2149...which was inhabited by zombies! For them, it all started when a zombified Sentry crashed to Earth and began spreading the virus around to the Avengers, X-Men and, of course, the Fantastic Four.
The zombie FF wanted to open a portal to other worlds so they could eat, having turned just about everyone in their reality in three days! As Reed allied himself with that world's Magneto, his teammates captured their zombie counterparts before crossing over to help fight an army of zombie heroes. Magneto allowed the Ultimate FF to go home while destroying the gateway receiver on his end.
The following year, readers returned to the flesh fiend world with MARVEL ZOMBIES. The five-issue series picked right up where the previous story left off, with Magneto standing up to the undead heroes. He put up a grand effort, but ultimately fell. The former heroes then focused on finding their next meal...which presented itself in the form of the Silver Surfer! The infected took on some of his Power Cosmic when they ate the Surfer—which helped them take down Galactus not long after. Granted portions of his power, the surviving zombies took to space to find new planets to feast upon.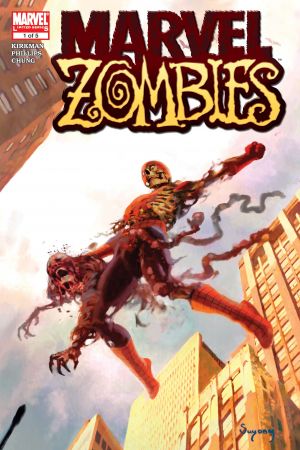 Back in the Ultimate Universe, after some experimentation, Reed figured out how to drop off the undead FF on their home reality without the need or a receiver on the other end, as seen in ULTIMATE FANTASTIC FOUR #30-32. With the younger team distracted by a sick Johnny Storm, the zombies—calling themselves the Frightful Four—took advantage and broke out. They managed to get Richards' teleporter up and running so they could bring their friends from the zombieverse over!
During all this, Doctor Doom convinced Mister Fantastic they needed to switch bodies in order to save the Human Torch's life. So, in Doom's body, Richards defeated the zombies and sent them back through the portal. Having failed, Doom returned to his own body and jumped through himself in an attempt to clean up Earth-2149 just as they began feasting on Galactus!
The following year, Kirkman and Phillips returned for MARVEL ZOMBIES: DEAD DAYS (2007) #1, a one-shot that chronicled the fall of the heroes to the infected. Later that same year the duo launched MARVEL ZOMBIES 2 (2007), which started with the undead realizing they'd consumed most of the life in their universe! Back on Earth, the few surviving uninfected—Black Panther, Forge, and Magneto's Acolytes—had established a New Wakanda and also realized that some of thee zombies could overcome their hunger and become useful members of society again.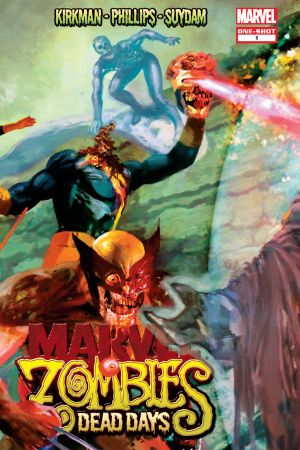 Marvel Zombies: Dead Days (2007) #1
published

added to marvel unlimited

rating

colorist

writer

penciller

penciller (cover)

letterer
What is Marvel Unlimited?
They came into conflict with the undead returning from space, some of whom struggled with the morality of wiping out the remaining lives on their home planet. Even though it seemed like a kind of peace had been achieved, one bad actor sent some of the zombies off to another reality! To see how that shook out, focus your attention on MARVEL ZOMBIES RETURN (2009) by Fred Van Lente and a different artist each issue!
With MARVEL ZOMBIES 3 (2008), Van Lente and Kev Walker continued the undead adventures by bringing some of the infected to Earth-616 and pitting them against members of the Alternate Reality Monitoring and Operational Response Agency, including Machine Man, Jocasta, Morbius, Howard the Dark, and others. This group, or some iteration of it, continued fighting the undead hordes in this reality and others throughout MARVEL ZOMBIES 4 (2009) and MARVEL ZOMBIES 5 (2010), as well as MARVEL ZOMBIES DESTROY! (2011).
For further flesh-obsessed reading, there's MARVEL ZOMBIES HALLOWEEN (2012) and MARVEL ZOMBIES: EVIL EVOLUTION (2009), which filled in some gaps between DEAD DAYS and "Crossover," while MARVEL ZOMBIES SUPREME (2010) foists the infection on the Squadron Supreme. During SECRET WARS, two different books starred devourers, MARVEL ZOMBIES (2015) and AGE OF ULTRON VS. MARVEL ZOMBIES (2015).
Just last year, the concept got a resurrection in the form of the MARVEL ZOMBIE one-shot by W. Maxwell Prince and Stefano Raffaele. In this, classic Marvel monster Simon Garth— otherwise known as Zombie—roamed a different version of Earth overrun with the undead. For another completely different take, you can also read the two volumes of ZOMBIES ASSEMBLE, which are actually Japanese manga translated into English!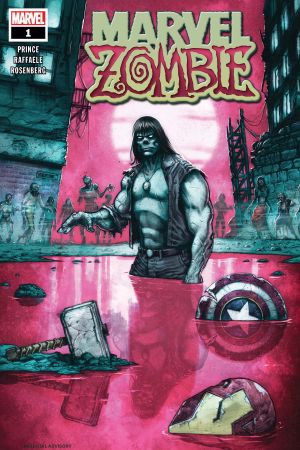 Marvel Zombie (2018) #1
published

added to marvel unlimited

inker

penciler

colorist

letterer

editor

colorist (cover)

inker (cover)

penciler (cover)

writer
What is Marvel Unlimited?
With this week's MARVEL ZOMBIES: RESURRECTION #1, Philip K. Johnson and Leonard Kirk send a team of Avengers, X-Men, and Fantastic Four to investigate Galactus' corpse on the edge of space!
To see what they find there, visit your local comic shop today! (Hint: it's zombies.)
The Hype Box
Can't-miss news and updates from across the Marvel Universe!