Comics
Published July 13, 2020
What Is Rogue Dreaming About in 'Excalibur' #5?
The next issue from this Dawn of X favorite hits Marvel Unlimited. See all of this week's new digital comics here.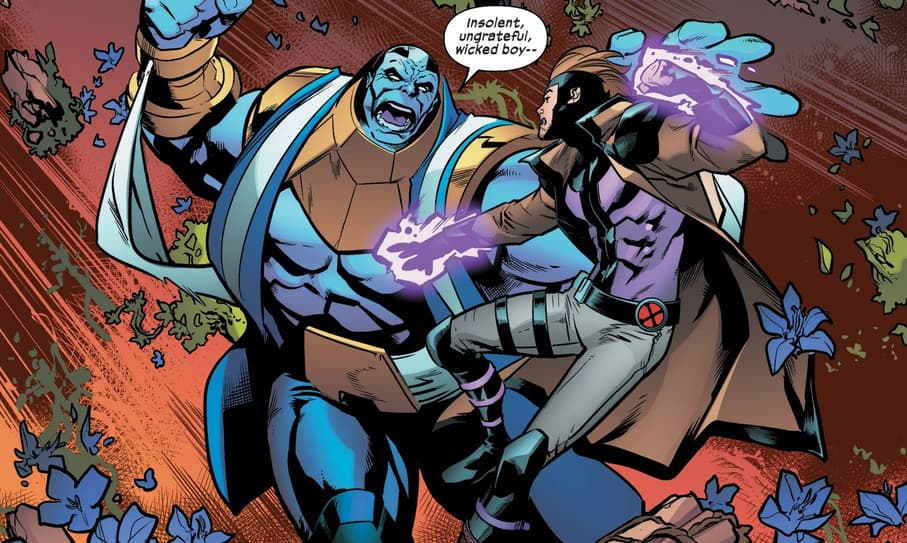 As we're drawing toward the conclusion of the first arc,  it's a great time to catch up on issues #1-5. Any fans of the original EXCALIBUR (1988) will enjoy parallels in this current volume, from its world-hopping weirdness to the ragtag mutant cast.
[RELATED: Welcome to the Dawn of X]
To recap: one of the most pressing concerns since issue #1 has been the fate of Rogue. More specifically, what the heck happened to her after she was encased in a glowing energy coffin shrouded in Krakoan flowers, a side effect of attempting to cross a Gateway into Otherworld.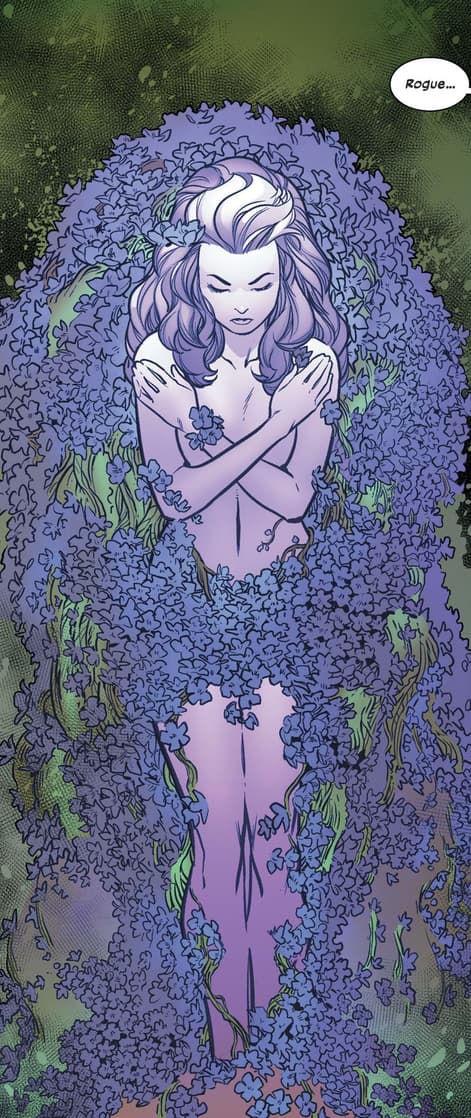 While still unresponsive and (seemingly) comatose, we get to see the truth of what's actually happening in Rogue's consciousness. And, as series creators Tini Howard and Marcus To imply, Rogue's current state suggests that the reign of mutantkind is encroaching closer to the world of magic.
[RELATED: 6 Things We Learned in 'Excalibur' #1]
We break down Rogue's dream quest here, a journey that foretells events to come in Otherworld's future (or final) days. Here's what Rogue saw:
A FIERY SPIRIT GUIDE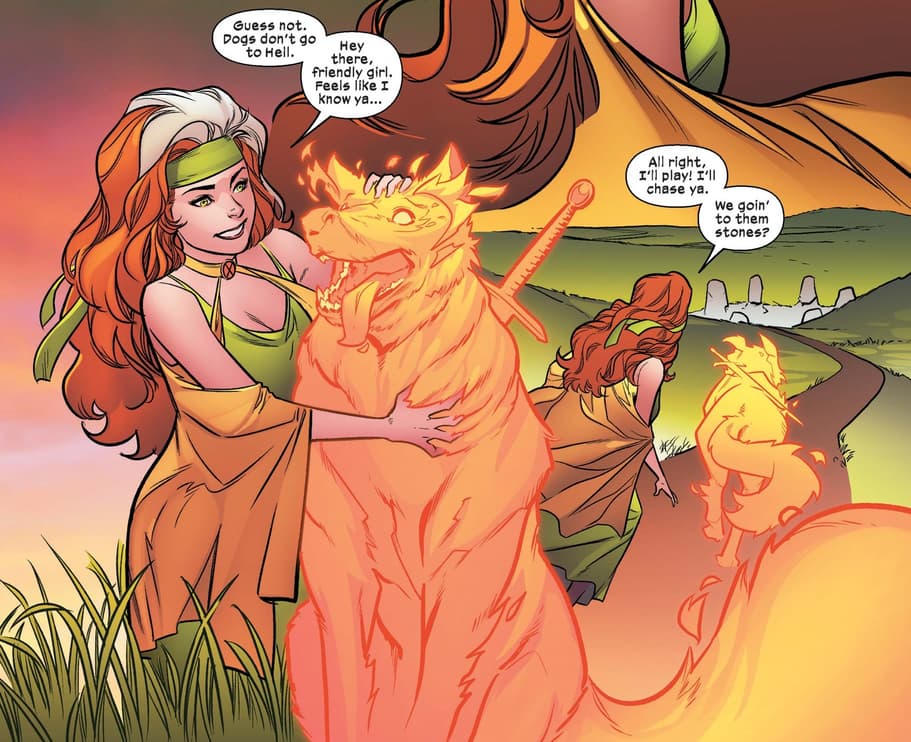 And she's so well-behaved! The X-Woman is escorted through her subconscious by a devoted fire hound. And while she may be wearing a different face here, you'll recognize this furry friend from another, more human form.
THE ARENA OF -|A|-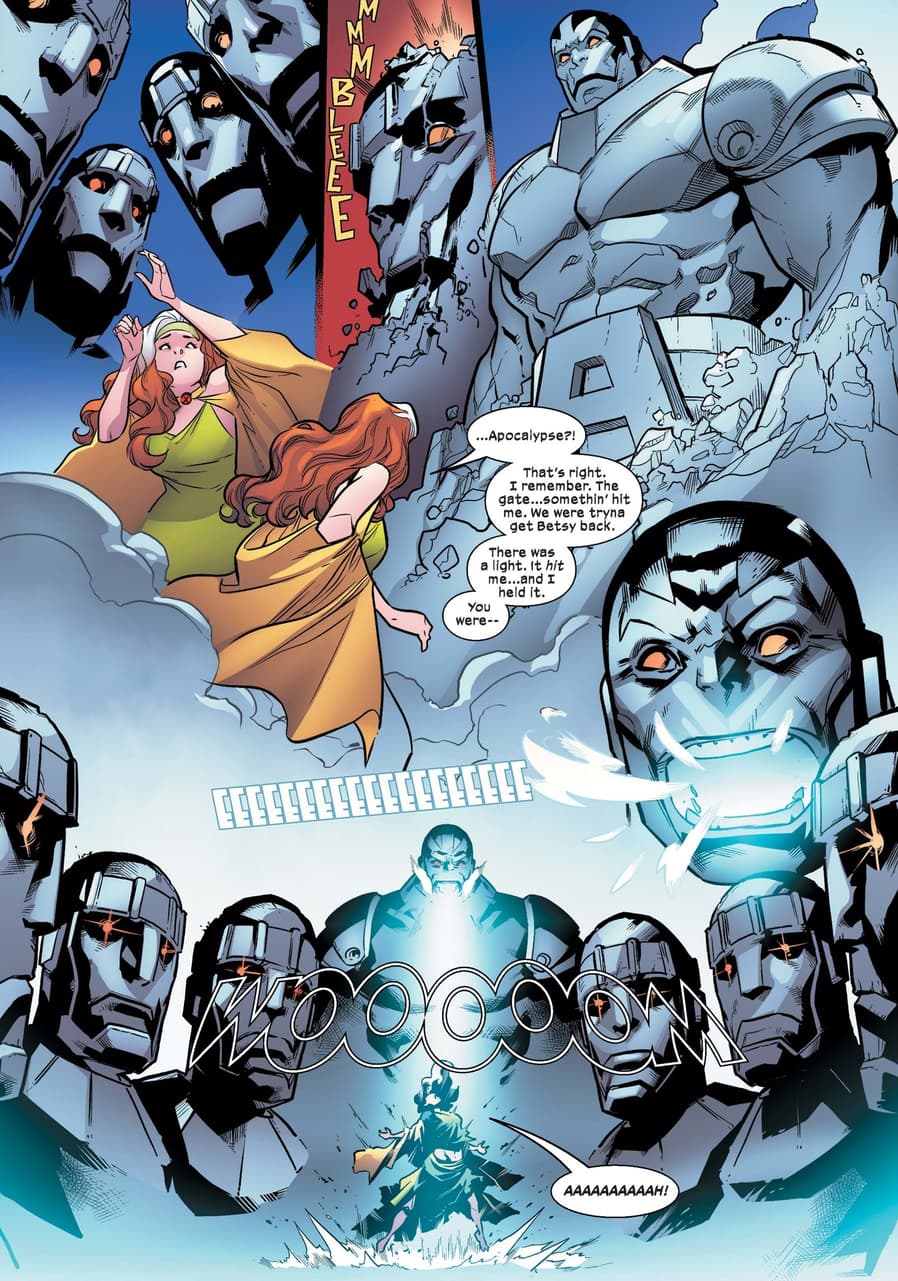 Important to mention that Apocalypse is now going by the untranslatable Krakoan glyph of "-|A|-," a recent name change that came with his shift in loyalties. Since it was -|A|- who first discovered Otherworld's Gateway, the portal responsible for Rogue's floral statis, it makes sense that he's the most antagonizing force in her dream. -|A|-  predominates this vision, and insists that he will be the one wake her up too.
THE EXCALIBUR SWORD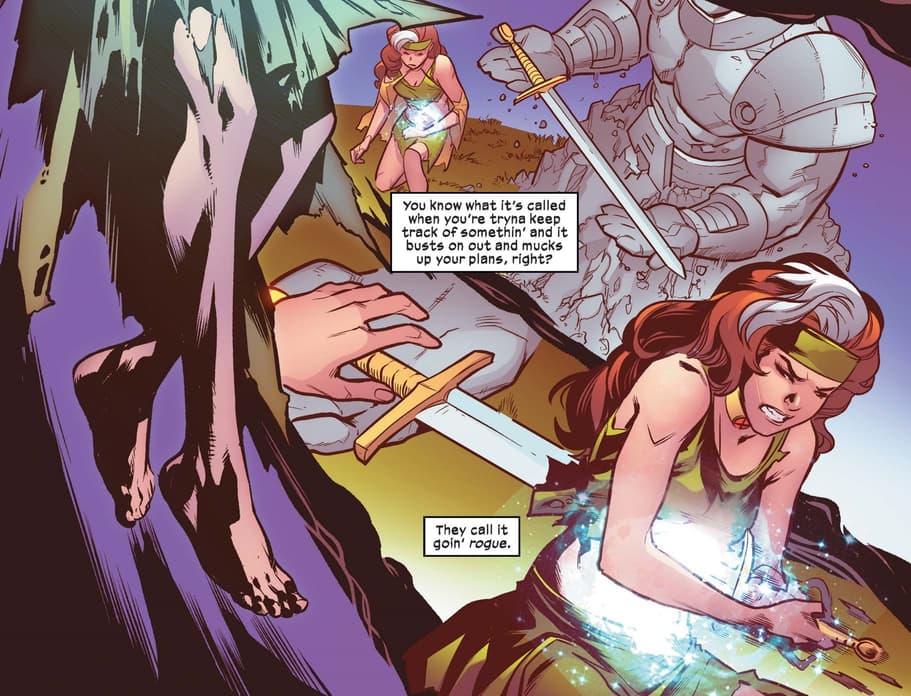 In issue #1, Captain Britain swapped her psychic knives, a weapon of choice up until that point, for an all-new psychic sword. Rogue sees the physical version of this sword in her dream, held over by a stone -|A|- soldier.  After plunging the enchanted blade into her core, Rogue follows the glow of Excalibur toward the center of the dream, a landscape mirrored in the pages of -|A|-'s  Grimoire.
AN EMPTY THRONE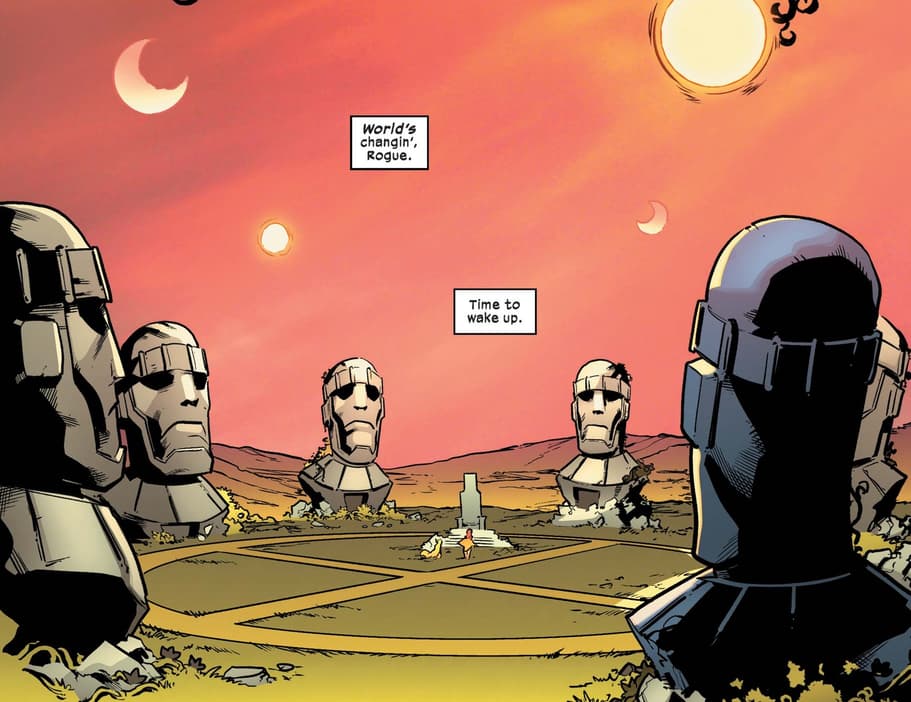 Doubling down on the royal symbolism, Rogue encounters a throne at the center of this monolithic circle. And it's empty, the perfect place to sit. Until the sky changes, and the throne begins to emit a rumbling orange light…
Read EXCALIBUR (2019) #5 for Rogue's full quest!
See the rest of this week's Marvel Unlimited titles, and read up on a few of this week's highlights here.
NEW ON JULY 13
Looking for more classic arcs and Marvel must-reads you can read for FREE? Read online here, or download or update the Marvel Unlimited app for iOS or Android at the Apple or Google Play app stores today.
For more of Marvel's greatest comic books in print, please reach out to your local comic book shop to ask about services they may offer, including holding or creating pull lists, curbside pick-ups, special deliveries and other options to accommodate. Find and support your local comic book shop at http://comicshoplocator.com.
The Hype Box
Can't-miss news and updates from across the Marvel Universe!