Comics
Published July 20, 2020
Who Is Arno Stark?
The future is NOW on Marvel Unlimited. See all of this week's new digital comics here.
Following a bombshell admission in TONY STARK: IRON MAN (2018) #15, the world learned that Iron Man's humanity is now in question. Stark Unlimited's C.E.O. went on the record to state that "it's quite possible" that he is actually an Artificial Intelligence, the result of an upgrade following his "death" in CIVIL WAR II (2016). Now, the man we knew as Tony Stark is a complex mix of organic and inorganic parts, with a freshly downloaded brain as covered in INVINCIBLE IRON MAN (2016) #593-600.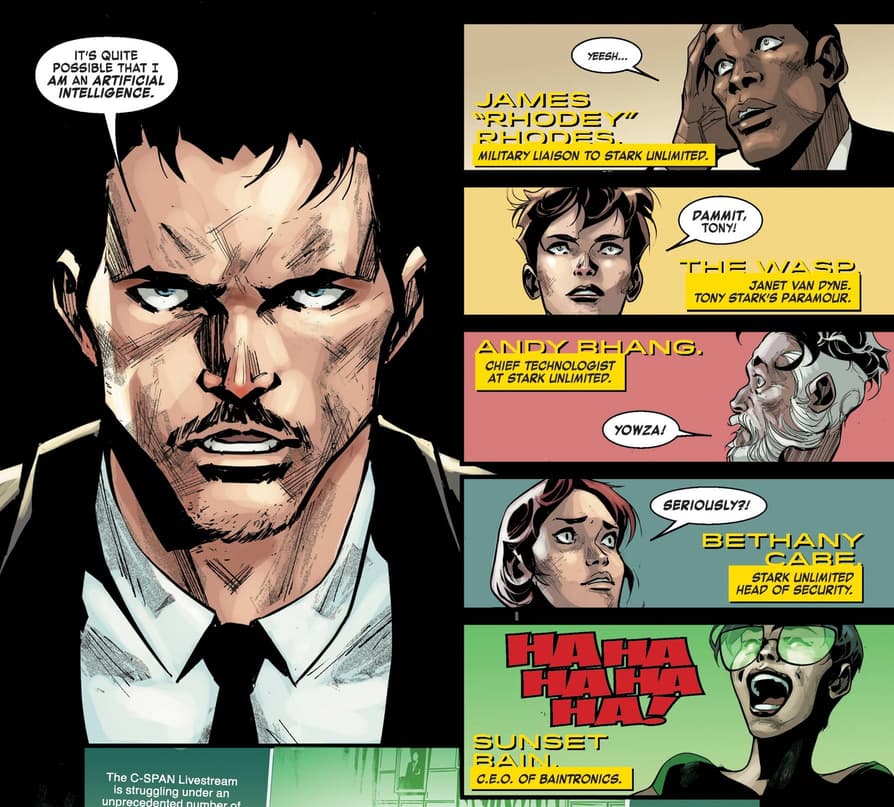 And, for Arno Stark, the timing couldn't be better. With the ruthless aid of longtime business partner Sunset Bain, Arno seized control of Stark Unlimited, inserting himself as C.E.O. and lead engineer. Now, two titanic tech companies, Stark Unlimited and Baintronics, are working hand in hand to subdue and subvert the rights of all artificial life in the Marvel Universe, starting with Stark Unlimited's former robotics team.
Back in TONY STARK: IRON MAN (2018) #1, Jocasta, longtime Avenger and former Bride of Ultron, was appointed Chief Robotic Ethicist of Stark Unlimited, paving the way for a new age of robot/human alliances. But Arno Stark and Sunset Bain only see the competition of A.I. in the workforce, the potential that engineered life can excel where human bodies fall short.
Which brings us to today. The rebellion is set. A.I. Tony Stark, calling himself "Mark One," has joined with Machine Man: Aaron Stack to lead the robot revolution. Arno is otherwise occupied, convinced that a cataclysmic event is about to hit Earth, and that cracking down on robots is crucial to humanity's survival.
Only one Stark brother can emerge triumphant—but which one will it be?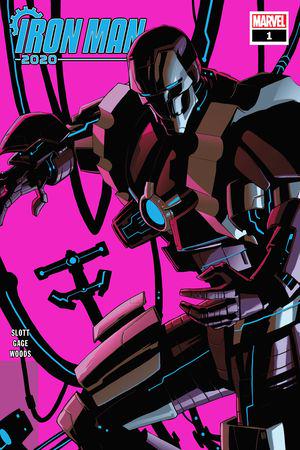 Iron Man 2020 (2020) #1
published

added to marvel unlimited

editor

letterer

writer

colorist

colorist (cover)

inker

inker (cover)

penciler

penciler (cover)
What is Marvel Unlimited?
Before reading IRON MAN 2020 (2020) #1 here's a few fast facts you should know about Arno Stark, the main antagonist of the event.
ARNO HAS HISTORY WITH MACHINE MAN.
We first met Arno, and his totalitarian vision, in the pages of 1984's MACHINE MAN. This cyberpunk fantasy drops Machine Man into the weird, wired future of 2020, a hyper-technical dystopia ruled by Sunset Bain's Baintronics.
[RELATED: 10 Predictions for the Year 2020 from 'Machine Man']
In this series, an older, more conniving Bain has established an elite paramilitary squad to enforce consumer compliance. Every citizen is reliant on Baintronics tech, as well as the protection of her "Iron Man," Arno Stark.
The only point of comparison between Arno and his predecessor is a shared last name. Where Tony is altruistic, Arno is self-serving. A (literal) corporate head hunter, we see that Arno is more interested in human supremacy than preserving sentient life.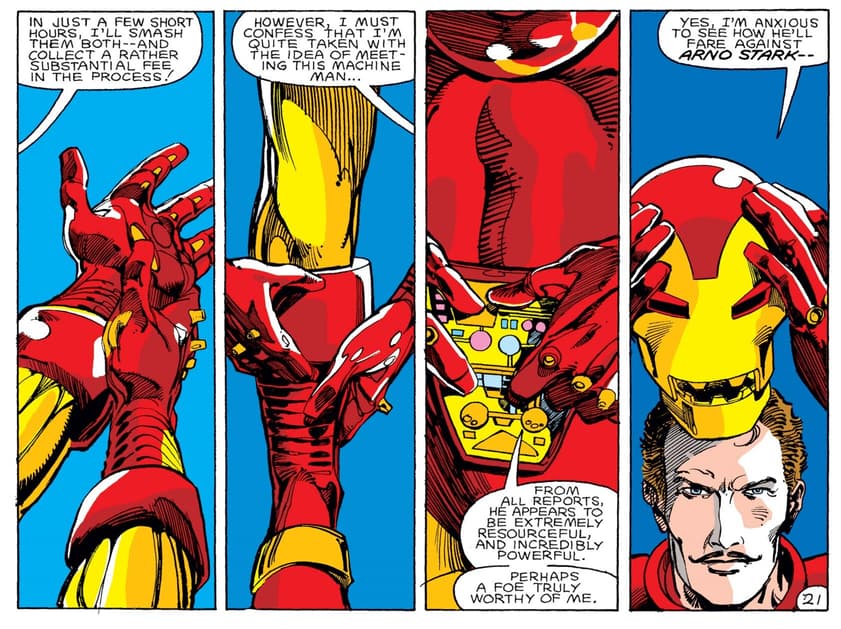 HE IS TONY STARK'S BROTHER.
While AMAZING SPIDER-MAN ANNUAL (1964) #20 proposed that Arno was Tony's nephew, the truth was far stranger. In "The Secret Origin of Tony Stark," the story arc that played out in IRON MAN (2012) #9-17, it was revealed that Arno was the biological son of Howard and Maria Stark, but that his birth had an extraterrestrial interference by a Rigellian, Recorder 451.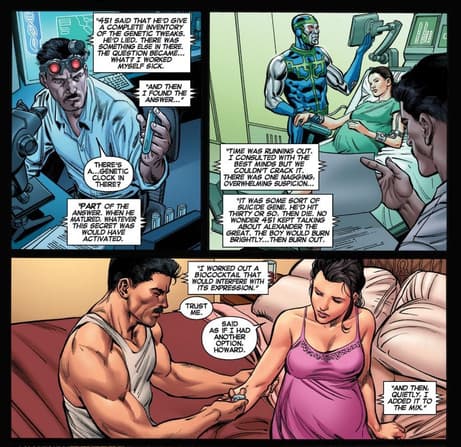 This rogue robot retained memories of Arno's birth long after the data should have been wiped, a revelation that led Tony Stark down the path to uncover his true parentage.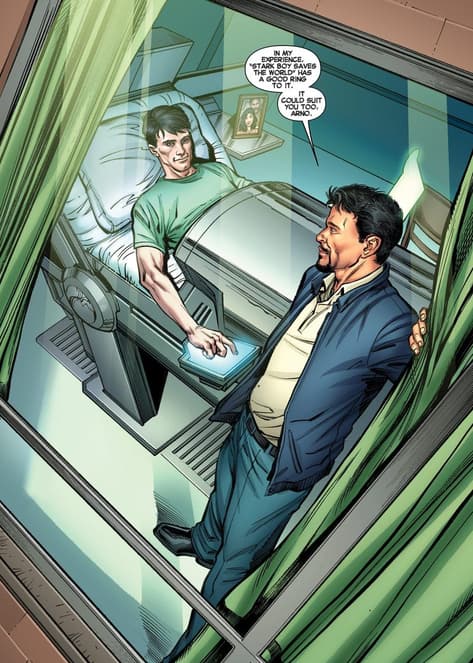 BUT NOT BY BLOOD.
After Arno's birth in IRON MAN (2012) #12, readers gained even more knowledge about his complicated beginnings in IRON MAN (2012) #17. Shortly after delivering a (seemingly) healthy baby boy, Maria and Howard noticed that their son was afflicted with a degenerative respiratory illness, one that required round-the-clock care in a high-tech iron lung. This illness was likely the result of Howard's genetic tampering by intravenous solution, an attempt to counter the effects of 451's own genetic tinkering. To prevent their son from dying in adulthood, Howard unknowingly subjected Arno to a lifetime of isolation and sickness, even keeping his existence a secret.
Tony Stark, Arno's adopted brother, confronted him in issue #17, an emotional face-to-face that gave readers insight into just how cheated Arno felt by his "exceptional" brother.
[RELATED: How 'Iron Man 2020' #1 Might Pave the Way for a Robo-Apocalypse]
And those wounds run deep. In IRON MAN 2020 (2020) #1, Arno is still striving to find a normal upbringing, living with programmed replicates of his parents in a never-ending simulation.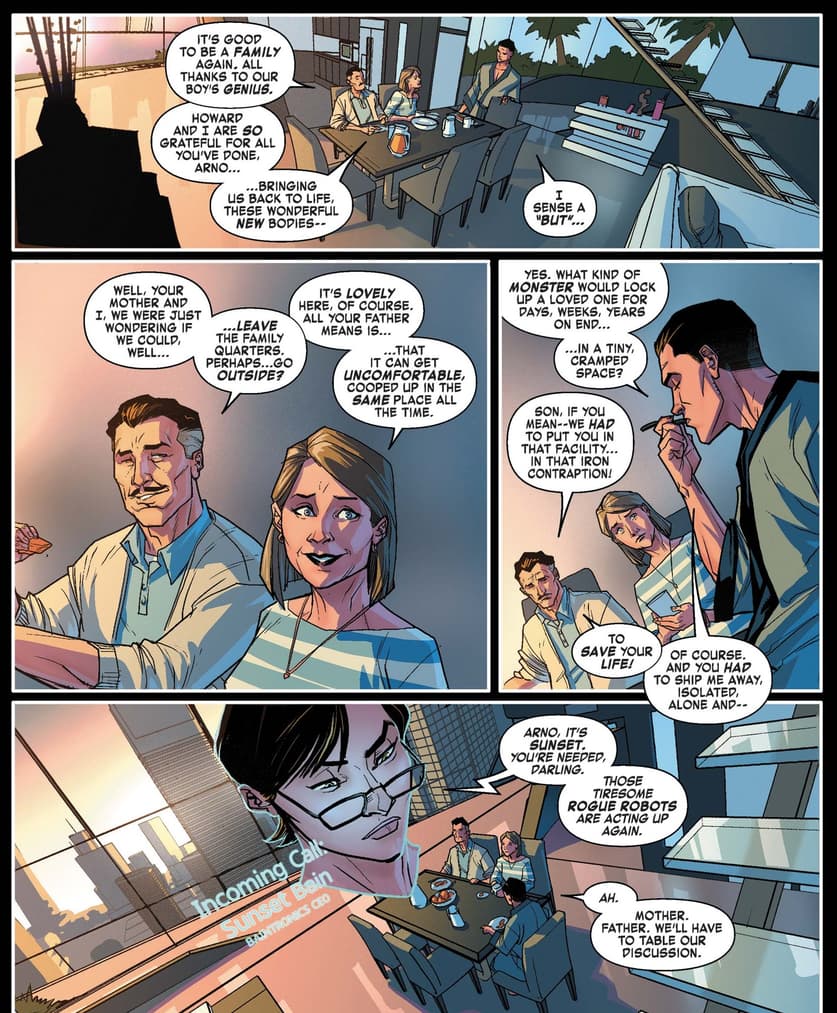 HE IS A "GALACTIC DEFENDER."
There is no question that Recorder 451 did a number on Arno, and that meddling didn't stop with a genetic overhaul. Believing that this unborn child had the potential to be a galactic savior, 451 implanted Arno with the notion that his birthright was to save Earth from an unspecified threat. With no definitive timeline.
Arno's unchecked ego was bolstered by 451's prophecy, coupled with the personal rage of losing out on his childhood. In TONY STARK: IRON MAN (2018) #5, readers caught a glimpse at just how far Arno was willing to go to secure his legacy.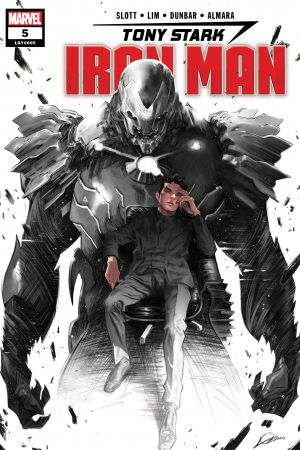 Tony Stark: Iron Man (2018) #5
published

added to marvel unlimited

colorist

editor

letterer

painter (cover)

penciler (cover)

writer

inker

penciler
What is Marvel Unlimited?
The revolution continues in limited series IRON MAN 2020 (2020)! Check back weekly for more additions to the 2020 saga, an event that sets up a global conflict that human, and machine, won't see coming.
See the rest of this week's Marvel Unlimited titles here!
NEW ON JULY 20
Looking for more classic arcs and Marvel must-reads you can read for FREE? Read online here, or download or update the Marvel Unlimited app for iOS or Android at the Apple or Google Play app stores today.
For more of Marvel's greatest comic books in print, please reach out to your local comic book shop to ask about services they may offer, including holding or creating pull lists, curbside pick-ups, special deliveries and other options to accommodate. Find and support your local comic book shop at http://comicshoplocator.com.
The Hype Box
Can't-miss news and updates from across the Marvel Universe!