Comics
Published August 17, 2023
Emma Frost and Tony Stark Are Marvel's New Power Couple in 'X-Men' #26/'Invincible Iron Man' #10 Wedding Event
Gerry Duggan, Jim Towe, Javier Pina, and Juan Frigeri bring readers the super hero wedding of the decade in next month's 'X-Men' #26 and 'Invincible Iron Man' #10.
It's the moment fans never thought would happen: the wedding of Emma Frost and Tony Stark!
Taking place in X-MEN #26 and INVINCIBLE IRON MAN #10, writer Gerry Duggan will deliver this highly-anticipated story alongside X-MEN artists Jim Towe and Javier Pina and INVINCIBLE IRON MAN series artist Juan Frigeri. The FALL OF X era has hit both mutantkind and Iron Man where it hurts and as their enemies grow stronger, Emma and Tony will strengthen their alliance to "till death do they part!"
 
Witness the shocking proposal and Emma's even more shocking answer in X-MEN #26, and then put on your best Hellfire attire for the introduction of Mrs. and Mr. Emma Frost in INVINCIBLE IRON MAN #10! The circumstances of the ceremony is riddled with secrets and subterfuge, but fans can get their first inside look at the nuptials in the X-Men/Iron Man: The Wedding of Emma Frost & Tony Stark trailer, featuring never-before-seen artwork!
The trailer picks up with a flashback to the third annual Hellfire Gala, where Orchis devastated mutantkind on what was supposed to be their most glamorous night of the year. With all mutants either dead, missing, deported to Mars, or operating underground, Emma Frost—in disguise as Hazel Kendall—has turned to someone in similarly dire straits: Tony Stark. To face enemies like Feilong and Kingpin, they'll form an alliance that's sure to get the Marvel Universe talking. In the FALL OF X, Frost and Stark will do whatever it takes to survive...together.
"Emma and Tony—I think now people are starting to get a sense of how they work," Duggan told AiPT Comics during a recent X-Men Monday. "I hope you all check it out. They are getting married. I promise no shenanigans. Beyond that, I don't know what you're going to get."
"Neither seems like the marrying type. Why this works, and how this works, and how much fun this is, whether their marriage works or not, will need to be seen to be believed and you'll have to buy it to find out," Duggan teased in an interview with IGN. "They certainly don't seem like they're ready to be married to anyone, let alone to each other, but life can change quickly."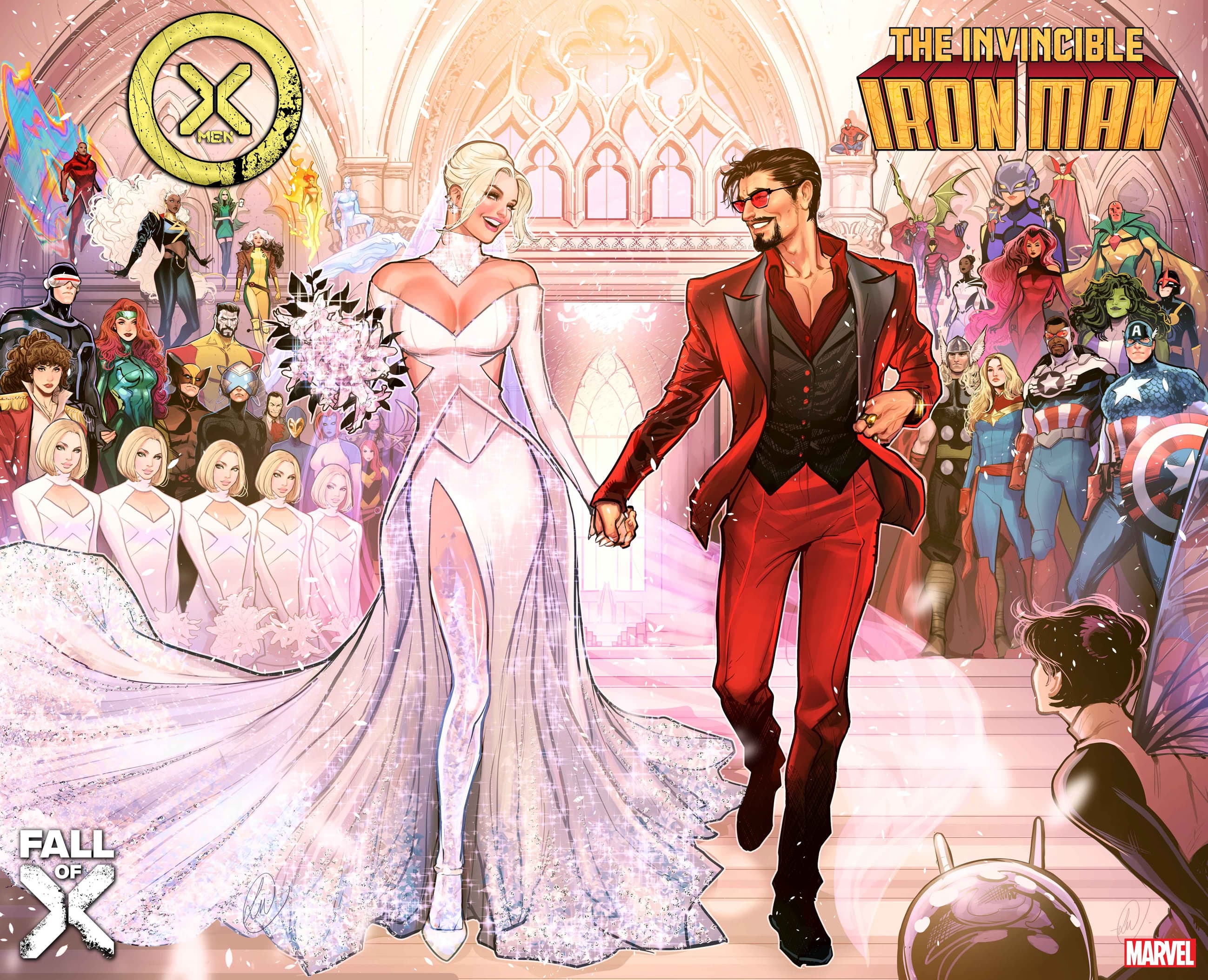 X-MEN #26
Written by GERRY DUGGAN
Art by JIM TOWE & JAVIER PINA
Connecting Cover by LUCAS WERNECK
On Sale 9/6
 
INVINCIBLE IRON MAN #10
Written by GERRY DUGGAN
Art by JUAN FRIGERI
Connecting Cover by LUCAS WERNECK
Variant Cover by MEGHAN HETRICK
On Sale 9/27
Enjoy the trailer now and RSVP to the comic book wedding of the decade by preordering INVINCIBLE IRON MAN #10 at your local comic shop today!
Grab these comics and more at your local comic book shop! Or redeem then read your digital copy on the Marvel Unlimited app by using the code found in your print comic. Find and support your local comic book shop at ComicShopLocator.com.
To read your Marvel comics digitally, download the Marvel Unlimited app for iOS and Android devices. Gain an expansive catalog of 30,000+ comics spanning Marvel Comics history, plus access your entire digital library including comics redeemed from print. 
The Hype Box
Can't-miss news and updates from across the Marvel Universe!