Culture & Lifestyle
Published June 19, 2020
Earn Points for Marvel Insider This Week with The World's Greatest Book Club with Paul Scheer
Join Marvel Insider today to earn points and redeem for exclusive rewards available from June 19!
Readers everywhere, we want to celebrate you! With the release of the final episode for The World's Greatest Book Club with Paul Scheer, we have an offer you don't want to miss⁠—details below!
Not a Marvel Insider? It's easy to join! We set up the Marvel Insider program so you can earn Insider points for the things you are already doing, like keeping up with the latest news on Marvel.com and reading your favorite comic books.
Make sure you are signed in on Marvel.com before you start any Marvel Insider activity, and don't forget to redeem for your exclusive rewards! 
The World's GreatesT BOOK CLUB CHALLENGE
Activity available until 6/25/20.
Looking to start reading comics? Don't know where to start? Never fear, Paul Scheer is here! Sign into Marvel Insider and catch all 6 episodes of Marvel Presents: The World's Greatest Book Club with Paul Scheer for an inside look at some exciting comics with fellow Marvel fans! This fun, light-hearted series is hosted by actor and comedian Paul Scheer, joined by celebrity guests including Damon Lindelof, Gillian Jacobs, W. Kamau Bell, Phil Lord, Yassir Lester, and Jason Mantzoukas. Even better, after you earn Marvel Insider points for watching all the episodes, you'll be able to redeem for one of the comics discussed. This exclusive Insider activity is available until 6/25, so don't miss out!
POWER MAN AND IRON FIST: THE BOYS ARE BACK IN TOWN READING QUEST
Activity available until 6/22/20.
The original Heroes-for-Hire reunite! Luke Cage and Danny Rand are back together and letting everyone know they're back in town...and back on the clock! Writer David Walker and artist Sanford Greene bring you Power Man and Iron Fist as they track a mystery with all the ingredients of a classic Heroes-for-Hire tale. Expect old friends, hired goons, crime lords, weird magic, plenty of power, a flurry of fists and as much bromance as you can handle!
Find out what happens in POWER MAN AND IRON FIST (2016) #1-5, available to read for free on Marvel Unlimited.
GET THE COMIC OF THE WEEK
Activity available until 7/15/20.
VALKYRIE RETURNS TO ASGARD AT LAST – ONLY TO SEE IT FALL! The Røkkva, the end of all life, has come to the home of the gods — aided by Thor's own brother Tyr in a mad quest for power. But by the time the Røkkva is done, there'll be no throne to claim. Can the Valkyrie and her All-Weapon win against a force older than the gods themselves?
DIGITAL COMICS SALE
Offer ends 6/25/20 11PM ET.
 Is he man or monster...or is he both? You know Bruce Banner. He's quiet, calm, never complains. He's a scientist who believes he can use the darkest elements of his personality to do good in the world. If someone were to shoot him in the head...all he'd do is die. But the horror lives deeper. And the horror refuses to die. When night falls, something other than the man gets up again. The horror is the Immortal Hulk! And though he cannot die, the Hulk is being hunted yet again. By the government, by Alpha Flight, by the mysterious Shadow Base - and by the Avengers! But Bruce has even bigger problems. Something terrible has infected him. Something with unspeakable plans for humanity. And the only one who knows about this dark infection...is the Immortal Hulk!
READ YOUR FREE COMIC ON MARVEL UNLIMITED
Activity available until 7/1/20.
FOLLOWING IN THE FOOTSTEPS OF THE BLACK PANTHER! The world fell in love with her in the movie. Now, the Black Panther's techno-genius sister launches her own adventures — written by best-selling Afrofuturist author Nnedi Okorafor and drawn by Eisner-nominated artist Leonardo Romero! The Black Panther has disappeared, lost on a mission in space. And in his absence, everyone's looking at the next in line for the throne. But Shuri is happiest in a lab, surrounded by gadgets of her own creation. She'd rather be testing gauntlets than throwing them. But a nation without a leader is a vulnerable one — and Shuri may have to choose between Wakanda's welfare and her own.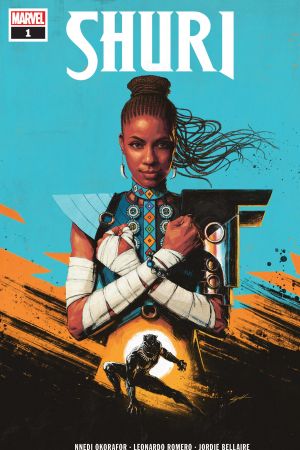 Shuri (2018) #1
published

added to marvel unlimited

editor

inker

penciler

letterer

colorist

painter (cover)

penciler (cover)

writer
What is Marvel Unlimited?
FEATURED REWARDS
As if the events of MARVEL'S SPIDER-MAN: VELOCITY and CITY AT WAR weren't harrowing enough, Spider-Man finds himself in the middle of a gang war in New York City.  But as he butts heads with the likes of Hammerhead and the Maggia, the unexpected reappearance of old flame Felicia Hardy, also known as the Black Cat, sets Spider-Man's world on fire! Black Cat's heroic days are behind her, but what is the secret behind the treasures she's thieving?  And why would Spider-Man let her go?! Delve into previously untold tales of Spider-Man and Black Cat's relationship, and a shock ending that will make your webs spin!  Don't miss the excitement as your favorite wall-crawler returns in the next GAMERVERSE series! 
Don't forget that another Marvel Insider activity for MARVEL Puzzle Quest is underway and ending soon! Earn 50,000 Insider Points when you compete in the Soul Stone Season before 6/21/20 and finish with 3,000+ collective in-game points. 
Your Marvel Insider account is the best way to keep track of your Insider points and redeem for special limited-time offers. Don't forget to check back next week for another round of challenges and rewards, filled with exclusive Marvel bonuses!
 
To make sure you don't miss out on any of the latest Marvel news, make sure you follow @Marvel on Twitter and Instagram!
The Hype Box
Can't-miss news and updates from across the Marvel Universe!