Digital Series
Published February 18, 2021
Women of Marvel Revisits Hip-Hop and Afro-Futurism with Sammus
Download and listen now!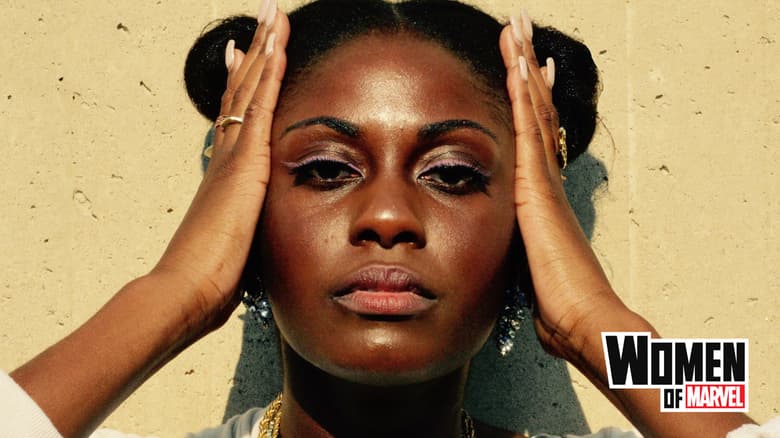 Women of Marvel is taking us back!
With the return of Ta-Nehisi Coates' BLACK PANTHER run on February 24, the Women of Marvel decided to revisit Angélique Roché's conversation with professor, rapper and all-around "Cool Girl" Dr. Enongo Lumumba-Kasongo AKA Sammus (yes, that Sammus — real-life Ironheart Sammus!).
If you were to combine Ironheart's brilliance, Shuri's technological prowess, and She-Hulk's wit, you might end up with a character like Sammus. Join Judy Stephens and Angélique for this encore episode about hip-hop, Afro-futurism and all things nerdy.
"I'm always trying to get more Riri, whether that's Riri Williams or Rhianna. I'm always trying to elevate," shared Sammus during the conversation.
"What's important about what I'm doing is reminding people that when we're not in these spaces, how scary and difficult it can be to enter into them," explained Sammus, further in the chat. "So, by me being on the bill or by me being a performer, it's inviting or opening up new spaces for all of the other women and girls like me who felt like, 'I'm not allowed to be here' or 'I'm not supposed to be here.'"
You can download and listen to the full episode here:
If you want a refresher in anticipation for BLACK PANTHER #23, sign up for Marvel Unlimited to get access to all the Black Panther lore that came before. 
Also launching on February 24, in celebration of Black History Month, is MARVEL'S VOICES: LEGACY #1, an amazing anthology featuring some of the most beloved Marvel characters, such as Storm, Blade, Falcon, Spectrum, and many more! Featuring a dazzling array of stories by both new and established creators, MARVEL'S VOICES: LEGACY #1 will consist of seven thrilling tales plus an introduction by New York Times best-selling author Nic Stone. The comic features stories written by acclaimed writers like Nnedi Okorafor, Tochi Onyebuchi, Stephanie Williams, Danny Lore, Ho Che Anderson, and Mohale Mashigo, as well as featuring art by ChrisCross, Valentine De Landro, Sean Damien Hill, Ken Lashley, Natacha Bustos, Chris Allen, and Olivier Coipel. You can listen to Angélique speak to some of the creators here! For a complete guide on MARVEL'S VOICES: LEGACY #1 as well as preview interiors for each story, head over here.
The Women of Marvel podcast assembles to show how people of all backgrounds are making a powerful and positive impact on our stories. New episodes are released every other Thursday, co-hosted by Judy Stephens, Angélique Roché, and Ellie Pyle. You can find Women of Marvel on Sirius XM, Marvel.com/podcasts and Apple Podcasts.
Want to stay on top of everything in the Marvel Universe? Follow Marvel on social media—Twitter, Facebook, and Instagram—and keep watching Marvel.com for more news!
The Hype Box
Can't-miss news and updates from across the Marvel Universe!