Games
Published November 1, 2017
Battle Hela and Stop Ragnarok in 'Marvel Avengers Academy'
Join Thor and Earth's Mightiest Heroes as they combat a horrific threat!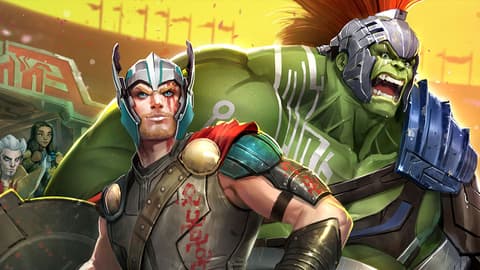 The students of "Marvel Avengers Academy" have once again dispatched Baron Von Strucker. However, an even bigger threat looms on the horizon. Hela, along with some new friends, aims to bring Hel to Earth. Some fresh faces and familiar allies—cast out of Asgard by Hela's conquest—come to the Academy to help our heroes battle the sorceress and put an end to Ragnarok before it consumes their home.
We took cover behind Van Dyne's Outfits with Allen Warner, Lead Narrative Designer at TinyCo, to learn more about Hela, Ragnarok, and the Avengers' plan to put an end to them both.
Marvel.com: Hela comes to Avengers Academy with the goal of extending her reign to both Hel and Earth. How does she intend to make this a reality?
Allen Warner: When the event opens, we learn that Hela and her forces have already overthrown Asgard, imprisoning most of its greatest remaining warriors. She turns her attention to Avengers Academy to finish off the likes of Odin and Thor, and literally create Hel on Earth, but she knows that with the collection of powerful heroes at the school, this will be difficult. She decides to team with some of Asgard's greatest enemies, the Frost Giants and Dark Elves, to attack the Academy, and use its powerful artifacts and portals to bring her kingdom to Earth. She's already been out conquering the galaxy on her way to the Academy, and has gathered fearsome warriors, forcing them to do her bidding in exchange for saving their home planets. Hela's plans are more intricate than they seem at first, and things will finally fall into place throughout this event that will pave the way for the first appearance of a long-rumored character who has a huge impact on Avengers Academy's past, and its future.
Marvel.com: With the Asgardians specifically targeted here, will we see more of them join the Academy and their fight against Hela?
Allen Warner: Yes, both Heimdall and Valkyrie will be joining the Academy, and players will also have the chance to recruit Thor, who has only been available as an early access character to this point in the game. Heimdall and Valkrie are both really exciting because they're characters we've been wanting to get into the game for a long time; their powers and visuals are so cool, and they have a great history [in] the comics, and now the films. I'm also excited that more players will have the opportunity to have Thor be a part of their campus. He's one of [my] favorite characters to write in this game, and I really love his interactions with his family and heroes like Wasp and Captain America.
Players will also have the opportunity to recruit Grandmaster, Korg, and Miek. Hela took over Grandmaster's intergalactic gladiator tournament while conquering the galaxy, imprisoned Grandmaster, and forced Korg and Miek to fight for her in exchange for the safety of their respective planets. All three of these characters are great, and bring something completely unique to the game. I'm really enjoying Grandmaster's interactions with his fellow Elder of the Universe, Collector.
Since this is a war to end the world, and there's a even bigger war on the horizon, you can also expect a surprise character who knows a thing or two about war.
Marvel.com: Will players also have the opportunity to recruit Asgardians who have enrolled in the past?
Allen Warner: Yes; Odin, Angela, Frigga, Sif, and more will be returning for the war to end all wars. We'll also be bringing back some of the awesome Asgardian outfits we've created, and bringing back characters who aren't technically Asgardian, but still have strong ties to those characters.
Marvel.com: Who will suit up in new gear to take the fight to Hela and her Frost Giant/Dark Elf cronies?
Allen Warner: There will be new Asgardian and gladiator themed outfits for Black Widow, Enchantress, Loki, Thor, Hulk, Falcon, and Iron Man. It will be a mix of familiar looks from the comics and movies, brand-new creations, and in one case, a really fun mix of both. As usual, our incredible art and animation teams have outdone themselves, and I think players will be really excited when they see what we have in store.
Marvel.com: Where and how will players battle these foes, both new and familiar?
Allen Warner: Players will battle Hela and her forces in Grandmaster's gladiator arena, and will travel throughout the Ten Realms [battling] Dark Elves who have their own specific orders from Hela.
Marvel.com: Can you give us a taste of what's in store for the rest of the year?
Allen Warner: An amazing winter holiday event that will introduce our most fun and most eclectic roster of event heroes yet.
Stay tuned to Marvel.com and @MarvelGames on Twitter for the latest on "Marvel Avengers Academy"!
The Hype Box
Can't-miss news and updates from across the Marvel Universe!