Games
Published June 7, 2021
MARVEL Games Celebrates Pride Month
We round up all the month-long celebrations, events, character drops, and more from your favorite Marvel games!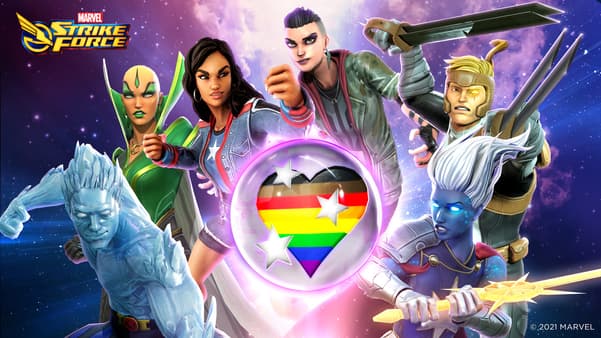 MARVEL STRIKE FORCE CELEBRATES PRIDE MONTH
Celebrate Pride Month with Marvel's LGBTQ+ heroes! Play in tons of events throughout May featuring Iceman, America Chavez, Mystique, and Shatterstar, as well as newcomers Phyla-Vell and Moondragon. And be sure to log in throughout May to unlock Negasonic Teenage Warhead for FREE. 
Check the schedule below for the full slate of events:
May 31 America Chavez Blitz
June 1 Negasonic Monthly Login Calendar 
June 2 Iceman Costume Event
June 9 Phyla-Vell Event Campaign
June 14 Shatterstar Blitz
June 17 Mystique Blitz
June 17 Moondragon Pride Event
June 25 Iceman Blitz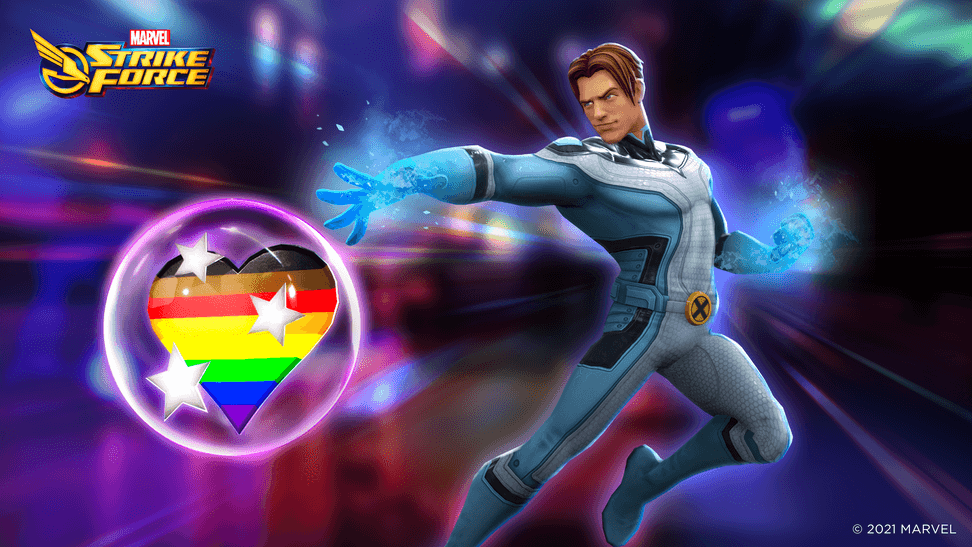 BOBBY DRAKE SUITS UP!
You read that right, your favorite Omega-Level Mutant is getting a new costume! Play in a special event starting June 2 to unlock Iceman's All-New X-Men appearance.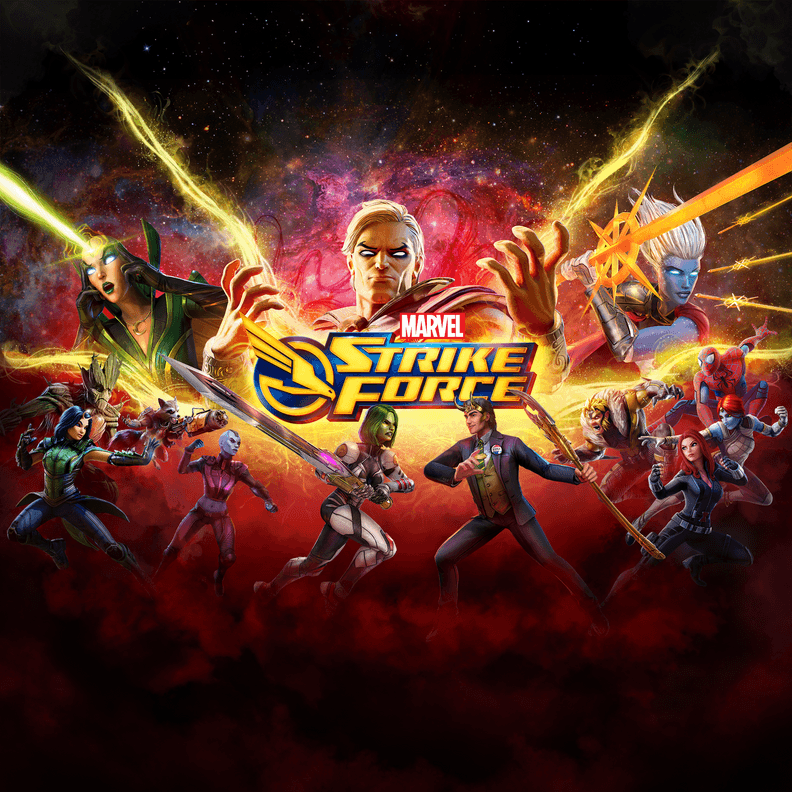 INFINITY WATCH DESCENDS UPON MARVEL STRIKE FORCE
Collect new characters Adam Warlock, Phyla-Vell, and Moondragon as they team up with Gamora and Nebula to protect the Infinity Stones! Expect exciting cosmic action with a little appearance by President Loki, inspired by Marvel Studios' Loki as a new costume for the God of Mischief!  
MARVEL CONTEST OF CHAMPIONS CELEBRATES PRIDE MONTH
MARVEL Contest of Champions stands hand in hand with the LGBTQ+ community with Pride! Happy Pride Month to all of our Summoners and Champions! Enjoy this exclusive wallpaper featuring the LGBTQ+ heroes of The Contest — Hercules, Angela, America Chavez, and Iceman!
PLAY IN THE BLOODLINES EVENT
A Dark ritual revives an ancient weapon within The Battlerealm. A mysterious note has found its way to the Summoner drawing them towards the Forbidden Territories alongside a few uncertain friends. It seems an ancient ritual has brought about La Fleur du Mal as well as its wielders. 
Will you put aside differences and forget the past to work together in the present?
ALTERNATE REALITY VERSIONS OF FAMILIAR CHAMPIONS ENTER THE CONTEST!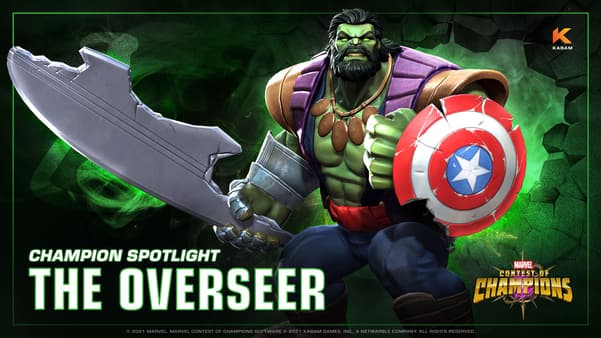 The Overseer is immune to Nullify, Fate Seal, and Stagger. Read more about this otherworldly brute his Champion Spotlight here!
Freed from the confines of the iron maiden, Queen Haasen returns! Purgatory is a twisted, demonic creature, from an alternate timeline where Morningstar was finally able to defeat Guillotine and steal her sword back. With the blade back in her hands, the demonic presence within it overwhelmed Queen Haasen and convinced her to slay Guillotine. Doing so corrupted both her body and soul, transforming her into Purgatory and sending her on a bloodthirsty rampage unlike any seen in a millennium. Check out Purgatory's Champions Spotlight here!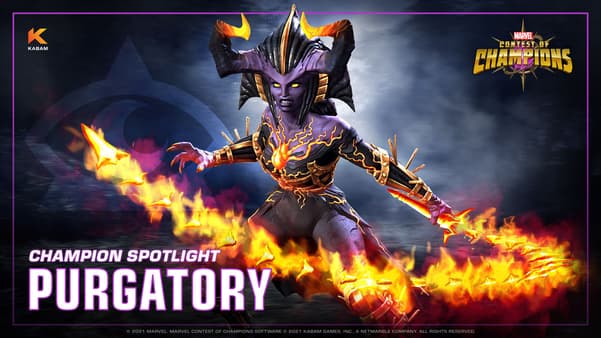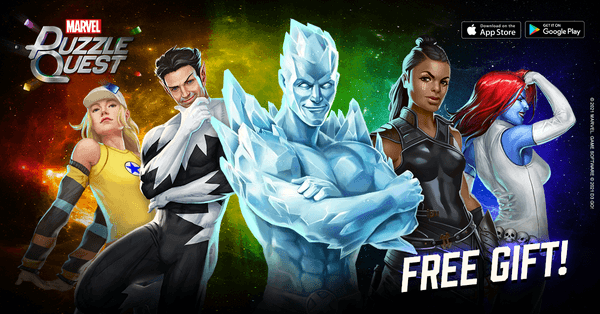 MARVEL PUZZLE QUEST CELEBRATES PRIDE MONTH
Check your inbox in June to receive 400 Northstar shards for FREE. Also, PVP Events throughout the month will feature LGBTQ+ characters! Peep the schedule below and ready your teams!
06/01: Iceman
06/03: Black Cat
06/08: Valkyrie
06/13: Negasonic Teenage Warhead
06/15: Wiccan
06/17: Northstar
06/22: Daken
06/24: Mystique
06/27: Karolina Dean
07/01: America Chavez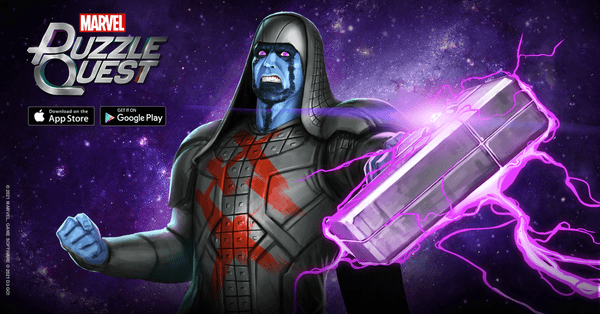 LAY JUDGEMENT WITH RONAN THE ACCUSER
ICYMI, Ronan the Accuser joined MARVEL Puzzle Quest last week. Lay judgement on your foes with his incredible Kree strength and Cosmi-Rod hammer today!
Stay tuned to Marvel.com for Marvel Games news and interviews and follow Marvel Games on Twitter for more!
The Hype Box
Can't-miss news and updates from across the Marvel Universe!