Podcasts
Published November 9, 2020
This Week in Marvel Is Howling for the New Werewolf by Night
'Werewolf by Night' writers Taboo and B. Earl talk about their new Indigenous Marvel hero!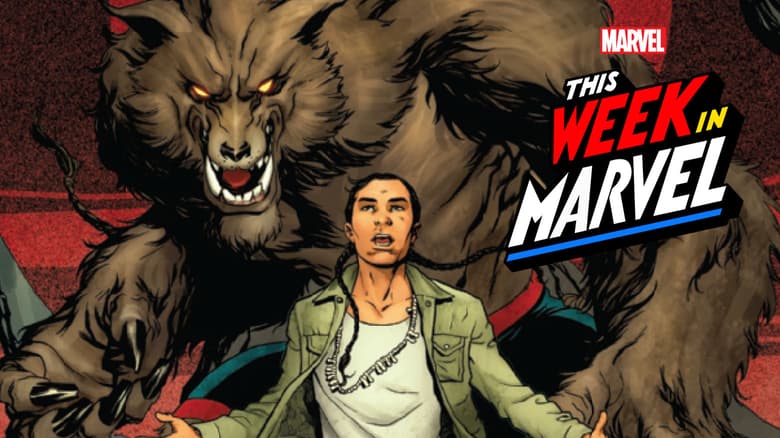 It's Native American Heritage Month! What better way to spotlight Marvel's Indigenous heroes than by introducing a brand new one? On the latest episode of This Week in Marvel, Ryan "Agent M" Penagos and Lorraine Cink welcome Taboo (of the Black Eyed Peas) and B. Earl (AKA Benjamin Jackendoff), the writers of the new WEREWOLF BY NIGHT (on sale now) and the creators of the new hero taking the title creature's hairy helm, Jake Gomez!
Here's a bit of what Taboo and B. Earl had to say:
Taboo: "...[G]oing into creating this amazing Red Wolf and Werewolf comic, it was like how do we give an authentic voice to Native story-telling without being so stereotypical, or without taking away from the idea of being a modern Native and having the influence of a modern tale, and do it in a respectful way and follow all the protocol to do it justice."
B. Earl: "This character is very derived from Taboo's own backstory, his own origins. ... While we're not telling a Native story per se, what we are telling is a Native story in the sense of how knowledge is passed, how you need to respect your elders, how you need to respect the information that is given to you, and how you can keep culture and language alive."
All this, plus the week's biggest news from the House of Ideas, including the suit inspired by Spider-Man: Into the Spiderverse coming to the Spider-Man: Miles Morales video game and updates on Marvel Studios' Shang-Chi and the Legend of the Ten Rings!
You can download the full audio episode below:
With new episodes every Friday, This Week in Marvel delivers all the latest Marvel discussion and news about comics, TV, movies, games, toys, and beyond! Tweet your questions and comments about the show to @AgentM, @lorrainecink, or @Marvel with the hashtag #ThisWeekinMarvel!
The Hype Box
Can't-miss news and updates from across the Marvel Universe!