Podcasts
Published August 7, 2020
This Week in Marvel Prepares to Say Farewell to 'Marvel's Agents of S.H.I.E.L.D'
Ryan and Lorraine talk to actor-director Elizabeth Henstridge and VFX Supervisor Mark Kolpak!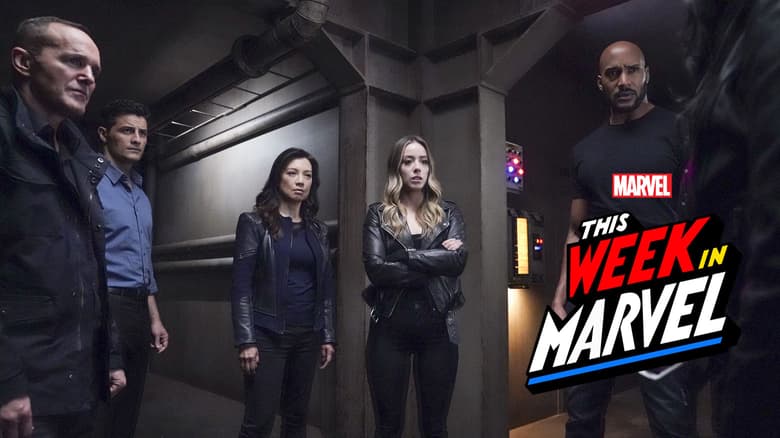 After seven seasons, Marvel's Agents of S.H.I.E.L.D. is coming to an end next week -- and This Week in Marvel has the inside story! (Don't worry, no spoilers!) Ryan "Agent M" Penagos and Lorraine Cink talk to show star (and director) Elizabeth Henstridge and VFX Supervisor Mark Kolpak about what went on behind the scenes of the groundbreaking show. Here's a tidbit of their conversation with Henstridge:
"And then afterwards I had to eat it! And so they'd filled this silicone kind of tentacle thing -- I mean it was so grim, and then they put jelly all over it and then it had, like, baking powder and gelatin and some food dye. So then I had to eat it, and we only had one shot because it was just so messy, and it's one of those days where you're just driving home going what just happened?"
Want to know what in the name of Thor she's talking about? You can listen to the full conversation right here!
Don't miss the two-hour series finale of Marvel's Agents of S.H.I.E.L.D. on Wednesday, August 12 beginning at 9/8c on ABC!
For more information on Marvel's Agents of S.H.I.E.L.D., visit ABC.com, follow @AgentsofSHIELD on Twitter, and like "Marvel's Agents Of S.H.I.E.L.D." on Facebook for all the latest news and updates.
With new episodes every Friday, This Week in Marvel delivers all the latest Marvel discussion and news about comics, TV, movies, games, toys, and beyond! Tweet your questions and comments about the show to @AgentM, @lorrainecink, or @Marvel with the hashtag #ThisWeekinMarvel!
The Hype Box
Can't-miss news and updates from across the Marvel Universe!