TV Shows
Published September 12, 2018
Meet the Next Generation of Marvel Super Heroes in the Official 'Marvel Rising: Secret Warriors' Trailer
Premiering only on Disney Channel and Disney XD on Sunday, September 30!
Who are the new class of Marvel Super Heroes rising the ranks of the Marvel Universe?
Powered teens Ms. Marvel, Squirrel Girl, Quake, Patriot, America Chavez, and Inferno join forces as an unlikely, but formidable crew of aspiring heroes. When a threat no one could have expected bears down on the Marvel Universe, this ragtag, untrained band of teens have no choice but to rise together and prove to the world that sometimes the difference between a "hero" and "misfit" is just in the name. Take a look at the official trailer below and don't miss the premiere of "Marvel Rising: Secret Warriors" only on Disney Channel and Disney XD on Sunday, September 30 at 10pm!
Meet the "Marvel Rising: Secret Warriors" cast and team! Chloe Bennet is Daisy Johnson AKA Quake, a leading agent of S.H.I.E.L.D. whose tendency for rule-breaking gets her into trouble now and then. Milana Vayntrub is Doreen Green AKA Squirrel Girl, the uber-positive, hilarious best friend and teammate of Ms. Marvel. Kathreen Khavari is Kamala Khan AKA Ms. Marvel, a devoted fan of Super Heroes, especially of her mentor Captain Marvel; she is determined that she too can be a great hero! Kamil McFadden is Rayshun Lucas AKA Patriot, a natural born leader who is quick to leap into action to impress his colleagues at S.H.I.E.L.D. Tyler Posey is Dante Pertuz AKA Inferno, a brooding, dark loner on the run.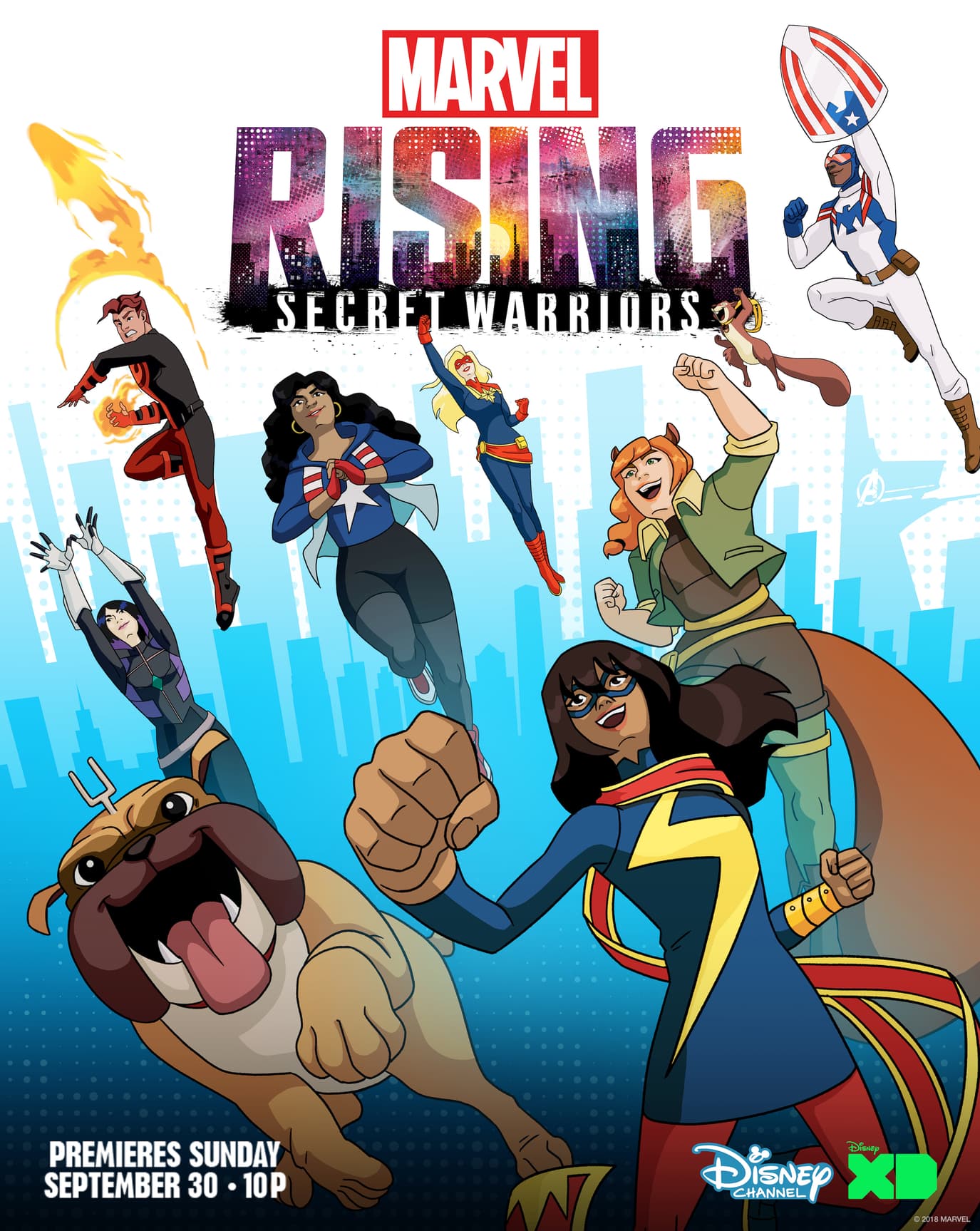 BooBoo Stewart is Victor Kohl AKA Exile, a charming, handsome, and troublesome young Inhuman whose quest for superiority places him into the wrong crowd. Cierra Ramirez as America Chavez, a strong, independent young hero whose painful past drives her to reject leadership and remain a loner. Kim Raver is Carol Danvers AKA Captain Marvel, a bold leader who doesn't sugar-coat and is guided by a strong sense of duty and honor. Ming-Na Wen is Hala, a Kree Accuser bent on galactic domination. She'll go to any length or treacherous means to achieve what she, and the entire Kree race, wants: Power. And Dee Bradley Baker voices both Tippy Toe, Doreen's partner in crime and best squirrel friend, and Lockjaw, Kamala's trusty, teleporting mutt.
Check out the previous adventures of the Secret Warriors team in Marvel Rising: Initiation, starring Dove Cameron as Ghost-Spider — WATCH NOW: https://youtu.be/EWh9JyUded8
For more information, check out "Marvel Rising" on Facebook, Twitter, and Instagram. Subscribe to Marvel HQ on YouTube for full episodes and more!
The Hype Box
Can't-miss news and updates from across the Marvel Universe!