TV Shows
Published July 15, 2021
Tom Hiddleston Reflects on How Loki's Been "Changed By The Journey"
As Season 1 of 'Loki' comes to a close, it "provokes as many questions as it provides answers."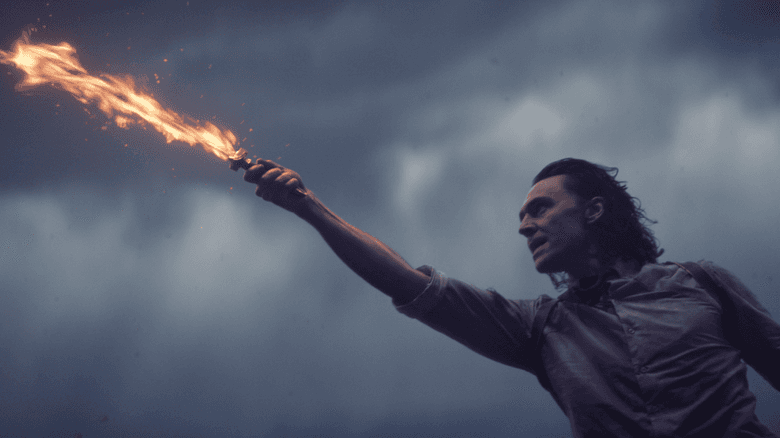 Variants. Time Keepers. Apocalypses. Alligators. Jet Skis. Over the course of Season 1 of Marvel Studios' Loki, the God of Mischief has seen and done it all across the Sacred Timeline. But now at the end of time — literally, Loki has arrived at the Citadel at the End of Time, accompanied by Sylvie — only one question remains: Has this journey changed Loki? It's even a question He Who Remains poses, reminding the duo that they can't reach the end until they've seen a change: "It needs to happen, to get us all in the right mindset to finish the quest."
For a trickster who has always been so focused on his wants and needs, it's safe to say that Loki's time working for the Time Variance Authority (and then trying to take down the TVA) has certainly shaped him in ways we haven't seen before. Gone is the Asgardian who commanded people to kneel before him; now, for the first time, we're seeing a softer side to Loki as he realizes that his choices have consequences and he's in charge of his own destiny — no one else. Going all the way back to the very beginning of Episode 1, as Loki stands before Judge Renslayer at the TVA, he yells that no one else will dictate how his story ends, and he's finally doing just that.
"Loki, as a show, has introduced so many complex ideas, and themes, and conversations," Tom Hiddleston tells Marvel.com. "One of the things I've been so pleased and thrilled to see with the show is how deeply the audience is engaged with the big ideas, the ideas of fate versus free will, agency versus determinism. Do we have the capacity to genuinely choose our path through our lives? And in those choices, where do we derive meaning? To what extent are any of us free? To what extent are these characters free to choose their route through the universe and self-realize and determine the course of their lives?"
Loki didn't change completely on his own, though, as everyone he encounters throughout all six episodes influences him in ways he never could have predicted, from his surprising friendship with Mobius to Classic Loki reclaiming his "glorious purpose."
"People latched onto the relationship between Loki and Mobius, and understood that there was a mirror in the two of them," Hiddleston says. "Both Mobius and Loki had a lot to teach each other. Mobius opens up Loki's sense of his own identity and that this might be something that's malleable. And then Sylvie opens up something in Loki about the nature of identity. And that Loki is able to then reflect back to Mobius."
"In Episode 5, suddenly, the conversations the three of them have had [cause] an effect on the variant Lokis — on Classic Loki, on Kid Loki, on Boastful Loki. I like to think on Alligator Loki, too. Maybe he starts to think about free will."
This all comes to a head when Loki and Sylvie have the most important conversation of all, with He Who Remains. Standing before this man behind the curtain, He Who Remains lays out his entire philosophy, the reason behind the TVA and all the smoke and mirrors. It's to protect the Sacred Timeline from his own variants.
"This conversation between the three of them about the nature of reality, about the nature of time, about the nature of the multiverse, and the question about whether the TVA organization has any moral authority to determine reality as we see it," Hiddleston continues. "There's an enormous amount to unpack, an enormous amount to think about, and it provokes as many questions as it provides answers."
Loki, having gained a new perspective, wants to stop and think about what he's just learned since it's heavy. Sylvie, on the other hand, believes "he's stalling for time and that it's another manipulation. She feels is on the precipice of some catharsis," adds Hiddleston. The two come to a disagreement where they both believe they're the one in the right. Loki wants to weigh the options of He Who Remains' proposal, and Sylvie just wants this puppet-master dead. 
"It's incredibly distressing for both of them that they disagree in this moment," Hiddleston says. "It was quite an intense scene for us. We knew we had to be quite precise about the way the scene unfolded."
Not only are they verbally arguing, but soon both have their weapons at the ready and are trading blows back and forth. (Something He Who Remains giddily watches from the sidelines.)
This finale was the last thing shot for the season, with Jonathan Majors joining the cast, as He Who Remains, for the last week they were in production. From there, it was time to dive into the trio's conversation and how it caps off all the themes leading up to this point — identity, free will, and accepting yourself, to name a few. 
"Right up to the time of the few days in which we filmed it, we were refining the dialogue between Loki and Sylvie because we needed to make sure that there was a balance," Hiddleston recalls. "Both their positions [needed to be] articulated, and the audience could see the struggle. We worked all weekend to make sure we integrated the scene with the choreography so that it was completely seamless. The disagreement was at the center of all of it, and every word and every move."
Unfortunately, the two just can't see eye to eye on the situation — as He Who Remains points out, Sylvie can't trust and Loki can't be trusted. Hiddleston even notes, "At the center of Loki's identity, certainly for as long as I've played him, is untrustworthiness. He's unpredictable and spontaneous."
But now, with a tearful confession to Sylvie, Loki's newly changed outlook shines through as he takes everything he's learned over the course of the series and tries to reason with her. But, "it's heartbreaking pain because she's not on the same page."
"The confession in Episode 6 reveals how much he's evolved. Sylvie believes Loki's position comes from the same old motivation to sit on a throne. But it doesn't. It comes from genuine care for another being outside of himself. It speaks to a theme that was very close to all of our hearts as filmmakers, which was about self-confrontation, and self-awareness, and self-forgiveness, and self-acceptance in some way. That the only way of moving forward is to acknowledge who you are. And then change can begin."
Making matters worse, Sylvie isn't the only familiar face Loki loses in the end. Though he ends up back within the halls of the TVA, this isn't the TVA he left. The choices Loki and Sylvie made at the Citadel at the End of Time are already breeding consequences, one of which is that "his friend Mobius doesn't recognize him and doesn't know who he is. His destabilization in that moment is profound."
Loki and Mobius' friendship has been a touchstone for the series, and according to Hiddleston, as the show was being developed, their relationship was "one of the things I was drawn to."
"I'm very moved by the idea of their friendship," he continues. "I don't think Loki has allowed himself to have many friends. Because to have friends, you have to be vulnerable, and you have to trust. Loki's so defensive, vulnerability and trust, those two things don't come easily to him. Mobius is perhaps the first figure in Loki's life to sit across from him and reflect him back to himself without judgment, but somehow with compassion."
"Mobius is able to contain Loki and say, 'This is who you are. And I understand.' That feeling of compassion or lack of judgment is new for Loki, and allows him to open up in a way that facilitates the genesis of this unique friendship. Mobius also is surprised by his affection for Loki. And then it's Loki who teaches Mobius about life outside the TVA, life before the TVA. Maybe he had a life. Maybe he had a family. Maybe he had a jet ski. They mean a lot to each other, and they've done a lot for each other."
With a new Mobius now in the mix, this means that the pair's parting goodbye in Episode 5 was their final farewell, when "Mobius offers his hand; Loki chooses to hug him and he says, 'Thank you, my friend.' That's very sincere and very meaningful."
What's a trickster to do when he finds himself in an unfamiliar place surrounded by people he used to know? That remains to be seen, as the season ends before those questions are answered, laying the complex groundwork for Season 2 and the lingering unanswered TVA questions.
"What's been fascinating for me making it, and continues to be one of the most interesting questions of our story, is the moral complexity of the TVA," Hiddleston concludes. "The idea that an organization that claims to govern the order of time with benevolence and precision is actually something much more ambiguous. And there's a question: On what authority does the TVA, or anyone who has set it up or runs it, decide who gets to live and who doesn't, who gets to participate in reality as we know it?"
All six episodes from the first season of Marvel Studios' Loki are now streaming exclusively on Disney+. Loki will return in Season 2.
Looking for more mischief? Find more Loki on Twitter, Facebook, and Instagram! 
This is just the beginning of the Phase 4 news. Stay tuned to Marvel.com for more details and sign up for Disney+ and start streaming now! And be sure to follow Disney+ on Facebook, Twitter, and Instagram for more.
The Hype Box
Can't-miss news and updates from across the Marvel Universe!