TV Shows
Published March 9, 2021
'WandaVision': Exploring the Commercials and Hearts
The Marvel Studios series is now streaming on Disney+!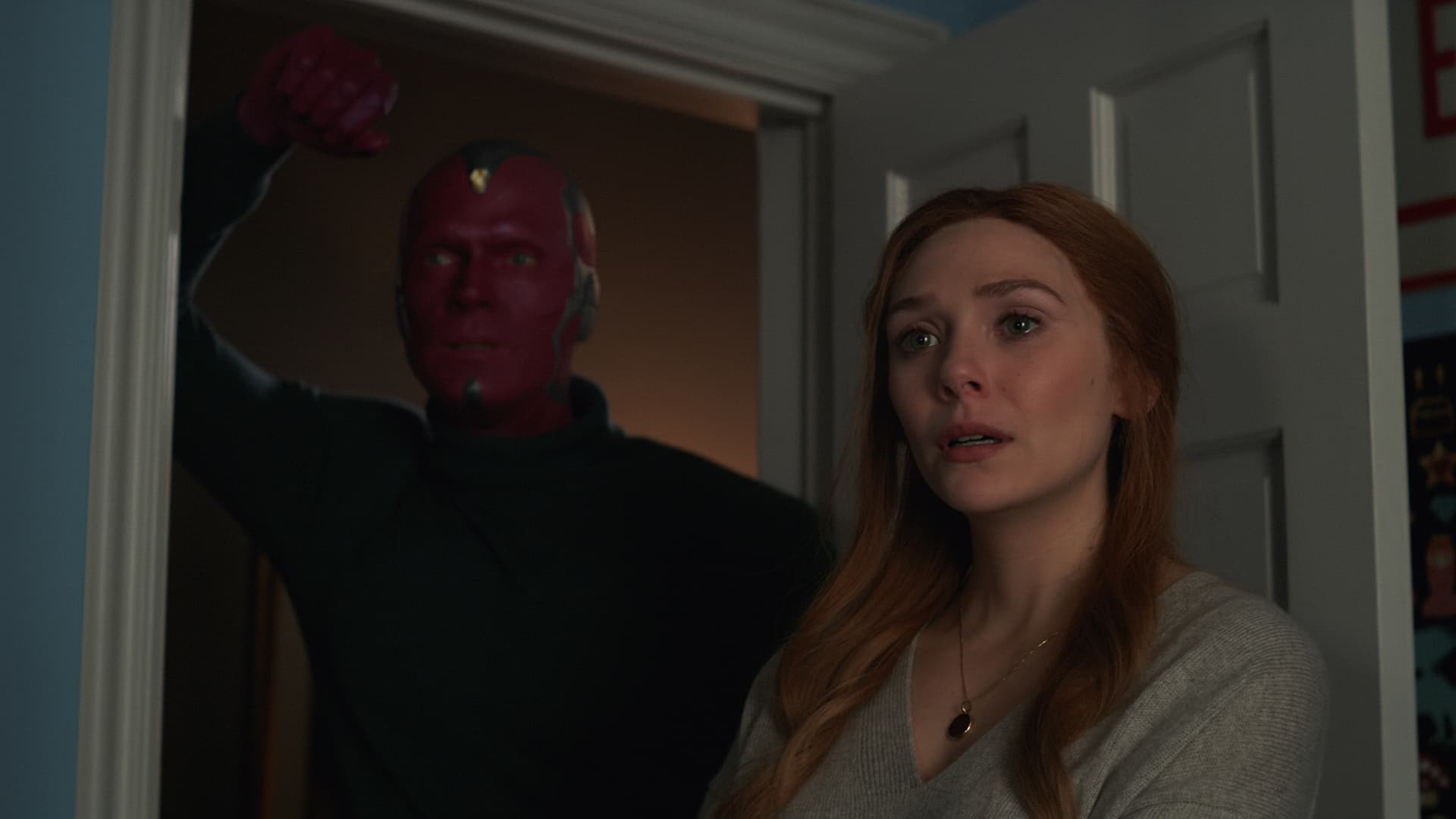 Though Wanda Maximoff and Vision's time in Westview, New Jersey has come to a close, there's still more to uncover about Marvel Studios' WandaVIsion. The first installment of Phase 4 of the Marvel Cinematic Universe starts out like a black and white sitcom from yesteryear, and ends with an explosive battle high in the sky over for the title of The Scarlet Witch — and all her powers, too.
But along the way, traveling through different sitcom tropes, viewers encounter three recurring things: commercials, credits, and an abundance of hearts. Needless to say, all three carry weight for the overall story of WandaVision, continuously driving the plot forward. With the finale now streaming on Disney+, Marvel.com talked to director Matt Shakman and head writer Jac Schaeffer about their overall importance and what you should watch for on a second and third viewing of the series. 
WandaVision's Commercials
Every broadcast sitcom has a few commercials sprinkled here and there throughout the episode — which is always a great time to get up and grab a snack. WandaVision is no different, but you actually don't want to wander away from the TV set when those start playing. The commercials, built into the narrative of the story, actually serve a purpose. For anyone familiar with the Marvel Cinematic Universe, you might have already guessed what's going on.
"There's so much speculation about what they mean and we went around and around about what we wanted them to be," Schaeffer explained. "And ultimately, they are about [Wanda's] subconscious, which a lot of fans have guessed."
The commercials work as little nods to Wanda's past, ranging from her time with Baron Strucker and at Hydra (Episodes 2 and Episode 3), to the incident in Lagos that sets off the events of Marvel Studios' Captain America: Civil War (Episode 5). While viewers can clearly see what's going on in Wanda's mind, it takes her a little bit longer to piece it all together.
WandaVision's Hearts
In Episode 8, "Previously On," viewers watch Wanda travel to Westview for the first time, alone, with a property deed that Vision had given her. On it, is written, "To grow old in, V" inside a heart. It's a heartbreaking moment, and one that has been teased since the very beginning of the show with an abundance of hearts scattered throughout the entire series — something perfect to look for on a rewatch.
Calling the hearts "the big one" in terms of hidden references, Shakman explained that "this show is about love."
"It is also about loss, and it's about both of those [things]," he continued. "It's about the dance between love and loss. So the heart on the calendar is the heart on the deed. We brought it back in the intro to Episode 7.
All episodes of Marvel Studios' WandaVision are now streaming on Disney+.
Want more exciting information about Phase 4? Find the latest Marvel Cinematic Universe news right here — and stay tuned for more!
This is just the beginning of the Phase 4 news. Stay tuned to Marvel.com for more details! And be sure to follow Marvel on Facebook, Twitter, and Instagram.
Looking for more Marvel movies and shows to stream? Check out everything on Disney+, Hulu, and ESPN+ right here, and where to find all your favorite Super Heroes right here. Sign up for Disney+ and start streaming now!
The Hype Box
Can't-miss news and updates from across the Marvel Universe!