Comics
Published December 29, 2022
Marvel 2022 Year in Review: Best Comic Issues
To celebrate the incredible year we had, Marvel has put together a list of some of our favorite comic book issues released in 2022.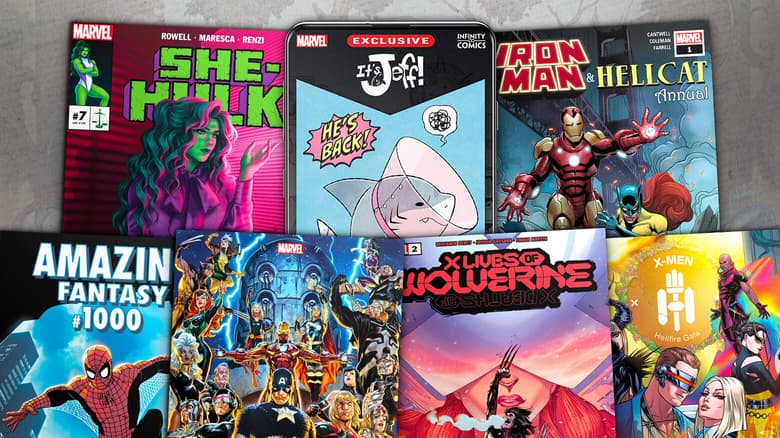 As 2022 comes to a close, Marvel is taking a look back at the amazing, incredible (and perhaps even uncanny) year we had. To celebrate 365 days filled with action, romance, and some hellacious twists and turns, we've put together a list of our favorite comic book issues that released this year. From Spider-Man's 60th anniversary and the X-Men's annual Hellfire Gala to the return of Jeff the Land Shark, we hope you enjoyed these comics as much as we did!
A Hulking Good Time with She-Hulk
"SHE-HULK (2022) #6 has it all: two of my favorite characters (She-Hulk and Nightcrawler), romantic hijinks, fourth-wall breaks, and some girl time between Jen and Patsy Walker, all wrapped up in some jaw-dropping artwork. What's not to love? This series is off to a great start, but this issue really pulled it together and turned it into a monthly must-read." - Meagan Damore, Associate Editor at Marvel.com
"I love a romance!!! And a love interest who adores Jen Walters the way she should be adored!!" - Isabel Robertson, Associate Podcast Producer
Swingin' for Spider-Man
"[Zeb] Wells always brings a fresh take on the most iconic character in the Marvel Universe, making the story truly jump off the page an excited to explore more." - Amber Galvin, Account Executive, Digital Media & Integrated Sponsorships
"There's little better than a great plot twist and this issue has one of my all-time faves. I'm biased but I'm loving this run and choosing between this and #5 was really hard!" - Nick Lowe, Spider-Editor
"The only thing better than reading Spidey comics... is reading Spidey comics vertically." - Stephen Fiore, Senior Digital Designer
"A fitting tribute to the world's greatest Super Hero for his 60th anniversary. Fun and heartwarming thorough and through!" - Kaeden McGahey, Assistant Editor
Lots of Love for the Land Shark
"Because it's Jeff!!!" - Rachel Paige, Editor at Marvel.com
"Jeff The Land Shark is one of my favorite characters to come from the minds of our talented creators. The way his 'It's Jeff' comics are scripted and drawn make them accessible to everyone. They are a joy to read and can be read by anyone. That's the spirit of inclusivity and thoughtful design that makes me proud to work at Marvel." - Eric Monacelli, Senior Director, Product and Franchise Development
"The Marvel x Star Wars crossover everyone is looking for!!" - Eun Jeong, Associate Manager, Business Development
Some Sensational Special Occasions
"Sometimes you need to look yourself in the mirror or a Celestial will do it for you." - Brendon Bigley, Senior Manager of Distribution
"Alex Ross delivered a mind-bending & jaw-dropping tour de force that delivered nostalgic thrills with timeless visuals." - Bill Rosemann, VP & Creative Director, Marvel Games
"Christopher Cantwell, Ruairi Coleman, and co. manage to deliver a modern Patsy Walker romance comic under the guise of an Iron Man title!! And it delivers!!" - Jasmine Estrada, Audio Producer
"The massive culmination of over two years of bloody, nasty, savage action with a huge group of Marvel heroes and a reality-displaced barbarian dying and returning and clawing their way to defeat a nightmarish enemy. Plus revelry, biting dialogue, gorgeous art, and a surprisingly sweet ending." - Ryan Penagos, Vice President & Creative Executive
Excellent X-Men Comics
"I think my favorite X-series this year. I thought issue #1 was a great primer on the back-stabby, political, and overall messy assembly that is Krakoa's Quiet Council. When Magneto steps down from his role in mutantkind's government, a bid for a seat on the Council leads to inner chamber drama. I also love the series' opening sequence in 1919 Paris (stunning art by Lucas Werneck) that establishes how important Destiny will be in the run. That, and Kieron Gillen's off-the-walls Mister Sinister." - Robyn Belt, Manager of Content Editorial, Marvel Unlimited
"Kieron Gillen doing what he does best and moving the story of Destiny in ways I never even considered!" - Ron Richards, VP of Planning & Platforms, Marvel Digital Media
"The Hellfire Gala is my favorite annual event, packing in as much drama and 616-spanning intrigue as an action-packed battle, without a single punch being thrown. Oh, and the LOOKS! I'm going to say that Doom's over-plush cloak and baroque tunic won the night for me." - Eric Grundhauser, Programming Manager
"While there have been many exciting and fantastic issues this past year, I have to give the top spot to X-MEN RED #3 by Al Ewing, Stefano Caselli, Federico Blee, and Fernado Sifuentes. The one-two-three punch of Vulcan vs. Tarn, Sunspot vs. Isca, and Magneto vs. Tarn was incredible and no matter who won (or lost but still won), there's no doubt in my mind that anybody who read that issue were the true winners." - Zachary Schechter, Proofreader
"A cheat, but two issues that were two sides of the same coin, that packed action, surprise, and significant character moments for one of Marvel's most significant characters." - Mark Basso, Editor
"X LIVES OF WOLVERINE is an unreliably beautiful, emotional, and action-packed trip through Wolverine's many lives and loves. I can't recommend it enough." - Lorraine Cink, Director of Creative Content
The Hype Box
Can't-miss news and updates from across the Marvel Universe!