Comics
Published October 11, 2022
Meet the Bloodstones: The Occult, Monster-Hunting Family Explained
Get up to speed on Ulysses Bloodstone, Elsa Bloodstone, and the rest of the Bloodstone family with these essential comic stories!
Have you tried Marvel Unlimited yet? It's your all-access pass to over 30,000 Marvel comics at your fingertips. Start your 7-day free trial, or sign up with plans as low as $9.99 a month.
For a character who died over four decades ago in the Marvel Universe timeline, Ulysses Bloodstone's legacy as a monster hunter has loomed large as a name not to be forgotten. Today, the Bloodstone family endures thanks to the exploits of Ulysses' daughter, Elsa Bloodstone. And to a lesser extent, through Elsa's siblings, Cullen and Lyra, both monster hunters in their own right.
[RELATED: Meet Elsa Bloodstone, Marvel's Premier Monster Hunter]
To get a better understanding of the Bloodstone brood and the Bloodstone Manor, here's a refresher on the most prominent members of the family. And, many of their stories are available to read on Marvel Unlimited!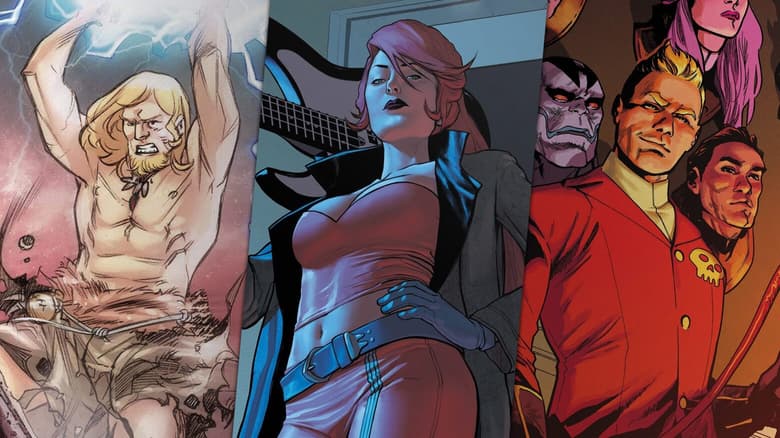 ULYSSES BLOODSTONE
The man known as Ulysses Bloodstone made his debut in MARVEL PRESENTS (1975) #1, but later stories established that Ulysses had appeared in earlier issues like STRANGE TALES (1951) #73. And, as seen in MARVEL UNIVERSE (1998) #7, he also assumed many different names over the course of his long life. Ulysses was not even his original name when he was born in the Hyborian Age, thousands of years ago.
Ulysses was originally a mortal man, and he didn't become immortal until he encountered Ulluxy'l Kwan Tae Syn, the otherworldly servant of an entity called the Hellfire Helix. Ulysses fought Ulluxy'l Kwan Tae Syn over a meteorite with special properties that the Hellfire Helix could have used to invade the Earth. In the aftermath of their battle, a piece of the meteorite was embedded in Ulysses' chest while the rest of his tribe was left dead. The meteorite came to be known as the Bloodstone, and Ulysses vowed vengeance no matter how long it took.
Fortunately, the Bloodstone made Ulysses immortal with enhanced strength and skills that he used to become the world's foremost monster hunter. But he was always on the lookout for Ulluxy'l Kwan Tae Syn and the Hellfire Helix in order to avenge his family. In RAMPAGING HULK (1977) #8, Ulysses' quest came to an end at the cost of the Bloodstone itself. Once Ulysses defeated his foes, his body returned to its natural age and he died within seconds.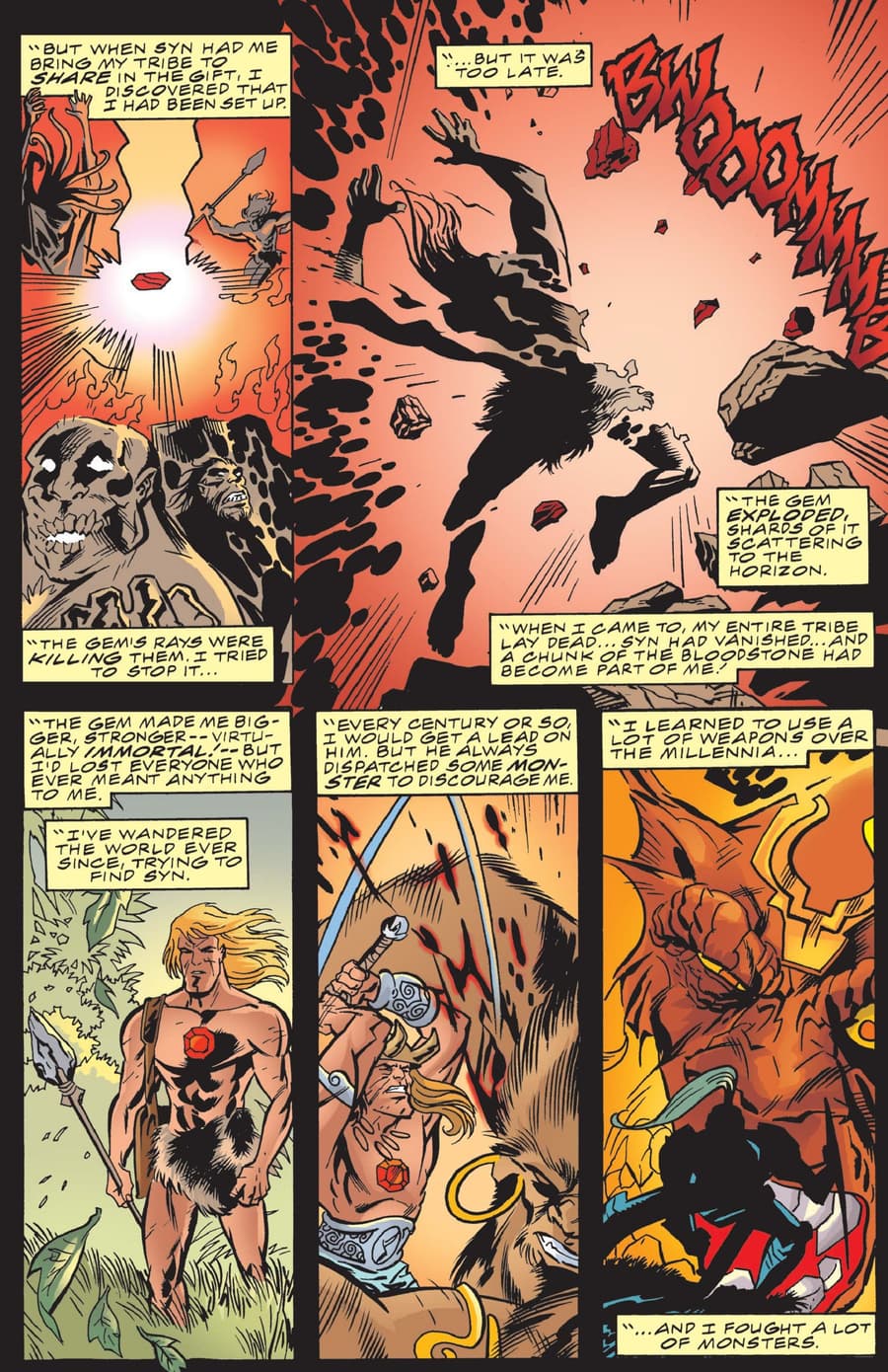 ELISE BLOODSTONE
She may not be a monster hunter, but the Bloodstone name wouldn't live on without Elise Bloodstone. She first appeared alongside her daughter, Elsa, in BLOODSTONE (2001) #1 after Ulysses' death. As established by issue #2 of that series, Elise was aware of Ulysses' reputation as a monster hunter, and that was one of the reasons she was attracted to him. However, they grew apart when Ulysses prioritized his "collecting" over the family. Years later, readers learned that Elise also had a son by Ulysses, whose name is Cullen.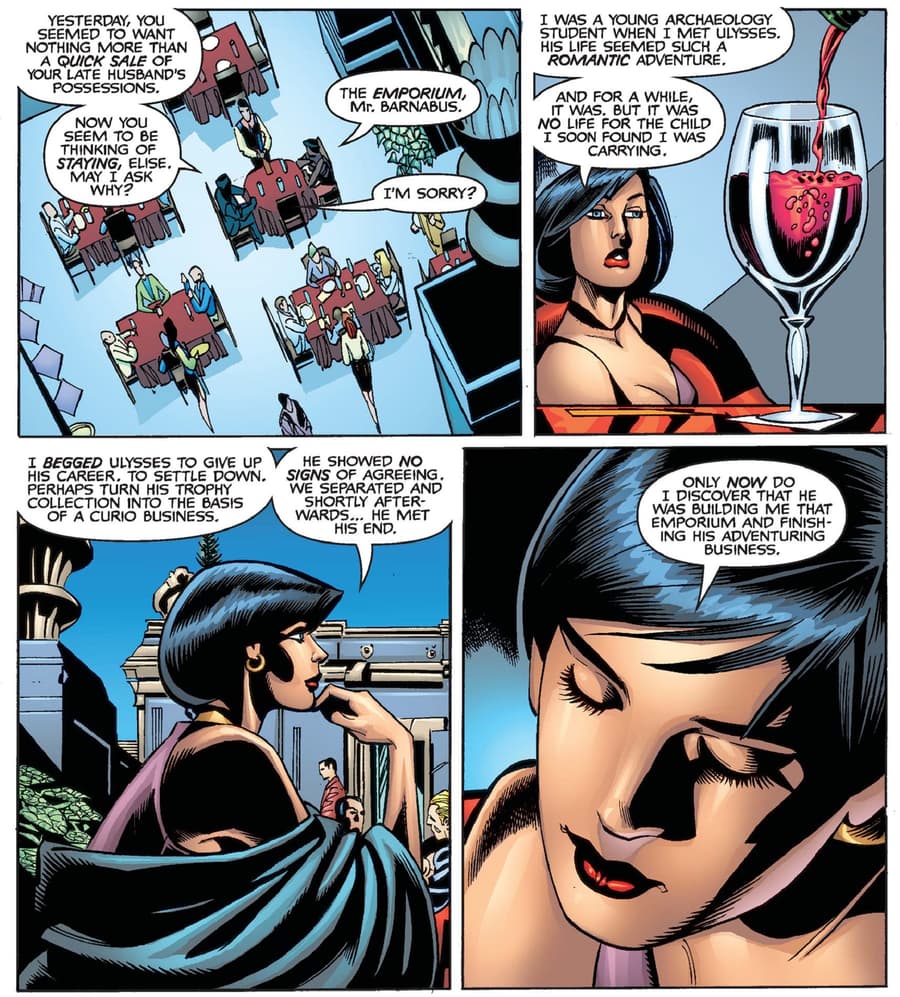 ELSA BLOODSTONE
Thanks to intense training with her father for many years of her life, Elsa followed in his footsteps when she came of age. Elsa even had a piece of the Bloodstone of her own, which she wears around her neck in a choker. She soon made a splash as an agent of super-powered team Nextwave, and became more widely known among the heroic community when she joined Iron Man's Initiative in the aftermath of CIVIL WAR.
There are some indications that the Bloodstone changed Elsa before she obtained a piece of it. She was already immune to vampire bites, but the gem further enhanced her strength, agility, and healing powers. When a piece of the Bloodstone was embedded in her hand, Elsa also gained the ability to shoot energy blasts from the gem.
More recently, Elsa's Bloodstone hand was infected by a Bone Beast in DEADPOOL (2019) #7, which led to Elsa developing a complex relationship with Wade Wilson, AKA Deadpool. At this point in his life, Deadpool was the king of the monsters, and Elsa slowly came to care for Wade and she even helped him rule his kingdom. In issues #8 and #9, their relationship was challenged when she seemed willing to betray Wade in order to save her own life from the Bone Beast's infection. Regardless, they reconciled and faced the King in Black's forces together in issue #10.
[RELATED: Meet Elsa Bloodstone, Marvel's Premier Monster Hunter]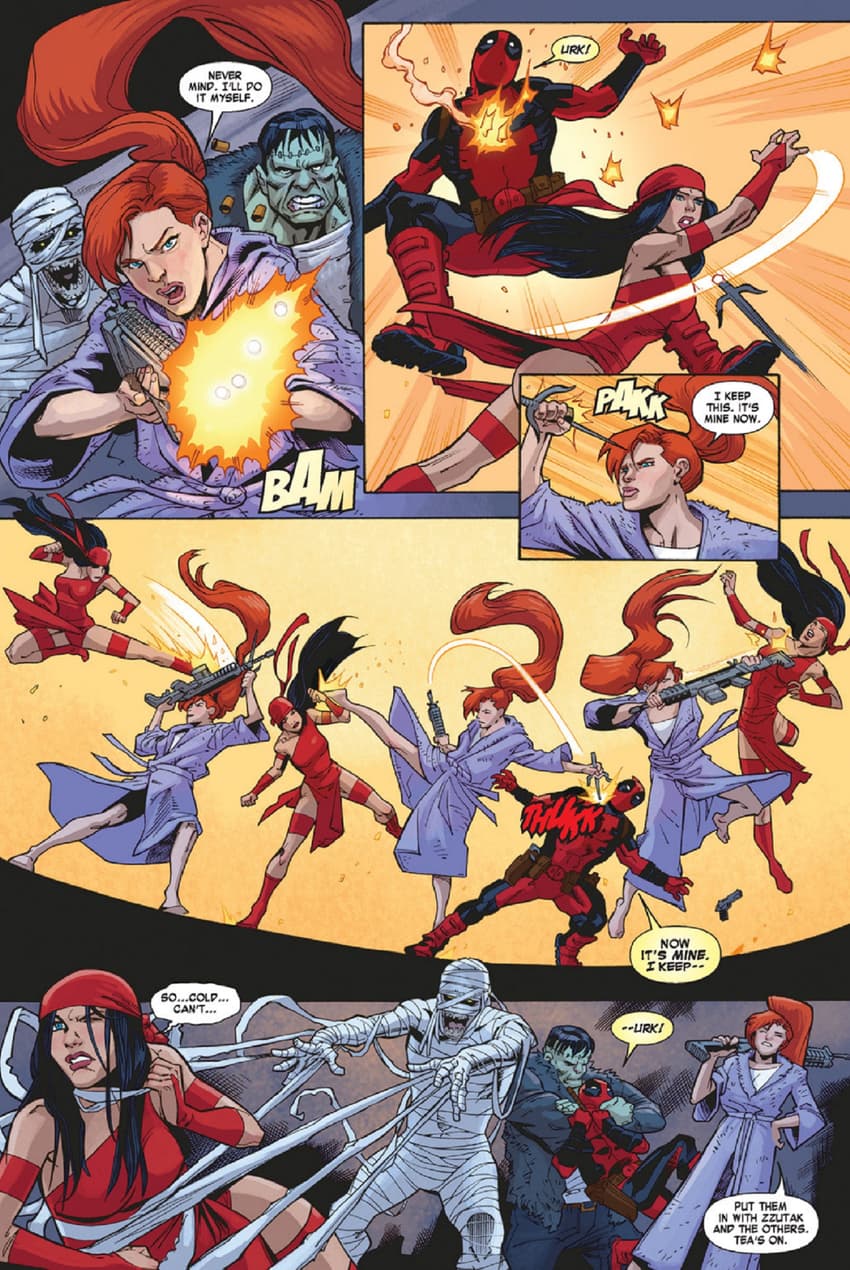 CULLEN BLOODSTONE
AVENGERS ARENA (2012) #1 introduced Cullen Bloodstone, the younger brother of Elsa. He was among the teenage heroes-in-training who were kidnapped by Arcade to take part in a battle to the death with each other. Issue #14 revealed that Cullen was accidentally abandoned in another dimension for two years because Ulysses died before he could retrieve him from an overnight training session. When Cullen escaped from the dimension and returned home, he was physically joined with a monster called a Glartrox.
To save Cullen's humanity, Elsa gave him a ring with a piece of the Bloodstone that helped him repress the inner monster. It also enhanced Cullen's strength, agility, and healing, much like his father and sister. However, Cullen developed a much darker persona and he embraced the life of a villain in AVENGERS UNDERCOVER (2014). Even after he left the Masters of Evil, Cullen willingly hunted heroic mutants from Krakoa in EXCALIBUR (2019) #7-8.
LYRA BLOODSTONE
As it turns out, Elsa Bloodstone was not Ulysses' first child. As revealed in DEATH OF DOCTOR STRANGE: BLOODSTONE (2022) #1, Ulysses' first daughter, Lyra Bloodstone, was born over 10,000 years ago. In order to gain the power to defeat a deadly enemy, Ulysses sacrificed both Lyra, and the mystical object known as the Nullgem. Lyra was exiled from Earth and seemingly doomed to an eternity of solitude before Stephen Strange's death allowed her to return thousands of years later.
Although both Elsa and Cullen were initially suspicious of Lyra, she was able to prove herself in battle. She also told them that the Nullgem was meant to be used in conjunction with the Bloodstone to save their sanity. The Nullgem also has an appetite for magic which gave Lyra the ability to banish the Glartrox from Cullen's body and restore his humanity. Now, for the first time ever, the three surviving children of Ulysses Bloodstone have united as a family. And together, they're more powerful than ever.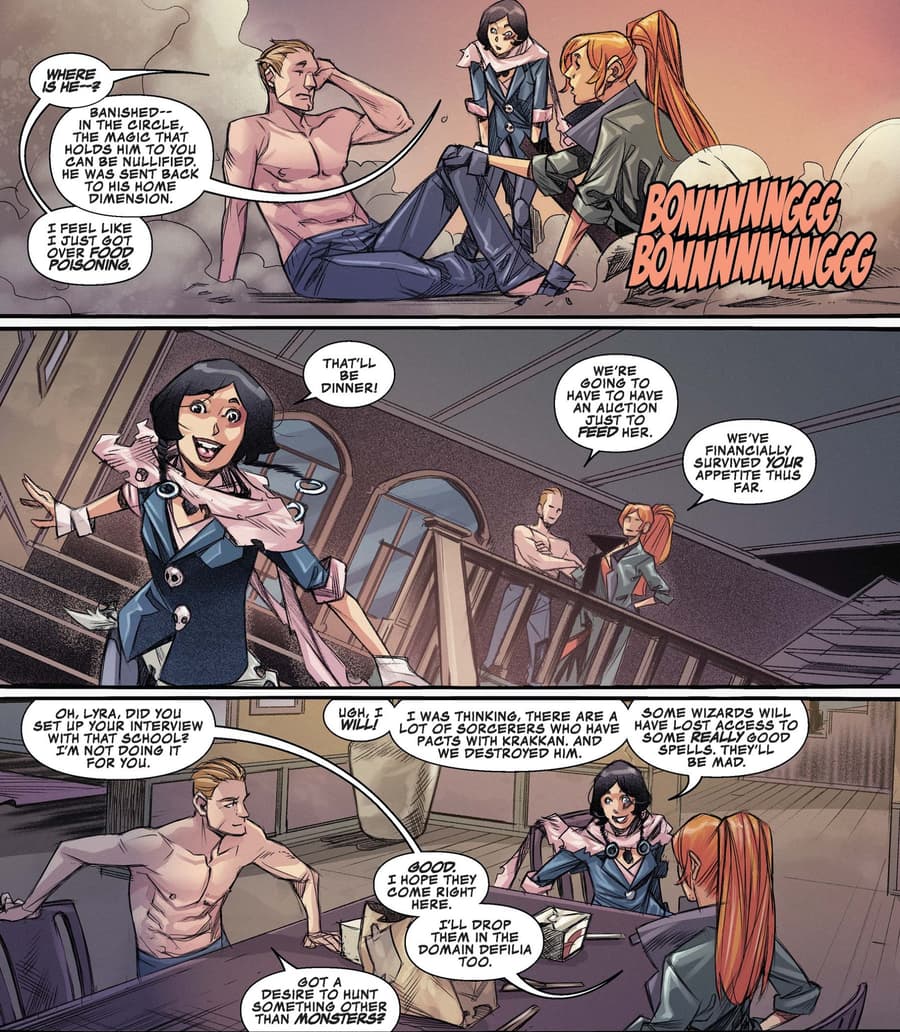 The Hype Box
Can't-miss news and updates from across the Marvel Universe!