Comics
Published September 13, 2023
'Fall of X' Declassified: Rebuilding the Ranks of 'X-Force'
Writer Benjamin Percy briefs us on the changes ahead for the mutant strike team who could be their people's last hope!

The FALL OF X hit all inhabitants of Krakoa hard, but it came at a particularly terrible time for X-Force.
Recent months have seen the mutant team that should be the last line of defense become the first to fall. Betrayals, desertions, and hard feelings have decimated the X-FORCE roster when their kind could use them most. At last count, Sage, Domino, and Black Tom Cassidy remained the few constants seeking to reassemble this shattered puzzle.
Can even such a potent trio succeed in reuniting the team? Will Colossus be able to recover from his brother's manipulations? Does X-Force stand a chance against Orchis?
[RELATED: The Crimes of Colossus]
To answer these questions and more spilling out of X-FORCE (2019) #44, we contacted the man with the plan, series writer Benjamin Percy!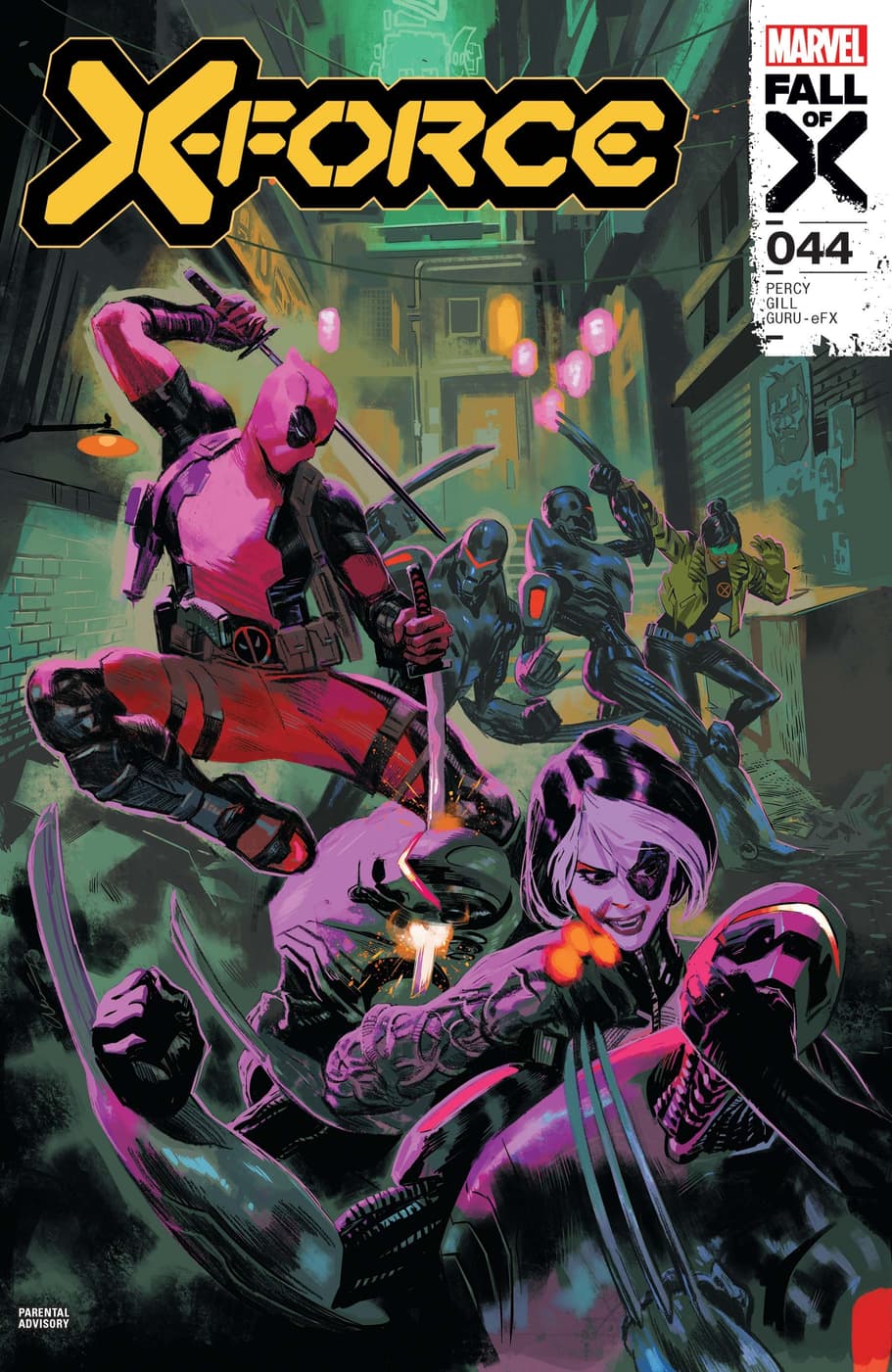 How has the FALL OF X impacted X-Force directly?
BENJAMIN PERCY: X-Force is the CIA of the mutant nation. But Krakoa has fallen. The mutants are dead or in exile. The mission of those who survived must shift. They will become more of an insurgency cell. They're used to operating from the shadows, so this is a natural pivot for them.
We've seen some upheaval over the last few months as far as members coming and going. How are mainstays like Sage and Domino coping with the changes?
BENJAMIN PERCY: Sage was appointed Director of Intelligence—after Beast went rogue—and her position is more desperate and tenuous than ever. Because she doesn't know who is alive and who to trust when X-FORCE #44 kicks off. She and Domino and Black Tom managed to escape the chaos and mayhem of the Hellfire Gala massacre…and they suspect their teammates might still be alive as well, including the traitorous Colossus.
It seems like the overarching story you've been telling with Colossus, his brother Mikhail, and the Chronicler is reaching a crescendo…
BENJAMIN PERCY: That's correct. This story has been simmering since X-FORCE #1, when Piotr returned from Russia with a boatful of refugees and began to immediately act creepy and cagey. And it is coming to a head now. At last, Mikhail's plans have been set into motion—but they've come crashing up against the Orchis incursion. So—like everyone else—Mikhail and the Chronicler are in a state of readjustment, reassessment. They need to figure out the best way to move forward and how Colossus—as a pawn controlled by the Chronicler—will fit into their plans.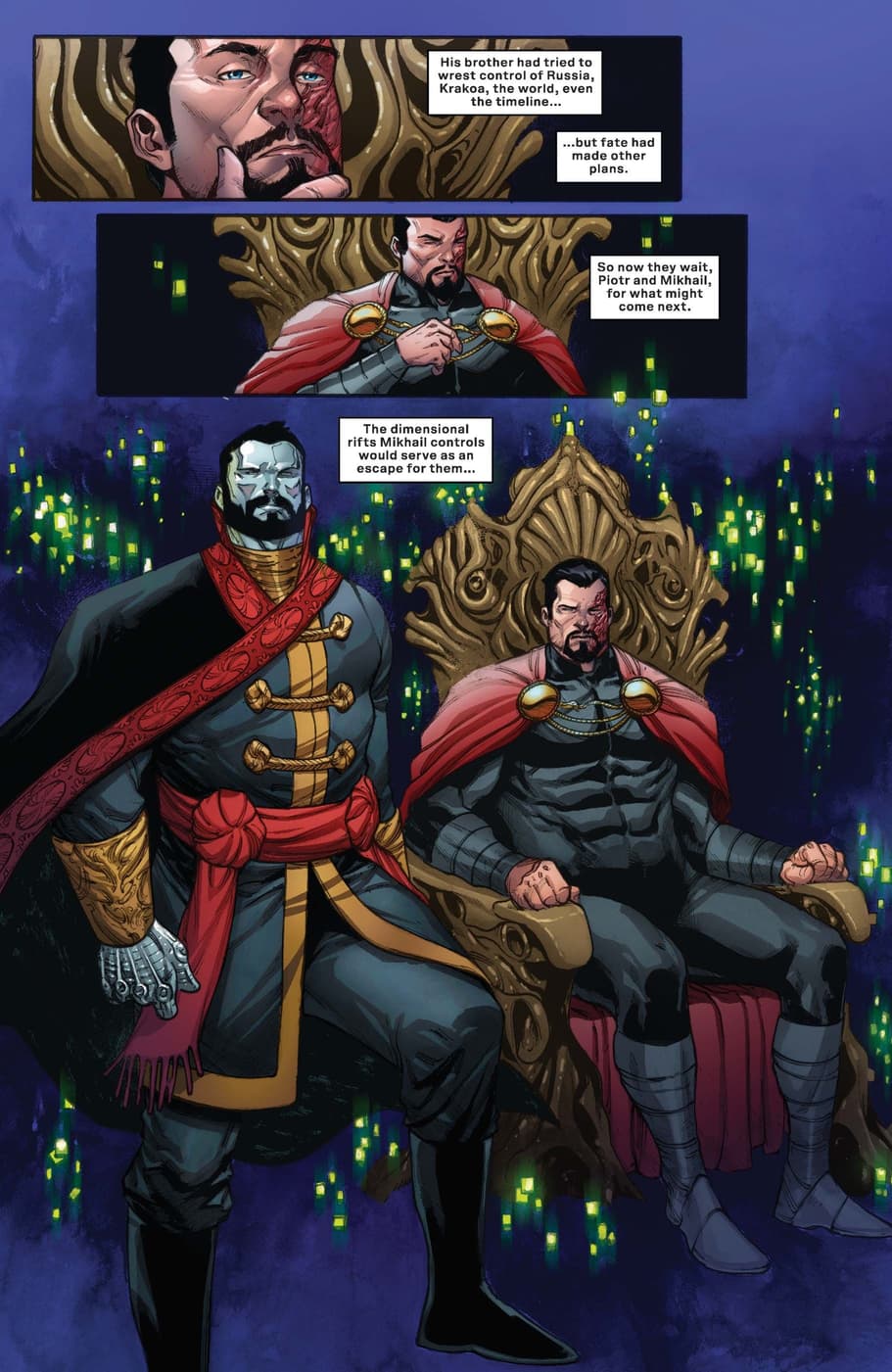 Orchis is an all-encompassing enemy for mutantkind with tendrils reaching every corner of the X-Men universe. Which parts of this group will X-Force be contending with?
BENJAMIN PERCY: In the months to come, you'll see lots of Orchis in both X-FORCE and WOLVERINE. There will be Stark Sentinels and hijacked ships and robo-Wolverines, etc. But I'll call attention now to a character we're introducing named Jun Wei, who is a kind of lieutenant within Orchis who has a long, embittered history with the mutants.
Robert Gill, Guru-eFX, and Joe Caramagna have been the art crew on X-FORCE for a good while now with Tom Muller and Jay Bowen on design. Can you speak to how this creative team works together and what everybody brings to the table?
BENJAMIN PERCY: We're a well-oiled machine at this point. X-Force—and this team—has been rolling strong together for a long time, so everyone knows the troubled characters, the shadowy vibe, the mayhemic standards. I'm lucky to join forces with all of them.
Pick up X-FORCE #44, available now, and be ready for the next issue, coming October 4!
Grab these comics and more at your local comic book shop! Or redeem then read your digital copy on the Marvel Unlimited app by using the code found in your print comic. Find and support your local comic book shop at ComicShopLocator.com.
To read your Marvel comics digitally, download the Marvel Unlimited app for iOS and Android devices. Gain an expansive catalog of 30,000+ comics spanning Marvel Comics history, plus access your entire digital library including comics redeemed from print.
The Hype Box
Can't-miss news and updates from across the Marvel Universe!