Comics
Published August 6, 2020
Get Ready for a New Year of Stories with Spider-Man, Venom, and the X-Men
Read this year's Free Comic Book Day issues on Marvel Unlimited or the Marvel Comics App.
READ BOTH FCBD ISSUES HERE!
WARNING! THIS ARTICLE CONTAINS SPOILERS FOR THIS YEAR'S FREE COMIC BOOK DAY, SO READ ON AT YOUR OWN RISK, TRUE BELIEVERS!
Marvel Unlimited and the Marvel Comics App have just dropped 2020's Free Comic Cook Day issues, all to prepare you for a year of stories and major events to come. FREE COMIC BOOK DAY SPIDER-MAN/VENOM #1 and FREE COMIC BOOK DAY X-MEN #1 can be read for free digitally, two full-length, standalone stories that tease what's right around the corner on the island of Krakoa, and in Spider-Man and Black Cat's Friendly Neighborhood.
Fortunately, MU and the Comics App have all of the issues that help set the stage for these FCBD specials. Light spoilers ahead in our recommended prelude reading!
Jed MacKay and artist Patrick Gleason's Spider-Man and Black Cat story leads off FCBD SPIDER-MAN/VENOM #1. It's largely an extension of MacKay's run on BLACK CAT (2019) #1-9, available now on the Comics App. After backsliding into villainy for years, Black Cat officially patched things up with Peter Parker in AMAZING SPIDER-MAN (2018) #8-9. Peter even shared his secret identity with Felicia Hardy, which allowed her to reclaim all of her memories of their time together.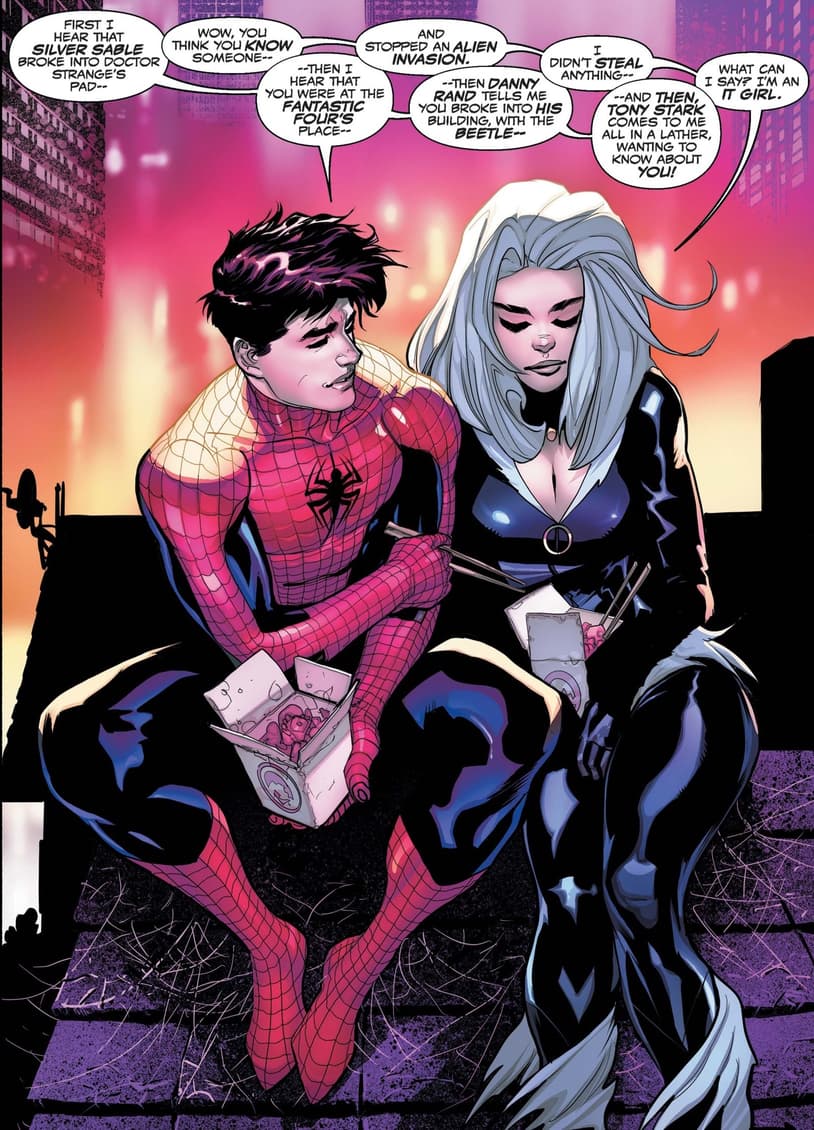 MacKay and Gleason's tale also follows up on the HUNTED storyline, the Super-Villain team-up spree where Spidey and Black Cat crossed paths with the Vulture. Vulture finally gets his comeuppance here, but the ending hints that he may be seeking vengeance the next time he shows up.
Donny Cates and artist Ryan Stegman close out this FCBD issue with a Venom story that takes place immediately after VENOM (2018) #25. It's a good idea to read VENOM (2018) #1-25 and ABSOLUTE CARNAGE before diving into this one since both cover how Brock came to be involved with the Elder Gods in the first place. It was Cates and Stegman's VENOM run that introduced Knull too, the God of Symbiotes, and the Celestial-level threat heading to Earth later this year in THE KING IN BLACK. Within the FCBD story, Venom faces the initial consequences of hiding his knowledge on Knull from the Avengers.
[RELATED: The Next Shocking Chapter in Donny Cates and Ryan Stegman's Venom Saga Revealed]
Knull does (inevitably) arrive, except Venom has a more pressing problem. Cates and Stegman also introduce Eddie Brock's latest adversary here, a commando named Virus. His identity may still be hidden, but Virus has already given Venom all he can handle in a fight.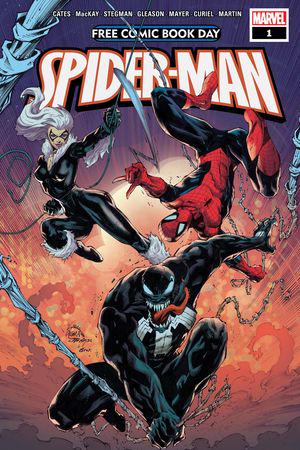 Free Comic Book Day: Spider-Man/Venom (2020) #1
published

added to marvel unlimited

penciler

penciler (cover)

writer

editor

colorist

colorist (cover)

inker

letterer

inker (cover)
What is Marvel Unlimited?
If you've been keeping up with the Dawn of X, then FCBD X-MEN #1 is a suitable primer for what's coming next for Marvel's mutant heroes. But if you need to narrow it down, read X-MEN (2019) #1-10 and EXCALIBUR (2019) #1-9 ahead of time. Jonathan Hickman and Tini Howard, the writers of those respective titles, teamed up to script this issue's lead tale. Artist Pepe Larraz also returned to the X-Men after his outstanding run on HOUSE OF X.
The new story is an extended teaser for X OF SWORDS, the mystically-bent X-Men crossover event coming later this year. Saturnyne, the Omniversal Majestrix and Keeper of the Celestial Palace (essentially a Queen Guardian of the Multiverse), conducts a Tarot Card reading that prophesizes some dark hints about the threats that lie ahead.
[RELATED: Mysterious Challengers Emerge to Face Off Against the X-Men in 'X of Swords']
Finally, FCBD X-MEN #1 closes out with a teaser for Tom Taylor and artist Iban Coello's DARK AGES. This alternate universe story takes place in a world where all technology faces sudden failure, just when Iron Man and Captain America need it the most. How are the Marvel Universe's biggest players going to handle the loss of their high-tech toys? We'll see how they fare later on in 2020.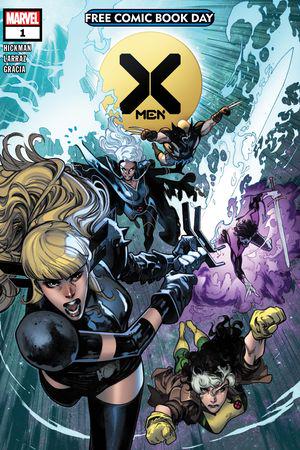 Free Comic Book Day: X-Men (2020) #1
published

added to marvel unlimited

colorist

colorist (cover)

editor

inker

inker (cover)

penciler

penciler (cover)

letterer

writer
What is Marvel Unlimited?
For more of Marvel's greatest comic books in print, please reach out to your local comic book shop to ask about services they may offer, including holding or creating pull lists, curbside pick-ups, special deliveries and other options to accommodate. Find and support your local comic book shop at http://comicshoplocator.com.
The Hype Box
Can't-miss news and updates from across the Marvel Universe!