Comics
Published February 18, 2020
'Gwen Stacy' #1: All the Gwens We've Ever Loved
You heard the conversation on This Week in Marvel, now read about all the different versions of Gwen Stacy!
On the most recent episode of This Week in Marvel, Ryan "Agent M" Penagos and Lorraine Cink dedicated a segment to every Gwen in the Marvel Universe, from Earth-616 and beyond. The reason? The original Gwen Stacy is getting a new story written by Christos Gage with art by Todd Mauck that takes place before Gwen met Peter Parker. GWEN STACY #1 is on sale now!
Any discussion about Gwen Stacy and all the versions of her living in the multiverse must begin with the original. For a character who was only initially around for eight years, Gwen Stacy made an undeniable impact. She entered Peter Parker's life in 1965's AMAZING SPIDER-MAN #31, when they both attended Empire State University. Gwen liked what she saw in the quiet boy, but he had his mind on other things, like his sick Aunt May and being Spider-Man!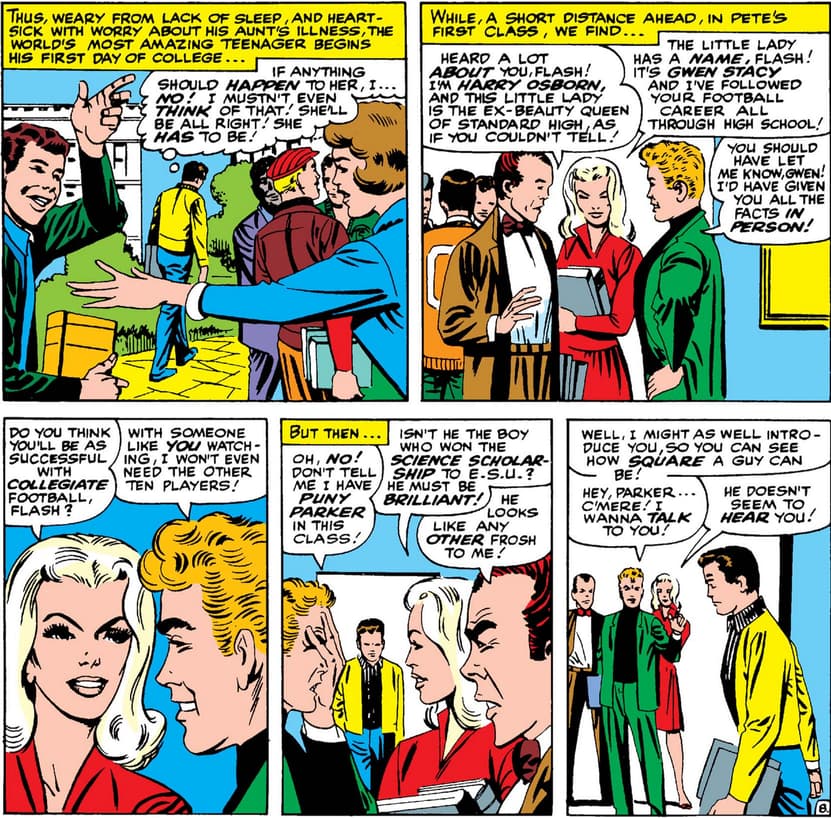 Eventually, the two began dating. Even her dad, Captain George Stacy liked Peter! However, the good times did not last as George was crushed under rubble created by a battle between the Wall-Crawler and Doctor Octopus in AMAZING SPIDER-MAN #90. Their relationship took some understandable hits after that point, but would not last much longer. In the now-infamous AMAZING SPIDER-MAN #121, the Green Goblin, now knowing his nemesis' secret identity, showed up at Peter's apartment to exact his vengeance. Instead of the hero, though, he found Gwen.
Seeing a way to truly break his enemy, the Goblin snatched Gwen, knocked her out and flew to the top of the George Washington Bridge. There, he gave his foe an ultimatum: kill yourself or Stacy dies. The costumed characters fought hard, but just as Spidey ran to check on his girlfriend, the Goblin swooped down, knocking her off the bridge. The Web-Slinger was able to grab her by the lower leg with his webbing – but his attempt to save her life snapped her neck, killing her instantly, an act that has stuck with Peter ever since.
However, thanks to the glory of comics and alternate realities, we can still enjoy Gwen in a variety of different forms. Right now, a version of the character can be seen headlining not one, but two of her own books! GHOST-SPIDER continues the adventures of the alternate universe hero originally dubbed Spider-Gwen who debuted during the SPIDER-VERSE event back in 2014. The other, GWEN STACY, digs into her pre-Empire State University days in this universe.
Spider-Man editor Nick Lowe, plus the writers of both books — Seanan McGuirea and Christos Gage — talked about their favorite Gwens on This Week in Marvel.
Nick Lowe, the self-proclaimed "world's number one Gwen Stacy fan," called the character "Marvel's first sweetheart." He added that even though she died so long ago, her story contains a great deal of mystery, which adds to her ever-present popularity. It also helps that she's compassionate, fun, courageous, and empathetic, which made her one of the more fleshed-out female characters of her time. She was more fleshed out than a lot of female characters at the time. "We only scratched the surface," Nick noted.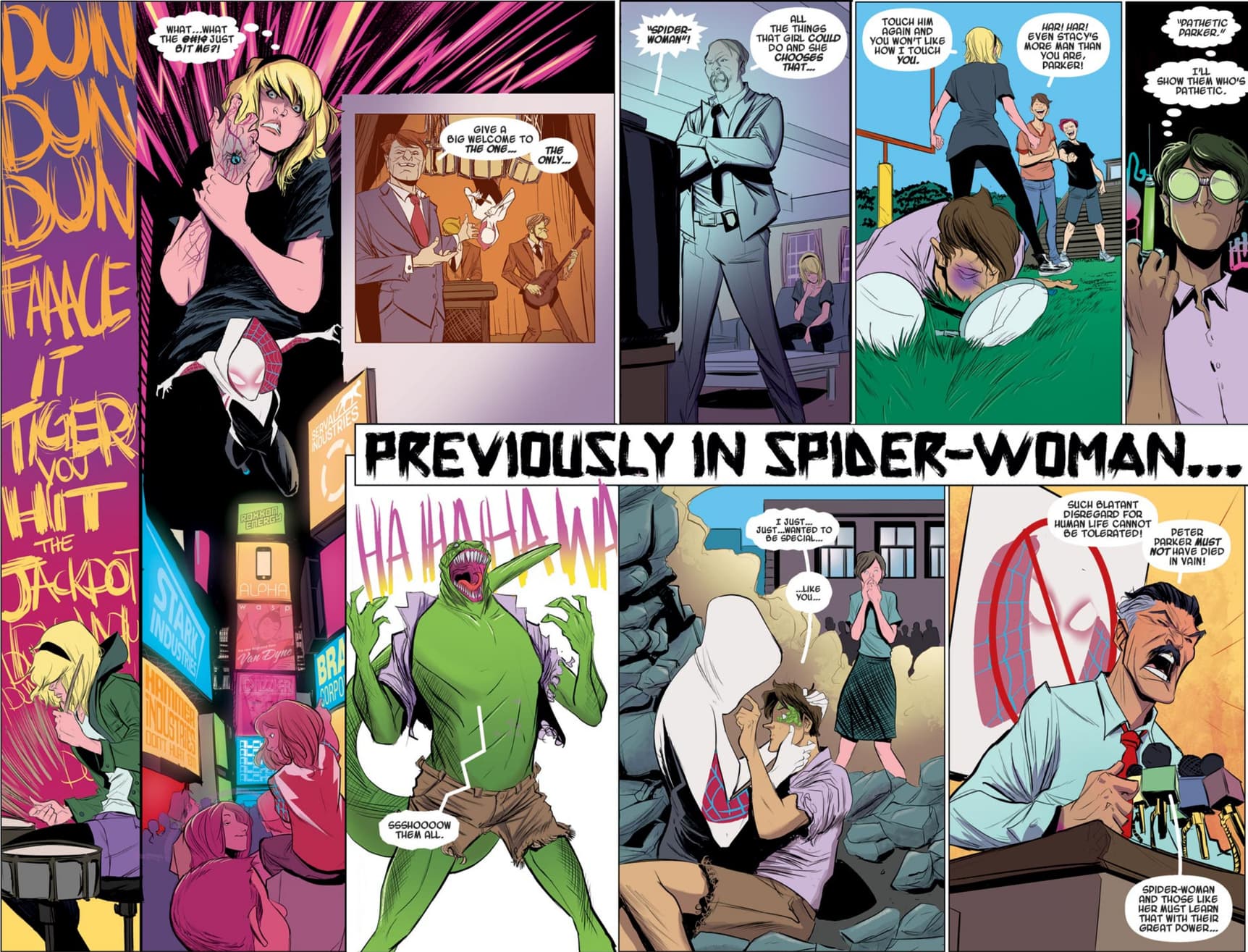 Of course, the main Gwen on most peoples' minds nowadays — thanks to her appearances in both Spider-Man: Into the Spider-Verse and Marvel Rising — hails from Earth-65. This teen version not only has spider-powers, but is also a drummer in a punk band – the Mary Janes – and decked out in one of the best costumes of the past decade! However, according to McGuire, she's got even more going on than all that:   
"Gwen Stacy is a young woman still trying to figure out that balance in her life between super-heroics and humanity and trying to figure out how to balance everything," McGuire said. "She wants to have it all, which I think is a very normal response to being in your late teens/early 20s. You want to do everything, be everything, experience everything. And since Gwen has super powers, that's even more intense for her."
Take all that and add in her relationship with her dad and the ability to hop from universe to universe and you have a person dealing with all manner of possibilities and trying to figure out what to do with her own life.
"Everyone loves Gwen Stacy," McGuire said. "She's a part of our Marvel DNA at this point."
Gage will continue to explore the origins of that DNA with GWEN STACY, which he said takes place on Earth-616 circa AMAZING SPIDER-MAN #25-27. This story will look at an unexplored adventure from Gwen's high school days when she got mixed up in one of her father's cases.
"She's had a lot of bad stuff happen to her, since she was a little kid," Gage said. "She never lets it crush her faith. And that, I think, more than anything else, is what we wanted to explore, put to the test, and see what made her into that person that she was when Pete met her."
"It's a cool story about a young woman who's getting in way over her head, but you kind of believe in her because — it's like Veronica Mars — she's got the toughness and the attitude and the bravery to sort of punch above her level. And she really cares about the people around her and that's sort of her super power."
There are quite a few other versions of Gwen that people just can't get enough of. Take the one from Earth-8 who appeared in SPIDER-GWEN #18 as part of the "Sitting in a Tree" crossover with Miles Morales (SPIDER-GWEN #16-18 and SPIDER-MAN #12-14). "Miles and Gwen and their kids are basically the Fantastic Four of this universe," Lowe explained. These Spiders have been married for 20 years. We didn't actually get to see those two in action, but their kids Max and Charlotte helped the alternate reality versions of their parents tackle their own dimension-spanning problem!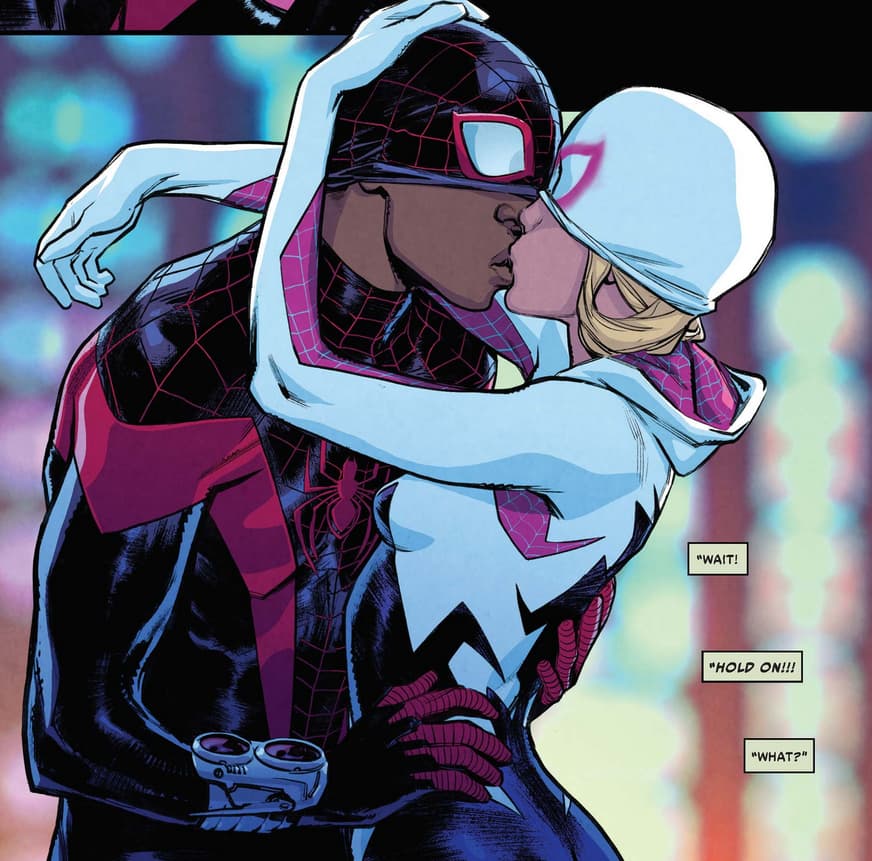 Just one universe over from the main one, on Earth-617, a Gwen debuted in SPIDER-GWEN #29 whose life was going along much like her 616 counterpart's until she met Spider-Gwen, who had bonded with the Earth-65 version of Venom. Having helped her other self return home, 617 Gwen changed her whole life. Instead of dying at the hands of the Green Goblin, she bonded with her own symbiote and become an adventuring science-detective. She even joined a Council of Spider-Women who remain unseen even by the Watchers. "It's hard to go wrong with a Gwen," Lowe said.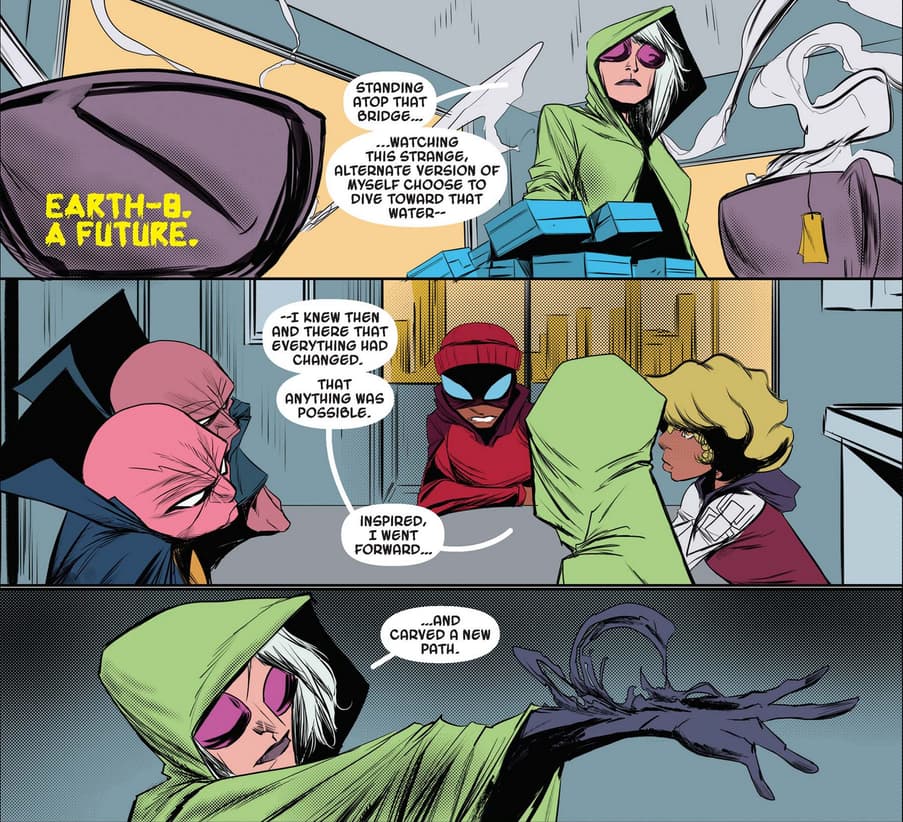 Another Gwen Who Lived can be found in the pages of WHAT IF #24. In that reality, Spidey jumped down to get her instead of using his webbing and saved her life! The pair even got married, but before supposedly turning over a new leaf, the Green Goblin had sent Spider-Man's secret identity to J. Jonah Jameson. The Daily Bugle editor burst into the ceremony with police officers looking to arrest the groom! He ran off and the issue ends with Parker wondering what he should do as the most wanted man in New York City! "It is absolutely heartbreaking," Lowe said. "We can't have nice things because that would be boring."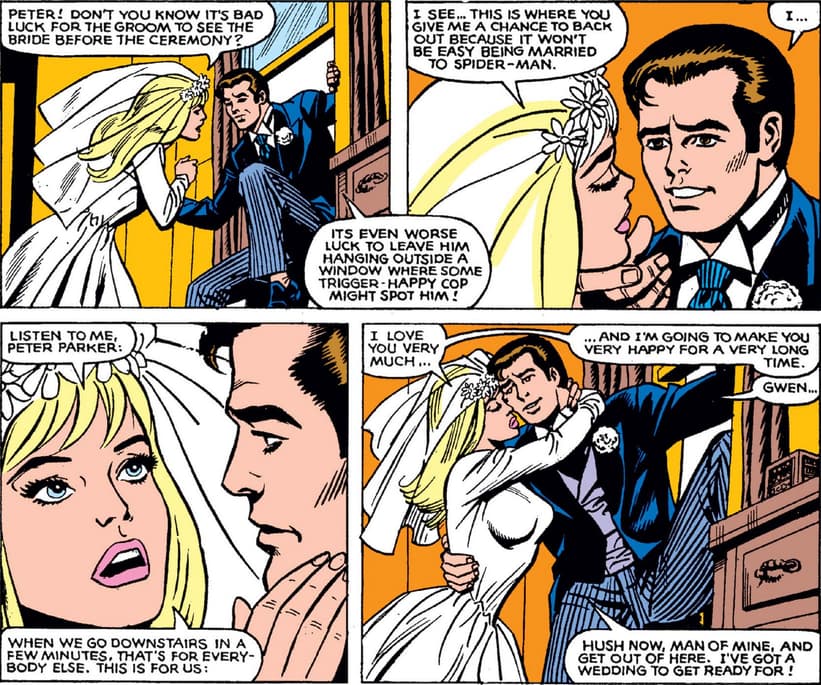 During the reality-hopping SPIDER-GEDDON event, a new SPIDER-GWEN: GHOST-SPIDER series launched. Gwen-65 wound up on Earth-3109, where her alternate self and Peter Parker scored sweet Oscorp internships until Harry Osborn turned into Spider-Man. Gwen developed her own Green Goblin gear to help him in the field. Everything was going great until one fateful day when both Spider-Man and Gwen's father died during a fight with Sandman. Pushed beyond her breaking point, Gwen Goblin's mind snapped and she could only remember her life as a costumed hero, not her civilian one. After our Gwen helped that one, Gwen-3109 worked out a way to get Spider-Gwen back in the Spider-Geddon action.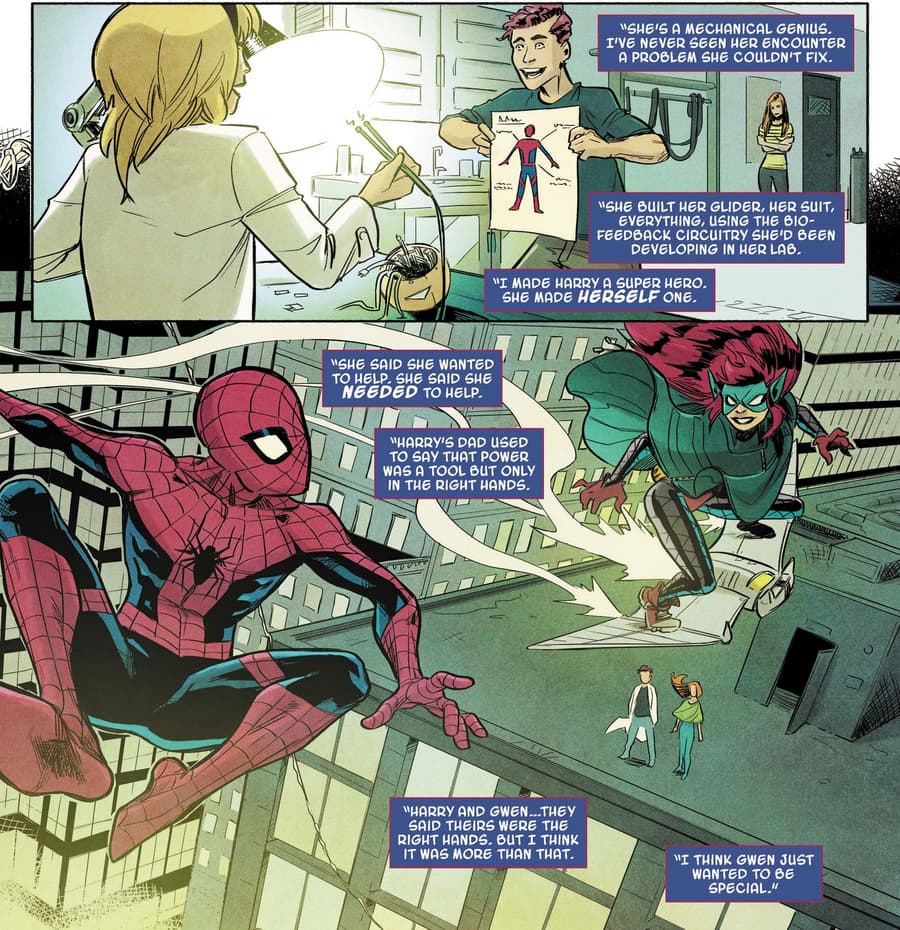 There's one more fun take on Gwen that we just have to talk about. This one was introduced on the Chris Samnee variant cover of OLD MAN LOGAN (2015) #2. That's when Gwenverine made her savage debut! The character then briefly appeared in another alternate reality jamboree ever so briefly when Mojo got a bunch of Logans to fight in SECRET WARS: BATTLEWORLD #3! This proves once and for all that the hood looks good, no matter the power set! Go Gwen!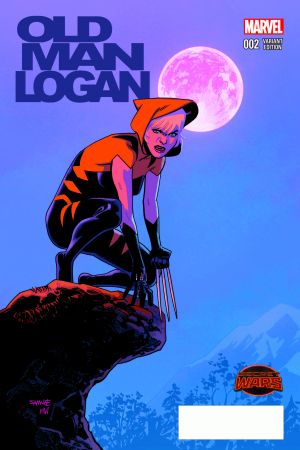 The Hype Box
Can't-miss news and updates from across the Marvel Universe!