Comics
Published April 14, 2022
X-Men Artist Russell Dauterman Reveals His Designs for This Year's Hellfire Gala
Check out all 11 of Dauterman's stunning Hellfire Gala designs and learn about his inspiration behind each look!
This June, mutantkind is hosting another night of captivating drama, high stakes action, and exposed secrets in X-MEN: HELLFIRE GALA #1. Making sure your favorite characters hit Krakoa's Green Carpet in style, superstar artist Russell Dauterman is back leading a handful of the industry's most inventive artists in redefining Marvel fashion. Dauterman will contribute 11 new looks, the majority of which will also be featured on variant covers throughout the month of June.
At last year's Hellfire Gala, fans were mesmerized by jaw-dropping fashion moments from Emma Frost's dazzling trio of Dauterman-designed pieces to Colossus' unforgettable look by artist Lucas Werneck. This year will be no different – only this time around, mutants won't be the only ones making fashion statements! The Hellfire Gala will be a night packed with repercussions for the entire Marvel Universe, and heroes from every corner will be in attendance.

"I'm so thrilled to do all this design work!" Dauterman says. "My general thought with the Gala designs is that they should be high fashion super hero costumes — looks that reflect the characters' personalities, and could work on a runway or a battlefield."

Take a peek at Dauterman's original design sheets below and get the inside scoop on his thought process for each one.
Wolverine
Last year, Wolverine was voted to be a member of Krakoa's first team of X-Men. Whether she wants to continue on the team or lend her claws elsewhere remains to be seen. Her Hellfire Gala look finds her reconnecting with her former goth style.

"I went for a pop-punk vibe with Laura's design — Rina Sawayama, Dua Lipa, Avril Lavigne, mixed with Frank Quitely's very cool New X-Men aesthetic," Dauterman reveals.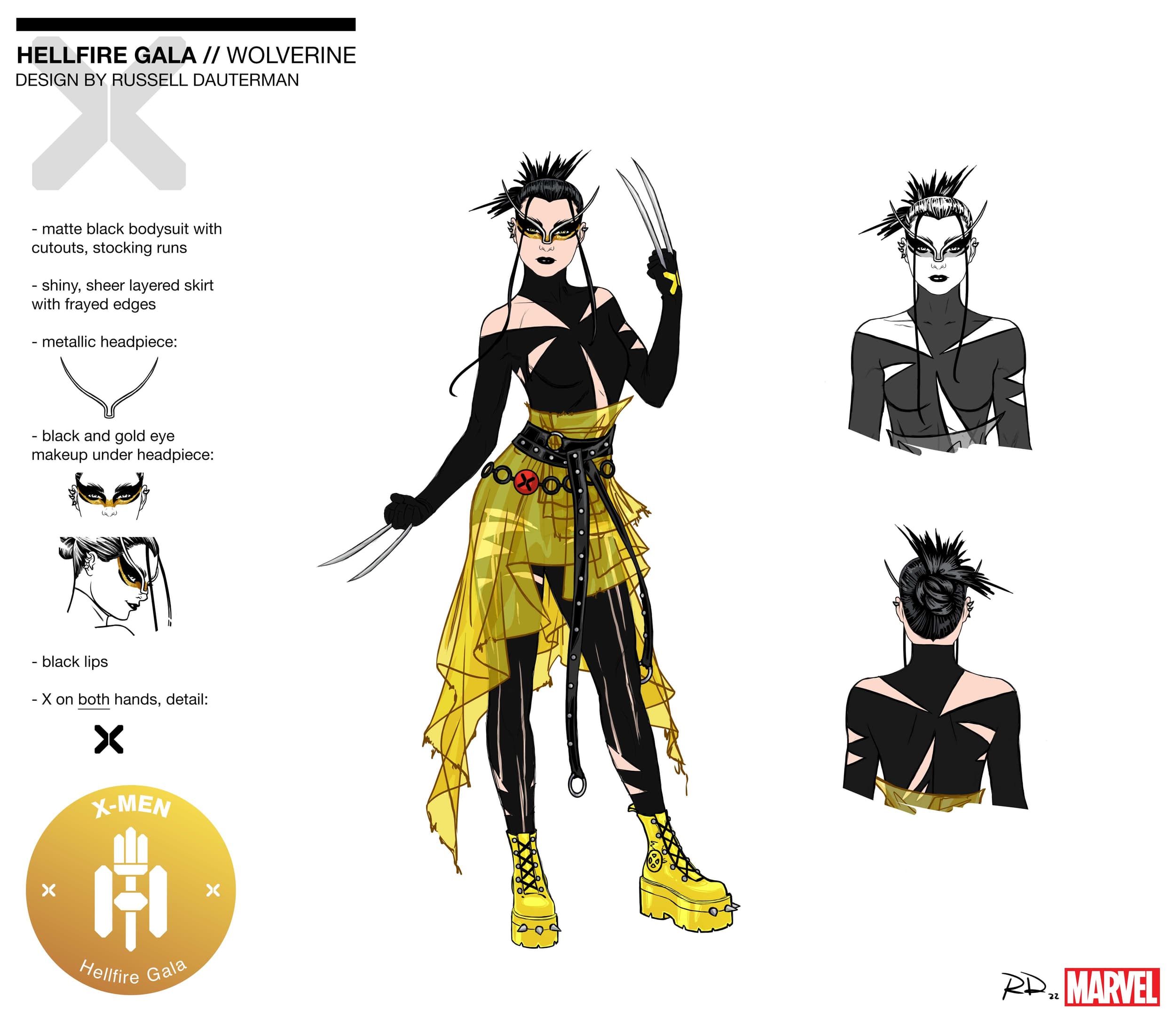 Scarlet Witch
Last year's Hellfire Gala didn't end well for Wanda, but now she returns redeemed and embraced by Krakoa, adorned in one of her most gorgeous looks to date.  

"Wanda is one of my favorite characters, so I jumped at the chance to design her!" Dauterman recalls. "I leaned into magical iconography and referenced a few of Scarlet Witch's past costumes — plus nods to her son Wiccan, and to her sister Polaris (from the MAGNETO: DARK SEDUCTION era)."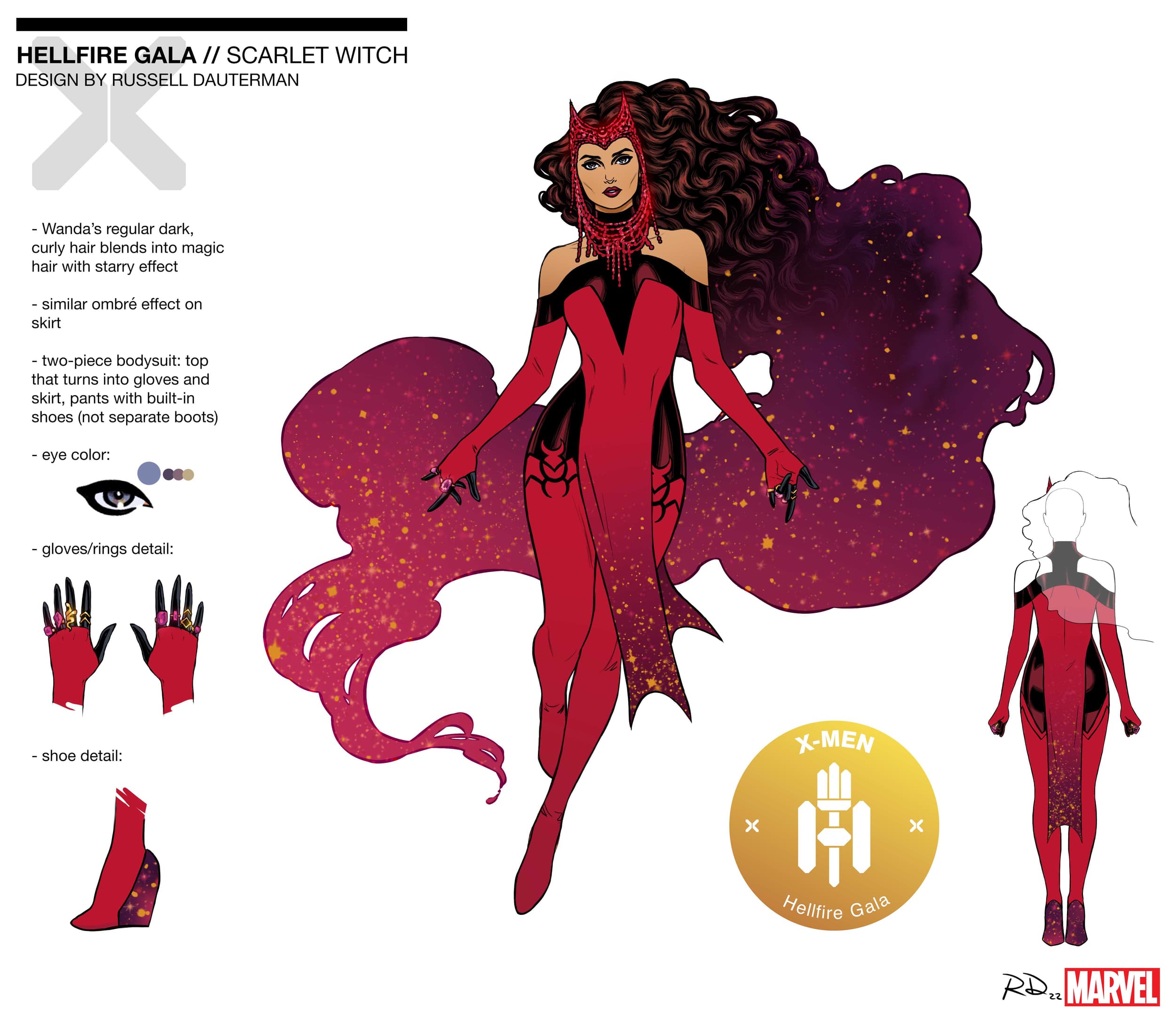 Doctor Doom
He may be one of Krakoa's biggest detractors but after the world-changing moves that occurred at last year's Hellfire Gala, Doom wouldn't dare snub an invite. His outfit of choice showcases his power and reminds the X-Men that he rules a country of his own.

"Doom is pretty over-the-top generally, so I picked fashion elements to heighten that — going for a baroque, regal look," Dauterman explains. "He's got a heavy fur cloak with train, a Roman toga-inspired sash, and a more decorative mask."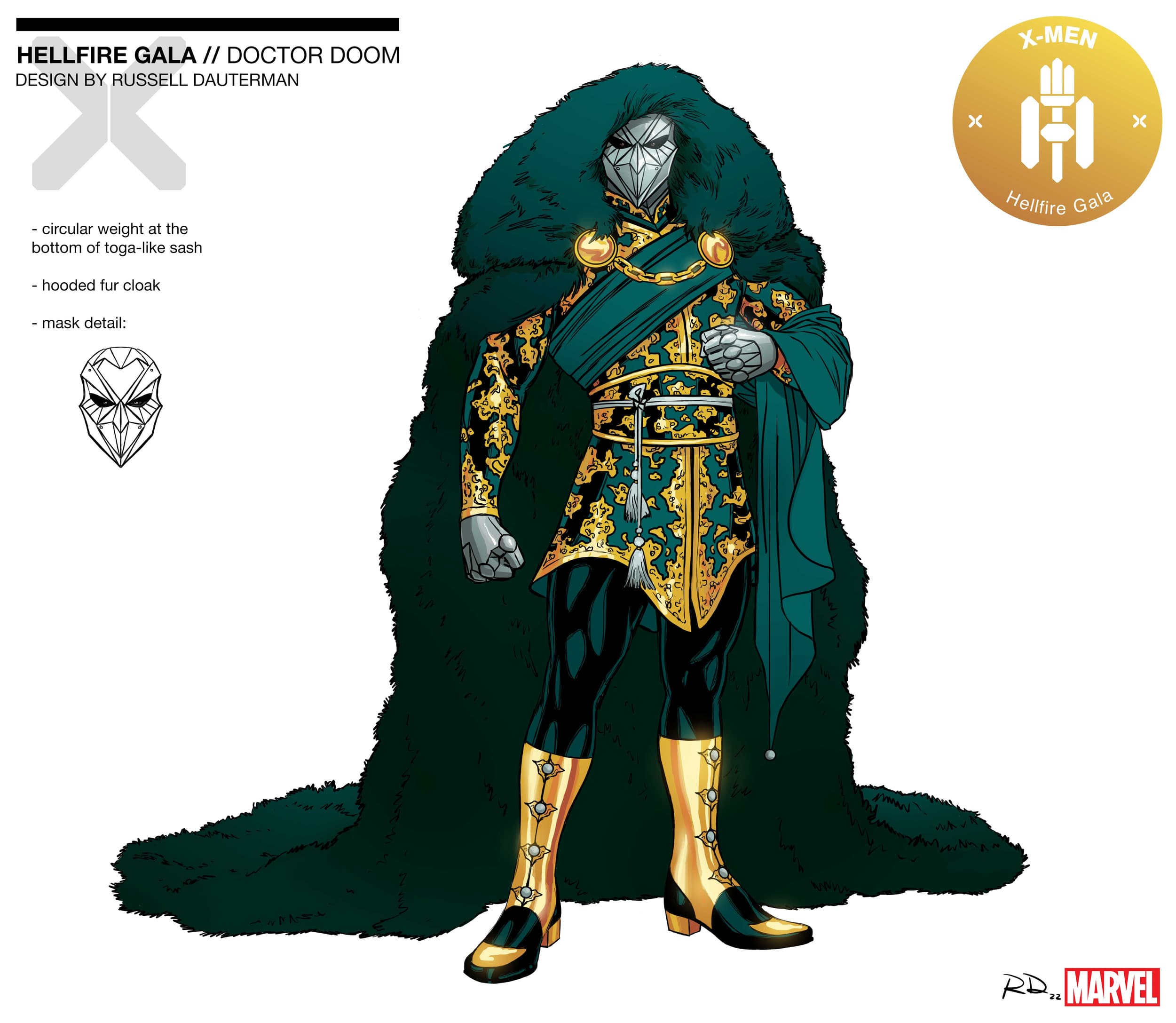 She-Hulk
An ally to mutantkind on the battlefield and in the courtroom, Jen's wit and super-strength is always welcome on Krakoa, and she's showing off both in this fun, fresh look.

"I designed a Chanel-inspired logo symbol for Jen — and tried to emphasize her muscles by contrasting them with delicate things: flowy fabric, thin heels, pearls," Dauterman says.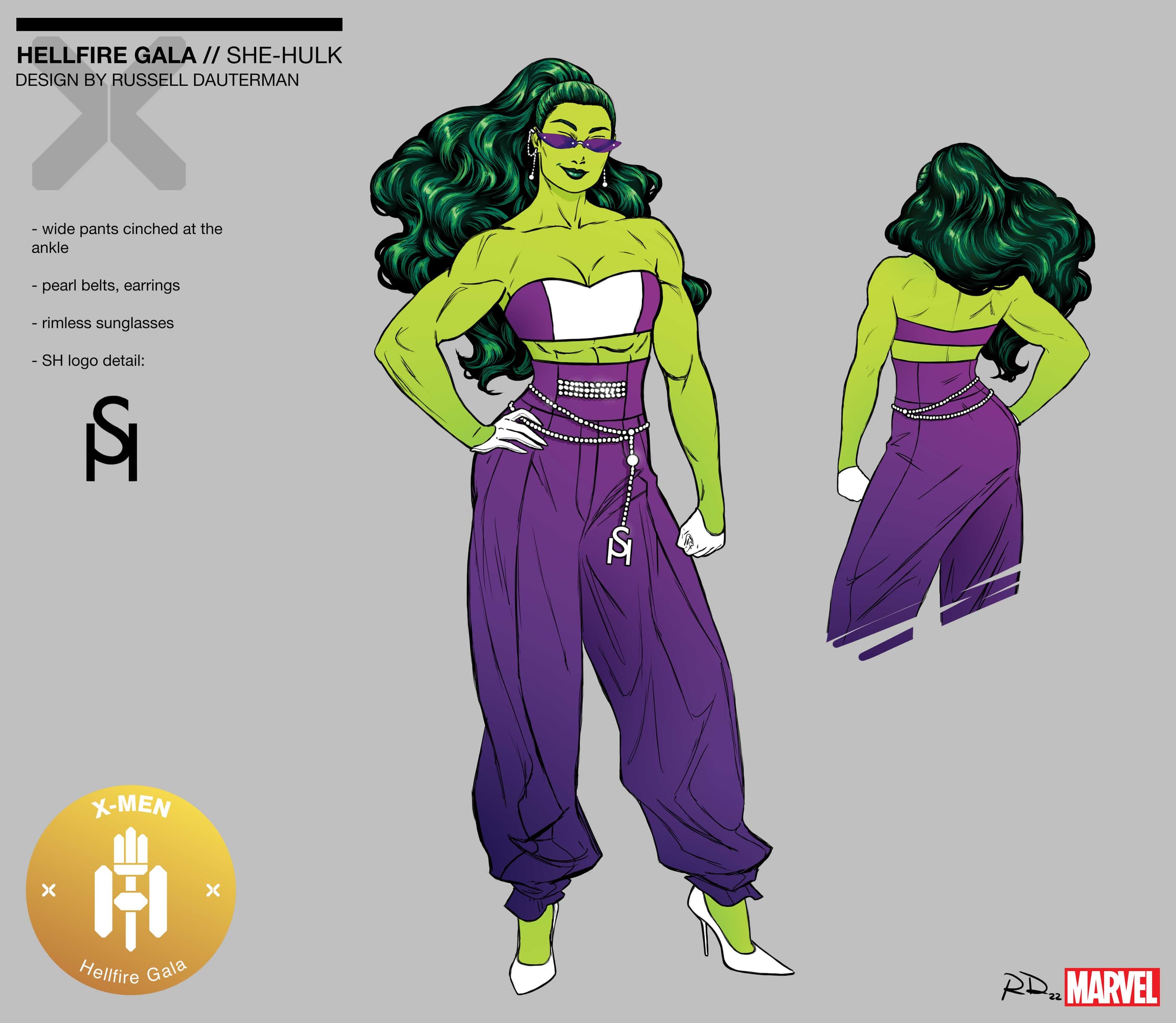 Gambit
Always ready to steal hearts, Gambit's charm and attractiveness is on full display this year. Let's hope his upcoming quest into Otherworld doesn't prevent him from attending…

"I tried to strike a balance between sexy and sleazy — an even more rakish take on Gambit's classic costume," Dauterman explains.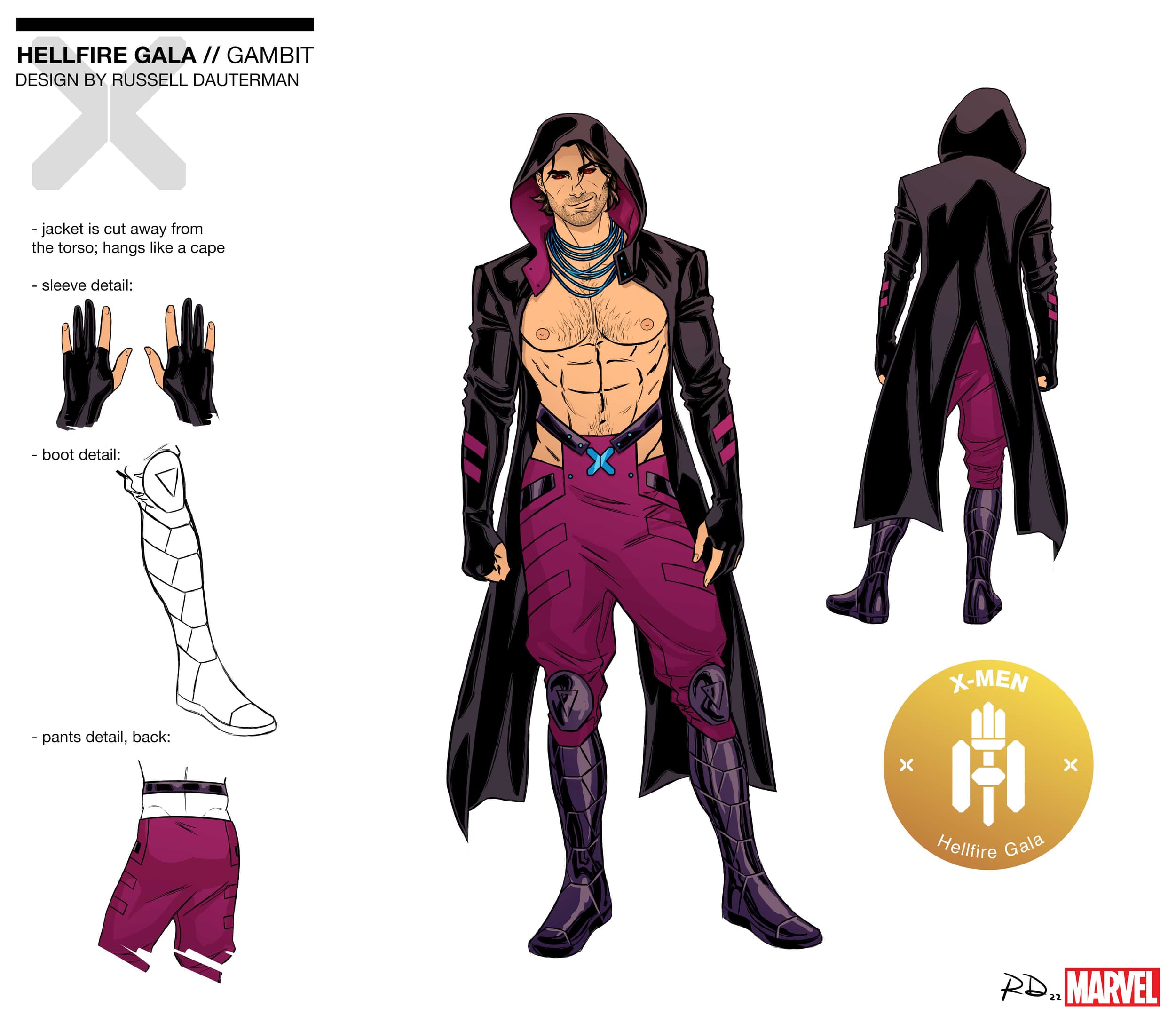 Black Widow
Capturing the mystery and allure of Marvel's premiere super spy, this deadly number shows off Black Widow's timeless style. 

"I did some variations of this as a dress, but I like it best as a catsuit — sleek and sexy, but also stealthy," Dauterman recalls. "The face covering is a nod to Natasha's look in her first appearance."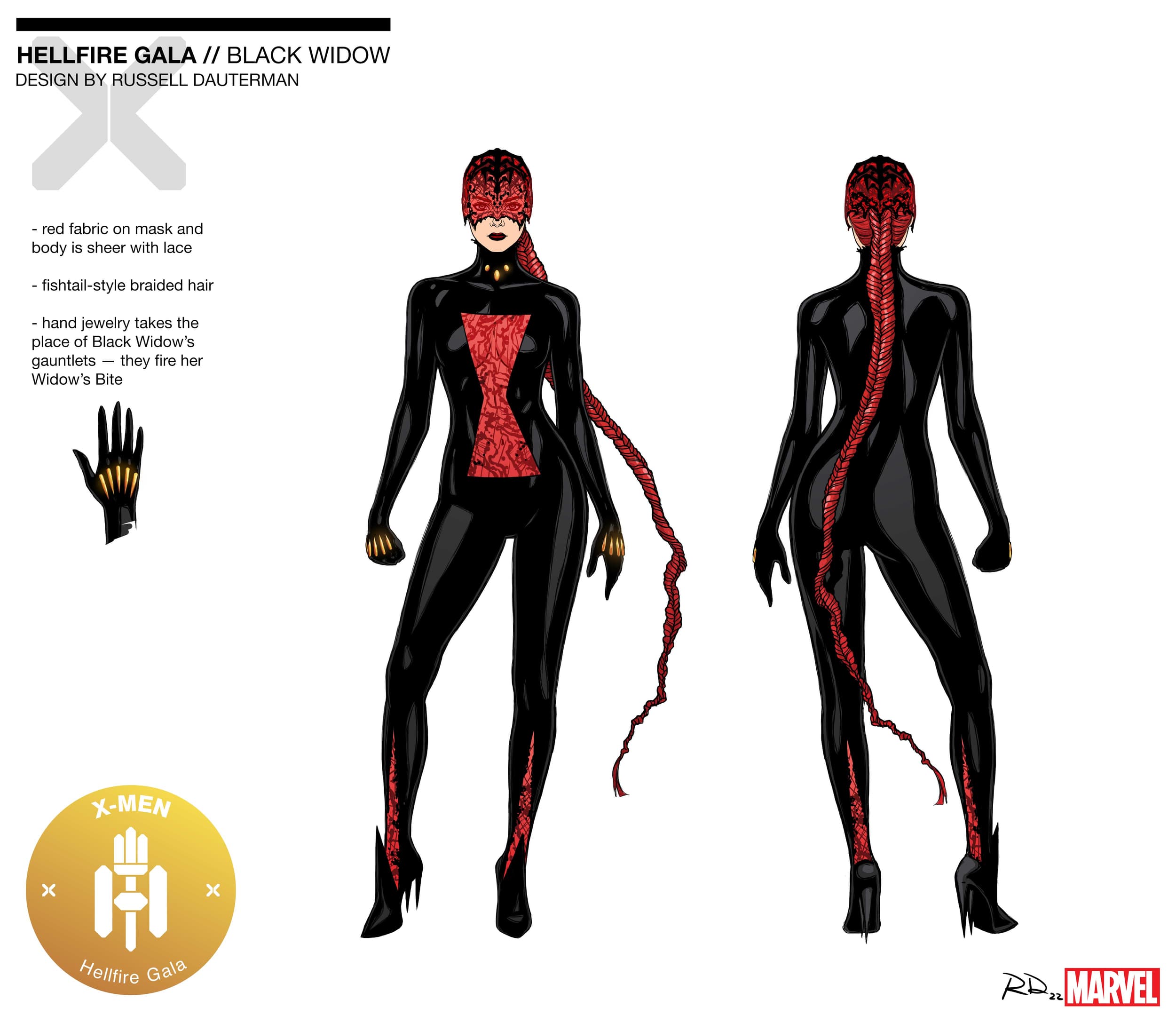 Spider-Man
Last year, Spidey didn't swing an invite. This time around, he's set to play a significant role in the night's festivities, so he's rocking a new suit that's sure to catch everyone's eye. For a hint at what he'll be up to, be sure to pick up FREE COMIC BOOK DAY: X-MEN/AVENGERS on May 7! 

"This is meant to be a more dramatic, futuristic version of a Spider-Man costume," Dauterman says. "The bodysuit recedes in darkness, so the glowing spider symbol and geometric accents pop."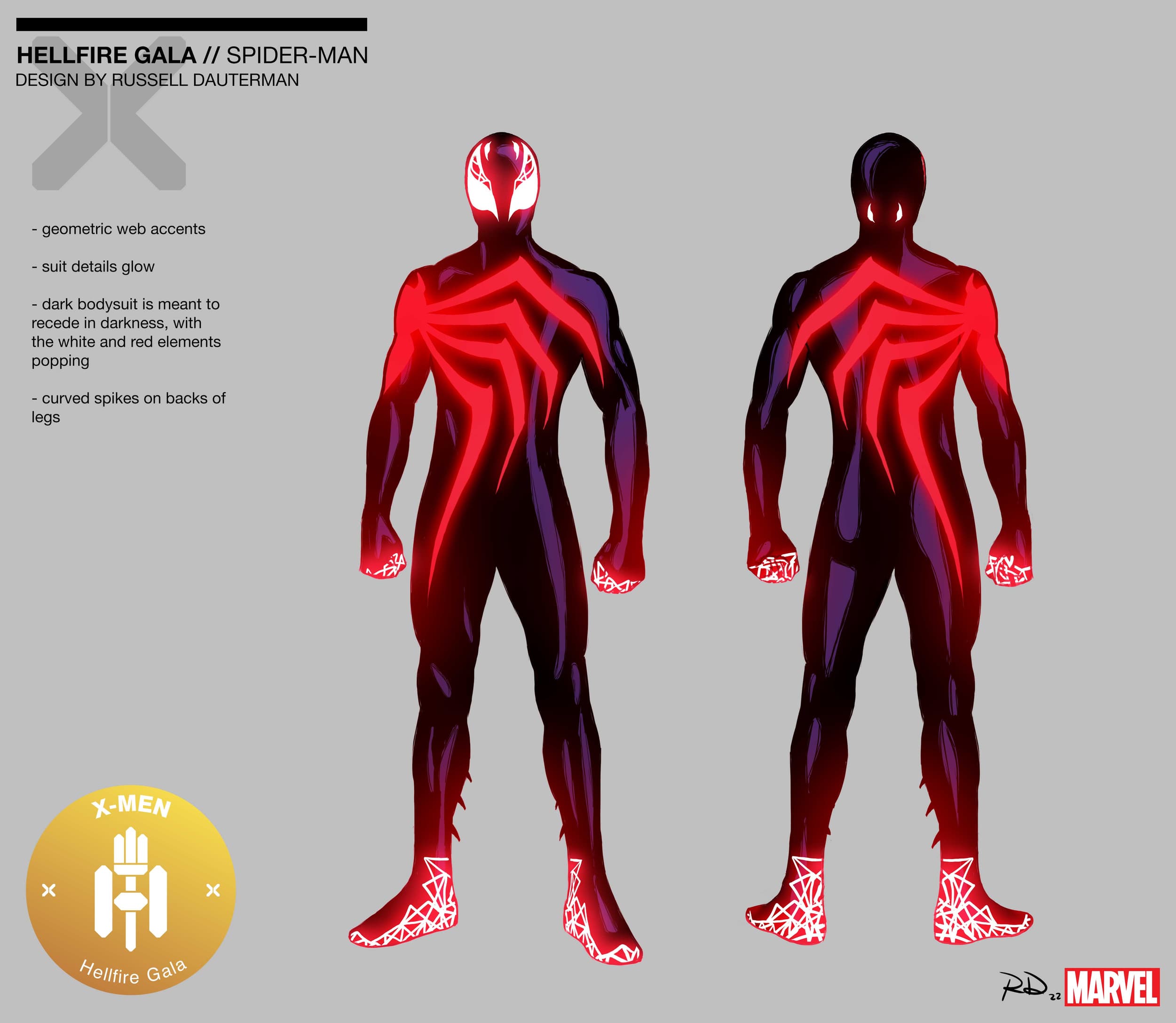 Havok
After a tumultuous year with the Hellions, Havok is eager to prove he still has what it takes to play a prominent role in mutant affairs. Appearing more confident than ever, Alex means business in a look that celebrates his iconic aesthetic. 

"This look merges Alex's classic black-and-white costume with his 90s X-Factor look—I love that costume!" Dauterman shares. "The ridges on the sleeves and shoes are meant to reference the rings of Havok's powers, and the X at the neck echoes a bowtie."
Iceman
Iceman has been cooling down following a series of omega-level feats as part of the Marauders. Ready to get back in the action, Bobby is dressed to impress in a frosty suit.

"Iceman's jumpsuit and boots are ice, an extension of his body, instead of clothes on top," Dauterman explains. "I wanted Bobby to have something slick and chic — inspired by Versace."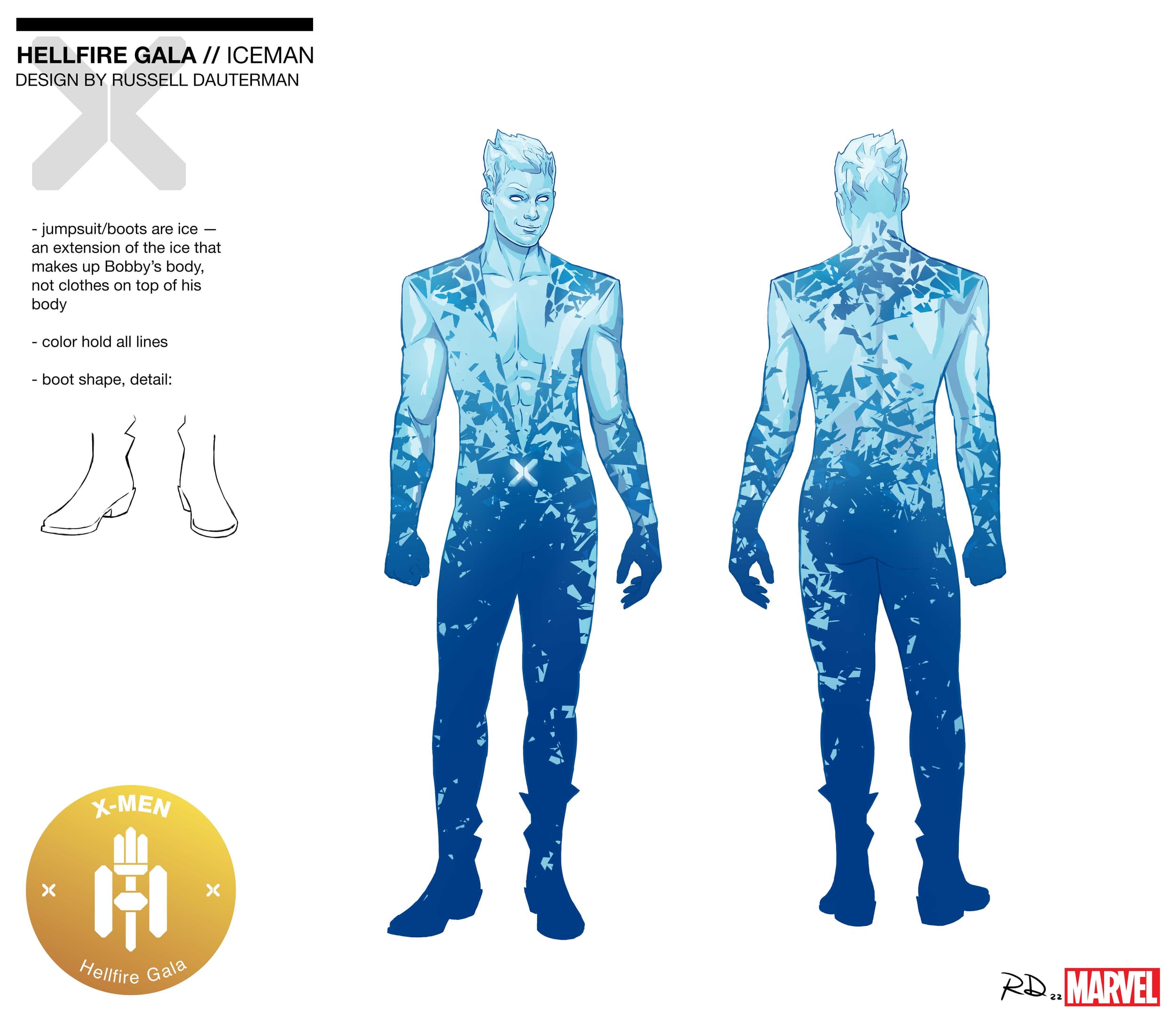 Synch
In recent years, Synch's power levels and popularity have skyrocketed thanks to his lengthy mission in the Vault and his vital role as a member of the X-Men. Integrating his rainbow power signature, Everett sports a new costume worthy of the mutant hero he's become. 

"I wanted to give Synch a costume that referenced his powers, and felt modern.  Plus, I think red is his color — and a nod to Generation X," Dauterman reveals.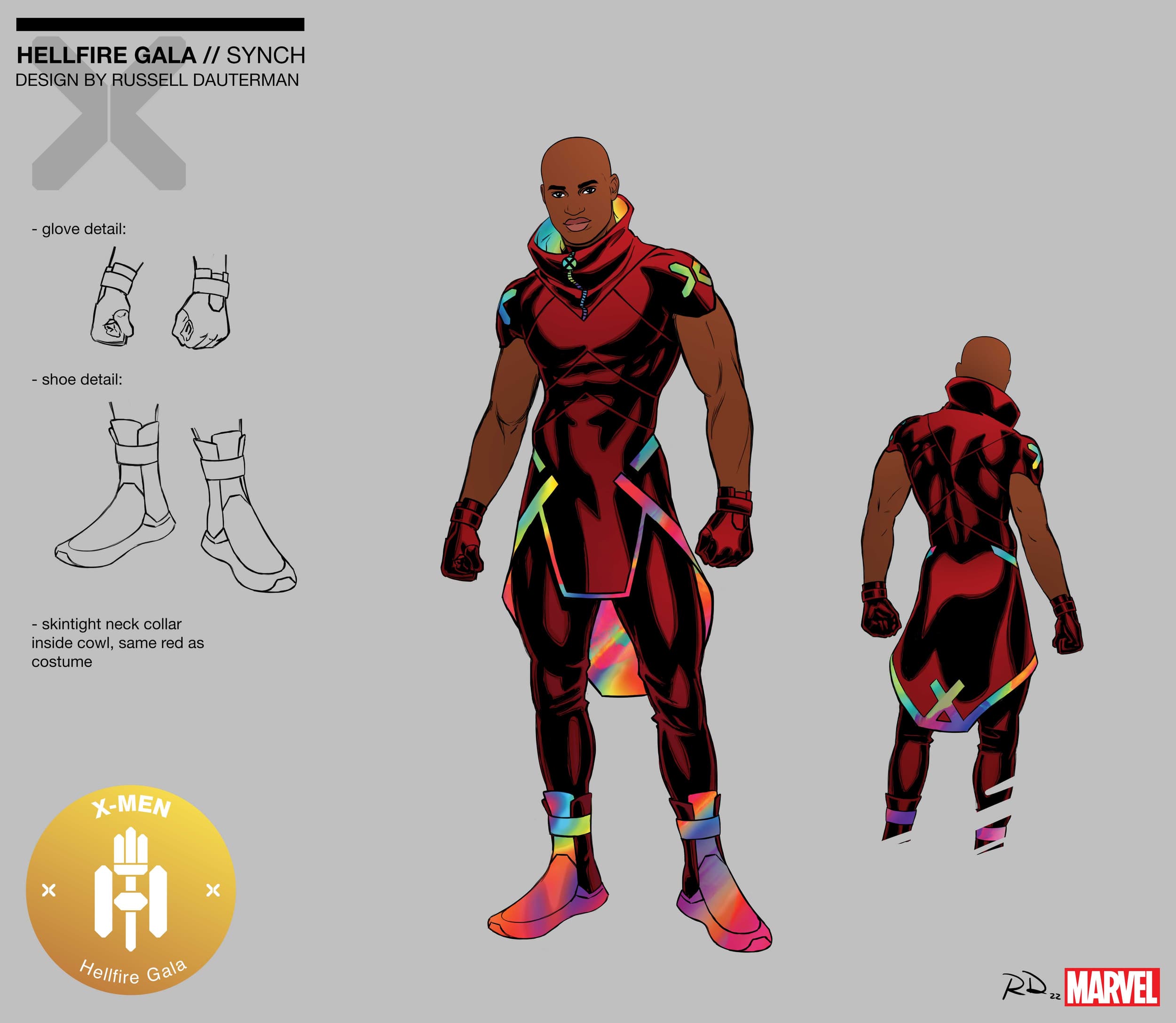 Magik
Rumor has it that Magik may be signing away her claim on the demonic dimension of Limbo, but don't expect her to hang up her soulsword just yet. One of the Great Captains of Krakoa, her dark, devilish look proves why Illyana Rasputina will always be a queen, throne or no throne.

"A Darkchild pantsuit! I wanted to play with Illyana's demon imagery — with a Mugler, Gaga, McQueen twist," Dauterman says.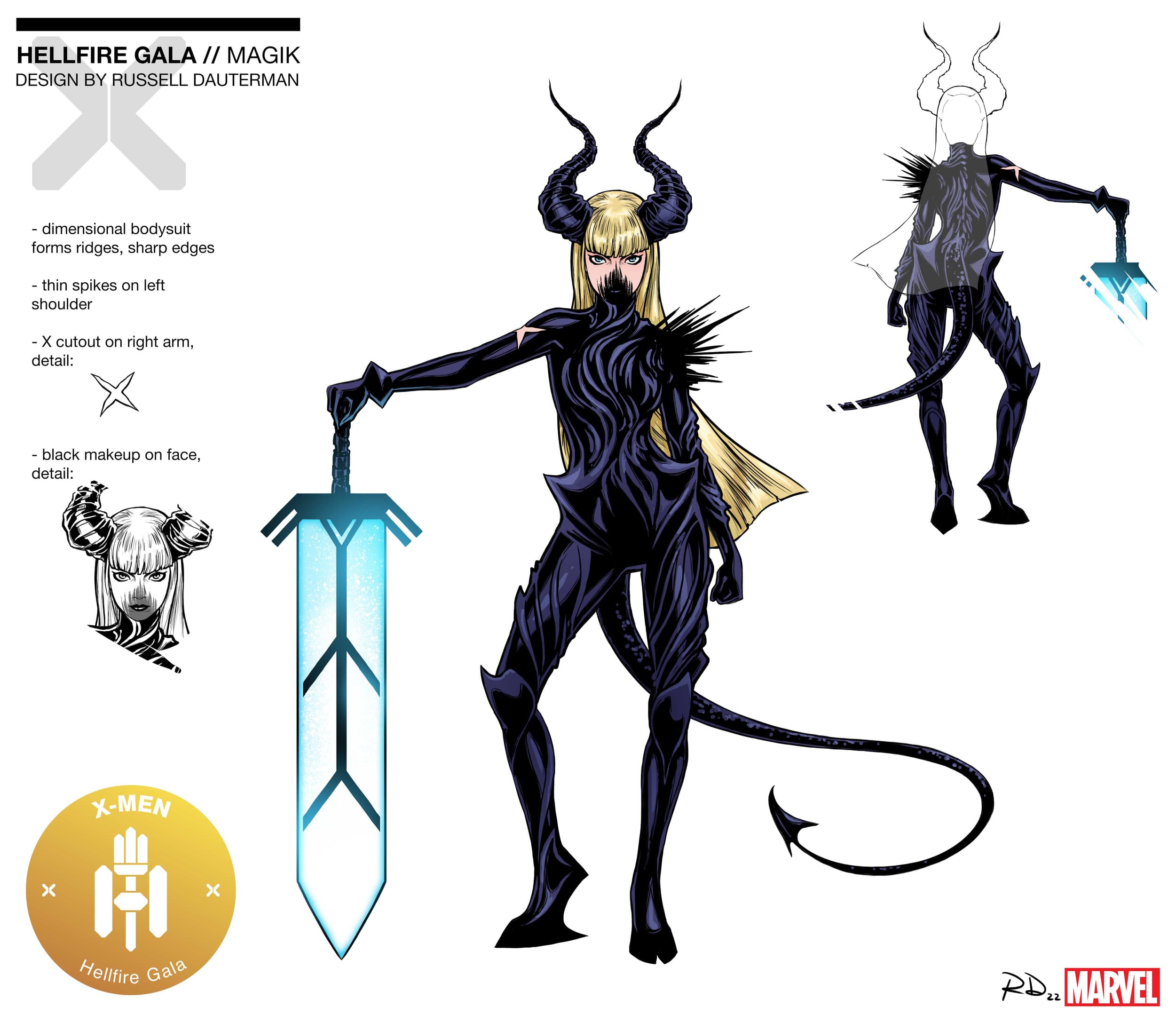 Which Hellfire Gala look is your favorite? Stay tuned in the coming weeks for more Hellfire Gala reveals and don't miss X-MEN: HELLFIRE GALA #1 when it hits stands in June.
You can grab these comics and more digitally or at your favorite local comic book shop. Be sure to ask your local shop about their current business policies to observe social distancing or other services they may offer, including holding or creating pull lists, curbside pick-ups, special deliveries, and other options to accommodate. Find and support your local comic book shop at ComicShopLocator.com or by visiting Marvel.com/LoveComicShops.
For digital comics, all purchases in the Marvel Comics app can be read on iPhone®, iPad® and select Android™ devices! Our smart-paneling feature provides an intuitive reader experience, ideal for all types of mobile device and tablet users! Download the app on iOS and Android now!
The Hype Box
Can't-miss news and updates from across the Marvel Universe!