Comics
Published November 24, 2021
Save Now on Marvel Unlimited
Use code HOLIDAY60 for an entire year of comics!
Have you tried Marvel Unlimited yet? It's your all-access pass to over 29,000 Marvel comics, available at your fingertips. Download our all-new, supercharged app on the App Store or Google Play today and save 50% off your first month!
Use code HOLIDAY60 and gain instant access to 29,000+ digital comics!
For $60* your first year, carry an entire universe of Marvel Comics in your pocket. A supercharged app and web service, Marvel Unlimited is an award-winning digital comics library that spans over 80 years of Marvel history. New comic issues are added every week just three months after they're in stores, and Marvel Unlimited's back catalog grows monthly too with classic comic additions. From ongoing runs like X-MEN (2021), MOON KNIGHT (2021), MILES MORALES: SPIDER-MAN (2018), ETERNALS (2021) and more, Marvel Unlimited is a one-stop destination for the latest and greatest Marvel stories.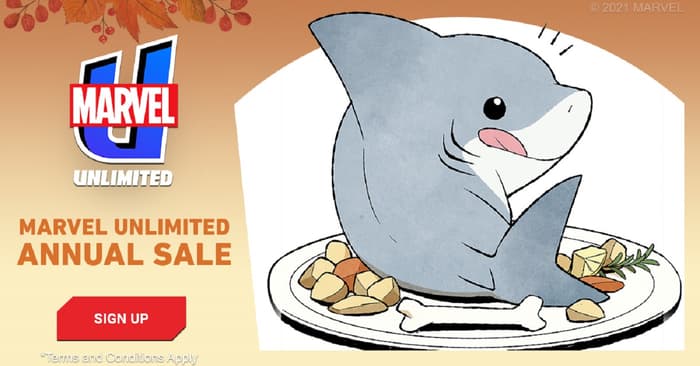 With access to entire runs, complete events, cosmic epics, and fan-favorite storylines, the new Marvel Unlimited offers endless reading. Our all-new app also features personalized recommendations based on the characters, series, and creators you're following right now. Uncover new entry points in our Reading Guides section to stay on top of the storylines fans are reading right now.
Take this impressive archive on the go too—now enjoy unlimited downloads for offline reading in the app, and conveniently save entire series and individual issues in your personal library. You can also save Reading Guides for later, especially useful for following comic events and character histories!
App subscribers also have access to Marvel's Infinity Comics, exclusive vertical comics designed exclusively for phone and tablet. Told by Marvel's top creators, Infinity series are great starting points. From fan-favorites like IT'S JEFF (starring Jeff the Land Shark), X-MEN UNLIMITED, SHANG-CHI, SPINE-TINGLING SPIDER-MAN, CAPTAIN AMERICA, HULKLING & WICCAN and more, these weekly series are in-universe stories that expand the (current) Marvel Universe. Get a taste of the Infinity format by reading X-MEN UNLIMITED #1 by Jonathan Hickman and Declan Shalvey, the first issue in the anthology series starring Krakoa's mutants!
With code MUGIFT at checkout, you can also give this incredible service to the Marvel fan in your life for an annual subscription at $60. See here to give the gift of MU!
Assemble your reading list, follow new favorites, and start your journey into comics—the Marvel Universe awaits.
Follow Marvel Unlimited on Twitter and Facebook to stay tuned in to weekly announcements, articles, and more, all at @MarvelUnlimited. Follow us today to join the conversation with thousands of fellow fans, and let us know what you're reading!
The Hype Box
Can't-miss news and updates from across the Marvel Universe!