Comics
Published September 14, 2020
The Road to 'Iron Man 2020'
Read the complete event starring Tony Stark on Marvel Unlimited, today's brand-new bonus release.
Have you tried Marvel Unlimited yet? It's your all-access pass to over 27,000 Marvel comics, all available at your fingertips. Sign up now!
Marvel Insiders! Earn 1,000 Insider points by reading all the #1 issues from the IRON MAN 2020 event, a special bonus release now on Marvel Unlimited! Complete your Reading Quest by September 30, 2020 11:59 PM ET to rack up points to redeem for exclusive rewards! Read the complete event here.
Must be a Marvel Insider, Marvel Unlimited subscriber and complete reading each issue on Marvel Unlimited by September 30, 2020, 11:59 PM ET to receive points designated.  Marvel Insider Loyalty Rewards Program is open to U.S. residents 18+ only.  Points will be awarded by October 1, 2020. Visit https://www.marvel.com/insider/faq for more details.
The future is now on Marvel Unlimited. Just dropped today: the entire IRON MAN 2020 event released in full, a crossover epic starring Pepper Potts, Ironheart, and even an A.I. Wolverine. Read the complete event right here.
It was a storyline roughly forty years in the making, but time has finally caught up. It is the era of Iron Man 2020! The estranged brother of Tony Stark, Arno Stark has taken over both Stark Unlimited and the Iron Man name. And, after finding out that he was a backup "copy" of the real deal, former Iron Man Tony has rebranded himself as "Mark I," the rising leader of an Artificial Intelligence union.
[RELATED: Who Is Arno Stark?]
That's just a small taste of what creators Dan Slott and Christos Gage have in store for fans during this Ironclad event. However, there's a lot of robotic history going on within these pages. If you want the full immersive experience into IRON MAN 2020, here are the titles you can check out on Marvel Unlimited, all ideal prelude reading.
Set in the year 2020 (which was "the future" in 1984), a group of robot scavengers came across the disassembled parts of Machine Man in this cyberpunk limited series. After rebuilding him, Machine Man (AKA "X-51") and his new friends began an adventure to take down totalitarian tech magnate, Sunset Bain. Both Bain and Machine Man are integral parts of IRON MAN 2020, although this series is most notable for the first appearance of Arno Stark. In this series, he is a descendant of Tony rather than his brother, but Arno's less-than-heroic attitude hasn't improved since the mid '80s.
[RELATED: 10 Predictions for the Year 2020 from 'Machine Man']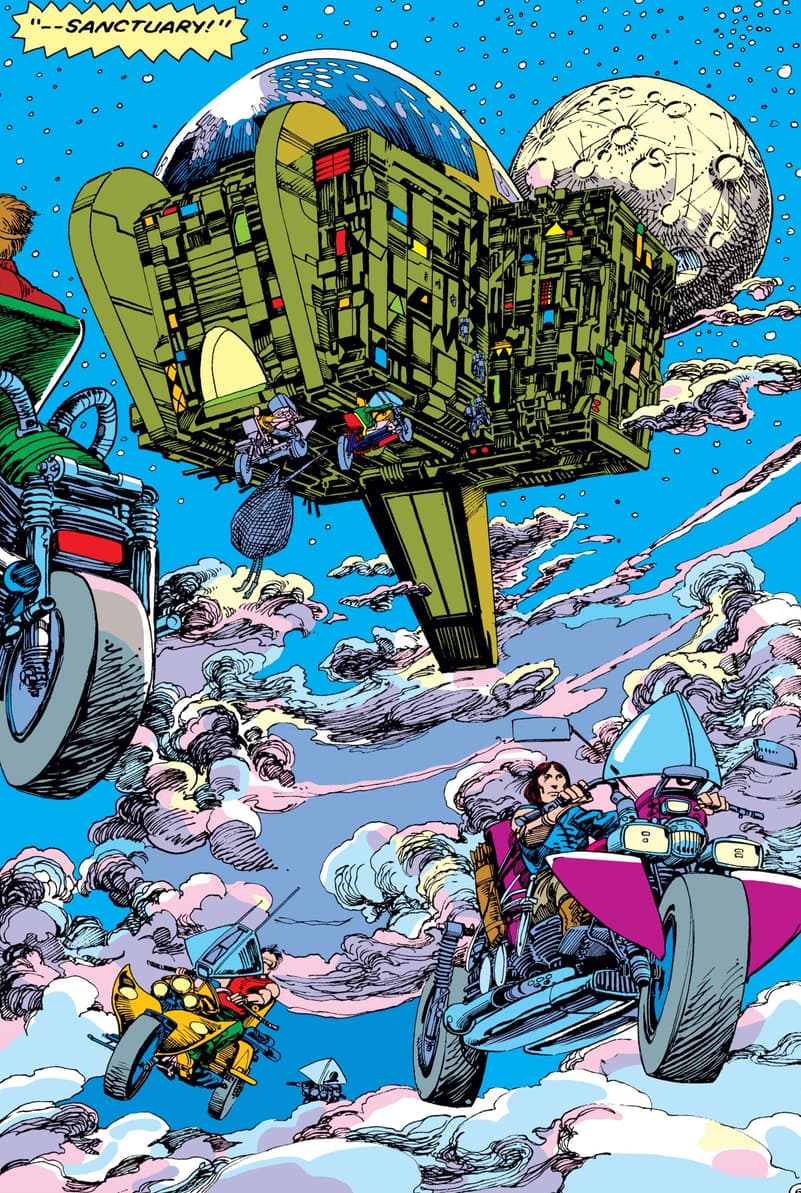 During Norman Osborn's DARK REIGN, Tony Stark, the man who had it all, became the "World's Most Wanted." Fearing that Osborn and his now unlimited resources could somehow exploit the information in his head, Tony endured a "mind dump" that left him in a catatonic state. He purged himself of any secrets that Osborn could use, but at the cost of his super-intelligence. Tony ended up leaving Stark Industries in Pepper's hands, along with a sizeable bonus: an iron suit of her own. This story is both a significant chapter in DARK REIGN, and the first appearance of Pepper Potts' Rescue armor. The suit returns in 2020 RESCUE, a tie-in to the 2020 event!
[RELATED: The Definitive Iron Man Reading Guide]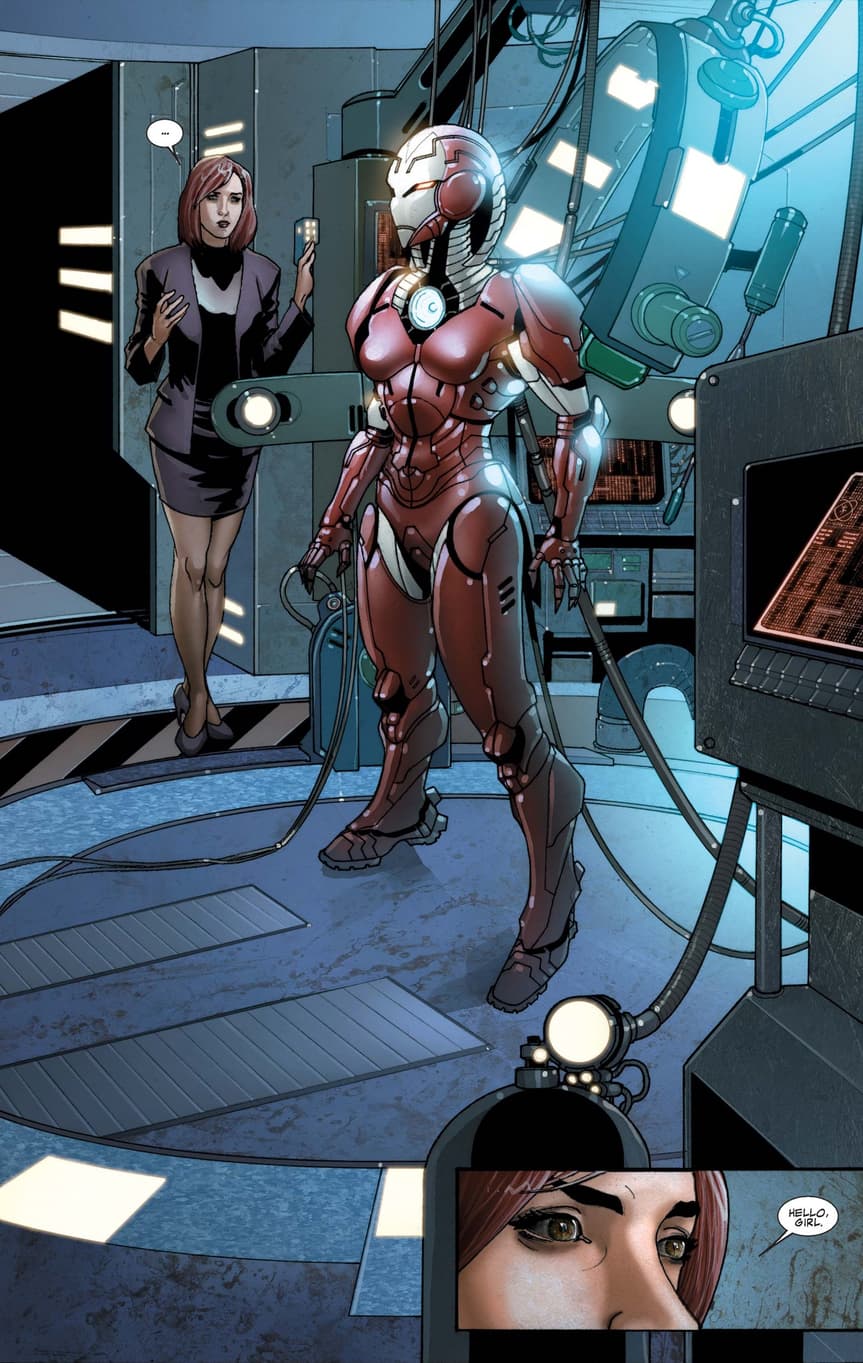 This entire twenty-eight-issue run can be considered essential reading!
Kieron Gillen, Greg Land, Paul Rivoche, and Mike Del Mundo's complete run of Iron Man forever changed the way we looked at the Armored Avenger. After an adventure in space to stop the corrupt Rigellian Recorder 451 from destroying Earth with the "Godkiller" armor, Tony learned his true origins and parentage. He also discovered a brother he never knew existed. This run depicts the beginnings of the Tony/Arno Stark relationship. This revisited origin of Arno, the man who became Iron Man 2020, sparked some hope for his character… but history has a nasty way of repeating itself.
Read "The Secret Origin of Tony Stark" in IRON MAN (2012) #9-17.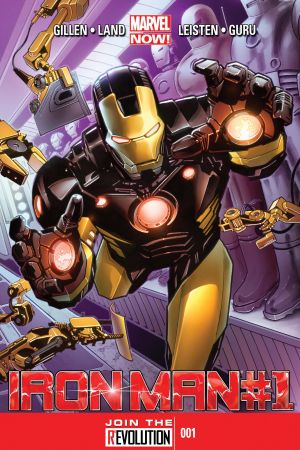 Iron Man (2012) #1
published

added to marvel unlimited

penciller

penciller (cover)

inker

editor

letterer

writer

colorist
What is Marvel Unlimited?
Riri Williams is a teenage genius who has risen as her own armored hero after answering the call in Tony Stark's absence. A mentee to Stark, Riri has followed in her role model's footsteps as Ironheart, a member of teen super-team, the Champions. She is currently on the "Mark III" version of the Ironheart armor, featured in her ongoing solo series. You can check out all three models as they made their debuts: the first in INVINCIBLE IRON MAN (2015) #7, then INVINCIBLE IRON MAN (2016) #3, and CHAMPIONS (2016) #22.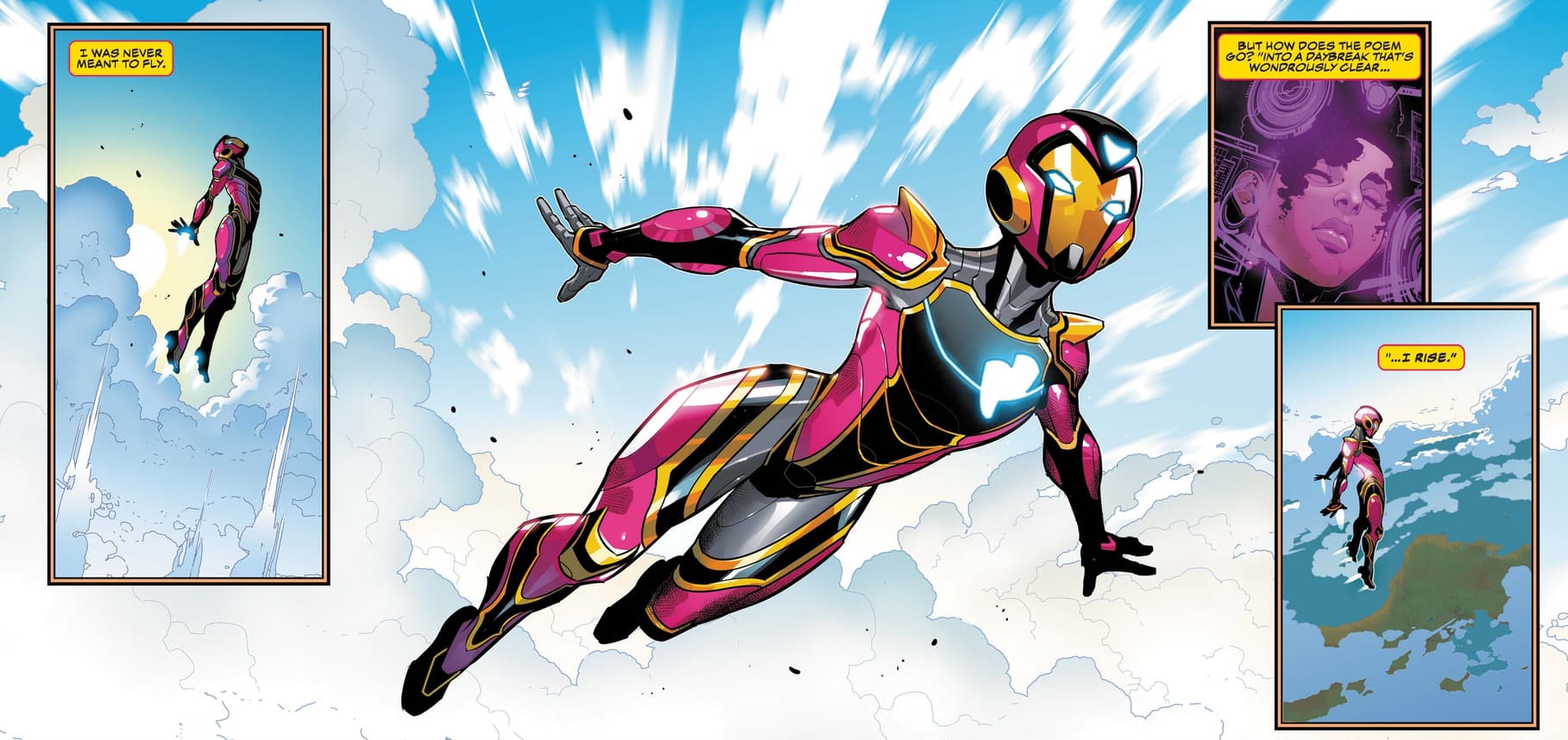 When Ultron-Pym returned to complete his quest for man and metal's perfect union, it was up to Tony and his team to end this latest endeavor. The combined brains and brawn of the robotics division of Stark Unlimited, plus War Machine, Machine Man, and the Wasp, finally defeated one of the Avengers' greatest foes/former teammates. It did come with a cost. After discovering and revealing that he was, in fact, an A.I. copy, Tony lost Stark Unlimited and all the rights to his armor gallery to his brother Arno and Sunset Bain's mega-conglomerate. "The Ultron Agenda" is the final stop in the road to IRON MAN 2020, and can't be missed.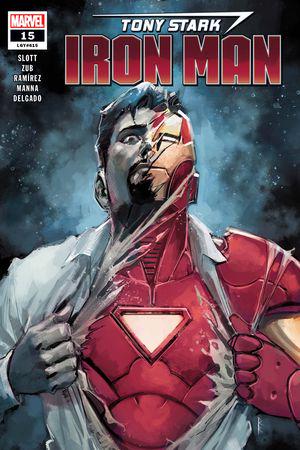 Tony Stark: Iron Man (2018) #15
published

added to marvel unlimited

colorist

editor

letterer

colorist (cover)

inker (cover)

penciler (cover)

writer

inker

penciler
What is Marvel Unlimited?
Marvel Unlimited, Marvel's digital comics subscription service, offers members unlimited access to over 27,000 issues of Marvel's classic and newer titles, delivered digitally through your desktop web browser and the award-winning Marvel Unlimited mobile app.
Follow Marvel Unlimited on Twitter and Facebook to stay tuned in to weekly announcements, articles, and more, all at @MarvelUnlimited. Follow us today to join the conversation with thousands of fellow fans, and let us know what you're reading!
The Hype Box
Can't-miss news and updates from across the Marvel Universe!