Comics
Published December 18, 2020
When Super Heroes Wear Ugly Sweaters
'Tis the season for the super-powered.
Have you tried Marvel Unlimited yet? It's your all-access pass to over 28,000 Marvel comics, all available at your fingertips. Sign up now and get your first year for $55!*
GET MORE HOLIDAY READING HERE!
Even those who can scale walls, fly, or fight with superhuman strength love to get wrapped up in a comfy, warm feeling. And, for some Marvel heroes, the cost of comfort is looking ridiculous. You may not realize it, but the ugly sweater is the seasonal staple of the Marvel Universe too, and we know you'd be disappointed if we didn't show you who exactly is on trend.
Join the ranks of the X-Men, Daredevil, Spider-Man, Deadpool and more with your own Marvel loungewear and ugly-cute sweaters—you can even grab a few designs inspired directly from the comics!
See who's "rocking" it.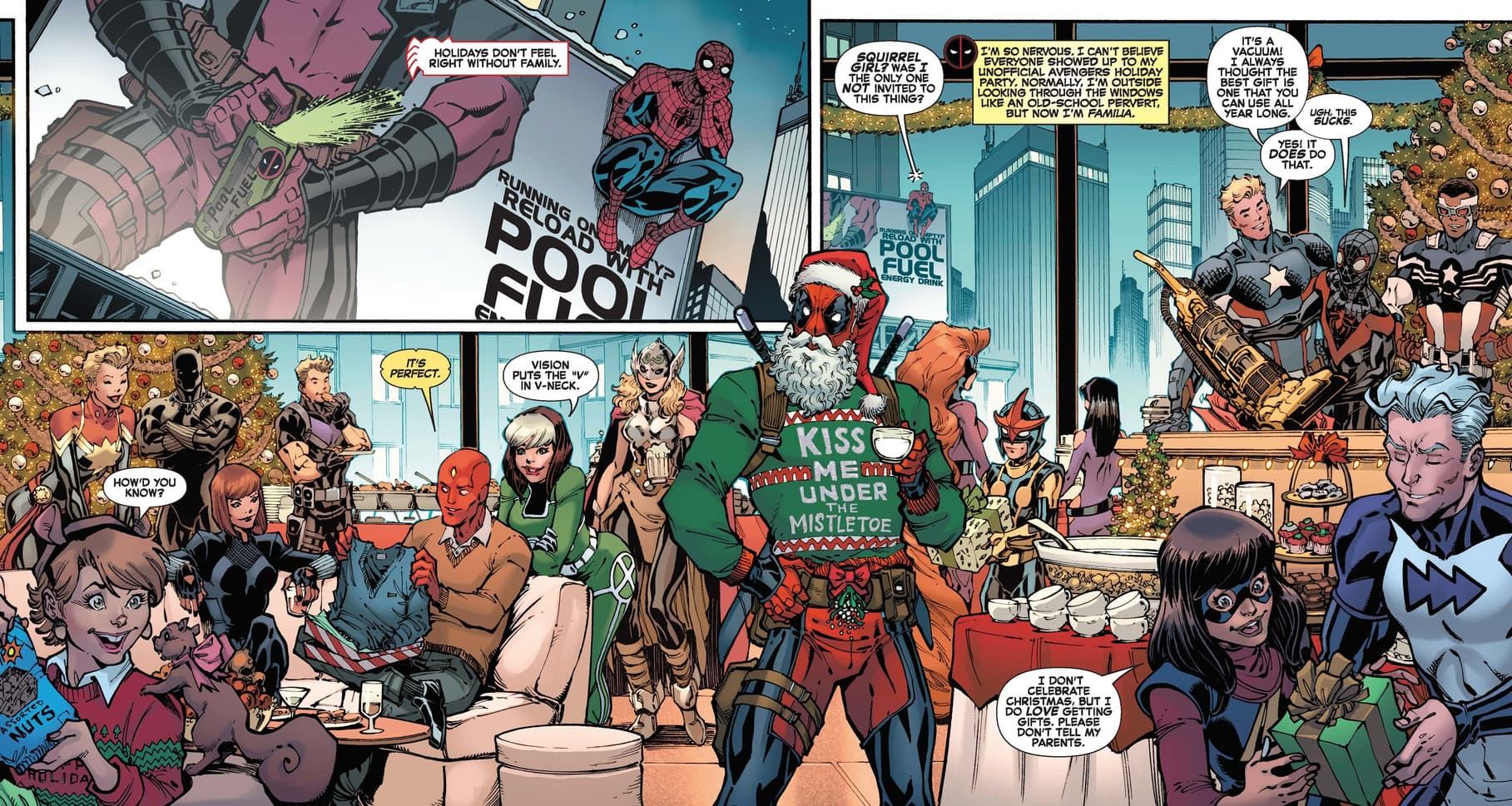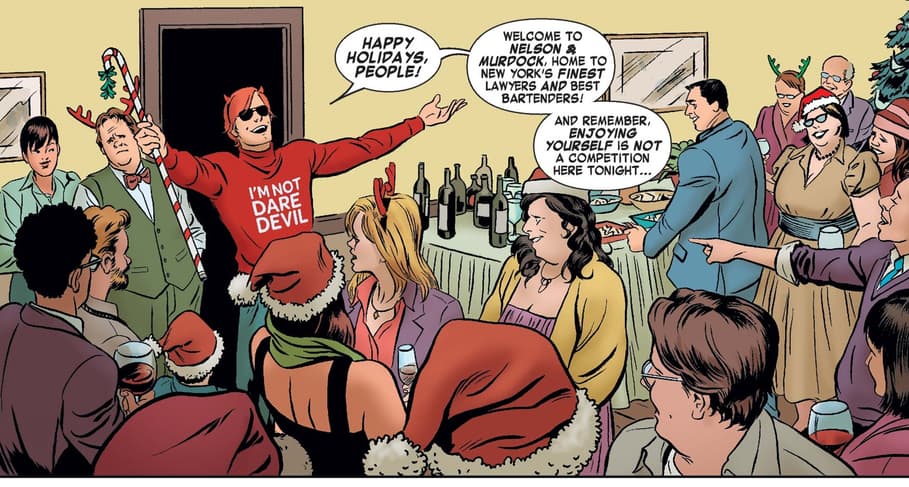 "Definitely not Daredevil" Matt Murdock starts the office party conversation in this true statement piece from Nelson & Murdock's holiday bash. The good times don't last, but at least we got this look.
Want your own icebreaker sweater? Get your Daredevil-inspired look here.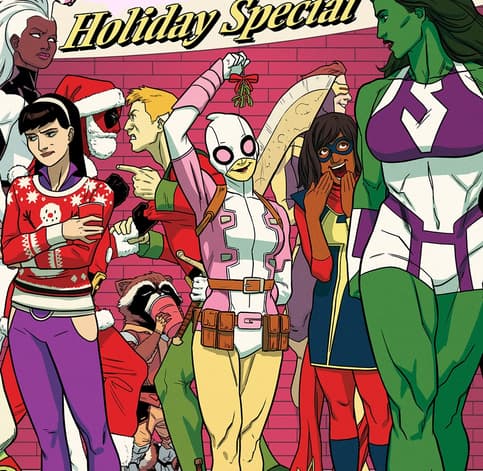 At another law office-based party, She-Hulk: Jennifer Walters invites all her Super Hero colleagues to throw down Hellcat-style.
Kate Bishop's sweater-over-costume ensemble is a refreshing take on a classic, and you can even buy a version of it here!
See what Deadpool, Gwenpool, and both Hawkeyes get up to in this anthology holiday special, also co-starring Ms. Marvel!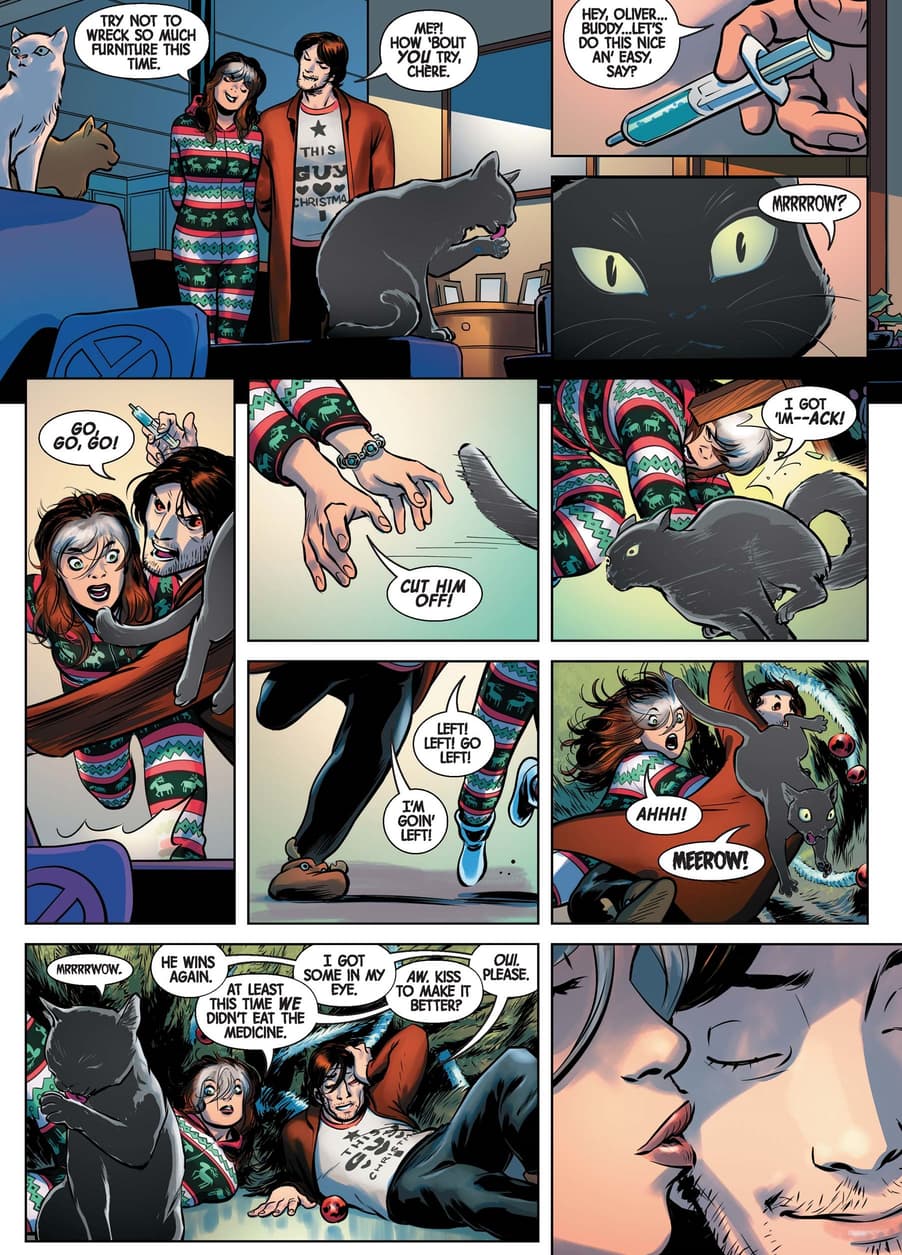 Twenty-five tales of merry mutants, one for each day of December 1 through December 25! In festive favorite MERRY X-MEN HOLIDAY SPECIAL (2018) #1, December 13th belongs to married duo Rogue and Gambit, spending their first Christmas together with the cats.
Not a sweater per se, but we do love Rogue's head-to-toe Long Johns with a reindeer motif. As cute a combo as this couple.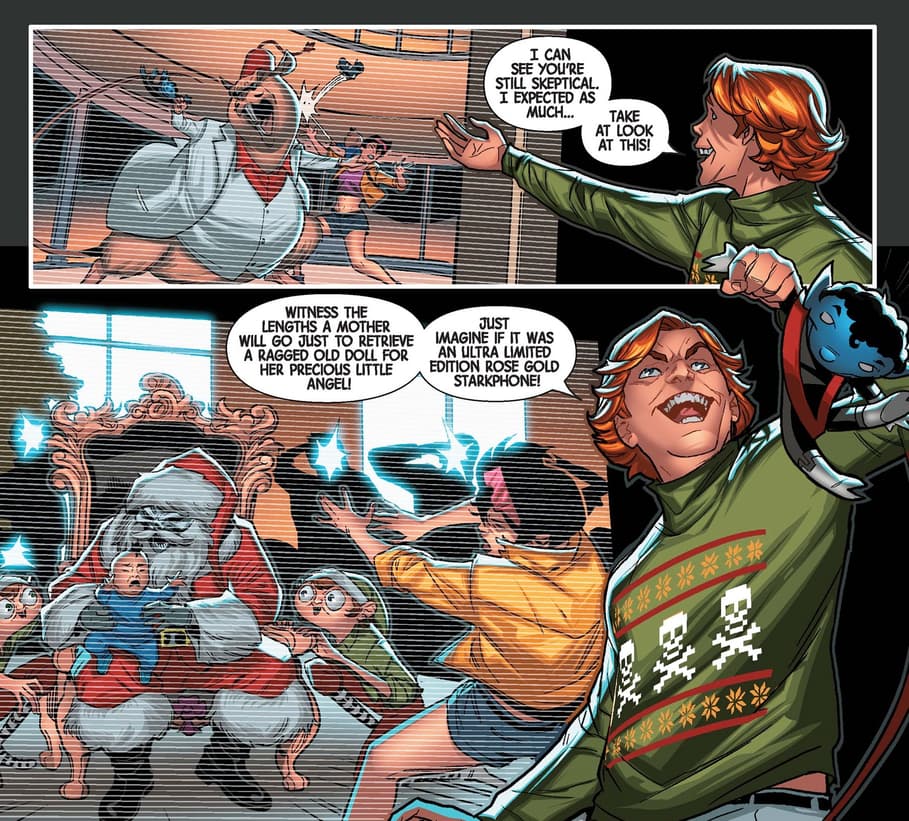 Making murderous schemes look oh-so comfy, the chaos-mongering Arcade puts Jubilee (and her baby Shogo) through the paces in a shopping mall simulation full of deranged thrills. And, frankly, he looks good doing it.
A momentous issue for ugly sweaters and the heroes who wear them, SPIDER-MAN/DEADPOOL (2016) #12 is a present to readers like us. At his unofficial Avengers/Uncanny Avengers Secret Santa exchange, a provocatively sweater-clad Deadpool gifts the wrong Hawkeye the wrong shirt.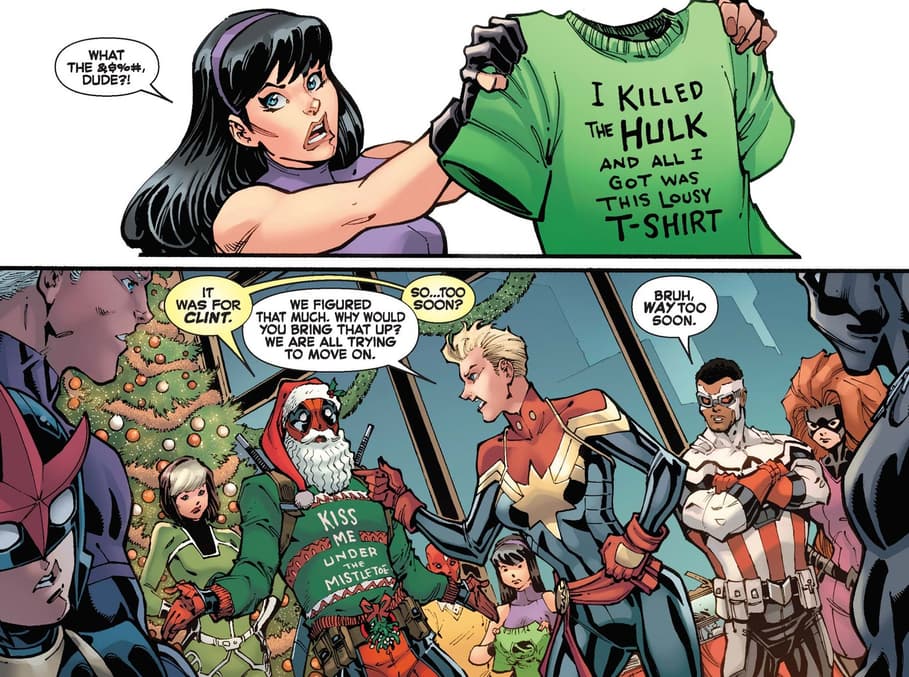 Even though Wade Wilson got the boot from his own party, it all worked out in the end. Best friend Spider-Man was on hand for the second round of presents, following their team-up against an enraged god resembling Santa.
Like the threads in a sweater, the Spider-Pool friendship is forever.
Read even more heroes in their holiday best on Marvel Unlimited, and enjoy your first year of instant access to 28,000+ comics for $55.
Marvel Unlimited, Marvel's digital comics subscription service, offers members unlimited access to over 28,000 issues of Marvel's classic and newer titles, delivered digitally though your desktop web browser and the award-winning Marvel Unlimited mobile app.
Follow Marvel Unlimited on Twitter and Facebook to stay tuned in to weekly announcements, articles, and more, all at @MarvelUnlimited. Follow us today to join the conversation with thousands of fellow fans, and let us know what you're reading!
*(plus tax where applicable) All prices in US dollars. Offer valid 12/14/2020 12:00 AM ET to 12/31/2020 11:59 PM ET on annual memberships only. First year billed upfront at a one-time payment of $55.00; subsequent years billed annually to the payment card on file at the then-current annual subscription fee (currently $69 per year) unless and until cancelled. Offer is open to new and former (now-cancelled) Marvel Unlimited members. Valid payment card required to redeem offer. Auto-renewal and others terms and conditions apply. See here for additional terms. 
The Hype Box
Can't-miss news and updates from across the Marvel Universe!