Games
Published March 31, 2023
Catch Up on All the Marvel Games News from March 2023
Get the highlights from all the exciting news to come out of Marvel Games this month!
Welcome to "This Month in Marvel Games," where we give you the full roundup of what went down with Marvel Games! In March, MARVEL Snap, MARVEL Contest of Champions, and MARVEL Puzzle Quest all received amazing new content to enjoy. We're also celebrating MARVEL Strike Force's 5th anniversary! Plus, on the console side, we received another epic update for Marvel's Midnight Suns featuring Morbius. Let's take a look at what else you may have missed.
THIS MONTH IN MARVEL GAMES — March 2023
MOBILE
Two New Champions Uncover a Sinister Hydra Plot
The Young Avengers team up with the Champions to investigate a string of bizarre thefts across The Battlerealm. Working together, Kate Bishop and Viv Vision will uncover a sinister Hydra plot that threatens the entire Contest!
To many she is known as the daughter of Vision, the lone survivor of the synthezoid's attempt to literally build himself the perfect family. But to her teammates, the Champions, Viv Vision is a powerful ally, a tactician of unparalleled efficiency, and a trusted friend. She possesses all of her father's powers, such as solar radiation absorption and projection, a computer consciousness, and the ability to manipulate her density at will. Viv's potential is limited only by her age and experience and, given her ability to learn and grow like a human, there is no telling how powerful she may yet become.
Kate Bishop's life was forever changed when she witnessed Hawkeye's heroics during the Battle of New York, inspiring her to pursue excellence in archery, swordplay, and all manner of combat skills. She eventually partnered up with her hero and learned the secrets of his famous trick arrows.
2023 Character Poll Winner Announced
Silver Samurai (Kenuichio Harada) is the winner of the 2023 MARVEL Puzzle Quest New Character Poll. Thanks to all those who participated in the vote and made this one of the closest polls to date!
Women's History Month Event
MARVEL Puzzle Quest celebrated Women's History Month with a unique event featuring your favorite strong heroines! Did you participate? Which covers did you unlock?
St. Patrick's Day Event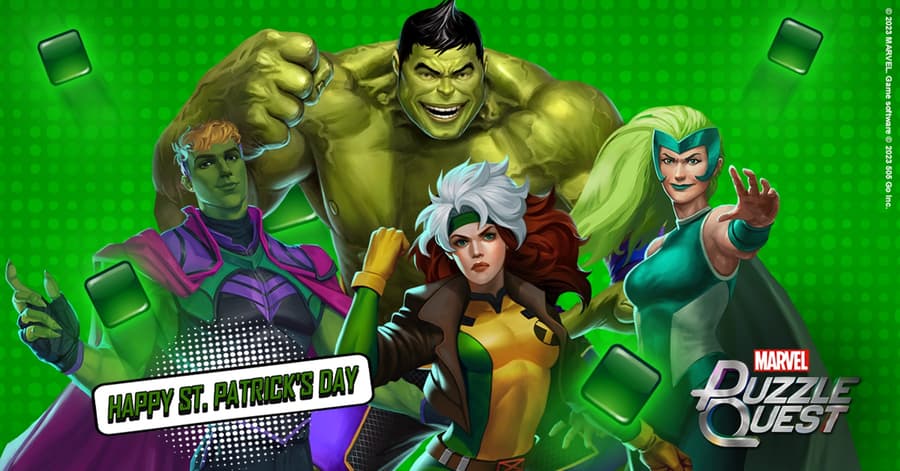 Did you party with MARVEL Puzzle Quest in their first Alliance Contest dubbed the "Green AP Smash Party?"
Magik Teleports to MPQ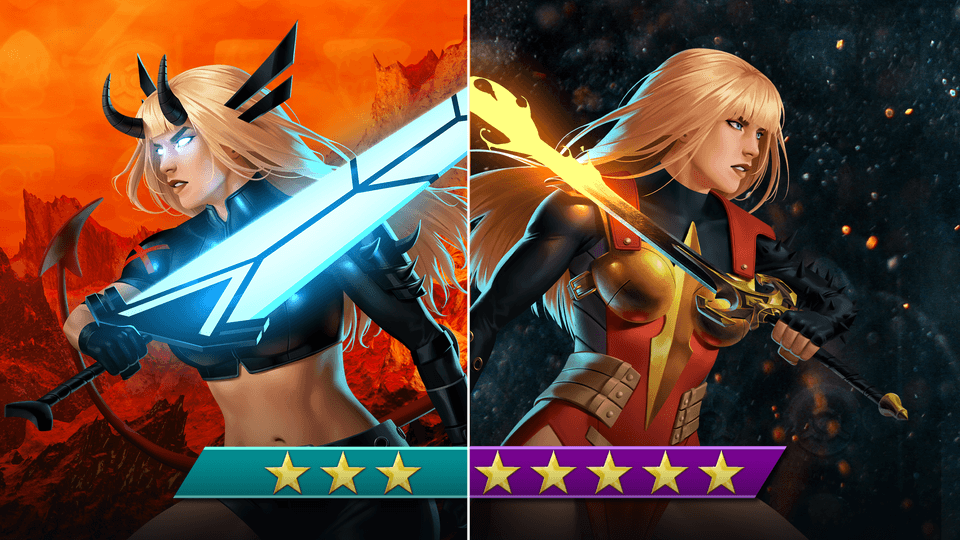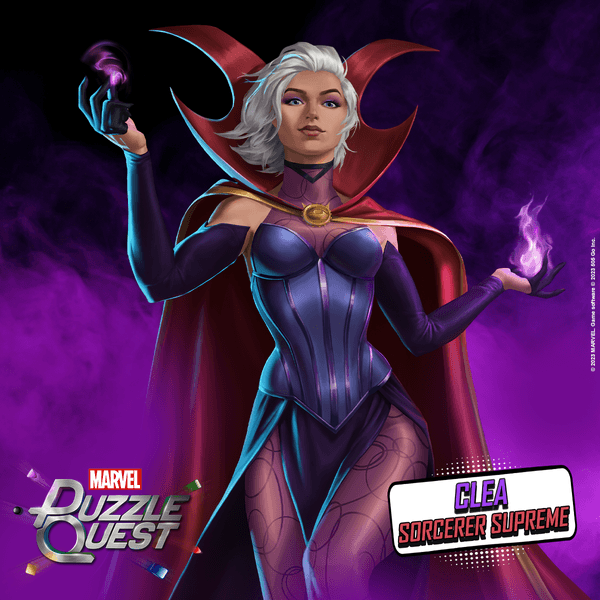 Recruit the Princess of the Dark Dimension and wield her powerful spells in MPQ today!
New Supports Headed Your Way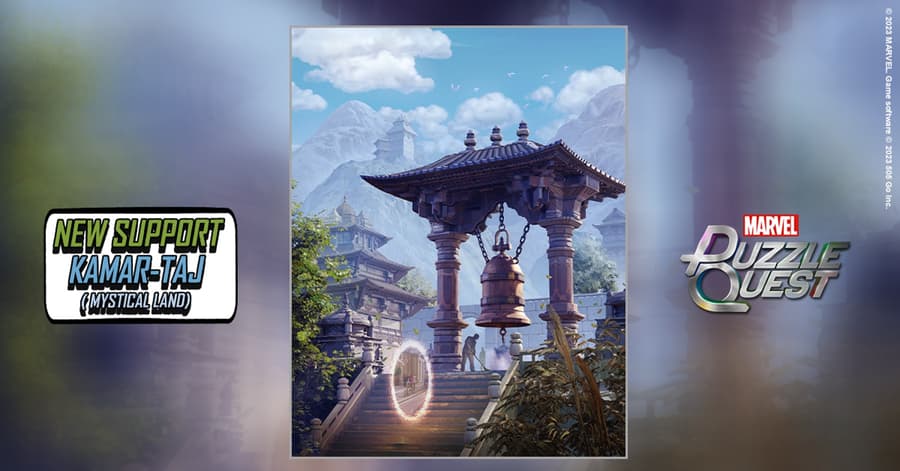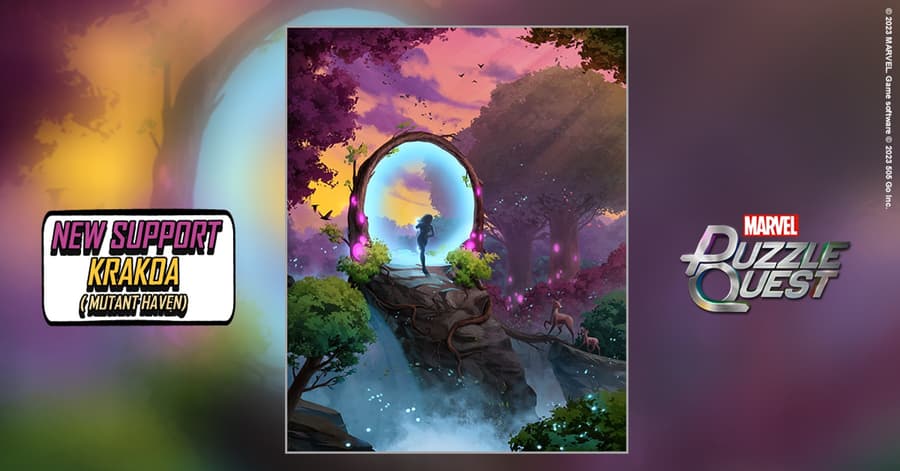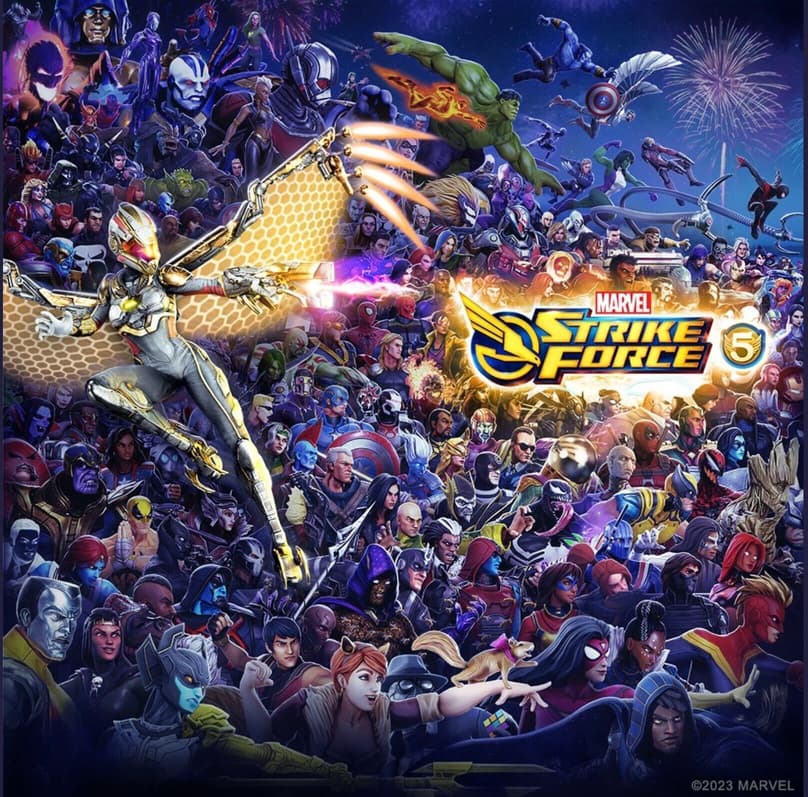 Thanks for playing MARVEL Strike Force for 5 whole years!
New Character Releases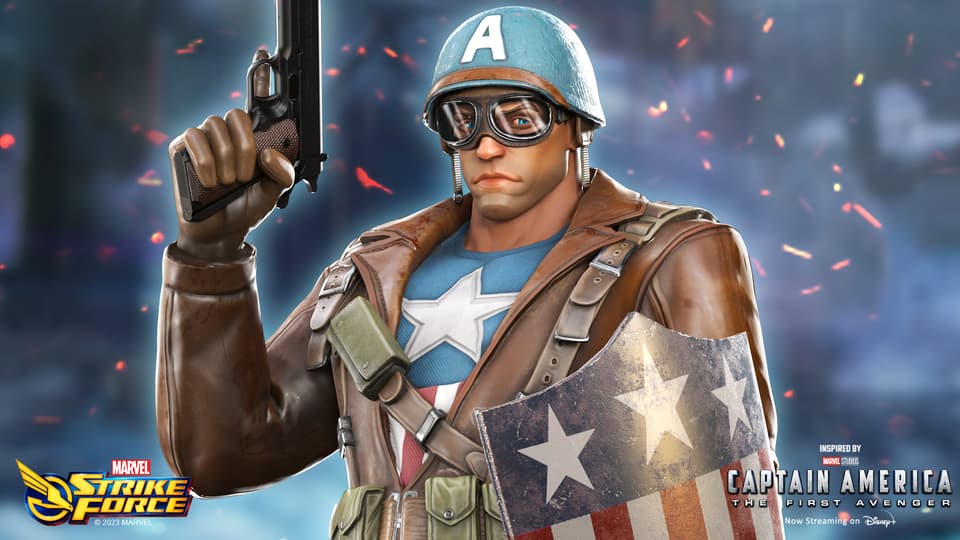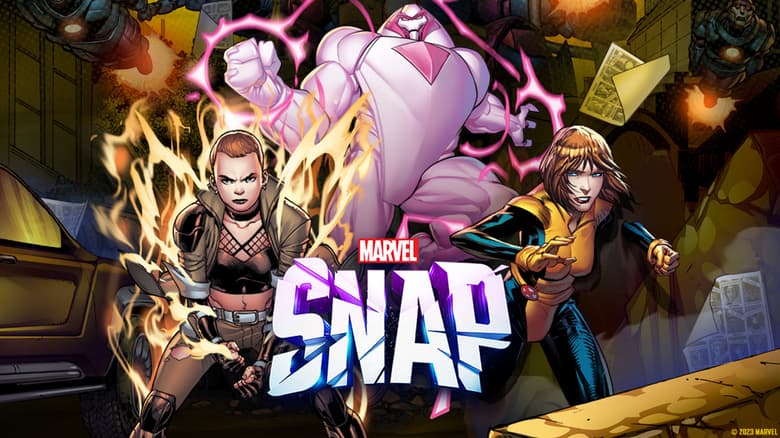 Danger approaches! The Sentinels have locked onto our position! MARVEL SNAP's March season pass, Days of Future Past, featured the apex mutant-hunter, Nimrod, new cards, variants, featured locations, and so much more. 
New Card Release: Nimrod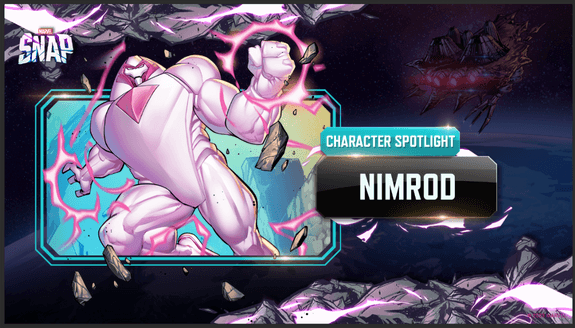 When this is destroyed, add a copy to each other location.
Days of Future Past explores our favorite dystopian timeline – or should we say timelines? Driven by the Prime Directive, Sentinels have taken power and eliminated nearly all mutantkind. This season added the most advanced Sentinel prototype to ever exist, the apex mutant-hunter himself: Nimrod. Nimrod is the perfect addition to all your past, present, and future Destroy decks.
New Card Release: Kitty Pryde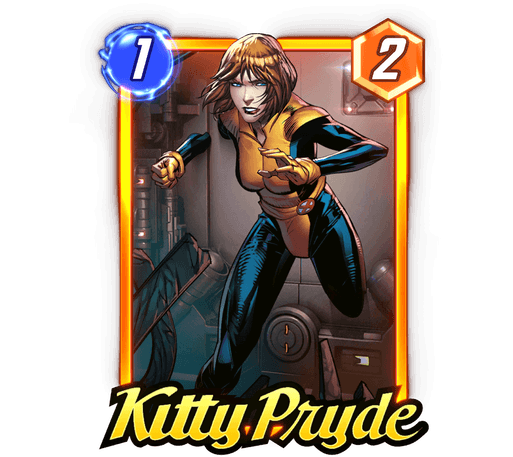 You can return this to your hand to gain +2 power.
Katherine "Kitty" Pryde was a 13½-year old Jewish girl whose genius level intellect allowed her to take college-level courses despite her young age. Kitty led a fairly normal life until she began suffering headaches of steadily increasing intensity, which were a result of her emerging mutant power.
Kitty herself was unaware that she was a mutant until the afternoon that Emma Frost, then White Queen of the Hellfire Club, arrived to speak to her parents about enrolling Kitty in her Massachusetts Academy. During the visit, Kitty suffered her worst headache yet and went upstairs to her room. When the headache stopped, Kitty was surprised to find she was on the floor of her living room. She had unknowingly used her power to phase through solid matter for the first time, passing through her bed and floor into the room below.
After Frost left, Professor Charles Xavier arrived with three of the X-Men, his own team of mutant students who fought for peaceful coexistence between humans and mutants. Following an attack by the Hellfire Club during which Kitty helped the team, the X-Man Phoenix telepathically coerced Kitty's parents into allowing her to join Xavier's school, and she became the newest and youngest member of the X-Men.
New Card Release: Negasonic Teenage Warhead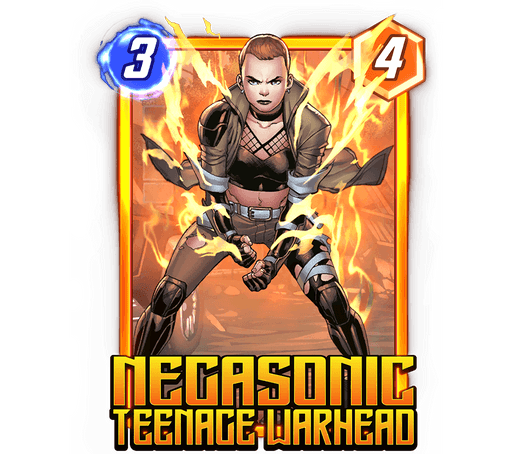 After any card is played here, destroy this card and that card.
Ellie Phimister, AKA Negasonic Teenage Warhead, was a teenage student in Emma Frost's telepathy class in Genosha. During a tutoring session, Ellie informed Emma Frost of the same nightmares she had 50 times the previous night when everyone in Genosha died. Instantly after she reported this to Miss Frost, Cassandra Nova's Sentinels appeared and wiped out all of Genosha. Emma Frost, who survived the attack thanks to her secondary mutation, carried Ellie's dead body and said that she will be a credit to her family and the mutant race. Emma then ordered members of the rescue team to bring the girl back to life, but they stated that she had been dead for hours.
Recently, Ellie Phimister appeared to be alive and part of the Hellfire Club's new Inner Circle. However, it was revealed that the new Inner Circle was only projections from Emma Frost's mind due to extreme survivor's guilt. Recently, the true Ellie was revived with an alien techno organic virus, only to be sacrificed to Selene.
The Sinister Syndicate Arrives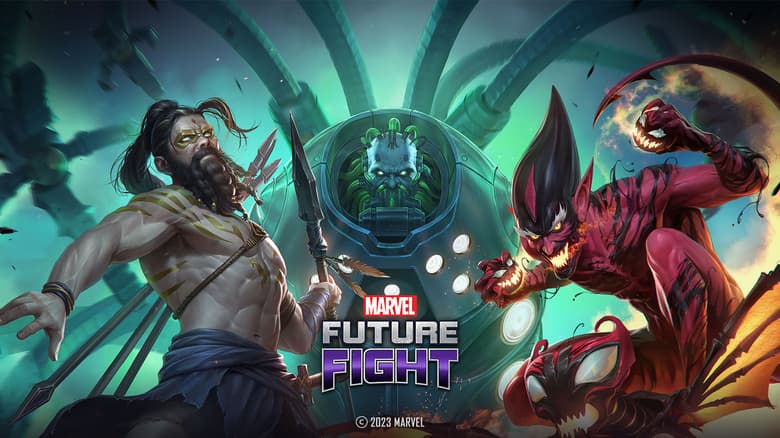 Netmarble released a new v890 Game Update for its blockbuster mobile RPG MARVEL Future Fight. Several newly added content pieces await players in the Sinister Syndicate game update, including character uniforms, a Skill Combination Guide, and tier upgrades.
Starting today, players can choose new uniforms for the following Sinister Syndicate team members: Green Goblin - Red Goblin, Kraven - Interdimensional Hunter, and Doctor Octopus - Ends of the Earth. A new Skill Combination Guide has also been added, which is a system that allows players to learn unique combat skills for each hero.
New character tier upgrades have been added for Doctor Octopus (Tier-4 with new Striker Skill) and Green Goblin (Tier-3 with new Ultimate Skill). Awakened Skills and Transcend Potential have been added to characters including Kraven, Lizard, and Rhino.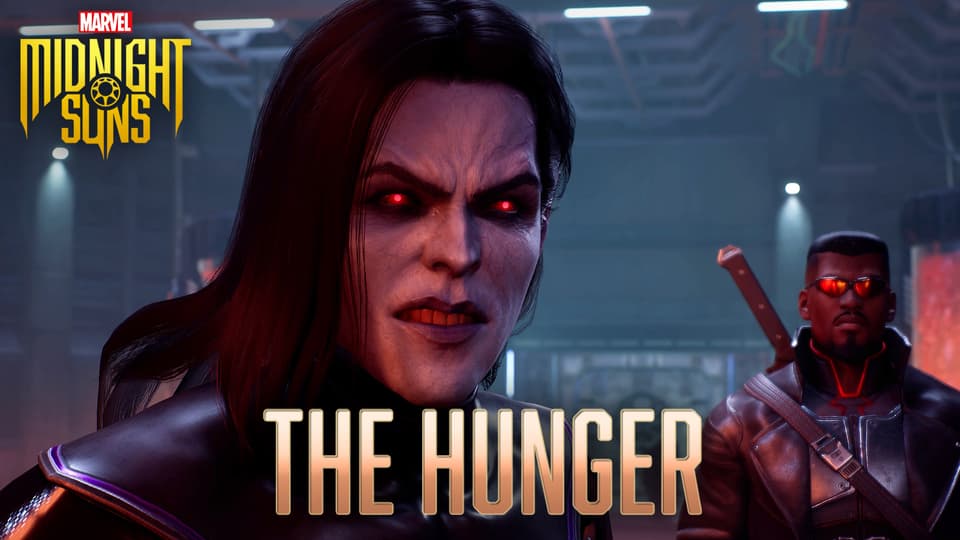 Dr. Michael Morbius is here and he's ready to help stop the vampyre threat. Make your enemies Bleed when Morbius joins the Midnight Suns on March 21!
Expand your adventure with Morbius in "The Hunger," the third DLC for Marvel's Midnight Suns. Morbius joins the team to combat the vampyre threat and satisfy his Bloodlust, bringing with him 11 unique Hero abilities. Plus, enjoy new story missions, a brand new Abbey Upgrade, and some fresh cosmetics for the Living Vampire!
ANNOUNCEMENTS
Celebrate Women's History Month with Marvel Games
For Women's History Month this year, we'd like to take some time to feature and thank some of the amazing women at Marvel Games that help make our titles a reality. Let's see what they have to say!
Christine Thompson (Director, Product Development at Marvel Games): "One of the wonders of working in games is talented, dedicated people coming together to make something greater than any one person could make on their own. It's a kind of magic. So it is an honor to work with not only the amazing Women of Marvel, but the fearless, inspiring women on the teams of all of our partners, making magic every day to create heroes and villains that inspire and empower our players. Higher, Further, Faster!"
Jaki Martinez (Senior Artist at Marvel Games): "As a newer female member of the Marvel Games team, I was immediately welcomed by everyone. The team really supports me and are wonderful to collaborate with. My voice holds meaning here and the women on the team are absolutely wonderful to work with! They are some of the most talented and amazing people I know."
Laura Hathaway (Manager, Product Development at Marvel Games): "I am extremely lucky to find myself in the presence of incredible women on a daily basis. From the extraordinary talent on the Marvel Games Team to the partners we work with, I am in awe of the drive, power, knowledge, creativity, and overall kick-assness of the women in this industry."
Thank you ALL for your dedication and passion in helping to create these stellar titles with our partners! We couldn't do it without you.
Thanks for tuning in to "This Month in Marvel Games" for March 2023! Missed last month's drops and announcements? Make sure to visit the "This Month in Marvel Games" for February here.
Stay tuned to Marvel.com for Marvel Games news and interviews—and follow Marvel Games on Twitter for more!
The Hype Box
Can't-miss news and updates from across the Marvel Universe!